Biggest Challengers to Nerlens Noel for No. 1 Pick in 2013 NBA Draft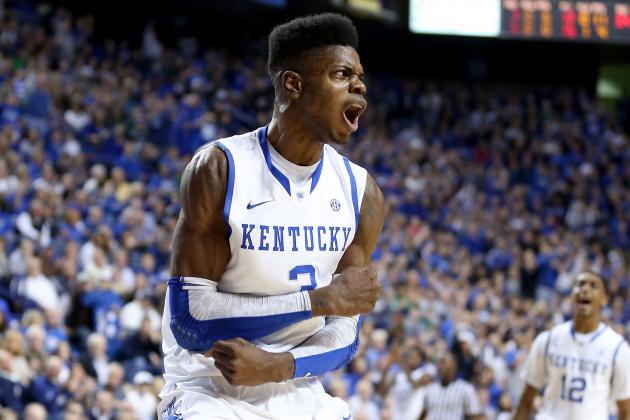 Andy Lyons/Getty Images
Nerlens Noel is the clear-cut No. 1 pick, but who could challenge him?
The Cleveland Cavaliers own the No. 1 pick in the 2013 NBA draft, and most analysts expect them to select Nerlens Noel, the defensive whiz of a big man from Kentucky.
However, Noel joining Kyrie Irving and LeBron James as No. 1 picks by the Cavs is anything but certain. Cleveland could trade the pick, or it could choose to select one of the challengers to Noel's spot atop the draft board.
Noel might be the near-consensus No. 1, but there are still a number of challengers. Five of them, in fact.
If the flat-topped big man were healthy, it would be a different story. However, his torn ACL—and his weight—keep him from losing the "near" part of that descriptor in the previous paragraph.
Would you take Noel if you were in charge of the Cavs?
Begin Slideshow

»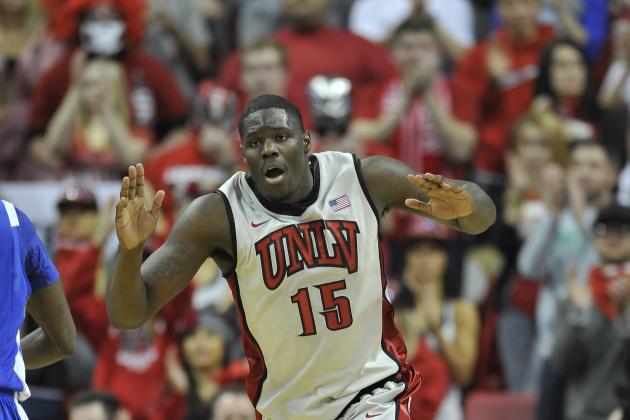 Jeff Bottari/Getty Images

School: UNLV
Position: PF
Age: 20
Vitals: 6'7", 239 pounds
2012-13 Per-Game Stats: 15.8 points, 8.0 rebounds, 0.9 assists, 0.7 steals, 1.2 blocks
Anthony Bennett may be undersized, but that's not going to work against him all that much when he makes it to the professional level. It didn't hurt him at all in college.
Yes, Bennett stands just 6'7", but his wingspan is 7'1" and he possesses plenty of hops. Those two factors allow him to make up for his vertical challenges, as does his ridiculous athleticism. The power forward has far more lateral quickness than a man of his size should, and pound-for-pound, he's a behemoth.
Whether he's bullying smaller players in the post or going around quicker ones outside the paint, Bennett's scoring skills will translate to the next level. It's his defense that could use some work, not his offense, as the 20-year-old has three-point range on his jumper and a veritable arsenal of moves closer to the basket.
Off the radar at the start of his collegiate career, Bennett has enjoyed a meteoric rise up the big boards of NBA general managers. Why stop the ascent before he gets to No. 1?
I've heard him compared to Thomas Robinson, who didn't live up to the hype in his first professional season, but that's largely because both men are undersized 4s who recently ended their college careers. Bennett's range and threat as a pick-and-pop screener sets him apart.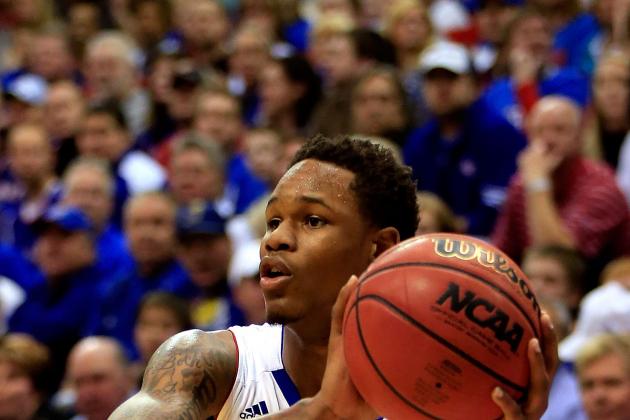 Jamie Squire/Getty Images

School: Kansas
Position: SG
Age: 20
Vitals: 6'5", 189 pounds
2012-13 Per-Game Stats: 15.9 points, 5.2 rebounds, 2.0 assists, 1.0 steals, 0.7 blocks
Back in January I was one of the first to suggest that Ben McLemore should be strongly considered as the top pick in the upcoming 2013 NBA draft.
Well, my thoughts on the matter haven't changed, especially because the Cleveland Cavaliers still need help on the wing. Tristan Thompson and Anderson Varejao have the frontcourt under control, but the up-and-coming squad could use a bit more scoring help from the perimter.
A trio of Kyrie Irving, Dion Waiters and McLemore would be terrifying.
The Kansas freshman displayed an infuriating dose of inconsistency toward the end of the Jayhawks' season, but his potential was still out there for everyone to see.
McLemore has every tool you could ask for.
His athleticism is off the charts. The jumper is ultra-potent and should strongly remind you of a certain player who has made more three-pointers than anyone else in NBA history. He has the length and instincts to develop into a lockdown perimeter defender down the road.
Shooting guards don't typically go at No. 1, but McLemore deserves to be considered an exception.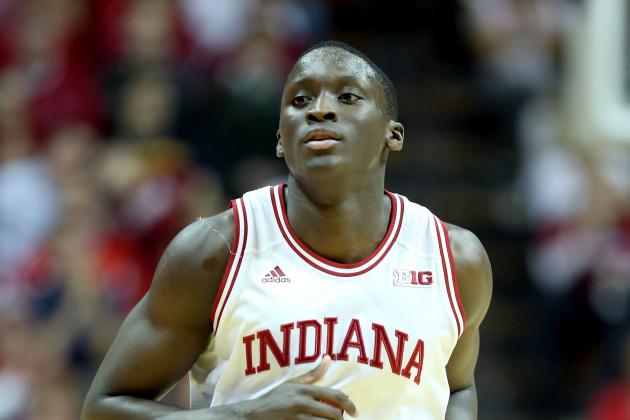 Andy Lyons/Getty Images

School: Indiana
Position: SG
Year: 21
Vitals: 6'4", 213 pounds
2012-13 Per-Game Stats: 13.6 points, 6.3 rebounds, 2.1 assists, 2.2 steals, 0.8 blocks
No player did more for his stock during the 2012-13 college basketball season than Victor Oladipo.
Much like Michael Kidd-Gilchrist was considered a can't-miss prospect who shot up the boards because of his energy, athleticism and defense, Oladipo falls into the same category. Few players, if any, are safer picks.
What do we know for certain about the Indiana shooting guard?
We're 100 percent sure that he plays with a relentless motor and boundless athleticism. He never stops moving and jumping, and 42 inches is a pretty impressive vertical. He's explosive with his first step, allowing him to blow by defenders and get to the rim.
Oladipo is also, at worst, going to be a lockdown defender at the next level. He has some Tony Allen potential in him, especially because he has the size to guard small forwards and the quickness to shift over and slow point guards.
What pushed him over the top, though, was his vastly improved jumper.
Take a look at these ridiculous jumps from his sophomore season to his third year as a Hoosier, courtesy of Sports-Reference.com:
| | | | | | | | | | | |
| --- | --- | --- | --- | --- | --- | --- | --- | --- | --- | --- |
| | Points | FGA | FG% | 3PA | 3P% | TS% | EFG% | PER | ORtg | DRtg |
| 2011-12 | 10.8 | 8.0 | 47.1 | 1.3 | 20.8 | 54.6 | 48.8 | 20.5 | 110.0 | 97.0 |
| 2012-13 | 13.6 | 8.4 | 59.9 | 1.9 | 44.1 | 67.1 | 64.8 | 28.9 | 125.7 | 86.9 |
Across the board, Oladipo improved as a junior. The most significant difference dealt with his shot, as the 2-guard improved his stroke and expanded his range at the same time.
This jump was no fluke.
In a draft filled with risk and underwhelming prospects, Oladipo is about as safe as it gets.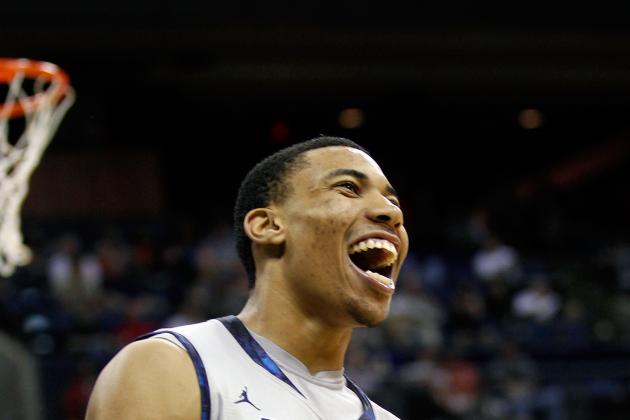 Rob Carr/Getty Images

School: Georgetown
Position: SF
Age: 19
Vitals: 6'9", 198 pounds
2012-13 Per-Game Stats: 16.2 points, 7.5 rebounds, 2.7 assists, 1.8 steals, 0.9 blocks
Otto Porter doesn't have the explosive leaping ability of Victor Oladipo or Ben McLemore, and he lacks the strength to dominate opponents physically like Anthony Bennett, but he's the strongest contender for the No. 1 spot.
Simple as this may sound, Porter is just a great basketball player. I say that because there's a massive distinction between being a great athlete who plays basketball and being a great basketball player.
It's far more rare to find a player in the latter category who flames out in the NBA, but the history of the NBA draft is littered with athletic specimens who failed to adjust at the sport's highest level.
At 6'9" with a 7'1" wingspan, Porter has tons of length, and he puts it to good use. His shot is rarely blocked, and he's so long that it's almost impossible not to foul him when he puts his head down and goes to the basket.
The Georgetown product also plays with a tremendously high basketball I.Q. He works off the ball just as well as he does with the rock in his hands, and it's not at all uncommon to see him get completely free of a defender.
On the other end of the court, Porter's long arms allow him to contest virtually every shot in his general direction. He'll be pushed around by the Association's bigger small forwards, but he still has time to bulk up.
I know this doesn't fall in line with the conventional wisdom, but if I were drafting for the Cavs, Porter would be my pick.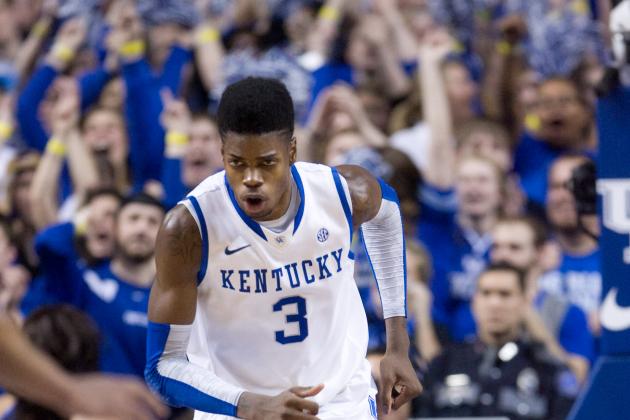 Mark Zerof-USA TODAY Sports

Perhaps the thing challenging Nerlens Noel most in that battle for the No. 1 spot is the ACL in his left knee. Or rather, the bits and pieces of the ACL in that joint.
When was the last time you saw an injured player hobble across the stage to shake David Stern's hand and pose for a picture as the top overall selection? Worse still, when were crutches in that photograph?
Noel is hoping to return by Christmas, more than a month after the start of the 2013-14 campaign. Even if we assume that he meets that aggressive goal, where's the guarantee that he retains his trademark explosiveness off the ground?
We might live in the age of Adrian Peterson, one in which a professional athlete can return quickly from a torn ACL and immediately lead the NFL in rushing yards while challenging Eric Dickerson for all-time supremacy. However, it's important to remember that the Minnesota Vikings star is the exception to the rule, not the rule itself.
Noel has the most upside of any player in this draft. There's no denying that.
It's just that his ACL keeps him from being a safe pick, and that's why a ligament is one of his biggest challengers.