NFL Players Who Need a Super Bowl Ring to Validate Their Careers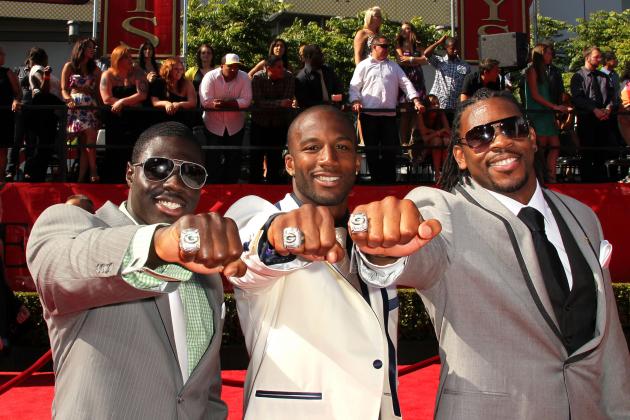 Frederick M. Brown/Getty Images

It isn't necessarily the fairest of benchmarks, but NFL players who want to cement their names among the best players ever need to own a Super Bowl ring.
The ring doesn't automatically make you a better player, and it doesn't offer elite status. Plenty of players who were marginally talented at best own Super Bowl rings.
But for that aging veteran who's done everything on the field, for that star whose name is synonymous with All-Pro and Pro Bowl, adding a Super Bowl ring to his body of work makes a world of difference.
It doesn't happen for some of the best to ever play. Miami Dolphins quarterback Dan Marino never won the big game. Neither did Detroit Lions running back Barry Sanders. These guys are two of the best ever.
Here are eight active NFL players who need a Super Bowl ring to validate their careers.
Begin Slideshow

»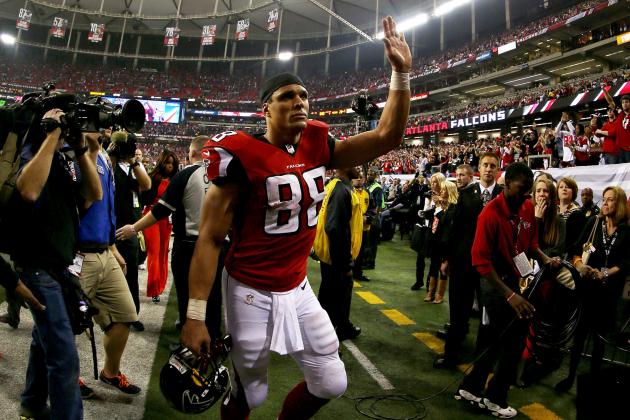 Mike Ehrmann/Getty Images

There isn't much in tight end Tony Gonzalez's 16-year NFL career that he hasn't done.
Since entering the league in 1997 when the Kansas City Chiefs selected him in the first round, Gonzalez has caught 1,242 passes for 14,268 yards and grabbed 103 touchdowns. Gonzalez ranks second on the all-time receptions list, seventh on the all-time receiving yards list and sixth on the career receiving touchdowns list.
Gonzalez has been named to 13 Pro Bowl teams and been deemed a first-team All-Pro six times.
Where Gonzalez has had trouble is in the playoffs. Gonzalez has been a member of six playoff teams, three times with the Chiefs and three with the Atlanta Falcons. But in his first five attempts Gonzalez couldn't notch a win in the playoffs.
That changed in 2012, when the Falcons' win over the Seattle Seahawks at home in the divisional round gave Gonzalez his first taste of playoff success. However, the Falcons lost to the San Francisco 49ers in the NFC Championship Game, so he still hasn't played for a Super Bowl ring.
Atlanta talked Gonzalez out of retirement this offseason, and he will make one more run at the big game in 2013 with the Falcons.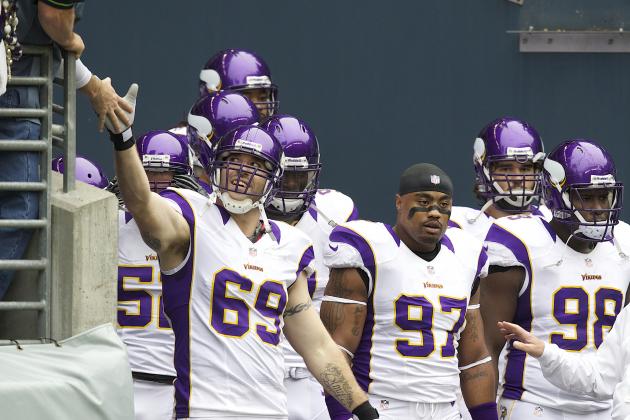 Stephen Brashear/Getty Images

In just nine seasons in the NFL, defensive end Jared Allen has stamped his name as one of the best at rushing the passer the league has ever seen.
Allen has twice led the league in sacks: once with the Kansas City Chiefs in 2007, when he notched 15.5, and again with the Minnesota Vikings in 2011, when he pulled down 22 quarterbacks. Those 22 sacks in 2011 were just a half sack shy of the NFL record held by Michael Strahan, who set the mark of 22.5 in 2001.
With 117 career sacks, Allen ranks No. 16 on the all-time list and is No. 2 on the active list, five sacks behind John Abraham. Allen has also been to five Pro Bowls and been named a first-team All-Pro four times.
What Allen has not done is play for a Super Bowl ring. He's been on four playoff teams but has just one playoff win.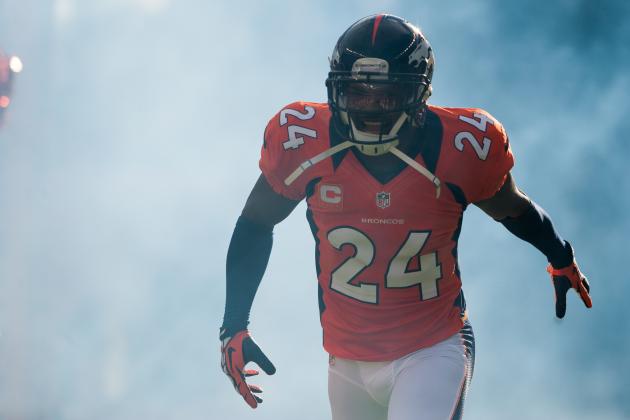 Dustin Bradford/Getty Images

Only two active players in the league, Houston Texans safety Ed Reed (61) and Oakland Raiders cornerback Charles Woodson (55), have more career interceptions than Denver Broncos cornerback Champ Bailey with 52. Both those guys have Super Bowl rings.
Bailey, who's played in the league for 14 years with two teams, hasn't gotten close to the big game.
Three times Bailey's teams have won playoff games but were only able to muster that one win. In the 1999 playoffs, Bailey's Washington Redskins won their Wild Card Game but lost in the following week to the Tampa Bay Buccaneers. The same happened in 2011 with Bailey's Denver Broncos.
The closest Bailey has come to playing in a Super Bowl was the 2005 season, when Denver lost in the AFC Championship Game to the Pittsburgh Steelers.
On paper, Bailey still has a great shot at making it to the Super Bowl with the Broncos in 2013. With Peyton Manning at the helm, anything could happen.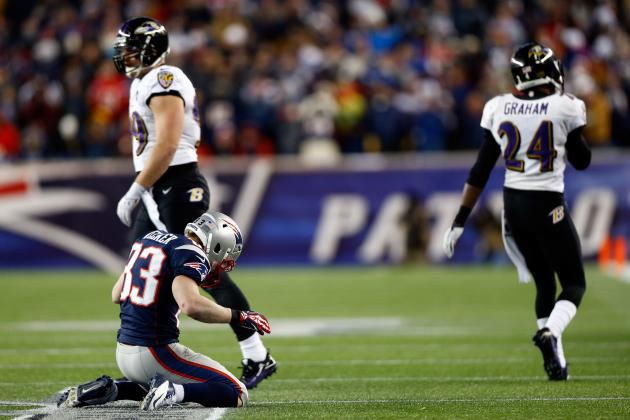 Jared Wickerham/Getty Images

Most people think about wide receiver Wes Welker and his time with the New England Patriots and automatically assume he's a Super Bowl winner. That's factually inaccurate.
The Patriots won Super Bowls in the 2001, 2003 and 2004 seasons; Welker didn't join the team until 2007. Welker has been to two Super Bowls with the Patriots but lost both: in the 2007 season to the New York Giants and again in 2011 to the Giants.
Imagine arriving to New England too late to enjoy the dynastic success of the early 2000s but in time to lose two heartbreakers to the Giants.
No one is ever due success in the NFL, but Welker seems due.
If Welker is going to win his first Super Bowl ring, he'll have to do it without the help of quarterback Tom Brady. Welker signed a new deal with the Denver Broncos in March. He's in the capable hands of quarterback Peyton Manning now.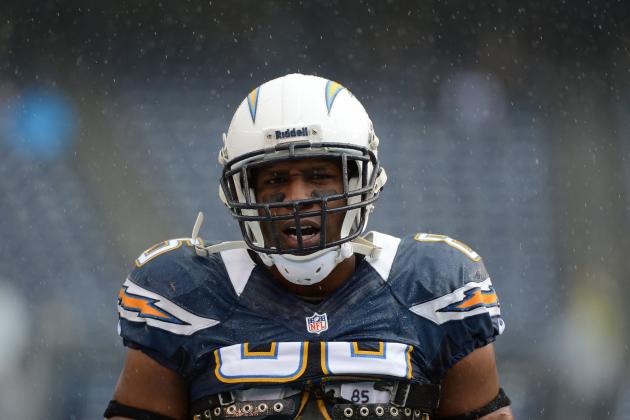 Donald Miralle/Getty Images

Quick, who's the all-time San Diego Chargers leader with 642 career receptions?
Of course you guessed tight end Antonio Gates; his photo is just above this text. But did you really know he was such a fixture in Chargers lore?
Not only is Gates first in receptions, he's also first in touchdown catches (83) and third in receiving yards with 8,321 over his 10-year career.
In his 10 seasons, Gates has been a part of five playoff runs. Three fizzled out without a win (2004, 2006 and 2009), the 2008 campaign ended with one playoff win and the 2007 season ended at the AFC Championship Game with a loss to the New England Patriots.
Gates has been selected to eight Pro Bowl teams and been a first-team All-Pro three times. He's also No. 20 on the all-time NFL receiving touchdowns list.
All Gates needs now is a trip to the Super Bowl.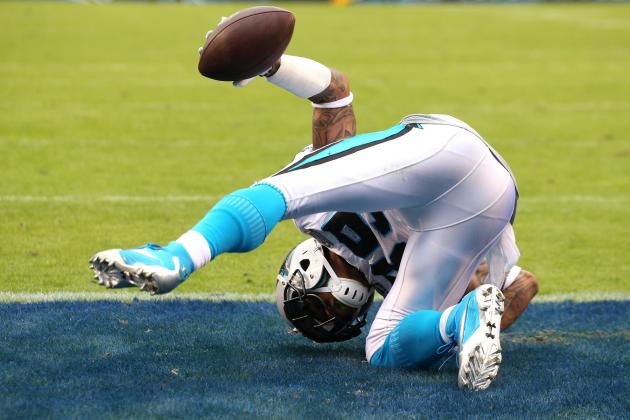 Stephen Dunn/Getty Images

It's unfortunate for Carolina Panthers wide receiver Steve Smith that he's played on some really terrible football teams.
The Panthers drafted Smith in the third round in 2001, and he has played each of his 12 seasons in Carolina. However, the Panthers have only posted three winning seasons during Smith's tenure.
Carolina's first winning season with Smith was in 2003 and the Panthers rolled all the way to the Super Bowl on Smith's 1,110 receiving yards and seven touchdown catches. But the Panthers lost to the New England Patriots.
In 2005, the Panthers lost in the NFC Championship Game to the Seattle Seahawks. Smith caught 103 passes that season for 1,562 yards and 12 touchdowns.
In 2008, Carolina lost in the divisional round to the Arizona Cardinals after Smith caught 78 passes for 1,421 yards.
Smith is Carolina's all-time leading receiver, and it's not even a terribly close race. He's 2,197 yards ahead of Muhsin Muhammad and 7,550 yards ahead of Carolina's third-best receiver, Wesley Walls.
Smith has also been on four Pro Bowl teams, been selected as a first-team All-Pro twice and is in the top 25 all-time among NFL receivers in total receiving yards (11,452) and yards per game (68.6).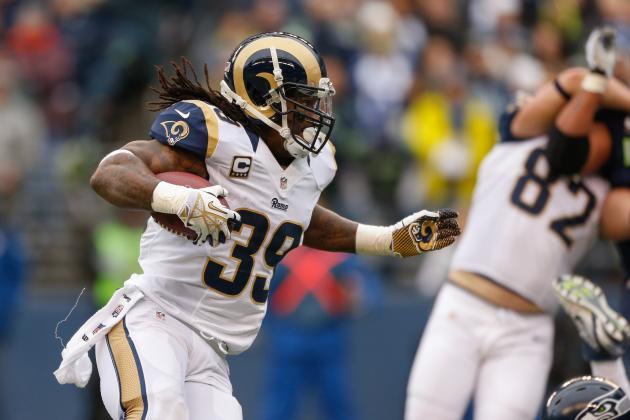 Otto Greule Jr/Getty Images

Running back Steven Jackson carried the ball 134 times during his rookie 2004 season as Marshall Faulk's backup, gaining 673 yards and scoring four touchdowns. His St. Louis Rams made it into the playoffs and beat the Seattle Seahawks before losing to the Atlanta Falcons in the divisional round.
It's hard to believe, but that was Jackson's only playoff appearance.
Eight years and 9,462 rushing yards later, Jackson has been every bit the success on the field, but his Rams haven't enjoyed a winning season.
Jackson is the league's active rushing leader (10,135 yards) and No. 26 on the NFL's all-time list. He's also carried the ball more than any current running back on an NFL roster (2,395 attempts).
Feeling his career was waning, Jackson voided his contract with the Rams and signed with the Atlanta Falcons. The Falcons are close to being Super Bowl-ready, and it's obvious that Jackson is ready for another playoff run.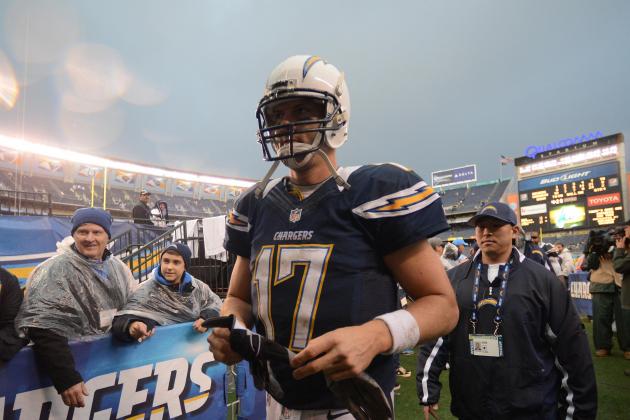 Donald Miralle/Getty Images

On a lot of occasions, an NFL star needs the validation of a Super Bowl ring because of his immense success on the field, and that's every bit the case for San Diego Chargers quarterback Philip Rivers. But Rivers needs the Super Bowl win because of the success of his peers as well.
Rivers was selected fourth overall in the 2004 draft by the Chargers. He went three picks after two-time Super Bowl champion Eli Manning of the New York Giants and seven picks before two-time Super Bowl champion Ben Roethlisberger of the Pittsburgh Steelers.
The pressure to win a Super Bowl doesn't just end with the names Manning and Roethlisberger as peers who have succeeded where Rivers has not. Let's not forget that drafting Rivers ultimately led to the Chargers letting Drew Brees go. Brees won a Super Bowl with the New Orleans Saints in 2009.
Rivers ranks No. 8 among active quarterbacks with 27,891 passing yards, eighth with 2,268 completions and seventh with 189 touchdown passes. He's every bit a member of the upper echelon of active NFL quarterbacks. But he only has three playoff wins to his resume and one AFC Championship Game appearance.
With names like Manning, Roethlisberger and Brees clouding his legacy, Rivers really needs a Super Bowl ring.