There haven't been many upsets to start the 2013 French Open, but there are plenty of sleepers still alive in both the men's and women's singles draw.
A pair of seeded men's contenders have reached the third round for the first time in their careers while an unknown qualifier has officially crashed the women's main draw.
Let's take a closer look at three players heading into uncharted territory at Roland Garros this weekend.
Grigor Dimitrov (26)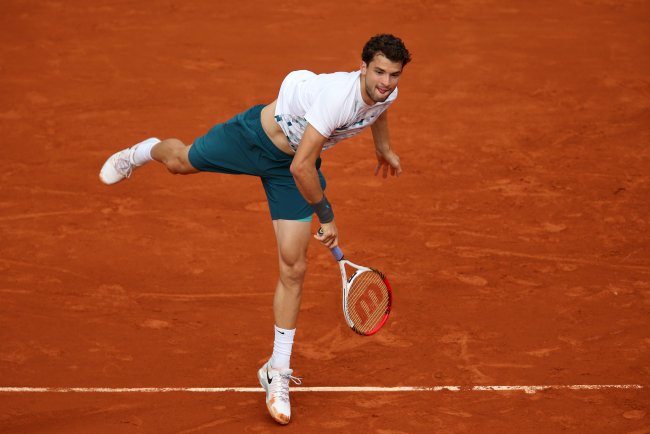 Matthew Stockman/Getty Images
With his straight-sets win over Lucas Pouille, Grigor Dimitrov will advance to the third round of the French Open for the first time in his career.
Dimitrov has been steadily improving over the years and he's only 22. The right-handed Bulgarian lost in his first main draw appearance at Roland Garros in 2011 before reaching the second round in Paris in 2012.
Thanks to some impressive play this season, Dimitrov is all the way up to No. 28 in the world rankings. Dimitrov's most notable win prior to the start of the French Open was a second-round victory over world No. 1 Novak Djokovic at the Madrid Masters in early May.
Dimitrov also took down top-10 player Janko Tipsarevic early at Monte Carlo in April.
Unfortunately, Dimitrov will square off against the better of the two Serbs this time around as he looks to make it two in a row over Djokovic in the third round in Paris.
Kei Nishikori (13)
World No. 15 Kei Nishikori is into the third round of the French Open for the first time in his career.
Which player is the biggest threat to make a deep run?
The 23-year-old had never been past the second round at Roland Garros before beating Grega Zemlja in four sets on Thursday. In Round 1, the top-ranked Japanese star knocked off Jesse Levine in straight sets, showcasing his powerful forehand on his way to recording 26 winners in that match.
Like Dimitrov, Nishikori picked up a huge win in Spain earlier this year, knocking out Roger Federer in three sets in the third round at the Madrid Masters, so don't be surprised if he keeps on rolling into the round of 16.
Nishikori will take on 24th-seeded Benoit Paire in Round 3, who will be playing in his first-ever third-round match at the French Open as well.
Paula Ormaechea
Matthew Stockman/Getty Images
Following her upset win over 27th-seeded Yaroslava Shvedova on Thursday, 20-year-old Argentine Paula Ormaechea is into the third round at the French Open, per Ben Rothenberg, who blogs for The New York Times:
Paula Ormaechea def. 2012 QFist Shvedova. Nice win for South American No1 Ormaechea, who will break top 100. #rg13

— Ben Rothenberg (@BenRothenberg) May 30, 2013
Even more impressive, Ormaechea had to win three qualifying matches just to get into the main draw.
In her win over Shvedova, Ormaechea took advantage of her opponent's poor second serve, winning 12-of-19 second-serve return points and 55 percent of her total return points for the match.
Ranked No. 118 in the world, Ormaechea is a relative unknown in the women's game. She won the first set against Venus Williams in the first round of the French Open last year, but then dropped the last two frames and was knocked out early.
Ormaechea has officially entered uncharted territory in the round of 32, but the good news is that she's playing the best tennis of her young career at the moment.
Follow Bleacher Report Featured Columnist Patrick Clarke on Twitter.