Ranking the 5 Best African Players in the 2012-13 English Premier League Season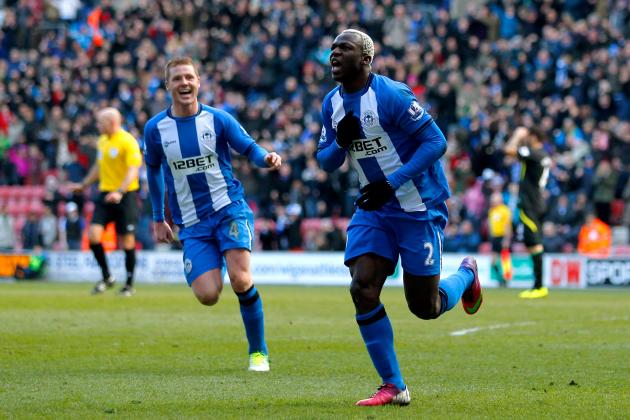 Paul Thomas/Getty Images

One of the wonderful things about football is that players from all across the world are free to ply their trade wherever they like. The English Premier League has one of the most diverse collections of players around, and the league benefits from it.
In the season that's just finished, 2012-13, some very good players, like Wigan's Arouna Kone (pictured), might have slipped under your radar because of the focus on the likes of Robin van Persie, Gareth Bale and Eden Hazard.
For this article, I've decided to take a look at the five best African players from the 2012-13 season. In each slide, I'll explain why the player is ranked in the position he is. Each player's ranking in the list has been determined by the overall quality of their performances, as well as how they helped their team during the season.
The five players who have made it on to this list are the ones who impressed me the most and, as usual, we'll probably have different opinions. It doesn't make my picks right, or your picks wrong. What it does is create healthy debate, which is what these kinds of lists are all about.
Before we get started, let's run through some honourable mentions to players who didn't quite make the final cut.
Begin Slideshow

»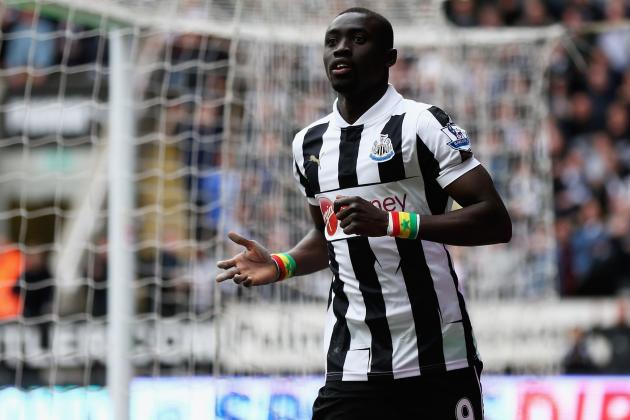 Matthew Lewis/Getty Images

The hardest thing about doing these kinds of lists is narrowing the field down. Players who may have been contenders for other fans include:
Papiss Cisse (Newcastle): After debuting in the last half of the 2011-12 season when Newcastle were flying (they ended up finishing 5th), Cisse had found life more difficult this time around.
Along with most of his teammates, Cisse struggled for form at times and although he scored 13 goals, he played in 47 games, which is a pretty poor return for a player who's so talented. Let's hope he has a better season next year.
Emmanuel Adebayor (Tottenham): Much like Cisse, in the season before last, 2011-12, Adebayor had a terrific year for his club. But in the summer, it all went wrong. He earned a permanent move to London but failed to inspire and, more often than not, was frustrating to watch.
He found the net just eight times in 32 appearances, which isn't good enough for someone who's played at the highest level for so long.
Peter Odemwingie (West Bromwich Albion): A player who was more obsessed with bad-mouthing his club on Twitter than playing football. He tried to force a move away from the club, but it came to nothing. Surely he's on his way out of the Hawthorns after some questionable decisions at best.
Christopher Samba and Stephane M'Bia (QPR): Samba and M'Bia came into the club at different stages of the season, but arrived with the same level of fanfare. Two players who were very highly rated but in the end, were a part of the side that criminally underachieved and finished bottom of the Premier League with just 25 points.
Other mentioned should go to players like Chelsea's John Obi Mikel, Arsenal's Gervinho and Sunderland's Stephane Sessegnon. They played well in patches throughout the season, but not well enough overall to be considered in the top five.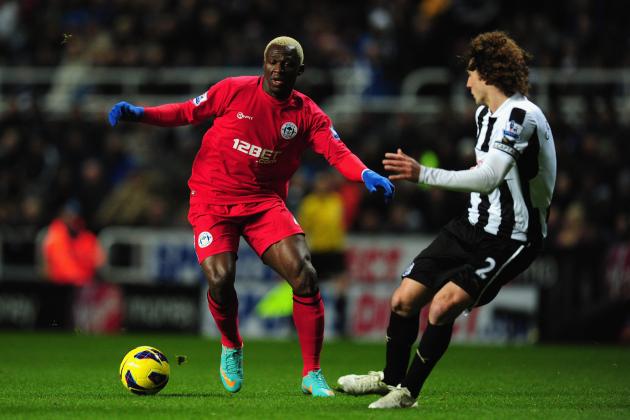 Stu Forster/Getty Images

When he signed for Wigan last summer, you would probably have had to look long and hard for a Premier League fan who was aware of Arouna Kone. He had been prolific for Levante in La Liga the season before but remained relatively unknown.
He took little time to settle into life in the Premier League, scoring Wigan's second goal in their 2-0 win at Southampton in only his second appearance for the club. Kone went on to score 13 goals in 38 appearances in all competitions and became the first Wigan player in recent years to reach double figures in terms of scoring goals.
Kone's pace and power won him many admirers in his debut season at Premier League level and he was a part of the side who won the FA Cup for the first time in Wigan's history just a few weeks ago. Sadly, his goals weren't enough to keep Wigan safe, and they were ultimately relegated.
He should be proud of his individual accomplishments though, and it wouldn't surprise me if he was playing Premier League football again next season.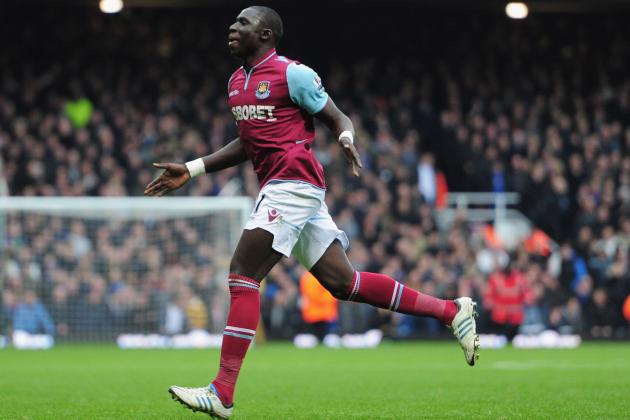 Jamie McDonald/Getty Images

As soon as West Ham were promoted from the Championship last summer, one of Sam Allardyce's first moves in the transfer market was to secure the signing of Mohamed Diame from Wigan.
In all honesty, from what I had seen of him at Wigan, I thought he was OK, but nothing special. I didn't see how he would fit in at West Ham or what he could bring to the table. It's a good job Sam Allardyce is a manager and not me, because Diame had an excellent season for the Hammers.
He was dominant in midfield. He's not scared to put a tackle in, he's got strength, but that's not all there is to his game. Diame can move around the pitch to the point where it's as if he's gliding. He's elegant, skillful and in the last 12 months, he's shown what a good player he is. Diame became one of West Ham's most vital players.
Diame scored brilliant goals against Chelsea and Manchester United in particular, and was one of the main reasons behind West Ham securing a top-half finish in their first season back at the Premier League level.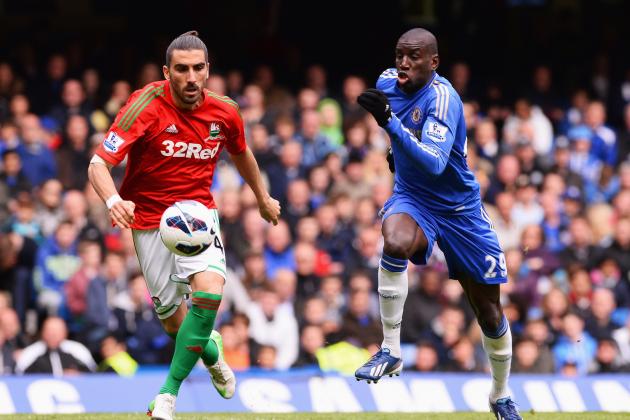 Mike Hewitt/Getty Images

If this list had been written last Christmas, there's every chance that Demba Ba would have been top of the pile. As part of a struggling Newcastle side, Ba still scored 13 goals in 22 games—form which earned him a move to Stamford Bridge in January.
Since moving to Chelsea, Ba has found goals harder to come by, scoring just six times in 22 games, but there are a few contributing factors to that. Former Chelsea boss Rafa Benitez is well known for employing a rotational policy, so despite playing well at times, Ba often found himself on the bench. That's bound to be frustrating for any player, never mind a striker as lethal as Ba can be.
Demba Ba is a tremendous striker at Premier League level. He's scored goals at West Ham, Newcastle and now Chelsea, so with a full season under his belt next year, who knows what he can achieve at Stamford Bridge?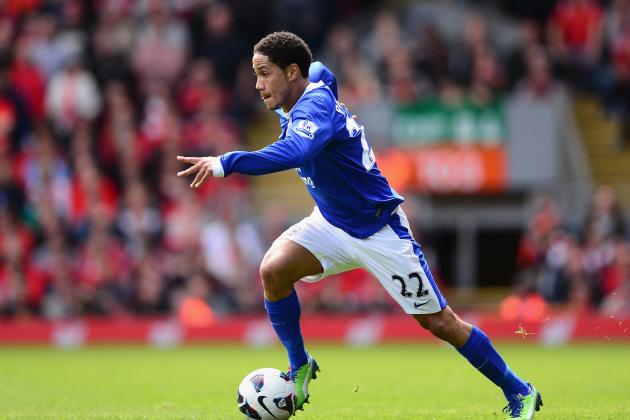 Laurence Griffiths/Getty Images

Moving to Tottenham was probably the most stupid decision that Steven Pienaar has made in his career.
Not because Spurs are a bad club, but because his game time was limited at best. That's why just over a year after moving to London, he returned to Everton on loan before moving back on a permanent basis last summer.
He was back playing regularly again and his confidence levels rose. You could see that almost immediately. The understanding with his teammates from his previous spell at Goodison park remained, and the South African became a big part of the Toffees' improvement that season as well as their sixth-place finish in 2012/13.
Pienaar was a key part of the Everton side that, until the last few weeks of the season, looked like they would finish in one of the European places. Unfortunately, that wasn't to be, but scoring seven times in 40 appearances wasn't a bad return for a guy who is not known for his goalscoring exploits.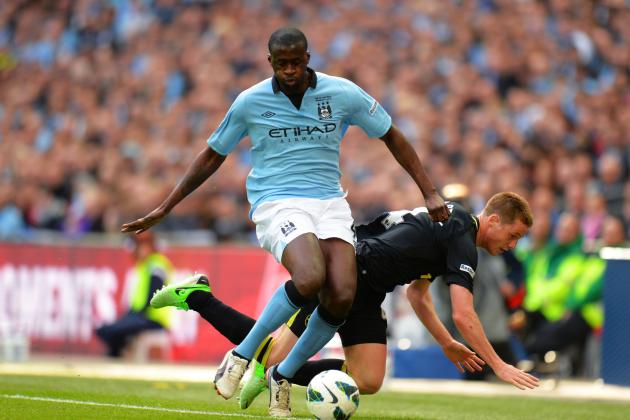 Shaun Botterill/Getty Images

For me, there's only one player who could top this list and that's Yaya Toure.
I would go as far as to say that, in the modern era at City since the takeover a few years ago, Yaya Toure has been City's best signing. He's been more consistent than anyone else they've bought and has made more of an impact in bigger games than some of his teammates.
Manchester City might not have won any silverware last season, but Toure was their best player by far. At times, he almost dragged them through games single-handedly, which says a lot about his ability and professionalism.
Toure might very well be the complete midfield player. He can do it all. He's at ease in any position across the midfield, either in a holding or attacking role. Toure is powerful, deceptively quick, elegant, skilful and he has an eye for goal.
He would probably have liked to have found the net more times than he did last season, scoring just nine times, but he adds so much more to City's game. Just his presence on the pitch gives City much more of a threat.
That's why, for me at least, he was the best African player in the Premier League last year.