Stanley Cup Playoffs 2013: Every Conference Finalist's Biggest X-Factor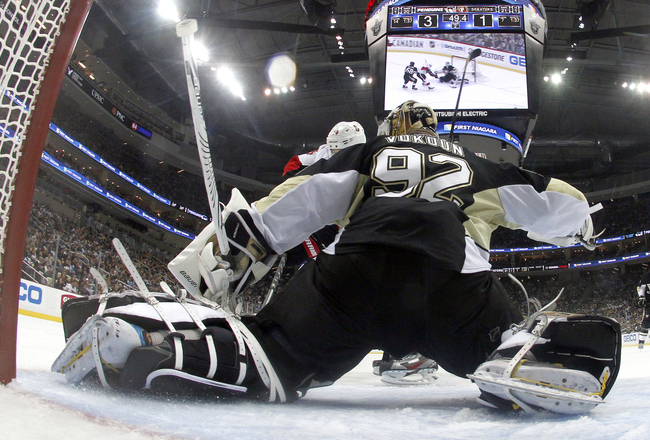 Justin K. Aller/Getty Images
The stage is set for a thrilling Final Four in the Stanley Cup playoffs. Each of the past four NHL champions survived an unpredictable quarterfinal round, highlighted by a pair of seven-game series in the Western Conference.
Competition has been tight throughout the postseason, so there's hardly room for error on the path to title town. The Pittsburgh Penguins, Boston Bruins, Chicago Blackhawks and Los Angeles Kings each have an element or tendency that has proved paramount during the past month of playoff action.
With conference finals looming, we take a look at each team's most pivotal X-factor. These elements of each team's attack will make the difference between a swift exit and hockey immortality.
Boston Bruins: Rising Rookies on Defense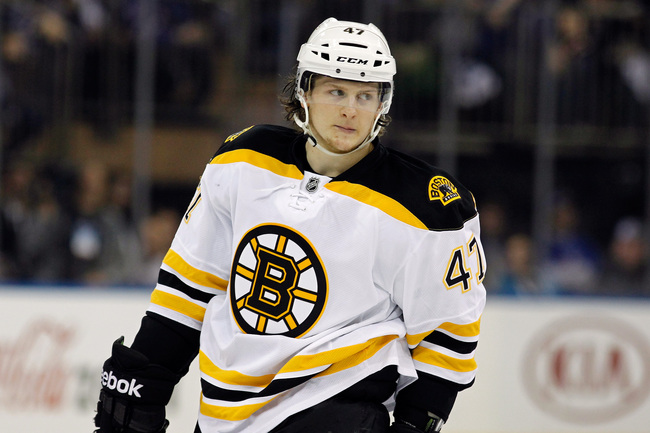 Bruce Bennett/Getty Images
Boston handled a playmaker-laden New York Rangers team while suiting up three rookie defensemen. These youngster stepped up to pick up the slack at a position riddled with injuries (Andrew Ference, Dennis Seidenberg and Wade Redden are among those who've missed time with issues).
Highlighted by former first-round pick Dougie Hamilton, a fresh-faced bunch quickly became key contributors during the Eastern Conference semifinal. Torey Krug made an immediate impact in his first career playoff game.
The rookie fired a shot past reigning Vezina Trophy winner Henrik Lundqvist with 2:55 remaining in regulation of Game 1. Boston prevailed during the overtime session, setting the tone for an impressive series victory.
Matt Bartkowski, another rookie defenseman, also received baptism by fire against New York. He accumulated career-high totals in minutes and didn't back down from the task.
This group's job gets substantially tougher against top-seeded Pittsburgh. The Penguins implement one of the league's most intimidating attacks led by a trio of true superstars (Evgeni Malkin, Sidney Crosby and Jarome Iginla).
Chicago Blackhawks: Can Stars Show Up Consistently?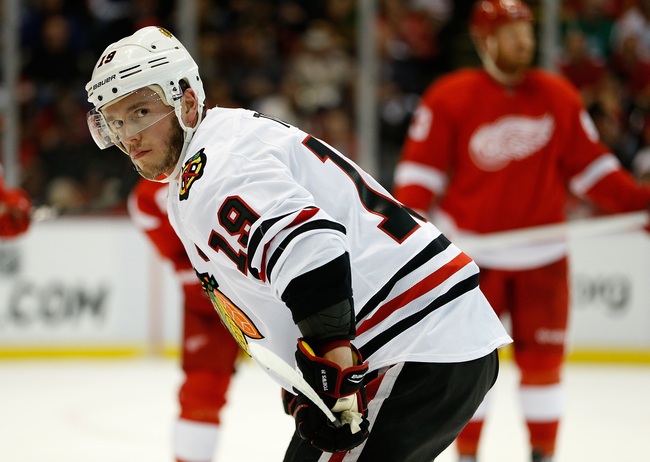 Gregory Shamus/Getty Images
Chicago has assembled a stout roster, and a deep rotation enabled this team to earn the most regular-season points in the NHL. The Blackhawks are star-studded, but some of those standout players have struggled to catch fire together during these playoffs.
Patrick Sharp has been tremendous, totaling 11 points through 12 games, but team captain Jonathan Toews stumbled out of the gates. The 25-year-old, who managed 23 scores during the regular season, has just one goal.
Toews remains a team leader and effective distributor (six assists), but Chicago must get more offensive production out of him. He tallied seven goals and 29 points during the 2010 playoffs, which ended with Chicago claiming the Stanley Cup.
Meanwhile, fellow superstar Patrick Kane can't get going either. He accounted for just one point in the final four games against Detroit and owns two goals through 12 postseason contests.
Sharp and veteran stalwart Marian Hossa have handled the brunt of scoring duties during the playoffs (12 combined goals), but a complete onslaught is necessary in order to take down the defending champs and dominant goalie Jonathan Quick.
Los Angeles Kings: Is Offense Capable of Backing Up Quick?
Thearon W. Henderson/Getty Images
The most stunning stat of these NHL playoffs provides confirmation that Quick truly keys the Kings. Los Angeles is 22-0 when it scores at least two goals during the past two playoff runs.
The reigning Stanley Cup champs relied on Quick to deliver a narrow Game 7 victory against San Jose. Los Angeles suffered three 2-1 losses on the road during the series but managed to survive thanks to the magnificence of its superstar in net.
Quick collected the sixth and seventh postseason shutouts of his career during the series. After stonewalling San Jose, he faces a more imposing offensive arsenal in Chicago.
The Kings must develop scoring opportunities early in order to set the tone, relying on playoff standout Jeff Carter and Mike Richards. Teammates Justin Williams and Anze Kopitar also gained steam during the Western Conference semifinal.
Quick claimed the 2012 Conn Smythe Trophy and could be in line for another set of hardware if Los Angeles can take care of business on the offensive end.
Pittsburgh Penguins: Is Tomas Vokoun Ready for Prime Time?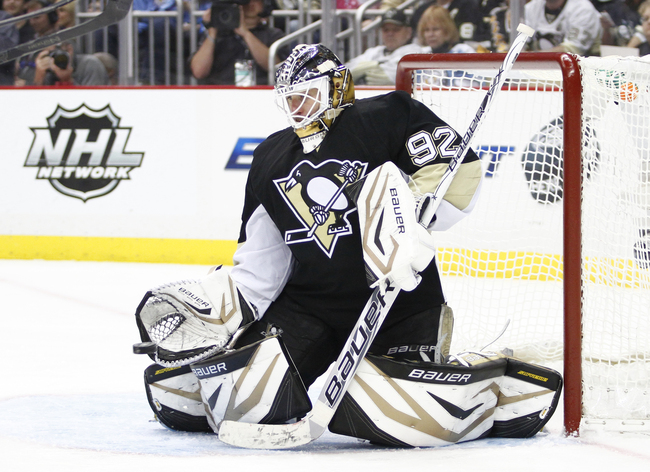 Justin K. Aller/Getty Images
Marc-Andre Fleury tied a franchise record for postseason shutouts in Pittsburgh's playoff-opening victory over the New York Islanders. That celebration didn't linger very long, as the 2009 Stanley Cup champion was sequestered to the sidelines before the Penguins collected four wins.
He struggled mightily in a pair of losses against upstart New York and clearly lost confidence when corralling the puck. Considering Fleury's disastrous performance against Philadelphia during the 2012 playoffs, no one should be shocked that he is no longer trusted as the man between the pipes for Pittsburgh.
The Eastern Conference's top seed switched over to veteran journeyman Tomas Vokoun, who started just 17 games during the regular season. The 36-year-old is 6-1 since taking over, doubling his career playoff win total in the process.
Vokoun, previously 3-8 in the postseason, is saving 94 percent of shots faced and picked up a shutout in his first start against the Islanders. There were some shaky moments against Ottawa, but he largely remained unscathed during a five-game dismantling of the Senators.
Suddenly, Vokoun is thrust into the spotlight of a highly anticipated rivalry matchup in the Eastern Conference finals. He must contend with a potent Bruins squad that features far more experience than Ottawa.
With Fleury waiting in the wings for a chance to reclaim his job, keep a close eye on how Vokoun handles a new-found dose of pressure.
Keep Reading