If you thought Wednesday night was bad, the worst is yet to come for the United States.
The U.S. was humbled, 4-2, in a friendly against Belgium in Cleveland, Ohio.
The score could have very easily been 5-1 considering the Belgians had a very good penalty shot in the 41st minute. DaMarcus Beasley handled the ball, and the referee missed it. Then in the 79th minute, Toby Alderweireld incurred a dubious handball call, giving Clint Dempsey a penalty, which he scored.
It was the kind of performance where writers had little positive to say about the United States. Just ask Ives Galarcep of Soccer By Ives:
USMNT Bright spots? Dempsey's PK, Beasley's 100th cap, Holden's return to action, and um......No bodies of water caught fire in Cleveland?

— Ives Galarcep (@SoccerByIves) May 30, 2013
Sports Illustrated's Grant Wahl was less comedic but all the more correct in his assessment:
FT USA 2:4 Belgium. Americans outclassed by a very good Belgian team. Klinsmann has issues all over the field that need to be fixed.

— Grant Wahl (@GrantWahl) May 30, 2013
Belgium is one of the emerging national teams in the world and demonstrated why on Wednesday. Unfortunately for the United States, they welcome Germany on Sunday in Washington, D.C. The Germans are fresh off a 4-2 win over Ecuador on Wednesday.
In case fans were curious as to where the United States stands in the international pecking order, they get a sign on Sunday. Joachim Low didn't pick his strongest side against Ecuador, but it will be more than enough to handle the States.
On one hand, you have to respect Jurgen Klinsmann's decision to schedule friendlies against countries like Belgium and Germany. It doesn't allow the United States any free rides and reveals more about the squad than drubbing some smaller country who doesn't match up would.
The friendly against Germany will present quite a nice comparison between Klinsmann and his assistant with the German national team back at the 2006 World Cup, Low. It's rapidly becoming apparent that it was Low rather than Klinsmann who was the architect of Germany's third-place finish.
Klinsmann's limitations as manager have become found out in his time with the United States. Those problems aren't likely enough to keep the U.S. out of the 2014 World Cup, but they will lead to an early exit in the event the U.S. does qualify.
As a tactician, Klinsmann struggles. Coaching a national team doesn't generally need the kind of tactical nous that coaching a club team does. Still, the German looks out of his depth at times.
He was thought to be bringing an attacking, more free-flowing style to the United States, a contrast to the pragmatic Bob Bradley. Instead, the U.S. attack has been anemic at times, exacerbated by the shoddy defending.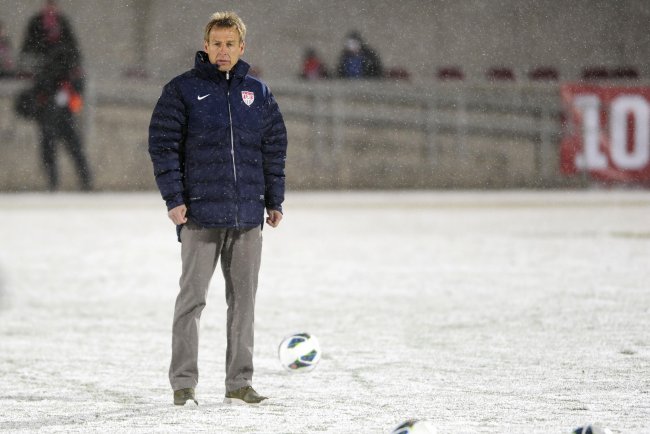 Byron Hetzler-USA TODAY Sports
You have to question Klinsmann when he selects Clarence Goodson in a friendly against Belgium. Goodson has never been a consistent contributor for the national team. And Klinsmann also lined up Geoff Cameron at right-back, which was a rather surprising move.
With the U.S. tied, 1-1, at the half, Klinsmann chose to sub Eddie Johnson on for Jozy Altidore, the same Altidore who's scored 23 goals in 33 Eredivisie appearances and has yet to bed in with Klinsmann's style.
What's the future for the United States at the 2014 World Cup?
Of course, even the best manager in the world couldn't cover up what is the United States' biggest problem: a lack of talent.
When you look up and down this team, you wonder who the younger players are that will carry the torch after Landon Donovan and Clint Dempsey are gone. The back four is a complete mess, with no answer in sight.
In the buildup to the 2010 World Cup, the United States was able to take advantage of a qualifying group that was a step below what you're seeing now in CONCACAF. More importantly, Mexico was shifting eras and in a down period. Now they've got one of the best youth setups in national team football.
2014 was always set to be a step below the run to the Round of 16 in 2010. Nobody could have seen exactly how far below that step would be. The United States is a massive work in progress, and it could take years to get back on track.