What Houston Rockets Need to Do to Win an NBA Championship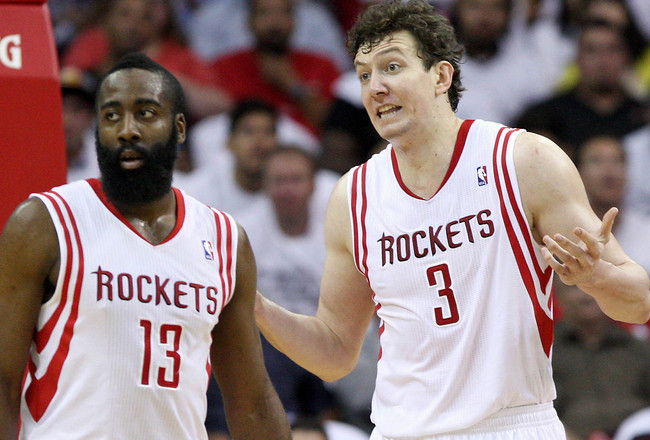 Troy Taormina-USA TODAY Sports
As presently composed, the Houston Rockets are not an NBA championship contender. Fortunately, they've got the kind of youth and available cap space to significantly change their composition this offseason.
Houston took its first step toward title contention when it snared its superstar last year. James Harden came on board via a preseason trade with the Oklahoma City Thunder and quickly established himself as a legitimate star. He was chiefly responsible for getting the Rockets to the playoffs for the first time since 2008-09. Cornerstone, the name is Harden.
But Harden can't carry his team alone.
Houston's brass is going to have to make a number of difficult decisions this summer, both in terms of personnel and style of play.
Figuring out which of the young pieces to develop and which ones to toss aside in favor of big-name free agents will be tricky. Determining which free agents to pursue (and how much to pay them) could be even trickier.
This will be a critical offseason for the young Rockets. If the team makes a few of the right moves, there's a chance that Houston could be in the championship mix as soon as next season. But spending money unwisely, or sticking with some of their own players for too long, could prove disastrous.
*All stats via NBA.com and ESPN.com unless otherwise indicated.
Sort Out the Power Forwards on the Roster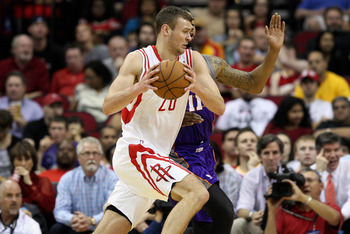 Troy Taormina-USA TODAY Sports
Because of its penchant for small ball, Houston spent a lot of time with guys like Chandler Parsons at the 4 last year.
That proved to be a viable strategy in spurts, but it was also something of a necessity. Of the power forwards on the roster at the end of the season, not one distinguished himself as a player with a surefire future in the rotation.
That's not to say Houston's power forwards lacked talent. Donatas Motiejunas showed an intriguing combination of size and guard skills, Greg Smith played with a force that belied his undersized frame and Thomas Robinson is still less than a year removed from being a top-five pick by the Sacramento Kings.
The Rockets need to decide if any of their current power forwards project to be a big part of the team's future because of the implications that decision could have on this summer's free-agent pursuit.
When you think about it, that's actually a good problem to have. All three of the aforementioned players are young, have obvious talents and are on team-friendly deals.
If Houston is confident that one of its young bigs has the ability to step into a larger role, free agents like Josh Smith and Paul Millsap suddenly become less appealing.
Find Some Perimeter Defenders
Troy Taormina-USA TODAY Sports
With Omer Asik in the middle, Houston's interior defense is actually pretty stout. But a combination of a lack of skilled perimeter defenders and a pervasive defensive fatigue caused by the Rockets' league-leading pace left Asik with far too much responsibility on the inside.
Driving against the Rockets was easy this past season. And while scoring over Asik wasn't so simple, repeated forays into the lane had Houston's only quality big man flirting with foul trouble a bit too often.
Slowing down the offense might be one way to address the team's issues with perimeter defense.
After all, it's hard to expect Harden and Chandler Parsons to go all out on D after carrying such a heavy offensive load for so many possessions. So the next best option is to bring in a couple of defensive specialists to add to the rotation.
Corey Brewer, Tony Allen and Matt Barnes are all unrestricted free agents. So if the Rockets want to insert a defensive stopper or two into the rotation, there are some very good options on the market.
Houston's overall defense rating was actually 17th in the league last season, surprisingly in the middle of the NBA pack. The addition of a couple of defense-oriented players could improve that figure enough to push Houston away from one-trick-pony territory and closer to championship contention.
Stabilize the Half-Court Offense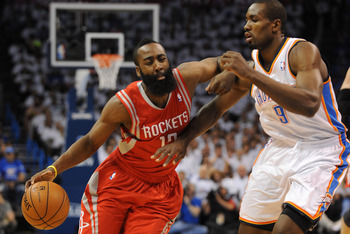 Mark D. Smith-USA TODAY Sports
Everybody knows that that Rockets were lethal in transition last year, but anyone who watched more than a few games is probably also aware that the team had a habit of stalling out when the game slowed down.
Late-game situations often turned into isolation sets with four Houston players standing around and watching Harden try to beat his man. Harden is better than all but a few NBA players in those circumstances, but even his one-on-one skills aren't enough to make a heavy diet of isolation sets an effective one.
The Rockets need a more reliable way to score when the opposing team gets a chance to set its defense. Maybe that means a heavier dose of pick-and-roll plays. Or perhaps Houston will have to acquire a player capable of posing a threat on the block.
Whatever the case, the Rockets can't contend for a championship until they have viable offensive options when the transition attack doesn't work. Isolation-heavy teams can only go so far.
Just ask the New York Knicks.
Address the Jeremy Lin Situation
Troy Taormina-USA TODAY Sports
Jeremy Lin is an average NBA player. His PER of 14.94 last year was a nearly perfect illustration of that point (15.00 is considered precisely "average").
Offensively, his skills include a knack for drawing fouls and an ability to get to the hoop on the dribble. On D, he's not particularly quick, but he does have the ability to direct his man toward the help, which is no small feat.
But he shot just 44 percent from the field and 34 percent from long range. Plus, he failed to kick his habit of picking up his dribble with no place to throw the ball. For every promising quality Lin showed last season, he matched it with one that was less encouraging.
There's still a chance he'll improve, but the Rockets have to decide whether he's the kind of player that they can envision starting for a championship team. One thing's for sure: He's certainly not that player right now.
Lin still has plenty of value, so if the Rockets want to make a run at Chris Paul or even lesser guys like Jarrett Jack or Jeff Teague, moving Lin could open up a spot.
Either way, the Rockets need to make a decision on Lin.
Go Get Dwight Howard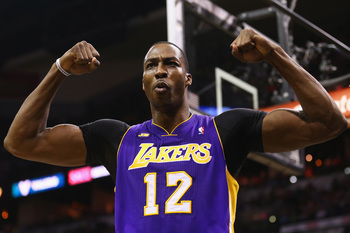 Ronald Martinez/Getty Images
You were waiting for this one, weren't you?
Obviously, the quickest way for the Rockets to morph into a team capable of winning an NBA title is to sign the best big man on the market.
Howard is coming off of a forgettable season with the Los Angeles Lakers that should give the Rockets some pause. He struggled to find a role, put his foot in his mouth a dozen times and spent about three quarters of the season looking like a shell of his former athletic self.
But toward the end of the season, Howard returned to form in a way that should remove any serious reservations the Rockets might have.
Houston can offer Howard about $88 million over four years, which is nearly $30 million less than the Lakers could promise him on a five-year deal. But Texas has no state income tax, and the Rockets' young roster must look more appealing to Howard than the broken-down mess he played with in L.A. last year.
It's hard to know what would become of Asik if Howard were to join the Rockets, but that's a problem that shouldn't prevent Houston from doing everything possible to snare his services.
To win a title, it usually takes at least two legitimate stars. With Howard and Harden, the Rockets would have one of the top duos in the league.
Have a Backup Plan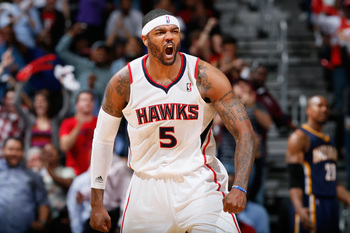 Kevin C. Cox/Getty Images
The Rockets can't just sit back and count on getting Howard to suddenly vault them into the contending elite. If D12 opts to return to the Lakers or wants to sign elsewhere, Houston has to be ready with a contingency plan.
The first phase of that plan is implementing the other suggestions already mentioned. Improvement from within will be critical for this young team, no matter which free agents ultimately end up in Houston. So the questions at power forward and point guard (among others) will still need to be answered.
But with plenty of cap space, the Rockets can make a couple of additions that could push the team closer to a title—if not over the top.
Paul Millsap and Josh Smith are a pair of intriguing options. If Houston wants to toughen up its image and add some versatile offensive punch, Millsap could be a nice fit. Plus, he's not the kind of player who would command a max salary.
The more dangerous, but no less intriguing, option is Smith.
As long as Kevin McHale could get a firm promise that Smith wouldn't hoist up any of his trademark errant jumpers, the athletic forward could fit perfectly as Houston's small-ball power forward. His help defense could erase some of the Rockets' perimeter mistakes, and he'd thrive in the open floor on offense.
Consistency and attitude are always going to be in question when it comes to Smith. And it might be hard to justify the max deal he's likely to command. But as a dynamic addition to a team that loves to run, he represents a very exciting possibility.
Keep Reading

Houston Rockets: Like this team?