Detroit Red Wings vs. Chicago Blackhawks Game 7: Live Score, Updates, Analysis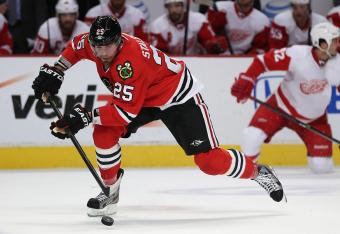 Jonathan Daniel/Getty Images
Chicago completed an exhilarating series comeback on Wednesday night against Detroit. The Blackhawks put a punctuation mark on the Western Conference semifinals when Brent Seabrook sent a shot past Red Wings goalie Jimmy Howard 3:35 into overtime of Game 7 in Chicago.
The game-winner gave Chicago a 2-1 victory and propelled the conference's top-seeded team to a matchup with defending Stanley Cup champion Los Angeles. The Blackhawks began the series with a 1-0 advantage before losing three straight and landing on the brink of elimination.
Chicago, the 2010 NHL champs, are now eight wins away from another title. Detroit, competing in its 22nd straight postseason, must think about the season-ending three-game losing streak throughout the summer.
Final: Chicago 2, Detroit 1 (Overtime)
We're headed to overtime in the Windy City. Discussion will linger over the legitimacy of that late-game penalty call that cost Chicago a chance to win in dramatic fashion.
Game 7. Overtime.
The team that scores next will play Los Angeles in Western Conference finals. The loser is headed to summer vacation.
Stay tuned...
Blackhawks score go-ahead goal with 1:47 remaining in regulation BUT penalties wipe play out!
It appeared Chicago took control of this game after creating a turnover off the stick of Henrik Zetterberg. Niklas Hjalmarsson scored on a slap shot but the goal was quickly waved off.
Kyle Quincey and and Brandon Saad were whistled for roughing moments before Hjalmarsson pulled the trigger. Chicago fans reacted with joy but have quickly turned on officials after hearing the ruling.
Chicago 1, Detroit 1 (3:30 Third Period)
We remain on a collision course with overtime action as neither team can muster a go-ahead goal. There have been masterful goaltender performances on each end of the ice.
Jimmy Howard has 30 saves, while Corey Crawford owns 24 stops. Each netminder has stopped seven shots in the third period.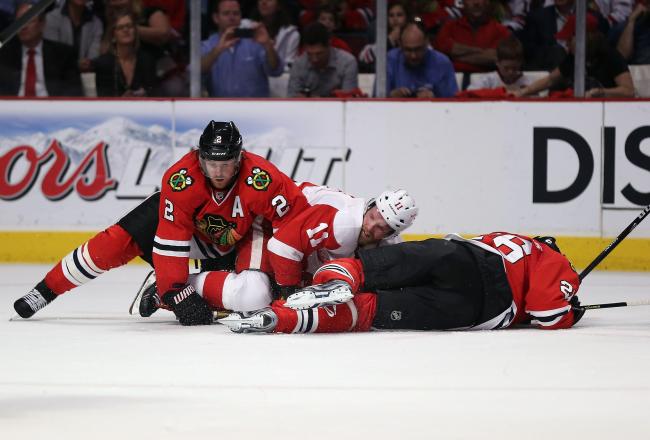 Detroit dismantles yet another Blackhawks power play. Chicago has come up empty on four opportunities tonight.
The teams are a combined 0-for-6 on man advantages in Game 7. Nothing has come easy for either squad in this do-or-die matchup.
Chicago 1, Detroit 1 (13:53 3rd Period)
The Blackhawks are back on the power play. Special teams haven't been kind to Chicago so far in Game 7.
The host squad is 0-for-3 with a man advantage tonight. Detroit's Jonathan Ericsson earned two minutes in the box for hooking Patrick Sharp.
Detroit has been the aggressor here in the final frame of Game 7 on the road. The Red Wings own five shots on goal through less than six minutes of third-period action.
It's a fast improvement in the team's attack after managing just six shots on goal in the second period.
Red Wings score equalizer, tie game at 1-1 just 26 seconds into third period!
Detroit didn't take long to respond to a rough second period. The Red Wings have evened things up when Henrik Zetterberg registered his fourth goal of the postseason.
The team leader is tied for second among active players with nine career Game 7 points. He was assisted by Gustav Nyquist and Daniel Cleary.
It's a whole new game here in the Windy City.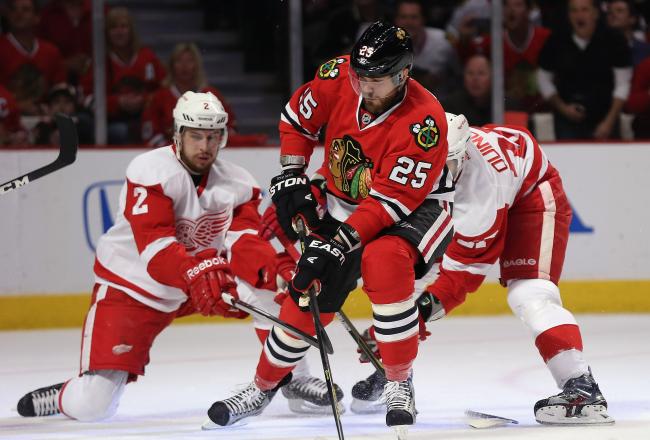 Second period concludes with Chicago ahead 1-0!
The Blackhawks are 20 minutes away from winning three games in a row and completing an impressive comeback. Patrick Sharpe scored during the second period to put Chicago in front 1-0.
Corey Crawford has been excellent in net for the Blackhawks. The Red Wings, who once led this series 3-1, on the verge of elimination.
Stay tuned for third period updates...
After putting 11 shots on goal in the opening period, Detroit has managed just five attempts here in the second frame. Chicago has clogged the passing lanes throughout the period.
Chicago 1, Detroit 0 (4:00 2nd Period)
Corey Crawford has been outstanding between the pipes tonight. He has withstood a pair of Detroit power plays and 15 shots on goal.
The Red Wings have threatened at times, but Patrick Sharp's goal remains the difference in Game 7.
There are good power plays, there are bad power plays, and then there's whatever the Blackhawks just did. I think they lost a shot on goal.

— Jesse Spector (@jessespector) May 30, 2013
Criticism for Chicago's latest power play opportunity. Sporting News reporter Jesse Spector pokes a little fun at the Blackhawks' expense.
Chicago 1, Detroit 0 (8:10 2nd Period)
These rivals are now 0-for-5 on the power play. The Red Wings have been stifled offensively throughout the contests.
You have to wonder if Detroit is feeling a bit shell-shocked at this point since surrendering a 3-1 series advantage.
Detroit is on its second power play of the game. The Red Wings have been outshot 18-13 so far in the contest.
Andrew Shaw picked up an interference penalty after colliding with Carlo Colaiacovo.
Chicago draws first blood, takes 1-0 with 18:52 left in second period!
Patrick Sharp has struck again. The Chicago star scored his seventh goal of the postseason to provide the Blackhawks with a 1-0 lead early in the second stanza of Game 2.
Marian Hossa and Michael Handzus provided the assists.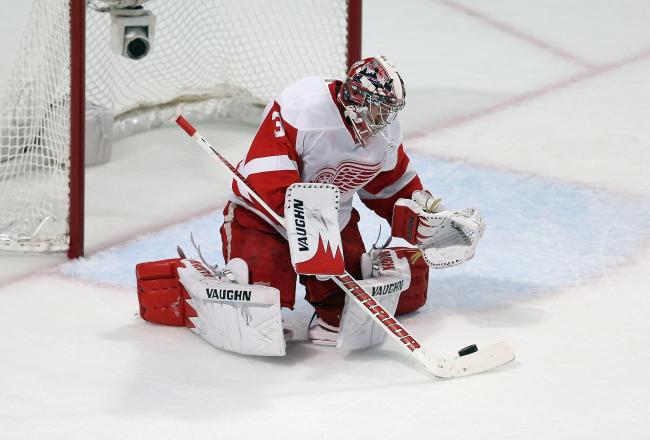 Jimmy Howard has saved 406 shots on goal during the 2013 postseason. This is the second Game 7 he's encountered during these playoffs, including a first-round road encounter at Anaheim.
Valtteri Filppula, a playoff standout for Detroit and impending free agent, was sent to the locker room following a questionable hit by Andrew Shaw. He is reportedly using crutches to move around.
Rough news for the Red Wings.
First period comes to a close in scoreless stalemate!
Detroit and Chicago are knotted at 0-0 through 20 minutes of end-to-end action. The squads put up 25 total shots in the period, but netminder Jimmy Howard and Corey Crawford weathered the storm without surrendering a single goal.
The Blackhawks were blanked on two power play opportunities, while Detroit came up empty on its only man advantage of the opening period. Despite wide-open offensive attacks, physicality took center stage early in Game 7.
Stay tuned for second-period coverage...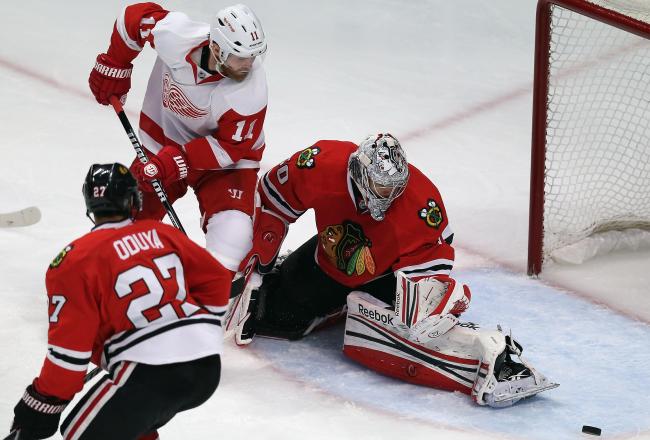 Chicago 0, Detroit 0 (4:40 1st Period)
Each team has squandered a man advantage through the opening stages of Game 7. The action is scrappy to say the least, and some scrums have ignited during the matchup.
Referees appear refreshingly reluctant to call anything substantial, understanding the gravity of this battle. Each squad has 10 shots on goal.
Chicago's Viktor Staberg leads the way with three shots.
Game 7 isn't lacking for action, as 17 shots have been taken less than 14 minutes through the first period. Detroit owns a 9-8 edge in shots on goal but both goalies have stood tall on center stage of a major showdown.
Jimmy Howard and Corey Crawford each appear composed and haven't surrendered any substantial rebounds in the opening period.
Chicago 0, Detroit 0 (10:38 1st Period)
The Blackhawks begin their first man advantage of the game. Detroit's Joakim Andersson picks up an nterference penalty for his treatment of Andrew Shaw.
The Red Wings are able to kill the first power play opportunity of Game 7. Duncan Keith took a seat for two minutes after tripping Justin Abdelkader, but Detroit stood tall to keep this contest scoreless early.
Jim Cornelison sets the tone for a seismic Game 7 with another powerful rendition of the National Anthem. I've set it before, I'll say it again: no team opens action on home ice with a more impressive pregame display.
Hockey fans, sit back and enjoy a tremendous display of the sport at its finest. "Original Six" squads going at it with everything on the line.
This article is
What is the duplicate article?
Why is this article offensive?
Where is this article plagiarized from?
Why is this article poorly edited?