It's a dangerous question, a question that's crossed many minds and dared to fly from loose lips around the NBA since the Miami Heat dropped Game 4 of the 2013 Eastern Conference Finals against the Indiana Pacers.
No, not "what was the deal with that woman who collapsed after Lance Stephenson's miracle three at the end of the third quarter?"
Though, really, what was up with that?!
Rather, I'm referring to a question that's likely made David Stern and the folks at the league office cringe several times over already: What if the Pacers beat the Heat and meet the San Antonio Spurs in the NBA Finals?
Does the league vanish? Does the survival of basketball as a sport become a thing we have to worry about? Does LeBron James bulldoze courts across America to express the frustration of another potential title squandered?
Oh, and would anyone even bother watching a matchup between the Spurs and the Pacers whose "sex appeal" might not even rival that of dry toast?
There's no telling exactly how such a change in expectations would affect the ratings and, in turn, the NBA's take from a Finals series featuring Tim Duncan, Tony Parker and Manu Ginobili against Roy Hibbert, George Hill, Paul George, George McFly, George Stephanopolous and just about every other George you can think of.
(OK, maybe not, but still...)
However, it's reasonable to think that casual fans, and even some more-than-casual fans, would be turned off by the absence of supernova-caliber star power. After all, the NBA is a superstar's league. What is the NBA Finals if not a showcase for the sport itself? And what good is a showcase without some flashy names splashed across the marquee?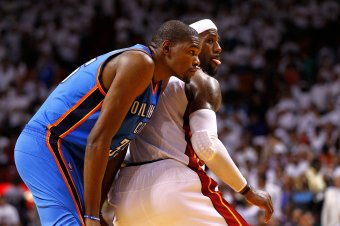 Mike Ehrmann/Getty Images
Especially after the tease that last year's Finals turned out to be. Fans were treated to (and spoiled by) a battle between the two best players in the sport, when LeBron's Heat and Kevin Durant's Oklahoma City Thunder went head-to-head, albeit for only five games. It was the sort of matchup of which the league was deprived when Kobe Bryant and LeBron failed to cross paths in previous years.
Plenty expected that tilt to finally come to fruition this season, after the Los Angeles Lakers reloaded with superstars over the summer. But...well, that idea fell flat, to say the least, along with the Lakers' hopes and dreams.
As did any notion of LBJ and KD rekindling their friendly rivalry, after Russell Westbrook's introduction to Patrick Beverley went awry.
Not that the Heat and the Spurs trading barbs is much of a downgrade in that regard. Heck, that series would have no shortage of historical subplots and juicy storylines to add depth to the on-court action.
Aside from Miami defending its Titletown turf and the narrative implications therein, there'd be the discussion of which team's "Big Three" is better. There'd be Ray Allen's quest for (perhaps) one last ring opposite fellow 37-year-old Tim Duncan. There'd be Chris Bosh, a Dallas native, going toe-to-toe with Duncan, his childhood idol (via ESPN's Michael Wallace).
Texas native Chris Bosh said he had Tim Duncan posters on his wall when Spurs won the title in 1999. Has always liked his game.

— Michael Wallace (@WallaceNBA_ESPN) May 28, 2013
And, of course, there'd be LeBron trying not only to avenge the four-game sweep his Cleveland Cavaliers suffered at the hands of the Spurs in 2007, but also to get on the board against Texas teams in the Finals.
(See: Mavericks, Dallas; LeChoke)
To be sure, San Antonio brings plenty of its own buzz to the table, albeit of the variety that casual fans and stargazing folks in the media are so often quick to overlook. There's the realigning of the perception about Tony Parker with the reality that he is, indeed, a true superstar—an angle that ESPN's Jalen Rose has been pushing hard of late:
Hate it or love it...Parker IS the 3rd best player in the ENTIRE NBA. Period. Behind only LBJ & KD.

— JALEN ROSE (@JalenRose) May 28, 2013
Like I said, Parker is #3 right now. KB had his great run. TP HAS/IS putting in more work than all others in the conversation. Fact. #NBA

— JALEN ROSE (@JalenRose) May 28, 2013
Writing an article on why Parker is a top 5 player right now in the NBA. What is your criteria based on current candidates? #respect

— JALEN ROSE (@JalenRose) May 29, 2013
There's the whirling dervish that is (and has been) Manu Ginobili, and the ascension of Kawhi Leonard into San Antonio's triumvirate. At the center of it all, there are the myriad plot points emanating from Tim Duncan, between his successful relationship with Gregg Popovich, his standing as (arguably) the greatest player of his generation and the potential for him to join Kareem Abdul-Jabbar as one of two players to earn NBA Finals MVPs 14 years apart.
Let's not sell the Pacers short, either. They've got one rising star, in Paul George, who's emerging as the next in a line of long, athletic, hybrid forwards, of which LeBron was the most recent origin. They've got another, in Roy Hibbert, who's doing everything he can to debunk the myth of the traditional center as a "dying breed."
There's George Hill, who was once a beloved member of the Spurs, and Lance Stephenson, a snarling instigator whose basketball journey began as a teenage phenom in Brooklyn. There's Frank Vogel, the video coordinator-turned-head coach whose career began at the hand of another recent champion: Rick Pitino.
And, lurking behind the scenes is Larry Bird, who mysteriously vacated the front office after building this Pacers team, just as he did once he'd coached Indy to the Finals in 2000.
Still, none of that can quite measure up to LeBron, Wade, Bosh and the fleets of flashbulbs following what may well be another basketball anomaly nearing extinction: the "superteam." With the restrictions inherent in the new collective bargaining agreement, it may be years before we see another team stacked with as many ascending and/or in-their-prime superstars as these Heat can count in their employ.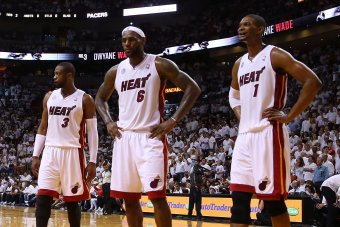 Mike Ehrmann/Getty Images
Assuming we're ever again to witness the rise and fall of an outfit with the sort of crossover appeal about which Miami can currently gloat.
This is all to say nothing of the disparity in the quality of the actual basketball that would likely be played in each potential matchup. The Heat are known for their brand of LeBron-centric small ball, which features pressing defense, crisp passing, deadly three-point shooting and a fast-paced offensive philosophy fueled by the breathtaking athleticism of the team's signature stars.
The Pacers, on the other hand, are more of an old-school outfit. Their success is also predicated on defense, though their league-leading brand relies far more on length and strength than it does on speed, instincts and anticipation. On the other end, Indy tends to grind out baskets with missed shots often doubling as the squad's most dangerous offensive weapons, thanks to the Pacers' collective ability to clean the glass.
In short, there's nothing pretty about what Indy does, while Miami currently rests at the pinnacle of modern, Euro-influenced basketball with the way it goes about its business.
As for the Spurs, they're versatile enough to swing either way. They're built for the sort of track meet that the Heat would instigate, with Parker pushing the ball and Leonard and Danny Green filling the wings for San Antonio. In fact, the Spurs employ many of the same spread pick-and-roll principles that guide Miami's offense, and have proven to be just as pass-happy as the Heat can be.
If not more so.
On paper, a Spurs-Heat Finals has the makings of a series that would whet the appetite of most every basketball aesthete. Both teams run carefully constructed systems that depend on a concert of ball and player movement and that accentuate (rather than restrict) the preternatural talents of their respective cornerstones.
Each is also superb on the defensive end, more often than not, while relying on one All-Defensive performer in particular (the versatile LeBron for Miami, the rim-protecting Duncan for San Antonio) to anchor its efforts.
The Spurs, though, could just as easily revert to their roots as a slow, deliberate squad if they were to clash with the like-minded Pacers in the Finals. Should that come to fruition, we poor, tortured fans could be "treated" to a series not unlike the 2005 Finals—which featured San Antonio taking down the defensive-minded, defending champion Detroit Pistons—for better or worse.
But probably worse. Sure, that series went seven games, but none of those games were particularly close or suspenseful and all of them were filled with the sort of knock-down, drag-out basketball that the NBA did its darndest to outlaw when it instituted stricter hand-checking rules in 2005.
Which NBA Finals matchup would you rather see?
To the surprise of, well, nobody, that year's Finals clocked a subpar score of 8.2 in the Nielsen ratings. Two years later, that number careened to an all-time low of 6.2 when the Spurs swept LeBron's Cavs out of the Finals, thereby undercutting the previous low set when San Antonio stuck it to the New Jersey Nets in 2003.
The point being, the Spurs have never been much of a draw—and that's putting it mildly. Even San Antonio's tilt with the big-ticket New York Knicks in 1999 tallied the lowest Finals rating in 18 years.
If you're a fan of the Spurs, then, you should be cheering your head off for the Heat to advance, not because Miami's an easier match (which it isn't), but because LeBron, Wade, Bosh and Co. will bring more eyeballs along with them.
And, perhaps, more respect to San Antonio, if the Spurs put on the sort of show of which they're eminently capable.
No offense to the good folks in the Hoosier State, whose team has done a fine job of blossoming into a contender before our very eyes. But, really, we should all be pulling for the Heat to some extent, as strange as that may seem on the surface. Basketball's more fun to watch when it's played well and when there's more history at stake.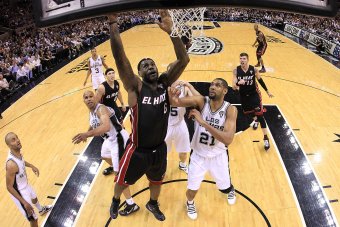 Ronald Martinez/Getty Images
When there are dynasties and legacies of different ages to solidify. When "mucking it up" isn't the soup du jour, or even the soup of the day.
Hypothetically speaking, Spurs-Heat would give us the history and the artistry, and then some. Spurs-Pacers? Ehhh, not so much.