New York Mets Grades for Every Player in May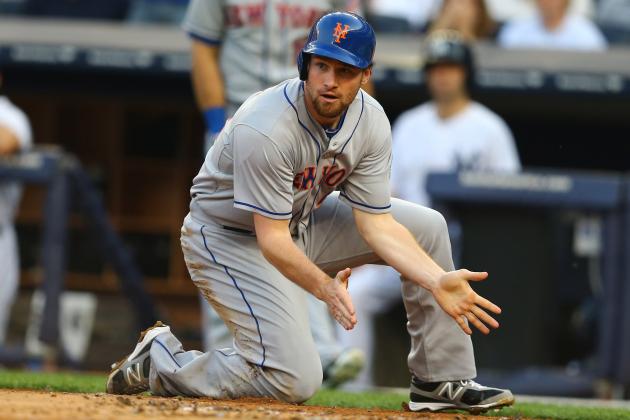 Al Bello/Getty Images

As the saying goes, April showers are supposed to be followed by May flowers, but the New York Mets were met with nothing but an ominous rain cloud through the first 20 games of the second month of the season.
The team was spiraling out of control, and even the perpetual optimist couldn't have liked the Mets' chances of saving themselves from a year of embarrassment.
But things are on the up-and-up as of late, and the team is playing better baseball than it has all season long. Terry Collins' Mets lost 14 of 20 to start the month but have pieced together an impressive stretch of five straight wins, including a pair of two-game sweeps at the expense of the New York Yankees.
Everybody is feeling better about the position the Mets are in now, but there's no getting around the fact that this team still isn't where it needs to be due to a lack of consistency.
Here you can find out who has been doing his job and who hasn't, as we grade each Mets player for the month of May.
Begin Slideshow

»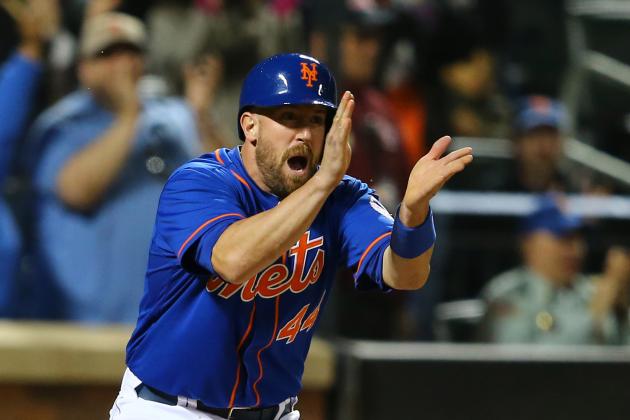 Al Bello/Getty Images

John Buck had a great April, but he's been terrible at the plate in May. In 23 games, he's managed just 17 hits in 82 at-bats, good for a .218 average. Just like a few players to come on this list, Buck would be getting a lot more flak from the fans and media if Ike Davis weren't playing the role of whipping boy.
For his struggles at the plate, Buck has done a decent job behind it. But it's hard to say he has been great at calling games because nine pitchers registered an ERA of 4.50 or higher this month.
Chances are that isn't Buck's fault. The starting rotation and bullpen weren't great this month, aside from a few standouts.
May Grade: C-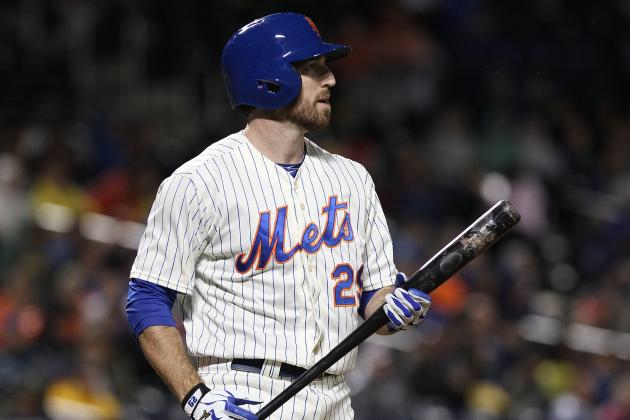 Mike Stobe/Getty Images

You don't need to read this slide to know what grade Ike Davis is going to be given for May.
He has been an abomination to his team and baseball in general, but I still find myself feeling bad for the guy. Nobody just has his talent sapped from him in one offseason, so a lot of what Davis is going through has to be mental at this point but it needs to end somewhere.
If Davis doesn't pick it up by the weekend, he should be packing his bags for Las Vegas. A Major League Baseball player can't hit .160 over the course of 163 at-bats.
May Grade: F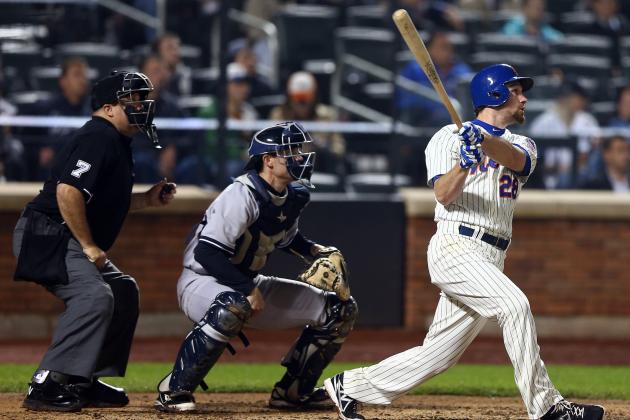 Elsa/Getty Images

The New York Mets are thanking their lucky stars for Daniel Murphy this month. Without him, they would be in worse shape than nine games under .500.
Thanks to his 22 hits in the last 18 games, Murphy has brought up his on-base and slugging percentage by six and five points, respectively, his average up by 14 and his OPS up by 22.
He started the ninth-inning rally against Mariano Rivera and made a nifty move to get out of the way of David Wright's game tying, line-drive single. If the Mets can get some semblance of production out of the rest of the lineup, Murphy is in for an even better June.
May Grade: A-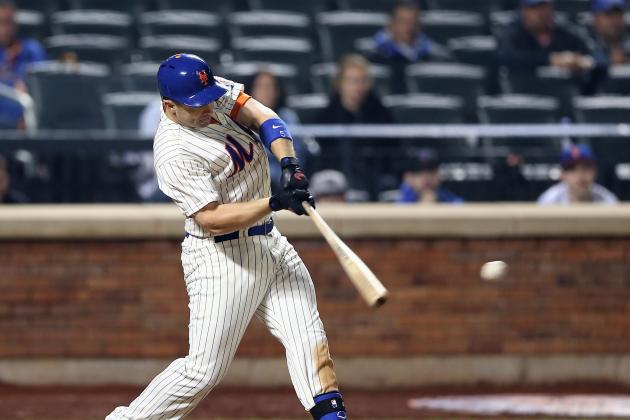 Elsa/Getty Images

Aside from Daniel Murphy, David Wright is the only guy in the New York Mets lineup whom you can look at and think, "Hey, this guy might have a productive at-bat this time up."
He hit a respectable .289 this month and brought his slugging percentage up by an impressive 19 points. He's also amongst the league leaders in walks, which is to be expected when opposing pitchers don't mind pitching around him to get to the next guy.
I don't know how Wright handles being surrounded by futility all the time, but he carries himself better than just about everyone else would in a situation like this. He's the captain of a very bad team, so some kind of outburst would be forgiven; however, we haven't seen any of that with Wright.
May Grade: B+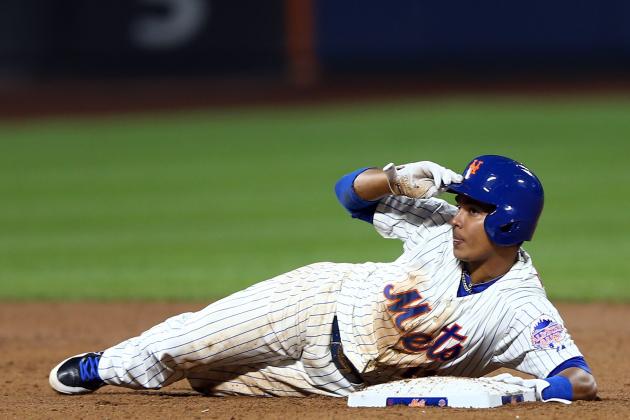 Elsa/Getty Images

Ruben Tejada has hid behind Ike Davis' smokescreen for the final time. He blew his cover after getting picked off at second base to end the sixth inning and failing to keep the ball in the infield on a dribbler up the middle.
Tejada has reached base at a sickening .206 clip this month and still finds himself in the leadoff spot from time to time. He can't steal bases because he can't get on base, and even when he does get on base, he can't steal bases.
When was the last time you saw a player's slugging percentage lower than his on-base percentage? Well, look no further than Ruben Tejada and his .204 slugging percentage.
Tejada will get some time to clear his head, though, as he landed on the disabled list with a balky quad.
May Grade: F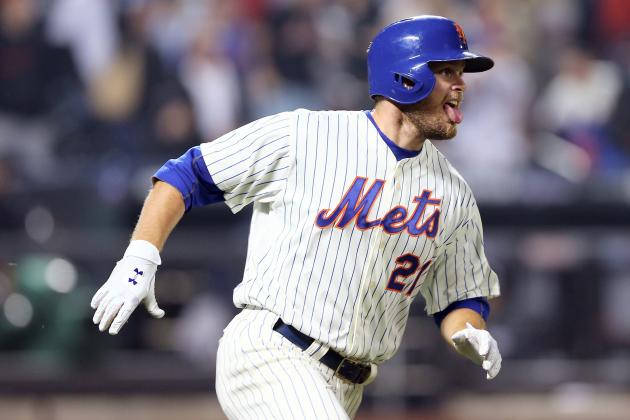 Elsa/Getty Images

This month has been a tale of two halves for Lucas Duda, as he started May just 4-for-40 in his first 12 games but has 16 hits in his last 14 games.
Duda is on a tear and has hit in 12 of his last 14, but that doesn't excuse his 82-point drop in on-base percentage since the start of the month. Throw that in with his 79-point slide in slugging percentage, 161-point drop in OPS and 26-point dip in batting average, and it's a wonder how he has produced at all this month.
But give him credit, he has increased his average from .205 on May 15 to .238 on the May 30.
May Grade: C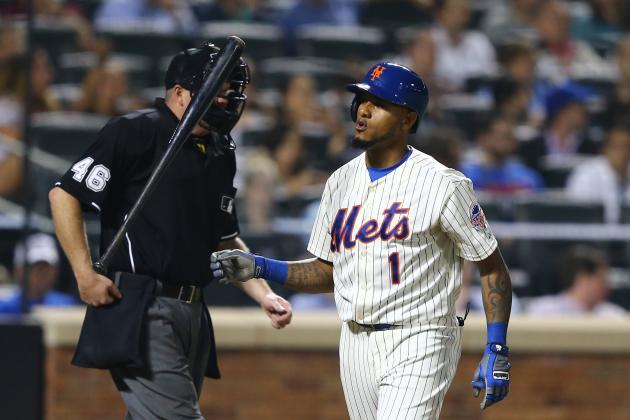 Al Bello/Getty Images

Jordany Valdespin has been used primarily in a pinch-hitting role this month and hasn't had a meaningful hit since May 1, when he homered off Miami Marlins relief pitcher Anthony Ramos to put the Mets up 5-4.
Other than that, JV1 hasn't done anything to differentiate himself from the rest of his slumping teammates. Granted, he's been given fewer opportunities to prove himself, but it seems that can be chalked up to his off-field attitude rather than these opportunities failing to present themselves.
Valdespin is intriguing because he's had some clutch moments for the Mets, but he still has a long way to go before he's ready to assume the role of a starting MLB player.
May Grade: D-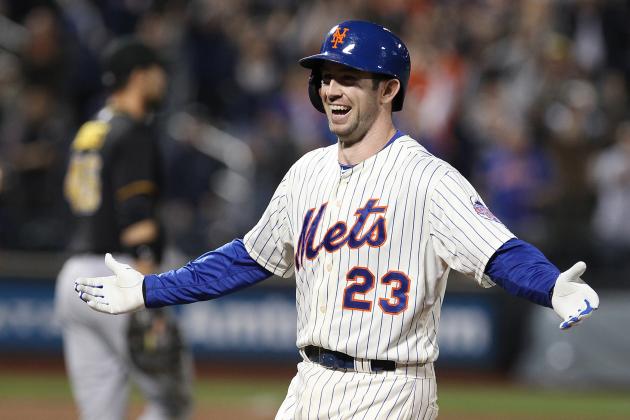 Mike Stobe/Getty Images

Mike Baxter showed his propensity for heroics on May 7 and 9 with game-winning base hits against the Chicago White Sox and Pittsburgh Pirates, respectively, but he hasn't shown much other than that.
The Whitestone Kid is a fan favorite because of the Johan Santana catch and the fact that he's from the area, but fan support hasn't helped him get more days in the lineup card. Terry Collins is well aware that Baxter isn't an everyday Major League Baseball player, so he tries to use him in spurts.
Baxter has done all right for himself this month given his sporadic playing time and is currently hitting .265 in May. But for a guy who needs to be a spark plug to have any role, he scored his first run on Wednesday since May 13.
May Grade: C-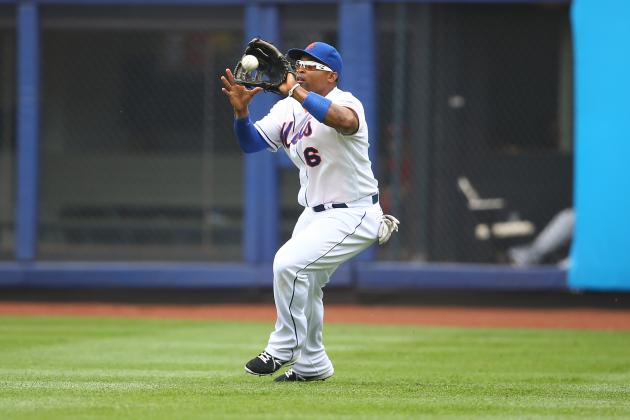 Al Bello/Getty Images

Marlon Byrd has hit .259 thus far through May and has raised his batting average by 12 points. He has been playing regularly this month, and given the type of player Byrd is and what the Mets thought they would be getting out of him, he hasn't been dreadful.
Well, his May resume would have looked a lot worse had he not stepped up against the New York Yankees by hitting a homer and driving in two runs in the final two games of the month against the crosstown rivals.
May Grade: C-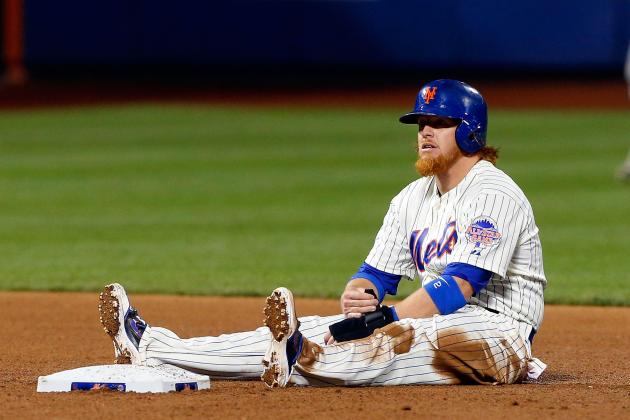 Jim McIsaac/Getty Images

After hitting .368 in April, Justin Turner has lost his role-player mojo in May thanks to a 8-for-38 performance.
Turner is still hitting .289 despite this dreadful month, so it's hard to get on him too hard, but he is 2-for-23 in games that he has started in May. For all the gripes we've heard about Ike Davis, Turner is not a viable option at first.
May Grade: D-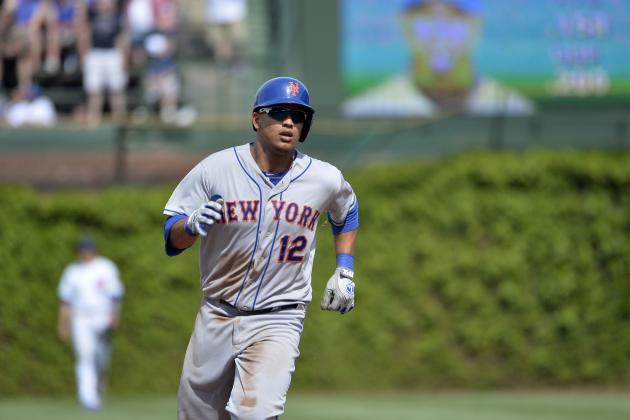 Brian Kersey/Getty Images

There isn't much to say about Juan Lagares other than he's been bad. It's about time for the Lagares experiment to end, which is a shame, because he was afforded the chance to steal an outfield job at the front end of this month.
The Lagares experiment ended before it started partly due to his failure to draw a walk in 35 at-bats. To play on a team that is trying to preach on-base percentage and knowledge of the strike zone, a player needs to demonstrate his knowledge of the strike zone and reach base.
Lagares didn't do this and has come to the plate just 11 times since May 15.
May Grade: F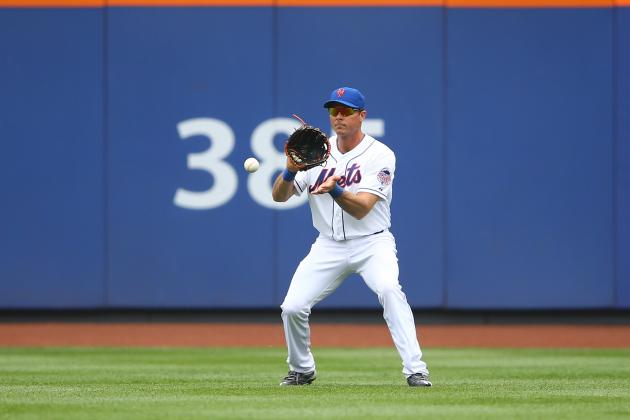 Al Bello/Getty Images

Rick Ankiel couldn't cut it for the Houston Astros, so naturally the New York Mets decided to take a chance on him.
The acquisition has panned out marginally better than I envisioned it would, mostly due to Ankiel's great defense in center field. We know he has a rocket arm, but his patrol of cavernous Citi Field is what has helped him keep the job.
He has just two hits in his last 18 at-bats, but don't forget that he had a seven-game stretch when he racked up 10 hits and six RBI.
May Grade: C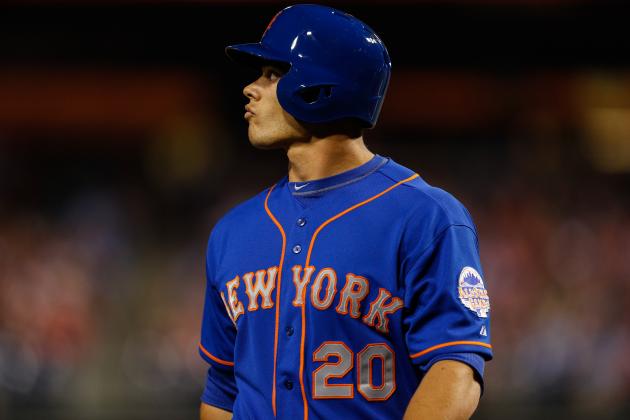 Brian Garfinkel/Getty Images

Yes, ladies and gentlemen, Anthony Recker occupies a roster spot on this New York Mets team. He hasn't played much this season because John Buck has been a horse in terms of his ability to catch day after day.
Recker has just three starts to his credit this month and hasn't done much to take playing time away from Buck because of his 3-for-13 slate. He looked great behind the plate on Thursday, though, as he helped Dillon Gee to his best outing of the season.
May Grade: C-/D+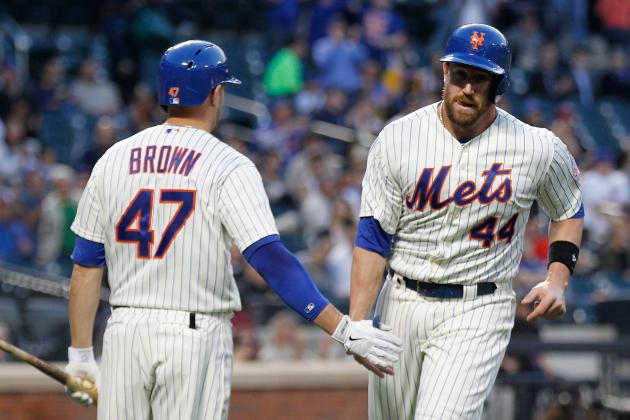 Mike Stobe/Getty Images

Andrew Brown hasn't been around much in May, but he's registered six more at-bats than Anthony Recker. You know things are going bad when a guy like Andrew Brown gets put on a list like this and hasn't played a game since May 12.
It has been a carousel of below-average outfielders two months into the season, and Brown has failed to make himself relevant in a poor crop of players.
May Grade: D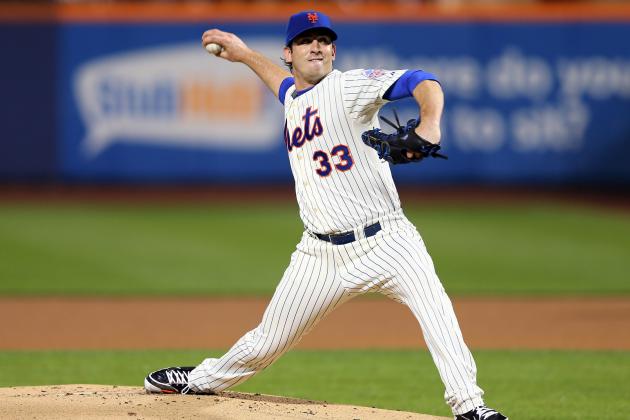 Elsa/Getty Images

Sans his one start against the Cincinnati Reds when he allowed four runs in 6.1 innings, Matt Harvey has been nothing short of brilliant this month.
Take that start away and Harvey is the owner of a 1.44 ERA in 31.1 innings on the bump. Unfortunately for Harvey, he hasn't had much run support from this anemic New York Mets lineup, but the team went 3-2 in games that he started in May (and 8-3 overall).
He's the guy in New York right now—even more so than David Wright. Whatever direction this season heads, take some solace in the fact that Harvey pitches every fifth day.
May Grade: A-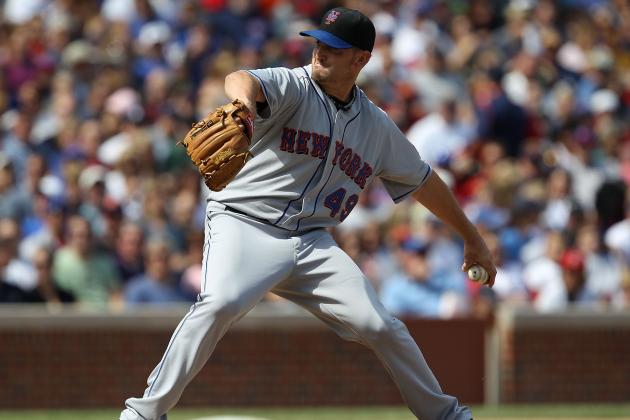 Jonathan Daniel/Getty Images

Unlike Matt Harvey, Jonathon Niese isn't so proud of his ERA, which sits at 5.65 this month.
After allowing 12 runs in April, Niese was shellacked for 15 earned in his first two May starts. Fortunately for the Mets, Niese has figured himself out as of late to the tune of a 1.33 ERA over his last three starts.
Niese isn't where he needs to be if the Mets are going to have a one-two punch at the front end of the rotation, but we've seen what he's capable of. Let's just hope he keeps the momentum from his last few starts.
May Grade: C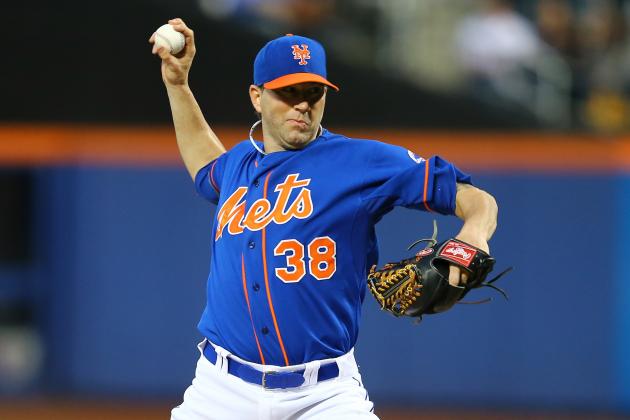 Al Bello/Getty Images

After throwing just 5.2 innings in April, Shaun Marcum got healthy and slid into a role toward the back end of this New York Mets rotation. In his first two May starts, the 31-year-old righty surrendered nine earned runs in as many innings and saw his ERA balloon to 8.59.
Marcum has been serviceable since then, though. In his last three outings against the St. Louis Cardinals, Cincinnati Reds and Atlanta Braves, Marcum posted a 3.75 ERA to bring his season mark down nearly three full points.
He struck out 12 against the Braves in his last start, so the team will be looking for him to build on that and get his ERA under five.
May Grade: C-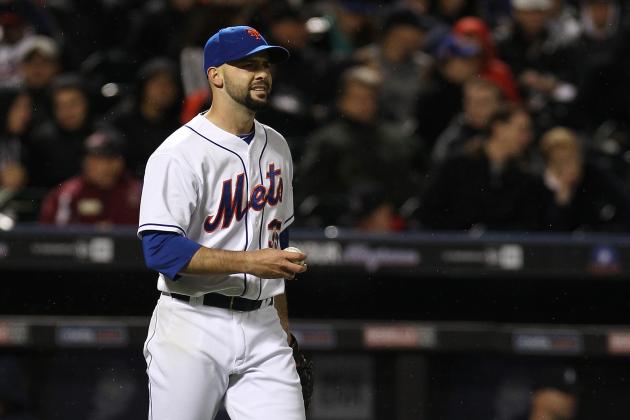 Mike Stobe/Getty Images

Dillon Gee had to be the prime candidate to lose his spot in the rotation in favor of Zack Wheeler, but he saved his season by throwing 7.1 innings of one-run ball against the New York Yankees.
It was unequivocally Gee's best outing of the season—one in which he struck out 12 batters (including the final five he faced) and retired the last 15 batters who stepped up to the plate against him.
For all the positives Gee showed in his latest start, May was ugly for him. In his first five starts, Gee posted a gaudy 6.75 ERA. More negatives than positives won't get a high mark here.
May Grade: C-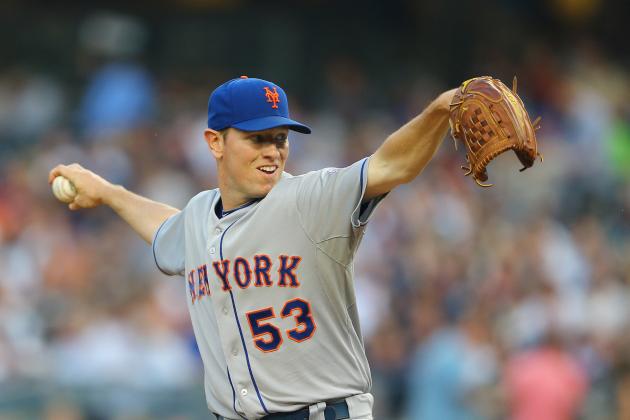 Al Bello/Getty Images

The New York Mets had lost every game that Jeremy Hefner started before hanging a five-spot in support of the Oklahoma native in the first frame of Wednesday's game against the New York Yankees en route to a 9-4 win.
Hefner's ERA wasn't too pretty this month (5.14), but he turned in quality starts in three of the five times he took the ball.
He doesn't have the stuff to blow guys away, but if he can go six innings while allowing three earned runs in most of his starts, the Mets will be in good shape at the back end of their rotation.
May Grade: C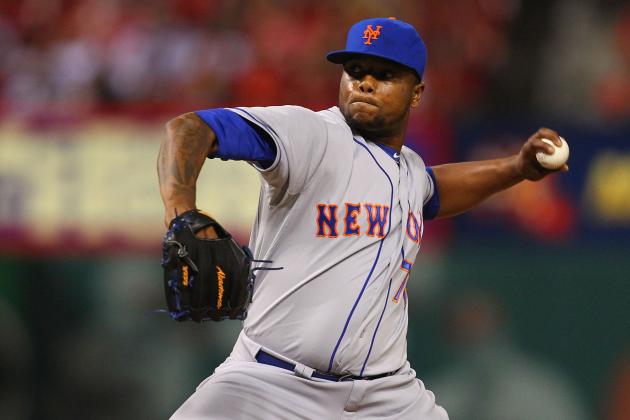 Dilip Vishwanat/Getty Images

Robert Carson isn't pitching well this season, and the month of May has been especially unkind to the big left-hander. Here's just how bad it has been: In his last four outings, Carson surrendered seven earned runs in 8.1 innings and saw his ERA fall 3.15 points.
However, if you want to look at the silver lining, you would feel good about the fact that Carson's ERA is out of double-digit territory and is now 9.45.
May Grade: F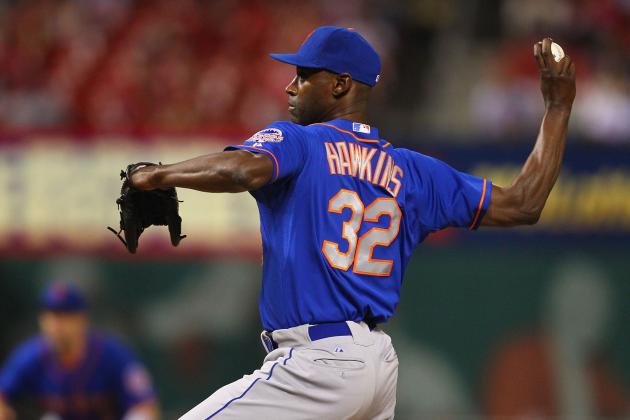 Dilip Vishwanat/Getty Images

How many people can honestly say that they expected LaTroy Hawkins to have a 3.47 ERA in the waning days of May? Probably not many.
At 40 years old and in his 18th season, Hawkins has exceeded expectations in terms of his full body of work, but he has been on the downward turn since May 8. He has allowed an earned run in five of his last eight appearances but hasn't been terribly detrimental in terms of failing to get the job done in crucial situations.
Will Hawkins find the fountain of youth again or will his slide continue?
May Grade: C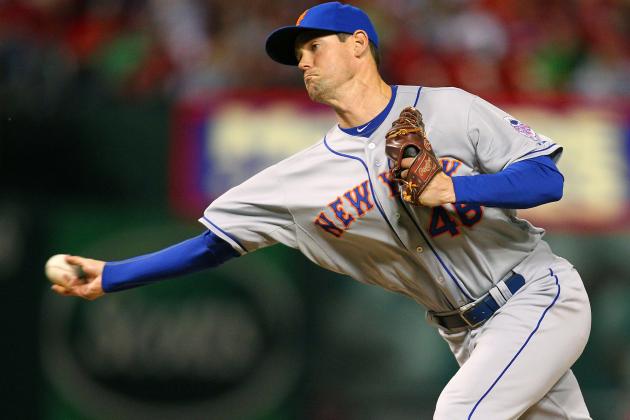 Dilip Vishwanat/Getty Images

Greg Burke was demoted in favor of Jeurys Familia in mid-April because of his 7.36 ERA, but he has bounced back since his call-up just less than a month later.
Whoever decided Burke was the next man up when Familia landed on the disabled list, whether it was Sandy Alderson or Terry Collins, is looking like a smart man right about now.
Since his return to the majors, Burke has maintained a clean sheet to go along with a sub-one WHIP in 6.2 innings. His funky delivery helps him deceive hitters, but he has some impressive stuff when he's on.
May Grade: B+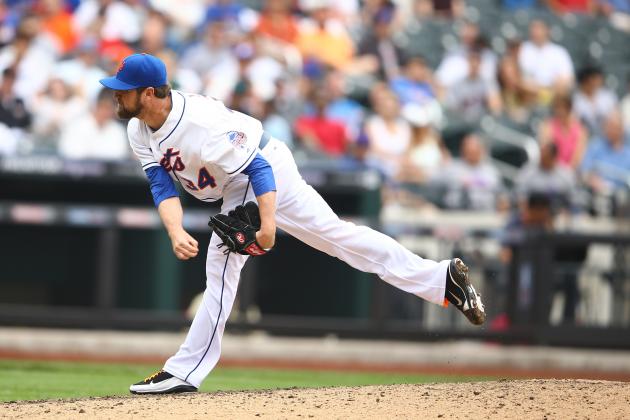 Al Bello/Getty Images

Brandon Lyon has been one of the New York Mets' best options out of the bullpen this month, posting a sub-three ERA, including 7.1 straight scoreless innings from May 5 to May 22.
It's no surprise that this Mets bullpen began to look slightly better when Lyon got into a groove, so let's hope that the other relievers can continue to follow the veteran's lead.
The former Toronto Blue Jay didn't look encouraging toward the beginning of the season, but he's been a solid bridge to Bobby Parnell in the ninth inning.
May Grade: B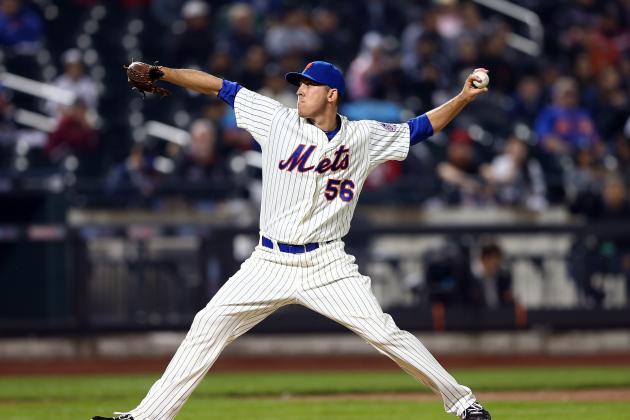 Elsa/Getty Images

"Everyday" Scott Rice has been one of the best relievers in Terry Collins' bullpen, which is evident by his 31 appearances in the New York Mets' 51 games. At 6'6", it looks like Rice can carry the heavy load of going out there every day, but you just never know.
We all remember the last guy who had the "everyday" nickname coming out of the Mets bullpen (Pedro Feliciano, for those who need their memory jogged). Feliciano is back with the Mets, but he hasn't been the same since his shoulder gave out on him. If that happens to Rice, the Mets are in trouble.
It has been subtle, but Rice has had a sub-par month compared to April. His ERA has risen from 1.88 to 3.08, but that will happen to a pitcher who comes in to get one or two guys out most of the time.
May Grade: C+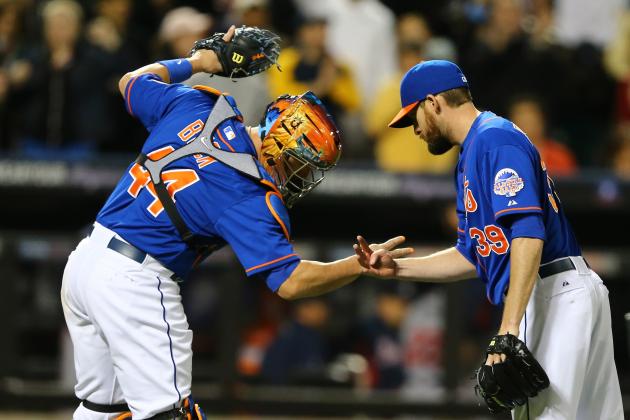 Al Bello/Getty Images

Bobby Parnell has been absolutely lights out this month sans his outing against the Cincinnati Reds, when he came in during a tie game and allowed three runs.
Of course, that ninth inning was marred by Ike Davis' mental error down the first base line, when he thought the ball went foul and decided not to field a Brandon Phillips' grounder.
Other than that loss, Parnell has put up 12 scoreless innings in May. If you look back to April 16—and discount the Reds game—Parnell has given up just one run in his last 20 innings.
May Grade: A