Ranking San Antonio Spurs' Best Supporting Casts in 5 NBA Finals Appearances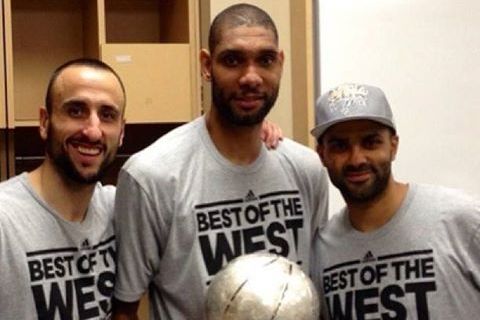 It's easy to see the familiar, iconic faces leading the San Antonio Spurs back to the NBA Finals for the fifth time in 15 years and marvel at the franchise's consistency.
At a time when loyalty has lost its luster in the hoops world, when superstars are defined as much by their success off the floor as they are for their hardwood servitude, the small-market Spurs have found a way to appease some of the game's all-time greats without endorsement promises or Powerball paydays.
Tim Duncan's a San Antonio lifer, and for that he's been rewarded with a jewelry collection that could fill his hand when a champion is crowned this season. Tony Parker and Manu Ginobili missed out on the organization's first Finals foray, but they've since added a trio of championship rings each after the Alamo City became their entry point to the United States.
The mastermind behind San Antonio's climb up the ranks of the league's elites is Gregg Popovich, the longest-tenured coach of the four major professional sports. He served double duty as the team's general manager and head coach from 1996 until 2002, when he handed over the executive reins to current GM R.C. Buford.
For all of the similarities, though, these Spurs aren't carbon copies of the past regimes. In fact each of the five Finals participants (1999, 2003, 2005, 2007 and 2013) had its own unique identity.
So the question that bears asking is which San Antonio finalist had the best supporting cast?
Begin Slideshow

»
Ronald Martinez/Getty Images

Although Duncan, Parker and Ginobili had their fingerprints all over this list, San Antonio's talented trio may have carried its greatest burden in 2007's title run.
Each player averaged at least 16.5 points, with veteran Michael Finley's 9.0 points per game ranking fourth among the team's scoring leaders. Brent Barry and Bruce Bowen, both 35 years old then, were the only other players to average more than 5.0 points per game.
The Spurs still carry a misguided label of being collectively past their prime, and this group may be the reason why. Parker and Ginobili were the only two regulars in the playoff rotation on the right side of 30.
Finley (41.9 postseason three-point percentage), Bowen (44.6) and Robert Horry (35.1) helped spread the floor to free up Duncan near the basket and open driving lanes for Parker and Ginobili to exploit. Fabricio Oberto (62.5 playoff field-goal percentage) and Francisco Elson (59.1) didn't strike fear into opposing defenses, but both made efficient offensive plays when given the chance and brought a relentless energy to the glass.
But 2007 belonged to San Antonio's stars, who handed rising superstar LeBron James a four-game sweep in his first trip to the NBA Finals.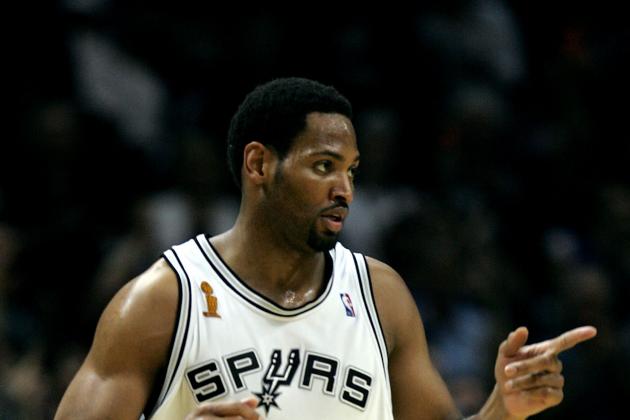 Ronald Martinez/Getty Images

The 2005 NBA Finals challenged the Spurs like no other title series had before or has since.
The battle-tested Detroit Pistons took the eventual champions to seven games, and as the stakes increased, Pop shortened his rotation.
Of course, he had the star power to accommodate such a heavy workload.
Duncan (20.3 points, 11.1 rebounds and 2.6 blocks per game) was enjoying one of his final seasons at peak efficiency. Parker (16.6 points, 6.1 assists) and Ginobili (16.0 points, 4.4 rebounds and 3.9 assists) were starting to tap into their tremendous potential.
Popovich relied mostly on a seven-man rotation during the playoff run, but the productivity of his Other Four give the 2005 group a slight edge over the 2007 championship club.
Horry (44.7 postseason three-point percentage) and Barry (42.4) helped hold defenders at bay. Bowen (43.3) did the same, while providing his own suffocating defense at the other end. Nazr Mohammed, a trade-deadline acquisition, brought toughness and physicality to the low post (6.7 boards, 1.0 blocks per game).
If 2007 was the year of San Antonio's superstars, 2005 was their coming-of-age performance.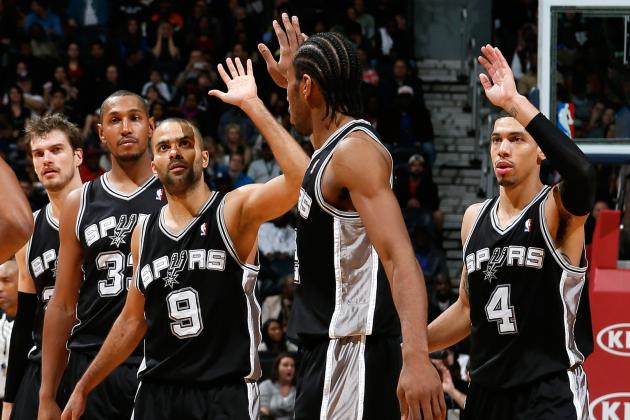 Kevin C. Cox/Getty Images

I know what you're thinking. This current Spurs group hasn't brought home the Larry O'Brien NBA Championship Trophy (yet), so there's no reason for this supporting staff to be ranked ahead of two championship-producing units.
But San Antonio doesn't sniff out a title run this season without a horde of highly productive role players.
The Spurs' stars have been reduced to a two-man attack, with Parker (20.3 points, 7.6 assists per game) establishing himself as the face of the franchise and one of the league's best floor generals. Duncan has enjoyed a resurgent season (17.8 points, 9.9 rebounds), but the 37-year-old can't escape the hands of Father Time.
Leading the supporting cast, or possibly rounding out San Antonio's new Big Three, is sophomore wing Kawhi Leonard. He's erased what were already strong future projections, and his dominant postseason effort (13.0 points, 56.5 field-goal percentage, 8.0 rebounds, 1.6 steals per game) has been perhaps the most overlooked story of the 2013 playoffs.
But Popovich has more than just Parker, Duncan and Leonard to intimidate opponents.
Ginobili's not the efficient weapon he was once, but he's still a scoring (11.5 points per game in the postseason) and playmaking (5.4 assists) threat. Danny Green (43.1 postseason three-point percentage) and Matt Bonner (50.0) help spread the floor. Tiago Splitter (58.2 field-goal percentage) provides a steady scoring hand around the basket, while Boris Diaw can bring frustration on an opponent from anywhere on the floor.
Parker might be the key component in making San Antonio title town once again, but he has his share of capable helping hands to rely on during one of his increasingly rare off nights.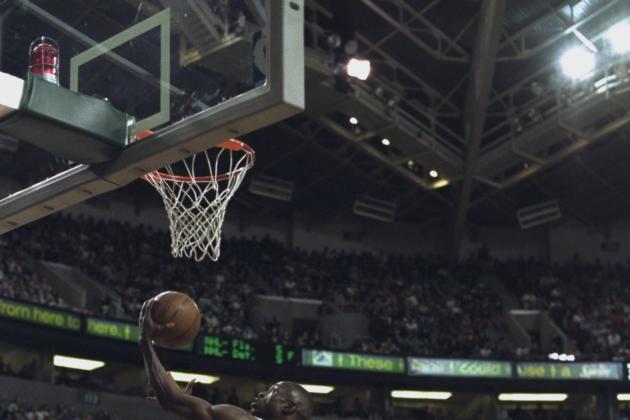 Otto Greule Jr/Getty Images

Pop held an even tighter leash on his postseason rotation in 1999 than he had in 2005.
Of course, having a Hall of Fame tandem anchoring his frontlines afforded him that luxury.
After a full four years of seasoning at Wake Forest, Duncan hit the NBA hardwood running in 1997-98 and quickly disposed of any lingering worries of a sophomore slump the next season. He earned his second straight All-NBA first-team selection that year, torching opponents to the tune of 21.7 points, 11.4 rebounds and 2.4 assists per game while grabbing his first All-Defensive first-team nod for his glasswork, 2.5 blocks and 0.9 steals per game.
Alongside Duncan stood a then-33-year-old David Robinson, who was two years removed from an injury-riddled 1996-97 campaign. He was no longer a 25/12 player, but did enough damage (15.8 points per game, 50.9 field-goal percentage) to form a daunting twin-tower combination with Duncan.
But the Spurs wouldn't have been the same postseason force—they compiled a near-perfect 15-2 playoff record—without the strong play of its supporters.
Avery Johnson orchestrated the offense brilliantly (9.7 points, 7.4 assists per game). Sean Elliott (11.2 points, 4.3 rebounds, 2.3 assists) made his presence felt all over the court.
Mario Elie (37.4 three-point percentage) and Jaren Jackson (36.1) prevented defenses from flooding the interior. Steve Kerr suffered through one of the worst shooting seasons of his career (39.1 percent from the floor, 31.3 percent from deep), but the mere threat of him rediscovering his stroke had a similar effect on the offense.
But the Spurs built their championship season, the first in franchise history, on the strength of their suffocating defense (95.0 points allowed per 100 possessions, best in the league that year via Basketball-Reference.com). That allowed some offensively limited players like Malik Rose (36.8 postseason field-goal percentage) and Jerome Kersey (34.9) to still affect the outcome of games.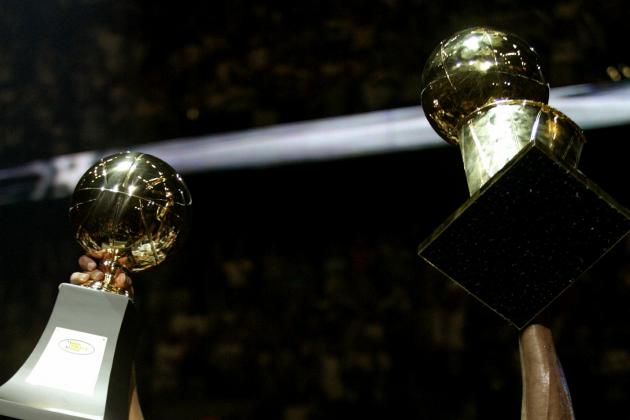 Jed Jacobsohn/Getty Images

The 2003 Spurs were far from the most dominant of San Antonio's championship teams. Despite a 60-win regular season, they never closed out a playoff series in fewer than six games.
They were also perhaps the only team of the bunch that didn't have the benefit of multiple superstars on the roster.
Duncan was brilliant (23.3 points, 12.9 rebounds per game) but never found a reliable running mate to handle the secondary scoring duties. Parker came the closest to filling that role (15.5 points per game), but the then-second-year player was still feeling his way around the NBA.
What could have been a glaring weakness, though, was made a strength by Popovich. Even though teams knew their first priority on defense, stopping Duncan, there was no telling where the other offense was going to come from.
Duncan increased his production in the playoffs (24.7 points, 15.4 rebounds), but his ability and willingness to share the basketball (team-high 5.3 assists in the postseason) made the Spurs a matchup nightmare.
He found Parker and Stephen Jackson (11.8 points) for open jump shots or strong drives to the basket. Or Malik Rose (10.4 points) or a then-37-year-old Robinson (8.5) lurking in the middle.
When defenses collapsed to stop the post play or penetrations, then they really got into trouble. Bowen hid in the corner, where he rained bombs (44.1 three-point percentage) when defenders lost track of him. Kerr's shooting stroke was back and almost better than ever (39.5). Then a rookie, Ginobili was still a wild card but more than capable of burying long-distance looks from any angle (34.5).
Playing the 2003 Spurs meant picking your poison, and Duncan and Popovich had a way of consistently punishing you for making the wrong decision.