5 Ways the Giants Have Improved During the Offseason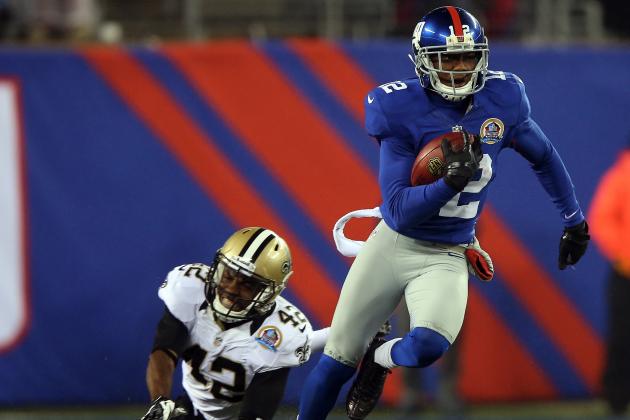 Elsa/Getty Images
David Wilson's talents are a big reason for optimism
Very few people actively engage in forecasting the fate of New York Giants football teams these days. For better or for worse, this franchise has been exceedingly unpredictable over the past five seasons. In fact, the only consistent element surrounding this team is the drastic manner in which they have made analysts and prognosticators look clueless.
For several reasons, 2013 will be a pivotal season for Big Blue.
With the Super Bowl primed for the bright lights of New York City (and New Jersey), the Giants have their sights set on becoming the first team to ever play a Super Bowl on their home turf. Another added incentive for Tom Coughlin's club is the desire to perform better during the regular season.
The Giants have made the playoffs just twice in the past five seasons. To help stem the tide, New York experienced a larger roster turnover than it is normally accustomed to.
General manager Jerry Reese has successfully navigated a tight salary cap situation during this offseason. Still, the team was forced to part company with the likes of Ahmad Bradshaw, Kenny Phillips, Osi Umenyiora and Martellus Bennett in an effort to gain at least semblance of cap flexibility.
Despite losing these players, the Giants have managed to improve in key areas this offseason. It remains unclear if the team will be markedly better in 2013, but these tangible areas of betterment provide a silver lining to the disappointment of losing key veterans. Here are five ways the Giants have improved during this offseason.
Begin Slideshow

»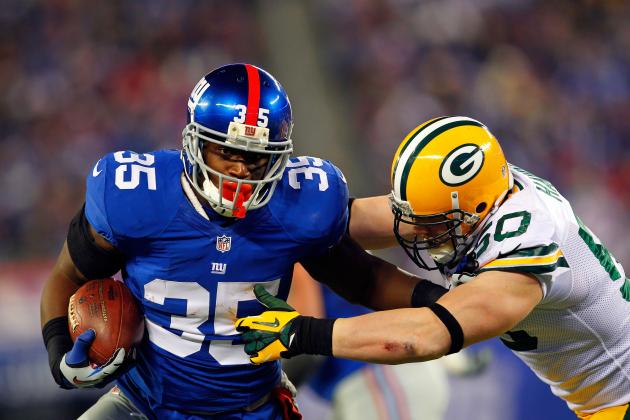 Rich Schultz/Getty Images
Andre Brown averaged 5.3 yards per carry in 2012
The transition New York underwent in its backfield this offseason was a necessary evil. Along with Ahmad Bradshaw's unrivaled heart and passion came his hobbled feet and veteran contract. Thus, the Giants were forced to release a fan favorite.
While Bradshaw was a proven leader for Big Blue's offense, he cannot match the explosiveness and quickness of the younger David Wilson.
As the Giants turn to Wilson and Andre Brown to carry the load in 2013, expect a concerted effort on the part of offensive coordinator Kevin Gilbride to establish the running game.
In 2012, the Giants ranked 14th in rushing yards, a vast improvement from a league-worst 32nd-ranked ground game in 2011. New York will look to continue this trend on the fresh legs of Brown and Wilson.
A combination of big-play ability and red-zone prowess is truly what makes this running back duo an exciting one for New York.
Wilson gradually earned his way out of Tom Coughlin's doghouse in 2012 after proving to be a valuable special teams weapon. Spellbinding speed and underrated toughness will make this former Virginia Tech track star a breakout performer this season as a featured back.
Andre Brown will be well suited as Wilson's backup due to his bruising, upright running style. If he can stay healthy, the Giants can utilize his size and elusiveness in the red zone. Last season, Brown scored eight touchdowns on just 73 carries.
Expect a determined and youthful backfield to ignite an already dangerous Giants offense in 2013.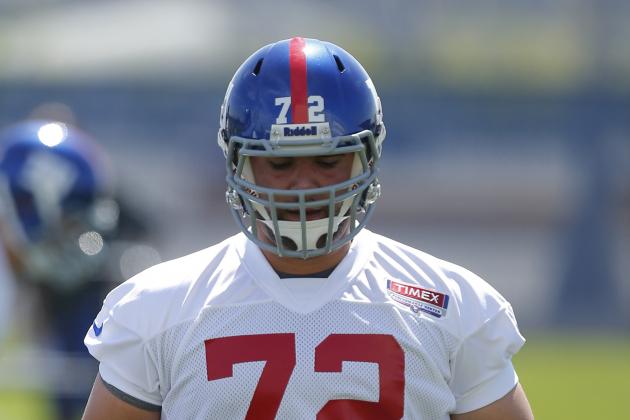 Jim O'Connor-USA TODAY Sports
Justin Pugh's ability to play multiple positions is a big asset
The first-round selection of Syracuse's Justin Pugh was a shrewd pick for Jerry Reese. On the surface, New York had a laundry list of more pressing needs heading into the draft.
The Giants allowed the fewest sacks in the NFL in 2012 (20). Under this lens, the thought of drafting an offensive lineman over, say, a linebacker or cornerback is preposterous. This begs the question: Why was Pugh the best available player on Reese's big board?
New York's offensive line began to show signs of cracks in 2012.
An aging right side of the line is the primary cause for concern for Big Blue. David Diehl's well-documented struggles at right tackle make him the likeliest candidate to be replaced in the trenches. The upgrade experienced from Pugh's insertion at right tackle will be felt immediately.
Pugh's athleticism, finesse and versatility will be a key component to New York's offense in 2013. Ultimately, the ability to plug a talented lineman at a variety of positions is a luxury the Giants will benefit from for a very long time.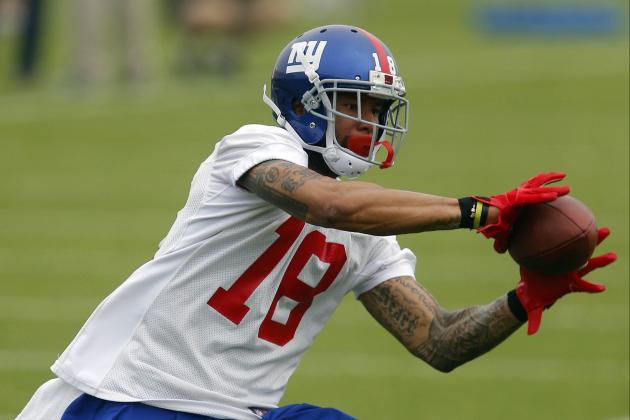 Jim O'Connor-USA TODAY Sports
Louis Murphy was an underrated free-agent pickup for New York
Eli Manning will have an embarrassment of riches when he drops back to pass in 2013. The addition of Brandon Myers and Louis Murphy is another example of the Giants' desire to provide their quarterback with a strong supporting cast.
Fresh off of a career year in the Bay area, Brandon Myers will be a primary target for Manning in his first season with the Giants.
Myers caught 79 passes in 2012, after compiling just 32 in his first three NFL seasons. Manning has proven throughout his career that no matter who is lined up at tight end, the ball will find them.
2013 will mark the fourth different No. 1 tight end in as many years for the Giants. Each year this player has gone on to have a career-best season.
While Myers struggles mightily in protection, he will be undoubtedly be a valuable asset through the air.
Louis Murphy is an under-the-radar signing with a moderate amount of upside. Having spent the majority of his young career in Oakland, Murphy should reap the rewards of playing with a talented veteran quarterback as a fourth receiver.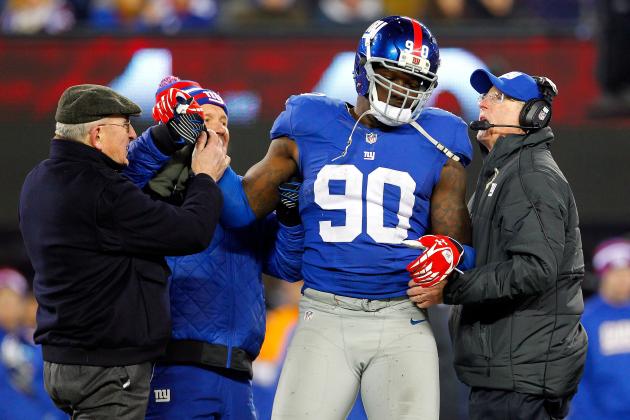 Rich Schultz/Getty Images
2012 was a frustrating year for JPP. Expect his fortunes to turn around this fall
Pressuring opposing quarterbacks is the likeliest area of improvement for the Giants this offseason. Jason Pierre-Paul and Justin Tuck combined for just 10.5 sacks last season, a number that simply will not cut it in 2013.
Along with the expectation that Pierre-Paul will recover from a frustrating second year is the hope that younger players will contribute in passing situations.
Third-round pick Damontre Moore out of Texas A&M and second-year pro Adewale Ojomo could provide an immediate spark for New York this fall.
The emergence of Moore and/or Ojomo will benefit Justin Tuck more than any other player. Moore and Ojomo have the type of raw talent that can be harnessed on the field during obvious passing downs. At the same time, Tuck will be asked to play less in order to stay healthy and effective.
History has shown New York's success relies heavily on its ability to rush the passer. A hungry unit headed by Jason Pierre-Paul will prove disruptive for opposing offenses in 2013.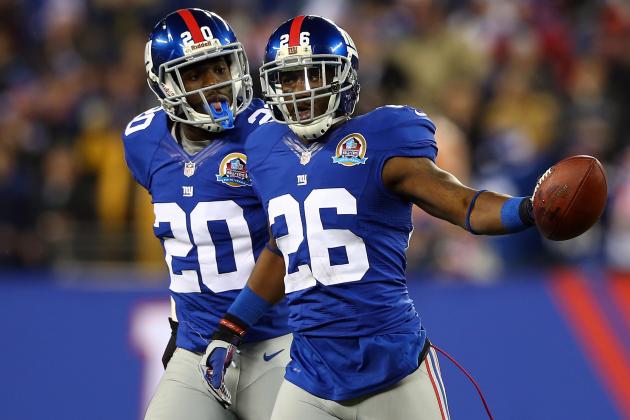 Elsa/Getty Images
Amukamara and Antrel Rolle are expected to lead New York's secondary
The personnel moves in New York's secondary have offered more questions than answers heading into next season. Jerry Reese's only significant move at the cornerback position was to bring Aaron Ross back in the fold after a self-proclaimed year-long vacation in Jacksonville.
There is plenty of doubt as to whether New York can improve its pass defense, which ranked 28th in 2012.
Two players who should quell any concerns are cornerback Prince Amukamara and safety Will Hill.
Amukamara seems primed to take on the role of shutdown corner in 2013 after his teammate Corey Webster began to struggle late last season. While the former Nebraska standout has shown flashes of greatness in his young career, consistency will need to be his calling card this season.
If Hill is able to secure a position as one of New York's three safeties, his talent will begin to shine through for Perry Fewell. Hill could be a special player in this league if he earns an opportunity.
The second component to improving the Giants' secondary is the re-commitment to disrupting the timing of opposing offenses. Too often in 2012, quarterbacks were able to read all of their progressions before getting rid of the football.
Countless lackluster performances by the defensive line left New York's cornerbacks out to dry. The talent of Fewell's younger defensive backs, coupled with an improved defensive line, will help the Giants tremendously against the pass.