6 WWE Superstars in Need of Changes to Their Appearance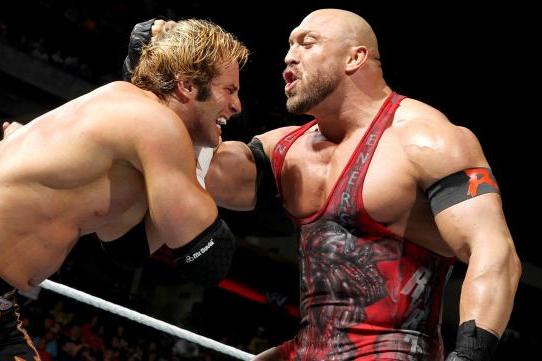 WWE.com
Mark Twain once said, "the finest clothing made is a person's skin, but, of course, society demands something more than this."
This could not be more true than in the world of professional wrestling.
During its illustrious history, WWE has been home to some of the most iconic wrestlers of all-time, as well a collection of the most memorable wrestling costumes ever imagined. The Undertaker, Stone Cold Steve Austin, Chris Jericho, Kane, Hulk Hogan and Ultimate Warrior, to name a few, have walked down the aisles of countless sold out arenas bearing unforgettable attire.
Often times, the kind of ring attire a wrestler wears can either catapult him to success, or make him the laughing stock of the crowd (Shockmaster, I'm looking at you).
But in 2013, there are certain grapplers whose look detracts from their character's ability to get "over" with the crowd.
I have chosen six current WWE Superstars who have achieved varying levels of success within the company. I'll explain what is working, what is not and ultimately why they are in need of aesthetic changes to their respective characters.
Begin Slideshow

»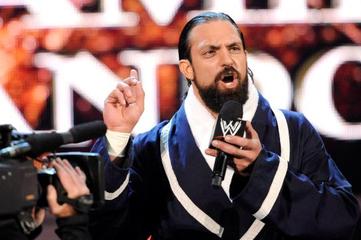 WWE.com
What's working: The beard, robe and holding the microphone like a brandy snifter.
Damien Sandow's gimmick is all about acting as though he is above the common man, which is a role that Sandow plays to a T. His beard and slicked back hair give him an arrogant, yet wise appearance.
I also like the use of a robe, which is a very classic look. Many great wrestlers have worn robes to the ring, including Ric Flair, "Ravishing" Rick Rude and "Mr. Wonderful" Paul Orndorff.
What isn't working: Wearing pink and purple tights or knee pads.
For someone that wants the crowd to take him seriously, wearing the colors pink and purple certainly do not help his cause.
Is it possible to pull off loud colors in the ring? Yes.
But we will not be confusing Sandow with the likes of Bret Hart, Rick Martell or Chris Jericho anytime soon. So for the interim, Sandow should stick to classic blues and whites, just as he wore in a recent match against Sheamus and Randy Orton, since those colors match his robe and towel .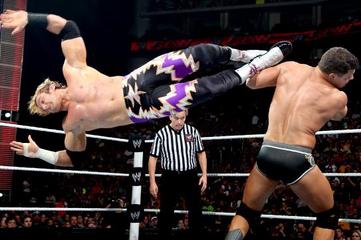 WWE.com
What is working: The physique
Zack Ryder, known affectionately to WWE fans as "Long Island Iced Z," has one of the best physiques in the entire company and has maintained that top tier status since his debut back in 2007. Because of his definition and size, Ryder can wear almost anything.
What is not working: Long tights, wet dog haircut
Ryder, who was interviewed on May 14 on WWE.com, said the new long tights he sports in the ring are the last act of a desperate man.
"See, 2011 was the best year of my career; the best year of my life. 2012 sucked, obviously. 2013? Not much better. So we can call this...the 'Zack Ryder last attempt'...I'm just trying anything, bro."
If you ask me, the entire character needs to be overhauled at this point. But short of scrapping Ryder's gimmick altogether, let's start by going back to him wearing short tights.
In an attempt to reinvent himself, Ryder comes off as looking even more like the jobber he has become.
Plus, his current haircut doesn't jive with me at all. If he is going to continue being the goofy, lovable, wacky Ryder that helped him establish his name, then bring back the spiked-up anime hair.
Otherwise, WWE Creative needs to go back to the drawing board with this guy.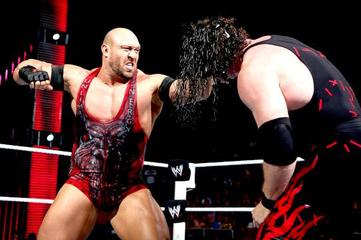 WWE.com
What is working: In-ring mannerisms, hulking physique
Formerly Skip Sheffield of NXT, Ryback is a monster with an appetite for destruction. Countless jobbers were left in his wake.
The 291 pound animal backs up his ruthless aggression with an equally intimidating build that allowed him to hoist the 400-plus pound World's Strongest Man Mark Henry up on his back and Shell Shock him back to Texas at WrestleMania 29.
What is not working: The Rob Van Dam-styled singlet
If Ryback is to stay atop the main event card, he needs to lose the singlets that seem to borrow from Brock Lesnar's tattoos and Rob Van Dam's ECW days.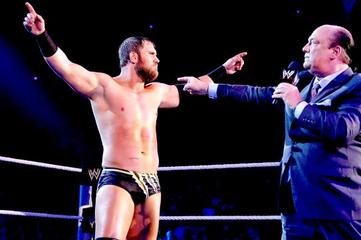 WWE.com
What is working: Intensity
I will credit Curtis Axel for showcasing his zeal in his first few on-camera appearances since re-debuting.
Clearly, the crowd has not bought into Axel yet, but people were not exactly on the edge of their seats when Ryback debuted either, and yet, Ryback kept at it.
Self confidence can go a long way in a cruel business such as WWE, so Axel needs to keep up his cocky, self-assured attitude.
What is not working: The beard, excessive use of tanning orange, small upper body
A subtle trick used in bodybuilding is to shave your body hair and slather on tanning orange to create a shadowing effect which in turn, enhances definition in your muscles.
That same trick has been employed in professional wrestling for years, but it seems that the newest "Paul Heyman guy," Axel, has joined the ranks of The Miz in the overuse of this product.
The problem of course is that Axel does not have much of an upper body to define in the first place.
He looks, in a word, normal, and main event wrestlers can not afford to look normal.
The solution?
Add some serious size to his shoulders, chest and back, ease up on the tanning lotion and shave that distracting beard.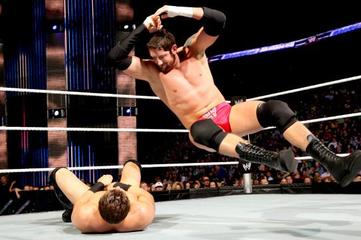 WWE.com
What is working: The beard
When I first saw Wade Barrett sporting the beard, my initial reaction was that I liked it, because it gave him a certain edge that I felt his character was missing. Barrett wanted the crowd to accept him as a tough guy with a European flair, but his character lacked a certain blue collar ruggedness to it that I believe his beard gives him.
Nice touch.
What is not working: The shooting sleeve
Barrett's finishing maneuver, the Bull Hammer, is a running elbow at his opponent. The end result usually looks fairly devastating, expect for the fact that the elbow he uses is heavily padded.
Instead, Barrett should lose the cushioning when he performs the move, since an unprotected elbow would be much more believable.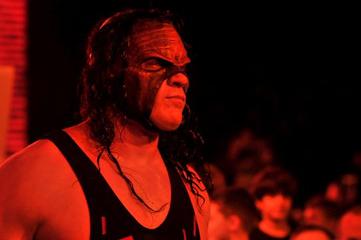 WWE.com
What is working: The mask and long hair
For the most part, I have always been a big fan of Kane. I was disappointed when he took off his mask after to losing to Triple H on Raw back in June 2003, because Kane's mask represented mystery. Kane's character has a complicated back story.
So when WWE management decided Kane should lose his hair and his mask, it made him look more human, which I think was a mistake.
Thankfully, the hair and mask returned with Kane when the Big Red Monster came back on December 12, 2011. The metallic mask he wore looked menacing, and it is a shame we never see it during his entrances.
What is not working: The red and black zipper tights
The story behind Kane's latest ring attire is that it is supposed to resemble autopsy incisions.
Unfortunately, his attire just looks cheap and poorly made, which is surprising given how talented WWE's costume department is.
If there is one thing anyone associates with Kane, it's fire.
There are a few flames on Kane's pants, over his left leg, but in my opinion, it's not enough.
Instead, eliminate the stitches and turn up the heat.