Caroline Wozniacki's woes at the French Open and majors in general continued Wednesday as the former world No. 1 was ousted in the second round by Bojana Jovanovski, 7-6, 6-3.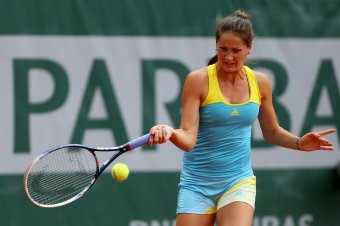 Getty Images/Getty Images
At a distance, this is a surprising result. Wozniacki is currently 10th in the WTA rankings—Jovanovski is ranked 47th.
If you have been following the women's tennis star of late, though, the outcome of the match is not really all that shocking. The 22-year-old has looked like anything but a No. 1 player this year.
Entering the French Open, she had a 2013 singles record of just 16-12, with her last WTA title coming in October. These results are just part of a diminishing trend.
As Sports Illustrated points out, Jovanovski has given Wozniacki trouble before.
Bojana Jovanovski knocks out Caroline Wozniacki 76 63. Has won four straight sets on Woz. Beat her in 1R Rome. #RG13 pic.twitter.com/QcVFJiH2hS

— Beyond The Baseline (@SI_BTBaseline) May 29, 2013
Jovanovski finished with 33 winners to Wozniacki's 13, breaking the Dane three times and winning 77 percent of her first-serve points.
The 21-year-old Serbian will advance to play Svetlana Kuznetsova in the third round. This is the first time Jovanovski has made it out of the first round at the French Open in three trips to Roland Garros.
Wozniacki finished last year with a 50-21 record and two titles on the heels of a 2011 campaign where she came away with six titles. Ben Rothenberg of the New York Times tweeted about her disappointing year to date:
Save for Indian Wells final it's been a hugely disappointing year for Caroline Wozniacki. She's out, 7-6(2), 6-3 to Bojana Jovanosvki. #rg13

— Ben Rothenberg (@BenRothenberg) May 29, 2013
Even when Wozniacki was playing well, she did not fare well at the French Open. While she covers a lot of ground—something that is a staple of great clay-court players—she lacks power.
In her career, Caroline Wozniacki will...
More and more, this skill is taking over Roland Garros, and Wozniacki is at a huge disadvantage in that regard. While clay is slower than other surfaces, it also eliminates the power players can generate off returns.
As a result, Wozniacki has never made it past the quarterfinals at this major. In 2012, she was ousted in the third round by Estonia's Kaia Kanepi, and she fell to Slovakian Daniela Hantuchova in the same round the year before that.
Given all of this, Wozniacki has to be thrilled that the WTA tour is moving away from the clay. She will now set her sights on the remainder of the season and try to regain her old form.