10 2013 MLB Draft Prospects Who Could Impact MLB Rosters by 2015
Jake Roth-USA TODAY Sports

Casual sports fans often say that they don't like or pay attention to the Major League Baseball draft because they don't have the patience or desire to wait for the players to make it to the big leagues.
Fans are happy to see these players on their team when they get called up but have no interest in following them through the minor leagues and tracking their progress.
In an effort to service those who are missing out on one of the best parts of baseball in this age of endless prospect coverage, we want to offer some insight on the players taken in the 2013 MLB draft (June 6-8) who will be in the big leagues within one year.
It takes special talent to make the leap from the draft to the big leagues—as well as team needs—but a few big-time players can handle that assignment with little trouble at all.
Here are the players ready to step into the big leagues by 2015.
Begin Slideshow

»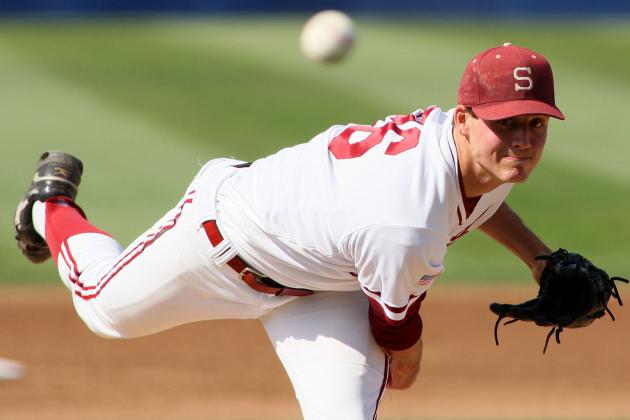 Jake Roth-USA TODAY Sports
Mark Appel could pitch in the big leagues before the end of 2013 without missing a beat.
Stanford right-handed pitcher Mark Appel went back to school with a few things to work on after being the No. 8 pick by Pittsburgh in last year's draft. His command and control were average at best, and despite his power stuff, hitters were able to square him up a lot more than you would think.
This season has been a different story. Appel's stuff, especially his slider and changeup, are a lot better and easy plus pitches. He is commanding the fastball better, hiding it in his glove so hitters can't pick up on it, and has cleaned up minor flaws in his delivery.
Given his stuff, polish and history of success at a great baseball program, Appel could be the first player from this draft class to make it to the big leagues, depending on how quickly his future team wants to start his arbitration clock.
He will be leading a rotation—presumably Houston or Chicago—at some point in 2014.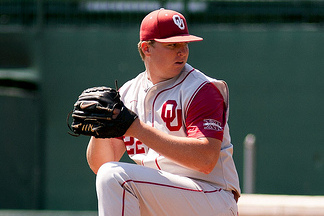 Image courtesy of Oklahoma University
Whereas Mark Appel had a few things to work on to solidify his status as the top player in this class, Jonathan Gray has shot up draft boards this spring by becoming a different pitcher entirely.
Now sitting at 93-97 mph and touching 100 mph with a knockout slider, good control and a workhorse frame that will throw 200-plus innings with ease, Gray has put himself in position to challenge Appel as the No. 1 pick in the draft.
However, with his command being a bit behind his control and no real track record, Gray will take more time in the minors than Appel. He will likely need a full year from the time he signs, likely by the deadline in July, before getting serious big league consideration.
It wouldn't be a shock to see him get a September call-up next year and start 2015 in the big leagues.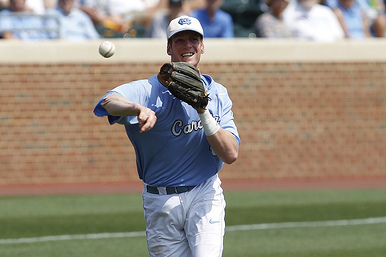 Image courtesy of North Carolina University
Colin Moran is the best pure hitter among this year's crop of position players. He has an advanced approach—including a 55-20 ratio of walks to strikeouts—good bat speed, power potential and the likelihood he can stay at third base.
That said, Moran is a little long through the zone. He doesn't have a natural weight transfer, staying on his back foot and keeping his hands high in the zone. That could give him problems against advanced off-speed stuff and velocity on the inside half of the plate.
It might take him a little longer than the timetable we have set up to reach the big leagues, not to mention the fact he might end up moving to first base. However, because he shows such a natural feel for hitting, we can see him moving quickly.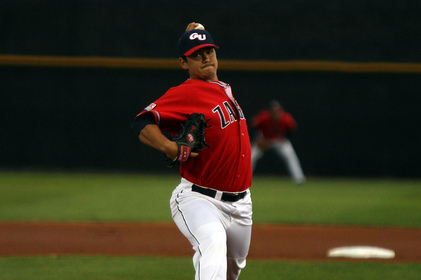 Image courtesy of Gonzaga University
While the first three prospects on this list are the cream of the crop in the 2013 draft class and likely to be taken in the top five to 10, Marco Gonzales does not have that kind of upside. He is a high-floor, low-ceiling pitcher with a high probability of success.
Gonzales doesn't light up a radar gun, pitching a fringe-average fastball (87-90 mph), but he brings a deep arsenal, including a terrific changeup, pitchability, great sequencing, command, feel and the ability to keep hitters off balance.
Sure to be a fast-moving prospect, Gonzales could end this year in Double-A and make it to the big leagues at some point in 2014. He will turn into a good back-end starter who can give 180 innings of league-average performance.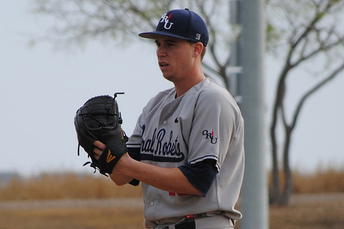 Image courtesy of Oral Roberts
One of the late-rising prospects in this class, Alex Gonzalez has shown a lot in his starts with Oral Roberts this season, which would make a quick trip through the minors not a huge surprise.
Considering his level of competition in college, Gonzalez might need more time, and I might be too aggressive by thinking a promotion to the big leagues inside of two years of being drafted is likely.
However, when you consider that Gonzalez has average fastball velocity but gets the pitch to play up because of its hard, natural movement in the zone and his control of a four-pitch mix, it is hard to bet against him making it to the majors quickly.
Sam Moll is an intriguing prospect because he has two plus pitches (fastball and curveball) and is left-handed. That kind of player would often have all the makings of a first-round pick, especially in a draft class low on impact talent.
But then you see that Moll is listed at 5'11", 187 pounds, and it is hard to envision a scenario where he makes it as a starter. It also doesn't help his case that his delivery, while not overly taxing on his shoulder, hurts his command and control because he has a long stab that causes his release point to vary.
Therefore, he gets pushed out of the first round and possibly down into the third round. A drafting team could attempt to keep Moll as a starter, which they should, but his ultimate role will likely be out of the bullpen. That would also accelerate his timetable to the big leagues.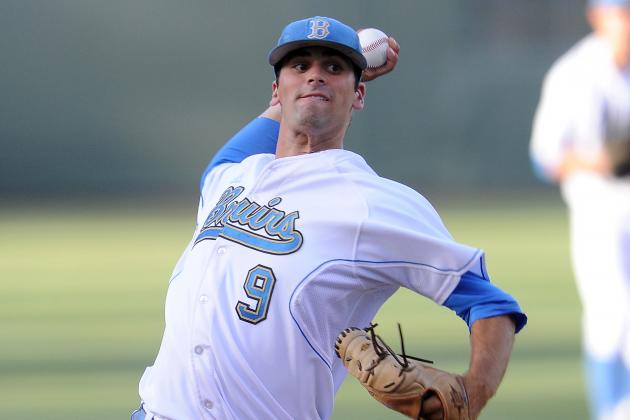 Jayne Kamin-Oncea-USA TODAY Sports

I may be a little higher on Adam Plutko than a lot of people, but it is because he is a pitcher with a track record of success, an aggressive mentality and a solid arsenal of weapons. That doesn't mean I see him having a high ceiling, but he has definite value as a second- or third-round pick.
Plutko works with a fringe-average fastball and has a changeup, average curveball and slider. He is able to miss more bats than you might think because of a delay in his windup, where he steps back, stops and then moves to the plate again. It can easily screw up a hitter's timing, keeping him off balance.
Where Plutko might have problems against professional hitters is the way he attacks. He is aggressive, but some of it is up in the zone. Since he doesn't have much velocity on his fastball, professional hitters can take that elevated fastball out of the park.
That doesn't scare me much right now—at least not enough to think he couldn't turn into a quality back-end starter soon.
Like Colin Moran—although lacking his upside with the hit tool—Eric Jagielo is a polished college hitter who should move quickly through the minors thanks to his bat speed and above-average power, which will translate with wood bats almost immediately.
Unlike Moran, Jagielo has no real issues projecting as an average third baseman. He has arm strength, solid range and lateral movement to both sides. His combination of polish and power is what pushes him into the middle of the first round.
Jagielo does have some issues as a hitter, notably his inability to recognize and react to off-speed pitches. That could seriously delay his debut in the big leagues, but if he proves to be a quick study, he could be up in the first half of 2015.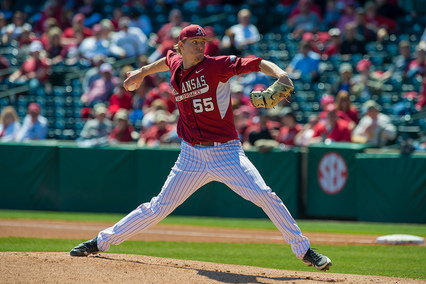 Image courtesy of Arkansas University
There is a caveat up front with Ryne Stanek that puts him on this list: If you think he is going to remain a starter, he will need more time, so he likely wouldn't be up until 2016.
Out of the bullpen, however, Stanek could be up at some point in 2014. Obviously, a drafting team will give him every opportunity to start, as it should. He has a starter's frame, easy delivery, tremendous arm speed and two plus pitches.
The problems for Stanek are inconsistent command of all three pitches and lack of feel for his off-speed stuff and for pitching down in the zone to remain a starter. As a reliever, he could close games or pitch in high-leverage spots.
The "other" Oklahoma Sooners pitcher in this year's draft, even though he actually started the year with more buzz than Jonathan Gray, Dillon Overton could be one of the best bargains in this class because of a forearm injury that cost him a few weeks at the beginning of May.
It also didn't help Overton's cause that he wasn't throwing quite as hard as he did at his peak, with a fastball sitting more in the 88-91 mph range with an above-average slider.
Since we don't know whether Overton's problems this season were due to his injury or his slight 6'2", 160-pound frame bringing about diminishing returns, it is hard to pinpoint an exact time frame on his potential debut.
However, a left-handed pitcher who can command everything and could have a plus fastball-breaking ball combination should have no problems moving relatively fast. I don't expect him to pitch much this season after being drafted, so it will probably take until the first half of 2015 for him to debut in the big leagues.
For more prospect and draft talk, feel free to hit me up on Twitter with questions or comments by clicking below.