Ranking the Top 25 Goalkeepers in World Football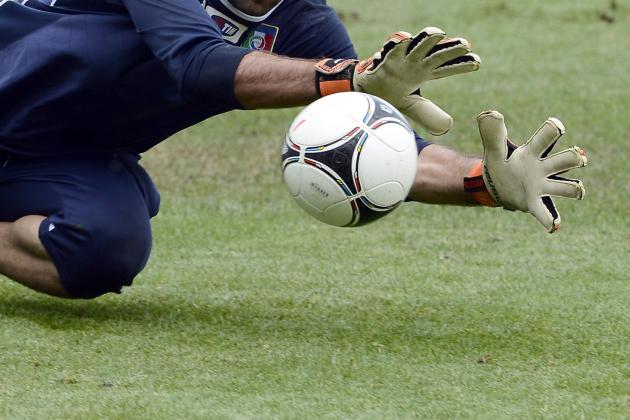 Claudio Villa/Getty Images

Despite paying more attention to statistics in recent years, football still cannot hold a candle to the likes of baseball and gridiron football, where the tracking of numbers is almost a sport in and of itself.
When it comes to the goalkeeping position, the absence of stats—or at least the failure to consider them—is especially evident.
Few metrics are readily available for measuring a goalkeeper's performance and form, and in the absence of them we revert to platitudes such as "good shot-stopper" or lazily disregard any 'keeper who doesn't represent a fashionable club or whose side isn't near the top of the table.
Granted, statistics paint only a part of the picture when it comes to keeping the ball out of the back of the net.
There are typically 10 players operating in front of the 'keeper, and their contributions must be taken into account. As must a 'keeper's ball distribution, game management and level of confidence he inspires in his teammates.
These factors are not easily measured; they are better observed. And it's here that the exercise of ranking the best goalkeepers in the world becomes somewhat subjective.
In the following list we'll put particular weight on statistics, with observational criteria considered in a secondary capacity.
Let's get to it.
(Statistics courtesy of WhoScored.com and TheScore.com)
Begin Slideshow

»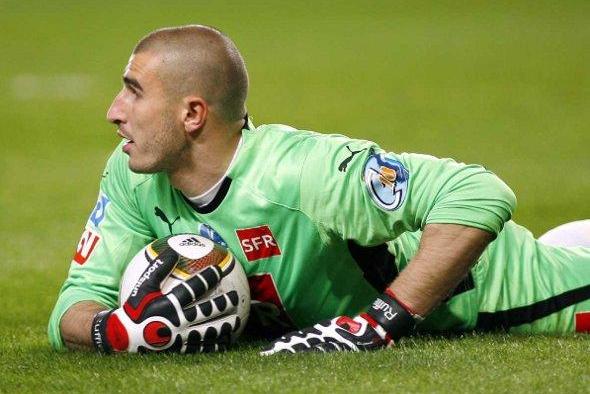 Courtesy 20minutes.fr
Had Stephane Ruffier not sustained a groin injury in 2011, Monaco might never have been relegated to Ligue 2.
But he did, and they were, and that summer the then-24-year-old goalkeeper joined Saint-Etienne, rebuffing Manchester City in the progress.
This season he played all 38 Ligue 1 matches for Les Verts for a second season in succession, conceding just 32 goals as his side finished a surprising fifth in the standings and qualified for the Europa League.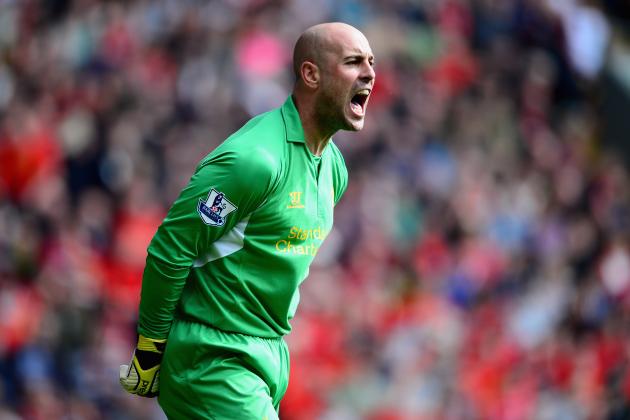 Laurence Griffiths/Getty Images

Only Joe Hart kept more Premier League clean sheets than Pepe Reina in 2012-13.
In a season that saw Liverpool finish a disappointing seventh in the English top-flight, the 30-year-old managed to keep things respectable from a defensive standpoint, conceding only 34 goals and stopping 88 per cent of the shots he faced.
To finish the season he conceded just a single goal in his last four matches.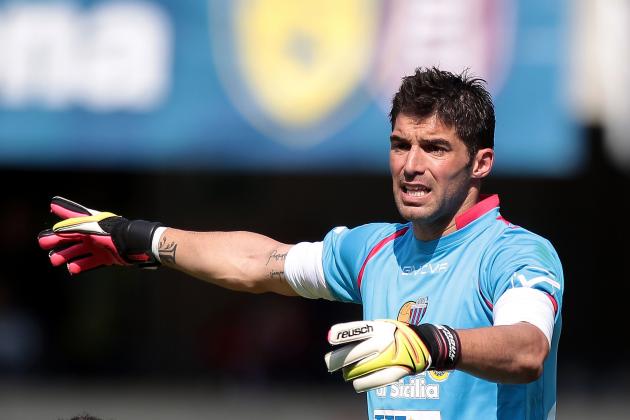 Gabriele Maltinti/Getty Images

Only Parma managed fewer than Catania's 50 goals in the top 10 of Serie A this past season, and only seven goalkeepers faced more than the 449 shots directed at Rossazzurri goalkeeper Mariano Andujar.
The 29-year-old managed to stop an incredible 91 percent of those shots, and with 12 clean sheets he was a major part of an unexpected season that saw Catania finish eighth in the standings.
Alex Livesey/Getty Images

There was a time not too long ago that David De Gea took the blame for every Manchester United loss or draw, that his gaffes on set-pieces and mistake-per-game form had the Red Devils in the market for a new goalkeeper.
No longer.
De Gea, still just 22, finished the Premier League campaign in an exceptional vein of form, keeping eight clean sheets in his final 12 matches and saving 91 percent of the shots aimed his way.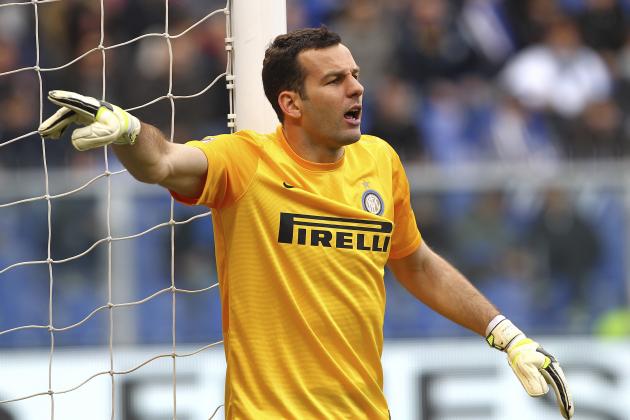 Marco Luzzani/Getty Images

You have to feel sorry for Samir Handanovic.
How was he to know that shortly after making a big-money move from Udinese to Inter Milan the Nerazzurri would fall completely apart (and fall mostly in defensive positions), leaving him to bail them out time and again?
And yet, the Slovenia international managed to put together a decent season for himself, even if his teammates were often nowhere to be found. He kept nine clean sheets in 2012-13 and stopped 88 percent of the shots sent his way—many of them quality efforts from in close.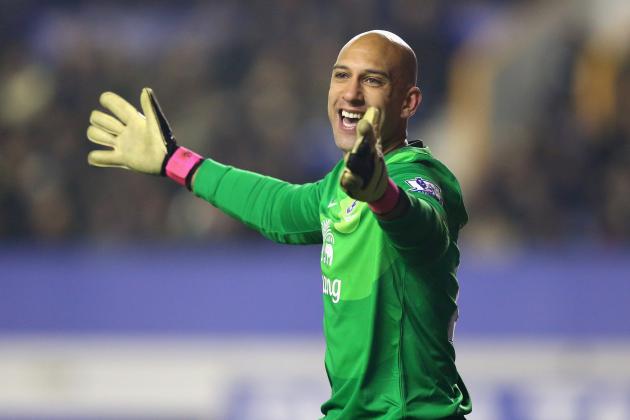 Alex Livesey/Getty Images

Tim Howard is the sort of goalkeeper whose very presence between the sticks reassures his teammates that, should they make a mistake, he'll be there to bail them out.
In 2012-13—his 10th season in the Premier League—he recorded 10 clean sheets and earned a save percentage of 89.
And with 85 international appearances to his name he doesn't have all that far to go before becoming a centurion for the United States.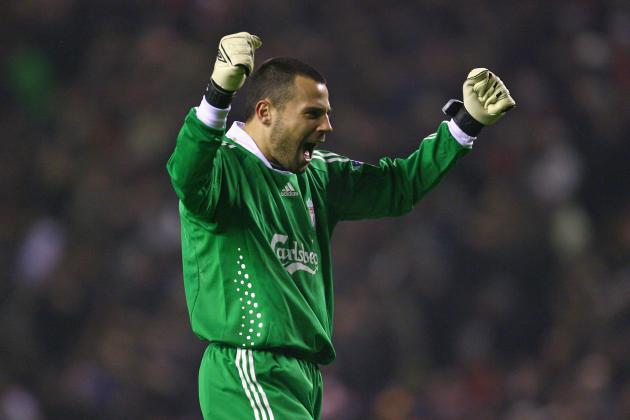 Alex Livesey/Getty Images

In 2012, Diego Cavalieri helped Rio de Janeiro giants Fluminense capture a Serie A and Carioca double, and his play in both tournaments was a major factor in his call-up to Luiz Felipe Scolari's Brazil squad ahead of next month's Confederations Cup.
The 30-year-old was briefly on the books at Liverpool and Cesena before joining Fluminense, but it has been in Rio that it seems he has finally reached his potential.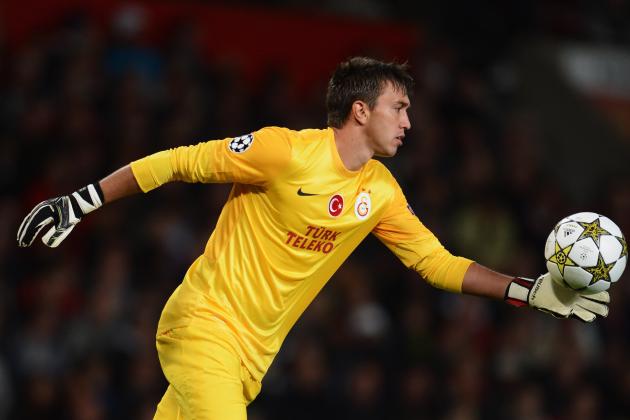 Michael Regan/Getty Images

Two years ago Lazio sold goalkeeper Fernando Muslera to Galatasaray for €6.75 million and midfielder Lorik Cana.
Upon arrival in Turkey the Uruguay international picked up right where he had left off in Serie A, becoming one of the division's best goalkeepers—if not the best—and backstopping Galatasaray to consecutive Super Lig titles.
But he saved some of his best football for the Champions League, where he stopped 85 percent of his shots en route to a quarterfinal tie against Real Madrid.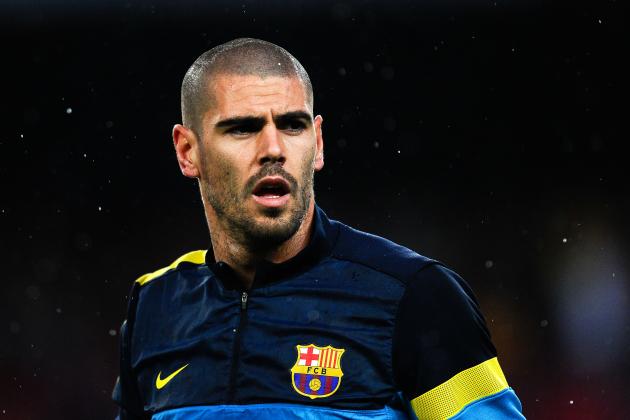 David Ramos/Getty Images

Victor Valdes is often scapegoated whenever things go pear-shaped for Barcelona (which isn't all that often), and to that end it's not all that surprising that he's expected to leave the club this summer.
But he backstopped the Catalan giants to another Primera Division title last season—his sixth—and kept eight clean sheets while earning a save percentage of 86.
If anything it was his play in the Champions League, where he conceded 17 goals in 11 matches, that paved the way for his exit, never mind the fact that he has lifted the European Cup on three previous occasions.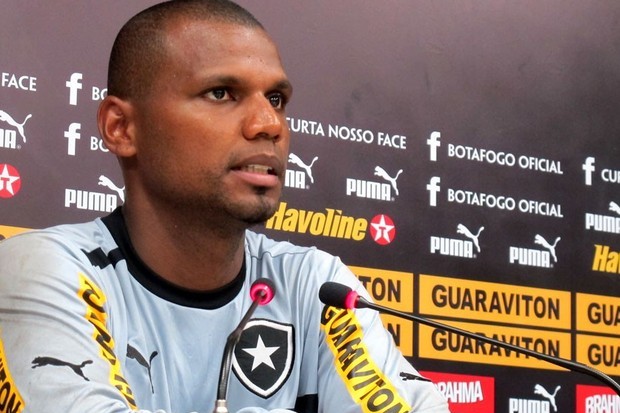 Courtesy RadioBotafogo.com.br
Last season Botafogo finished an unexpected seventh in the Brazilian championship, and one of the primary reasons for their encouraging campaign was the play of goalkeeper Jefferson.
The 30-year-old, who played four seasons in Turkey with Trabzonspor and Konyaspor, is a member of Luiz Felipe Scolari's Brazil squad for the Confederations Cup and will battle Julio Cesar for the number-one duties going into a World Cup year.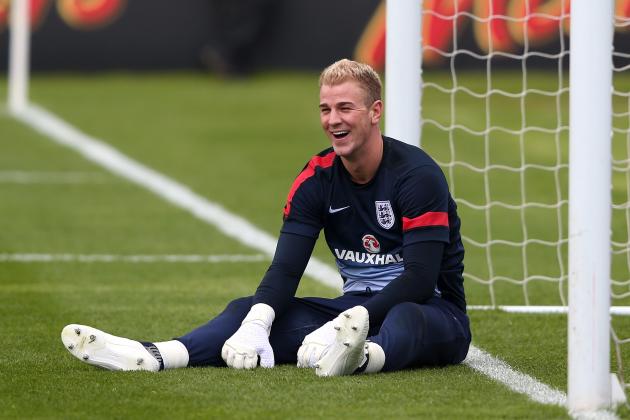 Alex Livesey/Getty Images

He didn't quite have the sort of season he enjoyed in 2011-12, but Joe Hart still managed to lead the Premier League in clean sheets in 2012-13, and his Manchester City side ended up with the best defensive record in the division.
The 26-year-old also stopped 90 percent of the shots he faced and was named Man of the Match on two occasions.
England's undisputed number-one, he sat on 30 caps ahead of Wednesday's friendly against the Republic of Ireland at Wembley.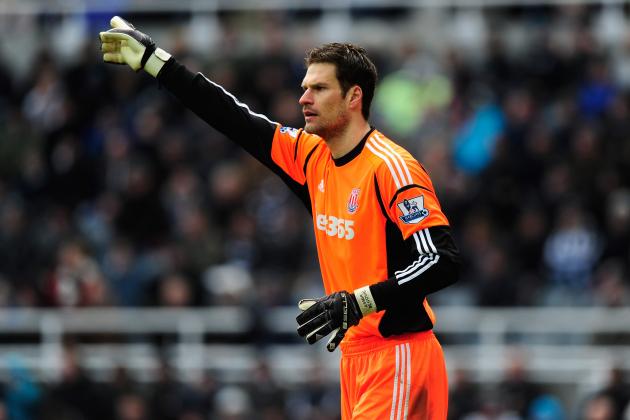 Stu Forster/Getty Images

Playing for a side that finished just six points above the relegation places, Asmir Begovic was one of the primary reasons Stoke avoided the drop this past season, and his play will likely earn him a ticket to a much bigger club in the very near future.
The 25-year-old kept 12 clean sheets in 2012-13 and stopped an impressive 419 of the 464 shots he faced—good for a save percentage of 90.
Begovic—Bosnia-Herzegovina's number-one goalkeeper—has also been instrumental in his national side's recent success and may just be headed to the World Cup finals a year from now.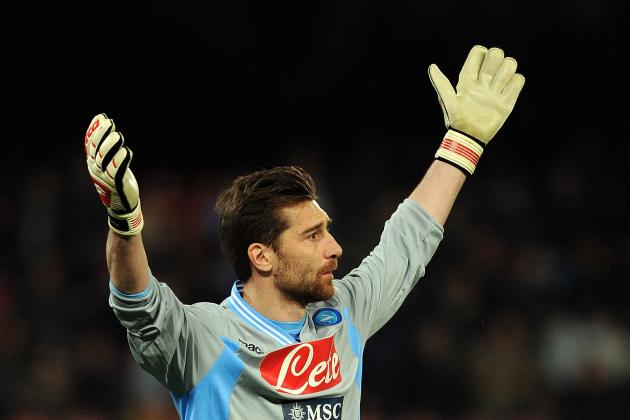 Giuseppe Bellini/Getty Images

Being an Italian goalkeeper in the same generation of Gianluigi Buffon has kept Morgan De Sanctis on the outskirts of the Azzurri much of his career, but his influence continues to be felt at Napoli where, for a second season in three years, he helped his club side to a top-three finish in Serie A.
The 6-foot-3 36-year-old kept 14 clean sheets this past season, and his save percentage of 93 was among the best in top-flight football.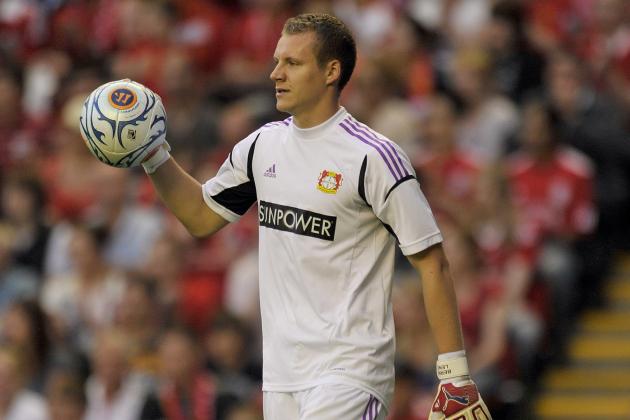 Clint Hughes/Getty Images

Germany just keeps churning out the goalkeepers, and 21-year-old Bernd Leno is one of the latest to rise to stardom.
The Bayer Leverkusen number one stopped 90 percent of the shots he faced this season and kept 11 clean sheets as his side finished third in the Bundesliga and qualified for the Champions League.
Only Bayern Munich had a better defensive record, and based on his play the past 12 months, Leno will almost certainly be in the conversation regarding Germany's goalkeepers at the upcoming World Cup in Brazil.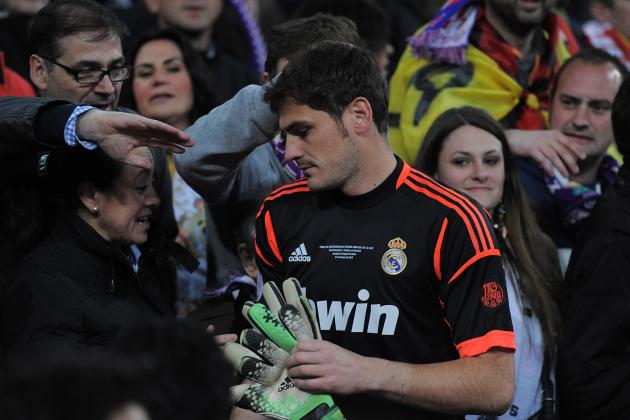 Denis Doyle/Getty Images

It's difficult to quantify what Iker Casillas did this past season, given that he only played about half of it.
Dropped in favour of Diego Lopez after returning from an early winter injury, the 32-year-old spent much of the remainder of the campaign on the bench and is one of the few question marks Spain have heading into the Confederations Cup.
That said, his reputation speaks for itself, and in the 19 Primera Division matches he played in 2012-13 he kept clean sheets in eight of them, stopping 90 percent of the shots he faced.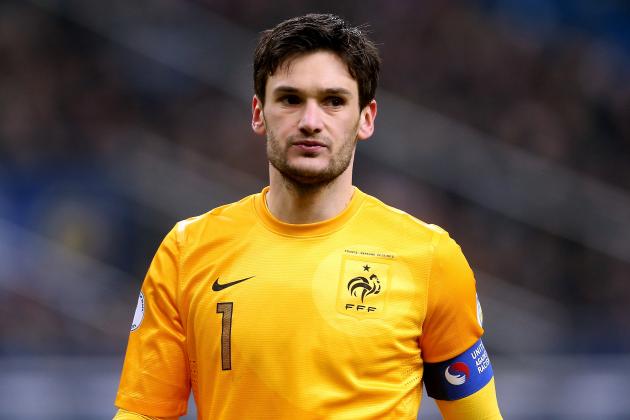 Scott Heavey/Getty Images

After struggling to find some sort of consistency between the sticks for so long, Tottenham look to have finally hit upon it in the form of Hugo Lloris.
The 26-year-old, who has already played 45 times for France, managed to help Spurs stay in the race for Champions League football until the final match of the 2012-13 season, despite the fact that his teammates tended to concede several quality scoring opportunities in every match.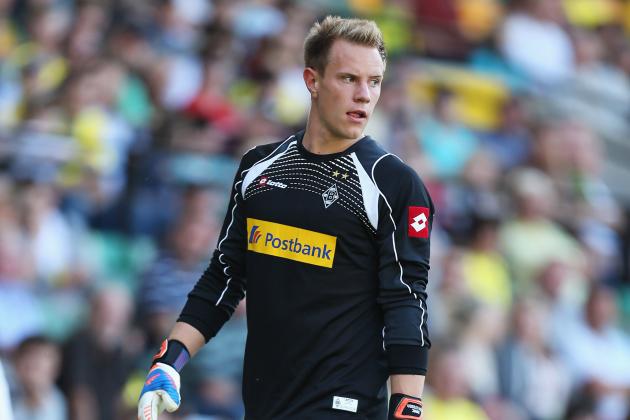 Pete Norton/Getty Images

Another 21-year-old German goalkeeper, Marc-Andre ter Stegen has already played twice for the national side and is widely regarded as manager Joachim Low's second choice behind Manuel Neuer.
In 2011-12 ter Stegen helped take Borussia Monchengladbach into the Champions League places, and this past campaign he stopped 430 of 477 shots en route to an eighth-place finish.
Barcelona are reported to be tracking him as a replacement for Victor Valdes (Mirror).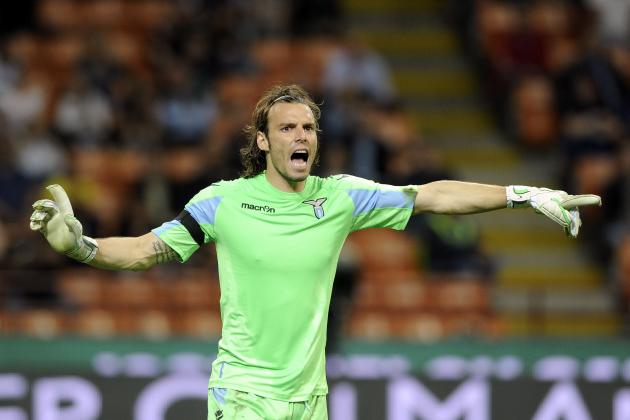 Claudio Villa/Getty Images

In two seasons at Lazio, Federico Marchetti has helped the Rome side to a pair of Europa League qualifications and the Coppa Italia—won just last Sunday after beating local rivals AS Roma in the final.
The 30-year-old is also part of Cesare Prandelli's Italy setup, having made eight appearances for the Azzurri since 2009, and in 2011-12 kept 13 clean sheets while stopping an impressive 92 percent of the shots aimed his way.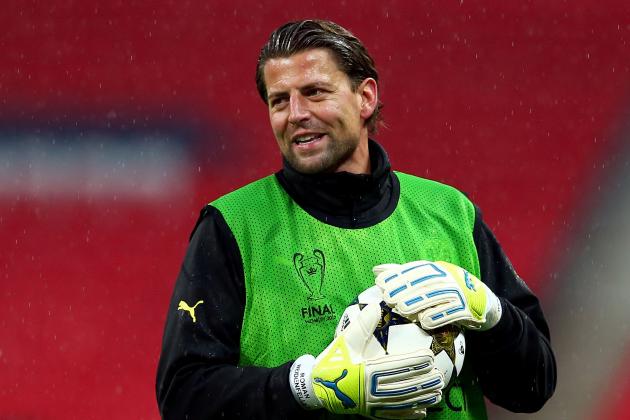 Alex Grimm/Getty Images

He continues to be a national team outsider, and with so many young German goalkeepers coming through the ranks it's unlikely Roman Weidenfeller will be called into Joachim Low's side anytime soon.
But the 32-year-old has nevertheless fashioned an impressive career for himself, winning back-to-back Bundesliga titles with Borussia Dortmund before taking his side all the way to the Champions League final this season.
Scott Heavey/Getty Images

Thibaut Courtois was the best goalkeeper in Spain in 2012-13, keeping 20 clean sheets from 36 starts while saving 299 of the 327 shots he faced—good for a save percentage of 91.
His Atletico Madrid side finished the campaign with the best defensive record in the country, and while the Rojiblancos would no doubt love to keep him he remains at the club on Chelsea's generosity.
The 21-year-old has also represented Belgium on nine occasions and is just one of the exciting group of youngsters the country hopes to take to the World Cup finals just over a year from now.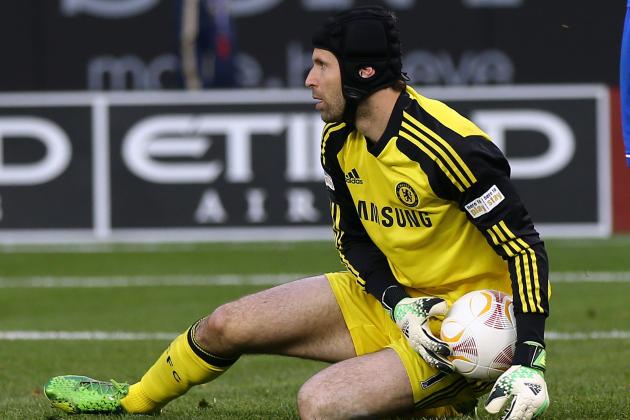 Elsa/Getty Images

With John Terry absent much of the season due to equal parts lack of fitness and lack of form, Petr Cech assumed a leadership role at Chelsea in 2012-13 and seemed to thrive in it.
He also stopped 91 percent of the shots he faced en route to a third-place finish in the Premier League, and earlier in the month he added a Europa League title to an already jam-packed trophy cabinet that includes three Premier League titles, four FA Cups, two League Cups and the Champions League.
And as he's still only 31 years of age it may be some time before Thibaut Courtois is called upon to replace him at Stamford Bridge.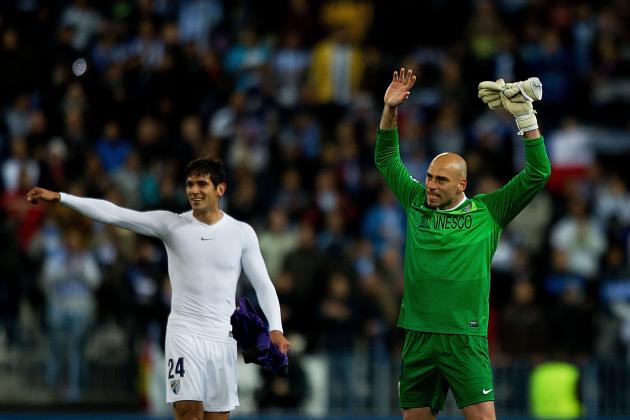 Gonzalo Arroyo Moreno/Getty Images

Who knows where Willy Caballero will end up next season, given the woeful state of Malaga's finances.
But in 2012-13 the Argentine was one of the world's top goalkeepers, taking the Primera Division side all the way to the Champions League quarterfinals while stopping 93 percent of the shots he faced in Europe's most prestigious club competition.
In La Liga the 31-year-old was named Man of the Match twice, and despite a topsy-turvy season at the Andalusia side still managed to keep 12 clean sheets from 16 wins while stopping an impressive 90 percent of the shots directed his way.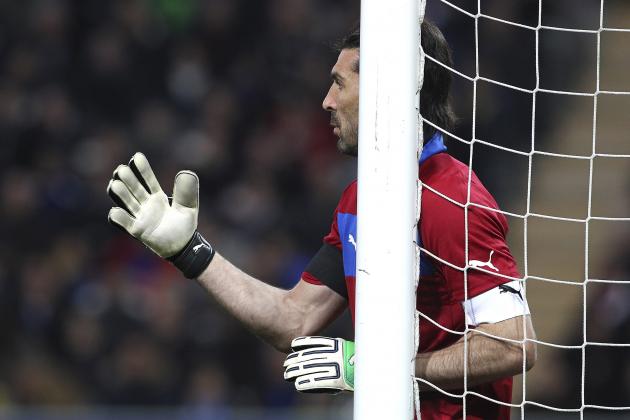 Marco Luzzani/Getty Images

In the past 13 months, Gianluigi Buffon has won two Serie A titles and taken Italy all the way to the championship match of Euro 2012.
This past season he also led the Italian top flight in wins (23) and clean sheets (16), and if his Champions League save percentage of 93 was impressive, it was even better in Serie A, where he stopped an unbelievable 94 percent of the shots he faced.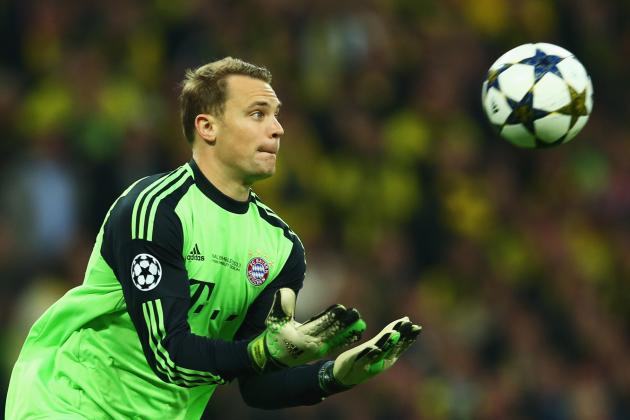 Alex Grimm/Getty Images

Bayern Munich's success this season should not overshadow what Manuel Neuer accomplished. And if any proof of that is needed, his performance in the Champions League final against Borussia Dortmund should suffice.
It was a big-game performance from a big-game player, and on Saturday the 27-year-old will get the chance to help complete Bayern's historic treble when they face Stuttgart in the final of the DfB Pokal.
Neuer kept five clean sheets in the Champions League this past season, and 18 in the Bundesliga, where his save percentage was an impressive 93.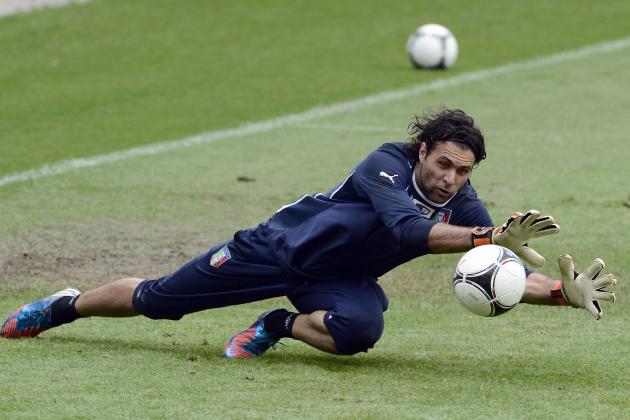 Claudio Villa/Getty Images

Salvatore Sirigu served a two-match ban for his involvement in a brawl at Evian late in the season, but his side's 1-0 win represented his fifth-straight clean sheet in Ligue 1, and a few weeks later he was celebrating the club's first championship in 19 years.
But the 26-year-old saved some of his best football for the Champions League, where he stopped 92 percent of the shots he faced as PSG advanced all the way to the quarterfinals.
So far this season Sirigu has played twice for Italy and would seem to be Gianluigi Buffon's heir apparent.
Last year, the legendary Azzurri goalkeeper referred to Sirigu as "exceptional," adding, "He takes pride in his success in France and the satisfaction of bringing credit to the Italian goalkeeping academies. His departure from Italy (where he played for Palermo) was a loss for Serie A." (Blogs.Bettor.com)