A Look at Where Atlanta Braves' Top Draft Picks from 2010 Are Now
Scott Cunningham/Getty Images

The 2013 MLB draft is quickly approaching as the Atlanta Braves will look to stockpile their farm system.
The Braves rely on having a strong farm system for much of their success. Growth through the minor leagues and playing young players has been the Braves' formula for success over the years.
The Braves' best pick could be Evan Gattis, who the Braves took in the 23rd round.
That is one pick that obviously worked out, but others have failed.
Here's a look at the top picks from the 2010 MLB draft with some of each.
Begin Slideshow

»
Round: 1
Pick: 35
School: McKinney High School (Texas)
The Braves selected shortstop Matt Lipka with their compensation pick for losing pitcher Mike Gonzalez in free agency.
Lipka is rated the No. 7 prospect in the Braves' organization according to MLB.com.
The 21-year-old is playing in Single-A Lynchburg where he's hitting .260 with three home runs and 25 RBI.
The Braves have also moved Lipka to center field since drafting him as a shortstop.
Lipka's future at the next level will depend on a high average and on-base percentage as he doesn't hit for much power.
Round: 2
Pick: 53
School: Jacksonville State
Another center field prospect, Todd Cunningham has worked his way up to Triple-A Gwinnett.
Cunningham is hitting .260 with a .356 on-base percentage with two home runs and 17 RBI. He has also stolen nine bases and has potential to be a leadoff hitter.
The 24-year-old compares favorably to current Braves' outfielder Jordan Schafer as he has excellent speed and can play all three outfield positions.
Cunningham is currently rated the No. 8 prospect in the Braves' organization, according to MLB.com.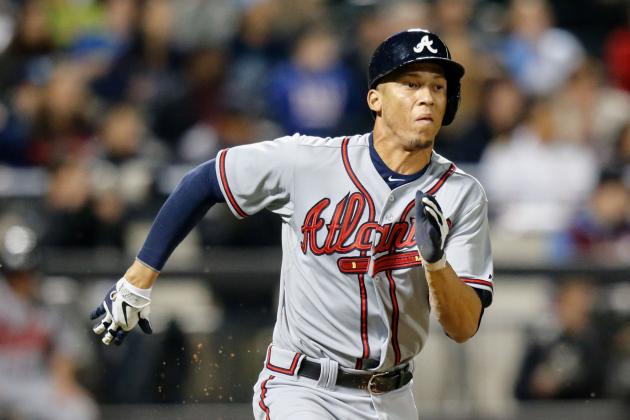 Anthony Gruppuso-USA TODAY Sport

Round: 2
Pick: 70
School: Western Oklahoma State
Andrelton Simmons made his MLB debut on June 2, 2012 and has established himself as the Atlanta Braves' shortstop for the near future.
Simmons possesses elite fielding skills and many consider him the top fielding shortstop in the game at 23 years old.
At the plate, Simmons has improving to do but showed enough promise to warrant time at the leadoff spot.
For the season, "Simba" is hitting .249 with five home runs and 19 RBI.
Simmons should be roaming the shortstop position in Atlanta for many years to come.
Round: 3
Pick: 101
School: Pittsburgh
The Braves took third baseman Joe Leonard with their third-round draft choice, and Leonard currently plays for Triple-A Gwinnett.
Leonard is hitting .212 with zero home runs and 11 RBI in 44 games for Gwinnett in 2013.
The 24-year-old prospect is not rated in the top 20 prospects in the Braves organization, according to MLB.com.
Leonard has never hit .300 in a season at the minor league level and looks to be nothing more than a career minor league player.
Round: 4
Pick: 134
School: State University of New York at Oneonta
The first pitcher the Braves selected in the 2010 MLB draft in David Filak never panned out.
Filak played three seasons in the Braves' minor league system, never reaching higher than Single-A Rome.
In 2010 at Danville, Filak posted a 2.05 ERA in 10 games, but that proved to be his only respectable season.
The Braves released Filak following the 2012 season, and he is currently out of baseball.