Ranking Pacers Among LeBron James' Toughest Eastern Conference Finals Challenges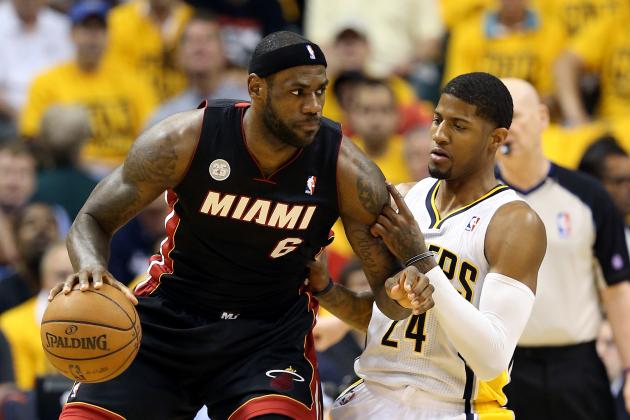 Andy Lyons/Getty Images
Paul George and company have been fighting LeBron tooth-and-nail.
LeBron James has now made the Eastern Conference Finals five times, and each of his opponents have posed varying challenges for the four-time MVP.
There have been big and physical ball clubs, units with outstanding team defense and teams that simply had great schemes to slow James down.
This year, LeBron is matched up against the Indiana Pacers, a ballclub that many felt could represent a legitimate threat to the Miami Heat in the playoffs.
Well, those thoughts have been confirmed, as the Pacers have played the Heat to a draw thus far. The two squads have alternated wins throughout the first four games of the series.
So, where does Indiana rank among James' biggest challengers? Will the Pacers be a mere footnote when this series is all said and done? Will they push LeBron to the very final seconds of Game 7? Or will they become the first Eastern Conference squad to upend this Miami team?
Begin Slideshow

»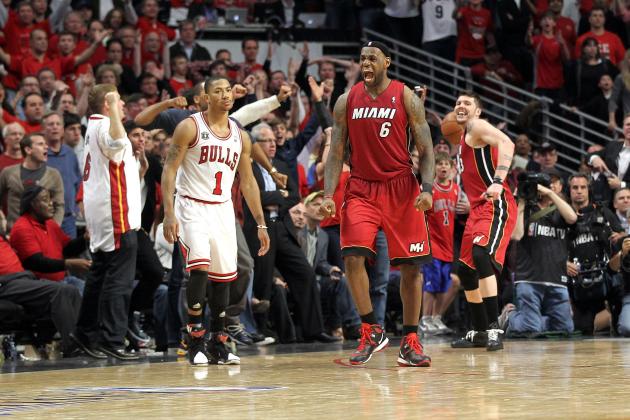 Mike Ehrmann/Getty Images

Much to the chagrin of Chicago Bulls fans, this series really wasn't much of a contest.
After the Bulls thumped LeBron's Heat by 21 points in Game 1, Miami reeled off four straight wins to advance to the finals.
Derrick Rose was held in check throughout the majority of the series, exposing Chicago's lack of a supporting cast offensively. Carlos Boozer was all but invisible, making Luol Deng the Bulls' only other somewhat-reliable scoring option.
Many feel that a healthy Chicago ballclub could have given the Heat a run for their money this year, but that still seems doubtful. The Bulls probably would not have gone down in five games (almost certainly not), but in the end, their lack of explosiveness on the offensive side would have been their downfall.
Bulls-Heat may be a heated rivalry, but in terms of competitiveness, there really isn't that much of a past between these two clubs.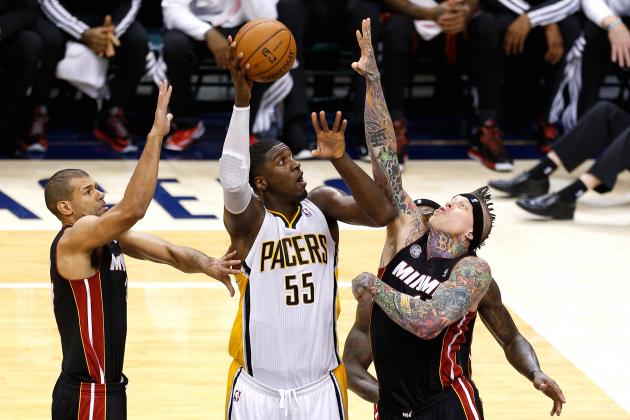 Joe Robbins/Getty Images

The Pacers are certainly giving LeBron and the Heat all they can handle through the first four games of this Eastern Conference Finals series. However, unless they pull out another win and take this to seven games (which they very well could), they still rank behind James' three remaining semifinal opponents.
Indiana undoubtedly poses a matchup problem for Miami with Roy Hibbert and David West down low. It sometimes seems like LeBron is intimidated by the Pacers' size and, in turn, is being deterred from driving into the lane.
In spite of that occasional timidity and the fact that Dwyane Wade is playing on a bad knee, the Heat have kept things close and find themselves knotted up at two games apiece heading into Game 5.
Can the Pacers win this series? Yes. It's a bit of a long shot, but they can. It just doesn't seem like LeBron is as concerned about Indy as he has been about past opponents.
Of course, all of that can change if Indiana goes up 3-2 Thursday night.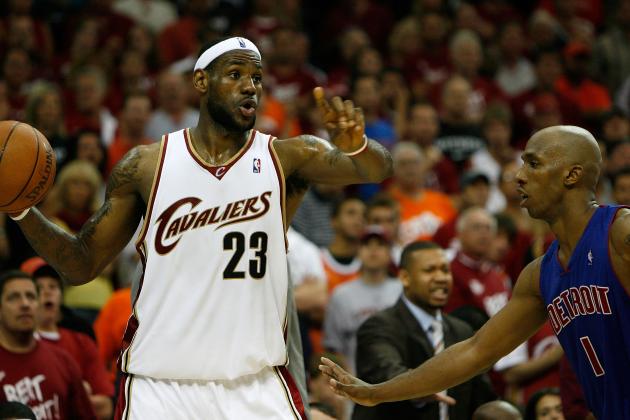 Gregory Shamus/Getty Images

After his Cleveland Cavaliers were eliminated in the second round by the Detroit Pistons in 2006, LeBron would meet those boys again the following year.
The 2007 series started out similar--almost identical, actually--to the year before. The Pistons won the first two games at home to take a 2-0 lead, and it looked like the Cavaliers didn't stand much of a chance. Then, also akin to '06, Cleveland reeled off three straight victories to claim a 3-2 edge.
That was when things changed, and the first peg of James' legacy fell into place.
In the prior postseason, Detroit rallied to win Games 6 and 7 and took the series. This time around, however, LeBron came out on top. He didn't exactly put forth a great performance in the deciding Game 6, shooting 3-11 from the floor, but he put together what is still one of his most well-known outings in Game 5, dropping 48 points in a double-overtime triumph.
It took almost all of what James had to defeat the Pistons, a team that was on the decline while LeBron was on the rise.
James would meet Detroit again a couple of years later, but that team was not even a shell of its former self as the Cavs cruised to a first-round sweep.
LeBron will likely always remember the Pistons as the first obstacle that he ever had to overcome in his career.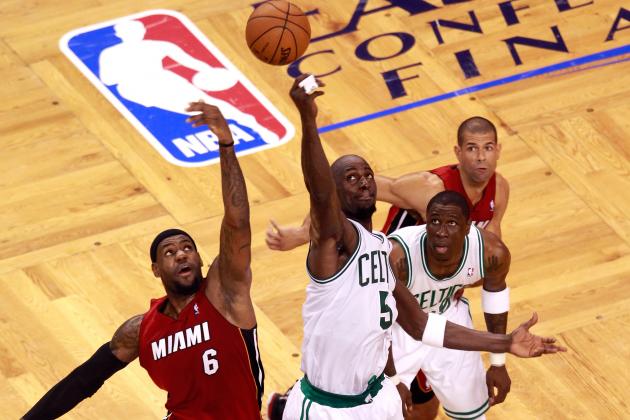 Jared Wickerham/Getty Images

The 2013 postseason almost seems incomplete without the obligatory LeBron vs. Boston Celtics matchup. From 2008 through 2012, James and the Celtics met in the playoffs four out of those five years, and it likely would have been five straight times had Kevin Garnett not been injured in 2009.
No team has given LeBron more problems than Boston, and the C's reared their heads once again last spring. After James' Heat took a 2-0 lead in the Eastern Conference Finals, the Celtics stormed back by winning Games 3, 4 and 5 to take a 3-2 edge heading into Game 6.
That was when James came through with one of his most clutch performances to date, erupting for 45 points as Miami smoothly sailed to a series-tying win. The Heat would then climb out of a double-digit hole in the second quarter of Game 7 and head to the finals.
With Garnett and Paul Pierce potentially on their way out of Beantown, last year might have been the final time we will ever see LeBron and those men do battle against one another in the postseason, and what a history they had.
In what is only an appropriate final record, James went 2-2 in playoff series versus the Celtics.
Also, thus far, the 2012 Boston Celtics remain the only Eastern Conference team to push this Miami squad to seven games. That may quickly change over the next several days, however.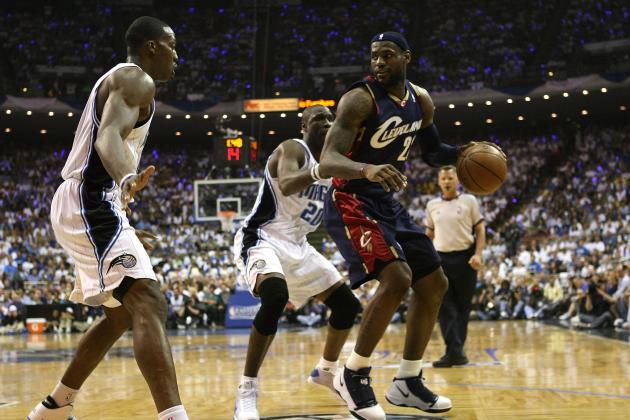 Elsa/Getty Images

Prior to this year's series against the Pacers, LeBron had been in the Eastern Conference Finals four times. He went 3-1 in those contests. His only loss? The 2009 battle against Dwight Howard's Orlando Magic, where James infamously walked off the court without shaking hands after the deciding Game 6.
LeBron's Cavaliers jumped out to a 15-point halftime lead in Game 1, but the Magic erased most of that advantage by the fourth quarter and would eventually win on a Rashard Lewis three-pointer. Cleveland would proceed to blow another big lead in Game 2, but they were saved by James' miracle three-pointer as time expired to tie the series.
From that point on, it was rough going for LeBron and the Cavs.
Orlando took the next two games as Howard pounded the Cavaliers' frontcourt, and the Magic went back to Cleveland with a commanding 3-1 lead. A 37-point outing from James helped the Cavs grab Game 5, but that was it.
Dwight dominated Game 6, staging what is arguably the greatest game of his career with 40 points and 14 rebounds in a 13-point victory.
The loss would mark the final time LeBron made the Eastern Conference Finals in Cleveland, as he would lose to the Celtics in the second round in 2010. And...well...you all know what happened after that.