Predicting the Next 5 WWE World Heavyweight Champions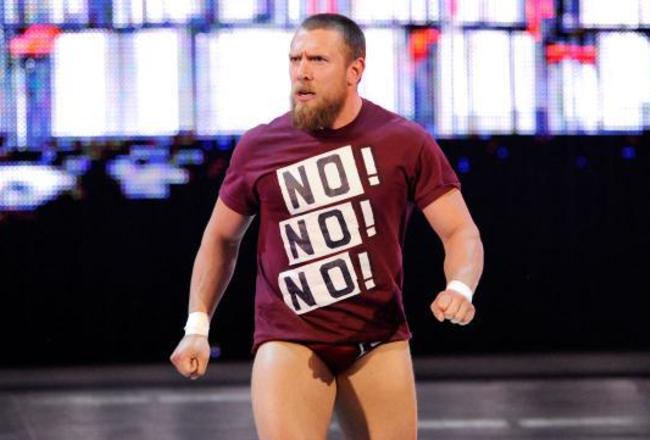 Photo Credit: WWE

It's impossible to stay on top of the World Heavyweight Championship mountain forever as there is always a horde of WWE Superstars looking to knock the champ off and take the gold for themselves.
Who will beat Dolph Ziggler for his title? Who will take it beyond that?
While not as prestigious as the WWE Championship, the company's other world title is still a symbol of success. It doesn't represent top-guy status as John Cena's belt does, but it's reserved for a select few.
Looking at momentum, both current and projected, as well as past championship patterns and who is or will be among that select few, here are five possible future champs. We begin with a man with a championship pedigree, a snake waiting for the opportunity to strike.
Randy Orton

Randy Orton beats Dolph Ziggler as he has done so often.

Randy Orton is too good and too popular to go much longer without a title reign. Orton lost his world title to Mark Henry in late 2011 and is just an RKO away from becoming champ again.
Once he and Sheamus are done tangling with The Shield, WWE is going to need a top face to knock off Dolph Ziggler at some point.
F4WOnline.com (via WrestleZone.com) reported in 2012 that, "Randy Orton vs. Dolph Ziggler will dominate the World Championship picture in 2013."
Though those reports falsely projected that Ziggler would cash in his Money in the Bank contract as early as Survivor Series last year, the fact that Orton's name was discussed with Ziggler's suggests a desire within the company to see those two feud.
Should that happen, it's hard not to imagine Orton eventually coming out of it with his fourth World Heavyweight Championship.
Dolph Ziggler

Dolph Ziggler has proven he can beat Randy Orton.

Recent World Heavyweight Championship history shows a pattern of champions reclaiming their titles after losing them.
Since 2008, Edge, Jeff Hardy, CM Punk, Randy Orton and John Cena have all won the title back not long after losing it. Should WWE follow that pattern, Dolph Ziggler and Orton will trade the title at least once.
All of Orton's reigns as World Heavyweight Champion have been relatively short. He has held the title for 28, 75 and 35 days, respectively. With that in mind, maybe Ziggler manages to take the belt from him after a month or two.
He does have AJ Lee and (for now) Big E. Langston in his corner to help him overcome The Viper.
Daniel Bryan

Daniel Bryan and Dolph Ziggler give us a preview of how great their world title matches could be.

Few stars get a hotter reaction to their matches right now than Daniel Bryan. In his latest WWE Raw match against The Shield, Bryan's performance stirred up the crowd.
His popularity now has exceeded what it was when he was last world champion. WWE would be wise to take advantage of his vocal fanbase and of Bryan's superior in-ring ability. As champion, he could have a great match regardless of the challenger.
In addition, there are few potential feuds that will produce matches as impressive as Dolph Ziggler and Bryan. Showmanship, chain wrestling, chemistry and speed will all be on full display as these two athletes battle each other.
Bryan's lack of size may prevent him from ever winning the WWE title, but he would undoubtedly thrive as World Heavyweight Champion, even more so than he did the first time around.
Ryback

Daniel Bryan vs. Ryback on SmackDown: potential future world title match?

Should he fail to take John Cena's WWE title from him, Ryback may eventually have to instead go after the other world title.
WWE clearly believes in Ryback enough to put him in title matches with Cena and make him one of the company's current top heels. It doesn't feel, though, that WWE is ready to have him win the ultimate prize.
Like Christian, Mark Henry and Jack Swagger before him, Ryback may have enough momentum and push for the big gold belt and not enough for the WWE title.
Who else could get better matches out of Ryback than Bryan?
Flashing back to their recent WWE SmackDown match is a preview of how good their clashes could be, should they feud over the world title.
As powerful and dominant as he has been since ditching the Skip Sheffield name, Ryback seems destined for WWE gold.
It's unlikely that he'll go from battling Cena and CM Punk to going for one of the midcard titles. Instead, a champion Bryan could fall to his aggression, unable to kick out of Shell Shocked.
Wade Barrett

Wade Barrett and Ryback battle back when they were both in NXT.

After Ryback survives an intense battle with one of his challengers and is lying in the ring among the pieces of a freshly broken table, Wade Barrett's music hits and he comes charging down the ramp, Money in the Bank briefcase in hand. Is this how Ryback's reign ends and the Barrett Barrage truly begins?
Barrett is the ideal candidate to win a Money in the Bank contract. He's on the cusp of the company's top level but needs something to help provide him with the final push.
The Money in the Bank scenario also blurs the face and heel roles as Barrett would have no qualms about taking advantage of Ryback, whether he is a hero or villain.
Barrett's size, brawling ability and gritty charm make him a world champion waiting to happen.
Keep Reading