Final Grades for Every LA Lakers Starter in 2012-13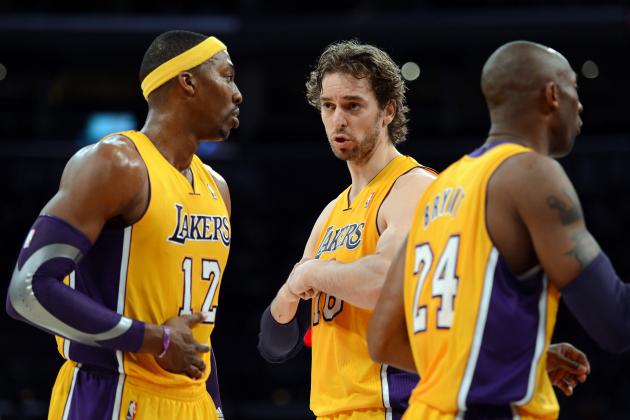 Harry How/Getty Images

With the regular season concluded and the postseason revealing the cream of the crop in the NBA, there is no better time to look back and reflect on the performances of each of the Los Angeles Lakers' starters. The report cards will make it easier to see what each starter did right and where each one went wrong.
While an individual report card for each player is hardly sufficient for revealing all of the flaws in the roster, it can still be a good indicator of where those flaws stem from.
Each starter will be graded based on three different attributes:
Offense
Defense
Intangibles
He will be given a letter grade for each of these attributes and assigned a final grade at the end of his report card.
Begin Slideshow

»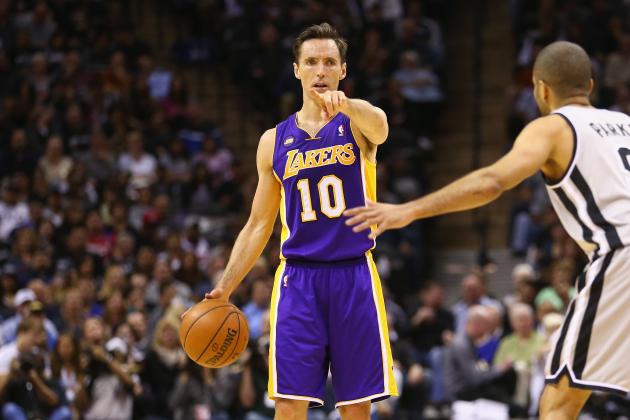 Ronald Martinez/Getty Images

Offense
When healthy this season, Steve Nash provided the shooting we're accustomed to seeing from him throughout his career, averaging 12.7 points per game on 49.7 percent shooting from the floor, 43.8 percent shooting from three-point range and 92.2 percent from the line.
However, his role was drastically different than his days of being the top dog in Phoenix.
His health and durability prevented him from being on the court long enough to truly be the facilitator he was in Phoenix.
Regulated to more of a spot-up shooter in response to Kobe Bryant's role as the main facilitator, Nash only averaged 6.7 assists per game this season.
While his efficiency remains at a high level, his production as a whole has waned as well. His game has always been predicated on using his shooting to supplement his amazing court vision and ability to create for others.
With his ability to create being mitigated for one reason or another, Nash simply didn't perform up to expectations.
Grade: B
Defense
Not a great defender even during his prime, Nash continues the Lakers' recent tradition of harboring defensive liabilities at the point guard position.
When Derek Fisher held the starting point guard position, one of the Lakers' biggest weaknesses was protecting against penetration from opposing point guards.
Nash does little to change this formula. The Lakers' propensity to allow opposing guards to wreak havoc in the paint continues due to Nash's defensive deficiencies.
While he is a savvy veteran who knows how to draw charges, his foot speed and lack of size make him vulnerable to the quicker, stronger and more athletic point guards in the NBA.
Grade: C-
Intangibles
Despite the fact that Nash is a defensive liability, the Lakers already knew that flaw in his game when they acquired him.
They needed Nash to be a floor general, leader and a major aspect of their offensive game.
However, hindered by nagging injuries that cost him more than a third of the regular season and more than half of the Lakers' four postseason games, Nash's inability to stay healthy mitigated every intangible he was supposed to bring to the Lakers.
He was unable to orchestrate the offense and create opportunities for his teammates consistently, and he was eventually relegated to being a spot-up shooter.
Grade: C-
FINAL GRADE: C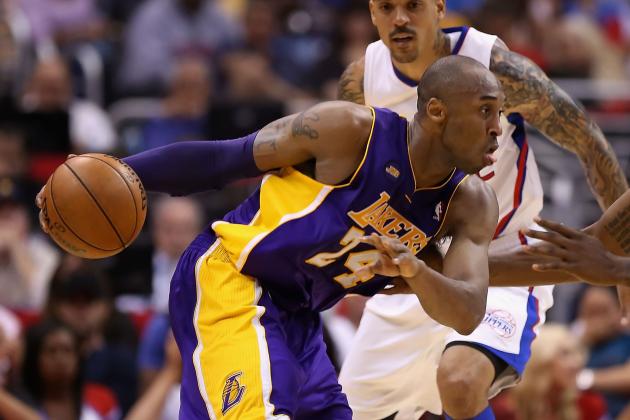 Christian Petersen/Getty Images

Offense
Kobe Bryant started off the season shooting over 50.0 percent from the field for a long stretch despite the Lakers' struggles.
Ending the season with an average of 27.3 points per game on 46.3 percent shooting from the field, Bryant's efficiency and productivity on offense—despite being almost 35 years old—is astounding.
Even more impressive is the fact that he shouldered a facilitating role for the first time in his career and willed the Lakers back into the playoffs by balancing his shooting with actively creating for teammates as the primary creator.
His six assists per game tie a career high and show that the Black Mamba is still one of the most dangerous and versatile offensive forces in the NBA.
Grade: A
Defense
For the first time in a long time, Bryant did not make the NBA All-Defensive team this season.
While he is no slouch on the defensive end, he is not the perimeter terror he once was as an effective on-ball defender.
Having to pick his spots in order to perform efficiently on offense, Bryant's defensive prowess has waned this season.
Although he is still a good rebounding threat at the shooting guard position (averaging five rebounds per game), he can no longer be relied on to shut down players of his stature.
Though he has had success being a defensive stopper against the likes of Kyrie Irving and smaller guards, at his age, he can no longer be an exceptional force on both ends of the floor.
Thus, his efficiency and productivity on offense came at the expense of his defense.
Grade: B
Intangibles
Despite a noticeable dip on defense, Bryant showed this season that he is a consummate professional and an underrated leader and motivator.
The Lakers underwent a season full of disappointments and dry spells.
While most of this was due to an injury-plagued season and two coaches whose systems did not mesh well with the players, Bryant was able to lead his team back into playoff contention before his Achilles tendon injury.
By altering his game and picking his spots, Bryant ensured that he was as dangerous and potent as ever.
He was rewarded for his performance by being selected to the All-NBA First Team.
Grade: A
FINAL GRADE: A-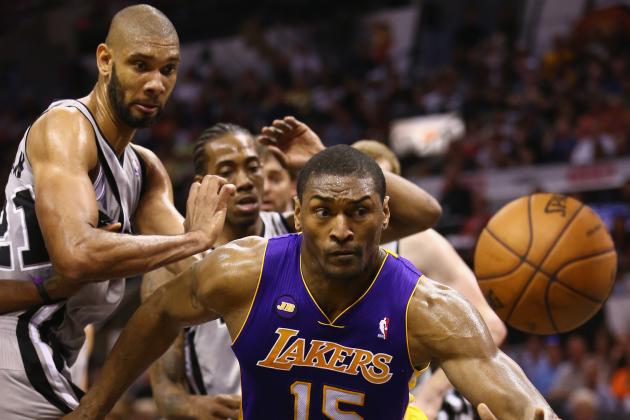 Ronald Martinez/Getty Images

Offense
After a major dip in production in the 2011-2012 season, Metta World Peace returned to form and become a force on offense once more.
Despite his inconsistencies and streaky play, World Peace still managed to average 12.4 points on 40.3 percent shooting during the regular season.
While he did manage to average double figures in points, his unimpressive field-goal percentage was detrimental, and it bled into his performance in the playoffs.
Averaging only six points per game in the playoffs on 25.0 percent shooting from the field, World Peace wasn't able to perform well as the focus on offense.
Though he has the size and strength to play in the post, he doesn't necessarily have the skill to do so efficiently. With a streaky jumper and a three-point range that comes and goes, it is hard to rely on World Peace for consistent production from the field.
Grade: B-
Defense
While he isn't the defender he was in Indiana or even in Houston, Metta World Peace remains the Lakers' most consistent perimeter defender.
With a mixture of strength and speed that very few players possess, World Peace hustles hard on defense and is a constant pest to the offensive player he guards.
His five rebounds per game during the regular season is right around his career average, showing no drop-off in that department of his game.
Grade: B+
Intangibles
While World Peace hasn't been a key star on a team since the beginning of his tenure with the Houston Rockets, it was assumed that he still had some of that All-Star talent he possessed just a few years prior.
However, once Kobe Bryant went down with his Achilles tendon injury, World Peace wasn't able to pick up the slack for Bryant offensively.
In fact, the fact that World Peace's scoring output got cut in half during the playoffs shows that he wasn't able to take on a bigger role.
The pressure seemed to get to him, and without Bryant to draw so much attention on the perimeter, he struggled mightily down the stretch.
Grade: C-
FINAL GRADE: C+
Ronald Martinez/Getty Images

Offense
Pau Gasol had the misfortune of playing for two coaches who mitigated his impact on the court this season. On top of that, lingering injures kept Gasol from developing any kind of rhythm during the early parts of the season.
At the very core of his skill set, Gasol is a back-to-the-basket big man who utilizes his finesse and moves in the high and low posts in order to create for himself and his teammates.
However, Mike D'Antoni's emphasis on allowing solely Howard to take up residence in the paint mitigated Gasol's game until the end of the season.
At this point, Gasol was able to develop a slightly more cohesive dynamic with Howard, and the two showed flashes of the potential they had as complements to each other on offense.
Despite all of this adversity, Gasol still managed to average 13.7 points per game in the regular season and 14 points per game in the playoffs. His four assists per game also show that his passing ability hasn't regressed.
His final stretch during the regular season to help will the Lakers back into the playoffs shows that Gasol has a lot left in the tank and is still one of the most versatile and dangerous big men in the league.
Grade: B
Defense
Gasol's age and the hindering injuries he had to deal with this season definitely reduced his defensive impact.
While Gasol was never known as a defensively gifted big man, he did know how to use his size to alter shots in the lane.
Despite these hindrances, Gasol still averaged close to nine rebounds per game and swatted over a block per game.
Although he isn't a dominant post defender and isn't the interior presence his younger brother is, Gasol's efforts—despite his injuries and regression in speed—still aided in shoring up the Lakers' poor interior defense.
Grade: B-
Intangibles:
No other player on the Lakers had to go through the adversity Gasol had to face.
Throughout his injury woes, Gasol was disrespected and mitigated by Mike D'Antoni—who refused to try and play Gasol and Dwight Howard together until desperation set in.
When adequately recovered from injuries and given the opportunity as the season drew to a close, Gasol showed up and developed an excellent dynamic with Howard in the paint.
His efforts and production to end the season was a driving force in leading the Lakers back into the playoffs.
Grade: B+
FINAL GRADE: B
Jeff Gross/Getty Images

Offense
On paper, Dwight Howard put up the same numbers we're accustomed to seeing from the best big man in the NBA.
His 17.1 points per game during the regular season and the 17.0 points per game he averaged in the playoffs were all the result of 57.8 and 61.9 percent shooting from the field, respectively.
However, Howard is still not a dependable back-to-the-basket player and can't really generate his own offense in the half court consistently.
In essence, he hasn't really improved his offensive game since his weaknesses were exposed in the 2009 NBA Finals.
On top of that, his field-goal percentage dropped to below 50 percent this season.
While some may attribute his lack of improvement offensively to returning early from his back injury, there really is no excuse for shooting so poorly from the free-throw line when his career average is close to 60 percent.
Grade: B-
Defense
Say what you will about his regression this season, Howard is still a premier defender and perhaps the best interior force in the NBA on the defensive end.
Averaging 12.4 rebounds and 2.4 blocks per game this season, Howard was able to pick his spots and accumulate these numbers despite recovering from back surgery.
While he hasn't been able to contest almost every single shot like he used to back in Orlando, there is no doubt that he still has the same intimidation factor in the lane as he used to.
His defensive regression has been overblown this season due to the overall struggles of the Lakers and his exclusion from the All-Defensive team this season.
Although a healthy Howard would have definitely improved the Lakers' defense, the onus of the blame in terms of the Lakers' defensive weakness is on the system itself rather than on Howard.
Grade: B+
Intangibles
Howard's tenure with the Lakers showed the fans one thing:
He is not meant for the intense pressure and spotlight of a major market like Los Angeles.
Although he should receive credit for returning early from his back surgery, it only served to magnify the flaws in his attitude and his game.
At odds with Kobe Bryant for the duration of the series while playing unhappily for Mike D'Antoni, Howard was never able to find a comfort zone with the Lakers.
Furthermore, the fact that Howard has not improved his post game since his weakness was exposed in 2009 is a serious knock on his credibility as the greatest big man in the game.
Though he is definitely a game-changer on the defensive end when healthy, his lack of improvement on offense and his regression at the free-throw line make it hard to really create a post-oriented system around him.
Grade: C
FINAL GRADE: C+