2013 MLB Draft: Ranking the Top 5 Draft Prospects for Each Specific Pitch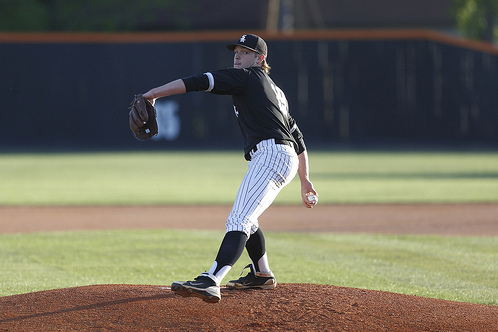 RHP Kohl Stewart's fastball and slider are both among the best in the 2013 draft class. // Courtesy of St. Pius X High School
After breaking down the top tools in the 2013 draft class earlier today, it's time to shift our focus to the mound by looking at the top pitches from hurlers in both the college and prep ranks.
Although most pitchers appear only once on this list with one dominant offering, the top guys—Mark Appel, Jonathan Gray, Braden Shipley and Kohl Stewart—are all over the place, which is exactly why they're each expected to be selected within the first 10 picks.
Here's a look at the top pitches among pitchers in this year's draft class.
Begin Slideshow

»
1. Jonathan Gray, RHP, Oklahoma
The only pitcher with a legitimate 80 mph fastball in this year's class, the 6'5", 215-pound right-hander utilizes his strong, powerful frame to work consistently in the upper-90s and usually eclipses triple-digits—he topped out at 102 mph earlier in the spring—multiple times in each outing.
2. Mark Appel, RHP, Stanford
At 6'5", 215 pounds, Appel has a plus fastball that peaks at 98 mph with late life, and he routinely sits 93-96 mph deep into games.
3. A.J. Vanegas, RHP, Stanford
The 6'3", 215-pound right-hander's long medical history and stressful delivery have eliminated all chances of a starting role, though his fastball is electric for a reliever and sits comfortably in the mid-to-upper 90s.
4. Braden Shipley, RHP, Nevada
An outstanding athlete with little mileage on his arm—he converted from shortstop to the mound last year—Shipley's velocity has moved up in the low-to-mid-90s, and has been as high as 97-98 mph.
5. Kohl Stewart, RHP, St. Pius X HS (Texas)
Committed to Texas A&M as a dual-sport athlete (quarterback), Stewart has shined on the mound this spring with a fastball that's reached 97 mph with late life.
*Due to the likelihood of OF/RHP Michael Lorenzen being drafted as an outfielder, he has been omitted from this list. But for the sake of comparison, the Cal St. Fullerton closer would have ranked second overall with a fastball that sits in the high-90s and flirts with triple digits.
1. Kyle Serrano, RHP, Farragut HS (Tenn.)
Serrano's curveball is easily my favorite in the draft class, as it's a plus-plus offering with tight spin, excellent pace and velocity and swing-and-miss bite.
2. Robert Kaminsky, LHP, St. Joes Regional HS (N.J.)
Although his 6'0", 190-pound frame lacks projection, Kaminsky has a polished arsenal that includes a swing-and-miss plus-plus curveball that features slider-like velocity in the low 80s.
3. Andrew Mitchell, RHP, TCU
Regardless of whether he's developed as a starter or reliever, the 6'3", 225-pound right-hander will always have a plus-plus curveball that works in the low 80s with excellent pace and swing-and-miss, downer bite.
4. A.J. Vanegas, RHP, Stanford
Beyond the right-hander's previously mentioned fastball, Vanegas backs up the pitch with a hammer breaking ball that will serve as an out-pitch at the next level.
5. Matt Krook, LHP, St. Ignatius Prep (Calif.)
The 6'4", 195-pound southpaw is still relatively new to the mound, so it's understandable that his secondary pitches lag behind his peers'. That being said, when his delivery is in sync, Krook breaks off a nasty curveball that flashes easy plus potential.
1. Jonathan Gray, RHP, Oklahoma
Beyond his fastball that reaches triple-digits with ease, Gray also boats a plus slider in the upper-80s with late, wipeout break out of the zone.
2. Mark Appel, RHP, Stanford
As part of a three-pitch mix of plus offerings, Appel demonstrates an impressive feel for his slider, as he throws in the 84-87 mph range with lots of tilt and a sharp, late break.
3. Kohl Stewart, RHP, St. Pius X HS (Texas)
In addition to a plus fastball that's been up to 97 mph, the 6'3" right-hander has also showcased a devastating slider that should serve as an out-pitch at the next level.
4. Chris Anderson, RHP, Jacksonville
With a fastball that sits in the low 90s and scrapes 96 mph, Anderson's plus slider should serve an out-pitch at the next level.
5. Connor Jones, RHP, Great Bridge HS (Va.)
At 6'3", 190 pounds, Jones is an impressive athlete with a great frame and mature arsenal. To complement his fastball that will reach 93 mph with arm-side run, the right-hander will mix in a sweeping slider that has steadily improved over the last year.
1. Braden Shipley, RHP, Nevada
Considering his lack of experience on the mound, Shipley's changeup is an absolute thing of a beauty; it's a legitimate plus-plus offering that's thrown with nearly identical arm speed as his fastball and generates countless whiffs with late sink and fade.
2. Marco Gonzales, LHP, Gonzaga
To complement his fastball in the 88-92 mph range, Gonzales throws a plus changeup with exceptional sink and serves as his out-pitch.
3. Mark Appel, RHP, Stanford
With a plus fastball and slider at his disposal, Appel's changeup has vastly improved over the last year and now represents a third plus offering to round out his highly impressive arsenal. Thrown with convincing arm speed, the pitch is most effective in the low-to-mid-80s with lots of sink.
4. Aaron Blair, RHP, Marshall
A 6'5", 220-pound right-hander with a fastball that will reach as high as 95 mph, Marshall's best secondary offering is a plus changeup with late fading action that's effective against both right- and left-handed hitters.
5. Sean Manaea, LHP, Indiana St.
Manaea's changeup may not be the obvious fit right here; however, with his plus fastball and deceptive arm action, the pitch has the potential to be a legitimate weapon with further development.