By the Numbers: Why Fight with Daniel Cormier Makes Sense for Dos Santos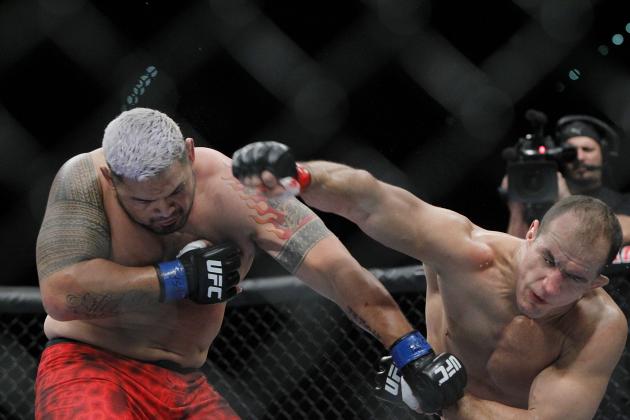 Gary A. Vasquez-USA TODAY Sports

With one foul swoop of his right leg, Junior dos Santos earned his rubber match with UFC Heavyweight Champion Cain Velasquez.
Last weekend at UFC 160, the heavyweight title picture became virtually transparent as both Velasquez and dos Santos dispatched their respective opponents in impressive fashion. It's clear now that these men are in a class of their own in the division of giants.
Or is it?
When the dust settled from a night of stellar knockouts, two questions came to my mind: Are these the two best heavies in the UFC? Probably. Is Junior ready for a rematch with Velasquez? Maybe.
Velasquez is arguably the best wrestler and most accurate striker in the division, behind his American Kickboxing Academy (AKA) teammate Daniel Cormier. After last weekend, I re-watched the second fight in which Velasquez ravaged dos Santos, and then compared their career statistics to those of Cormier.
Based on these numbers, here are a few reasons why a fight with Cormier makes a lot of sense for JDS.
Begin Slideshow

»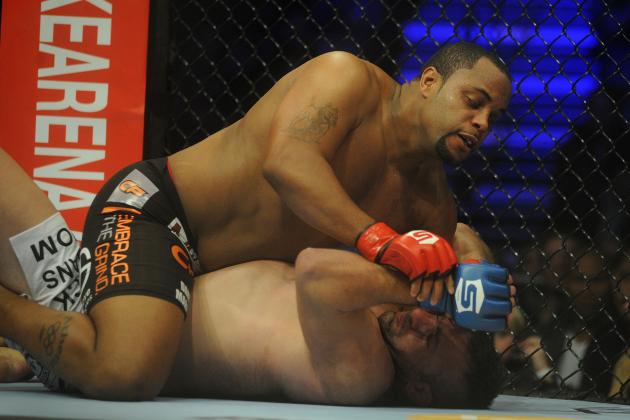 USA TODAY Sports

In his debilitating loss to Velasquez in their second fight, dos Santos was taken down 11 times, which is nine more than he had succumbed to in his previous nine UFC fights. You have to feel the rubber match will inevitably go to the ground, and dos Santos needs to realize this as well.
According to Fight Metric, "Cigano" holds a 74 percent takedown defense to 88 percent for Velasquez. Cormier on the other hand, a two-time Olympian in wrestling, has never been taken down in 12 professional fights.
While dos Santos is a boxing-based fighter who mostly relies on his standup in any fight, attempting and defending takedowns against Cormier would prepare him for another match with Velasquez.
Cormier can wrestle down anybody, but if JDS could find ways to neutralize the attack of Cormier and even make him work off of his back, the numbers show he could do the same to Velasquez.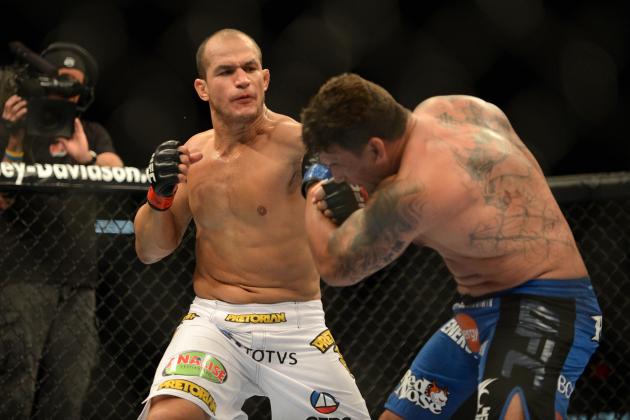 Ron Chenoy-USA TODAY Sports

Junior dos Santos is accustomed to having a speed advantage in the Octagon, particularly with his hands. Dos Santos lands strikes at a rate of 49 percent, exactly the same as Cormier.
Cormier's striking defense percentage shows he is more effective with his movement than even Velasquez, dodging 69 percent of strikes to 61 for Velasquez and 60 for dos Santos. "DC" also absorbs less punches per minute than both, with a 1.39 ratio.
If dos Santos can elude Cormier's strikes and land effectively on him, something no one has yet been able to do, he can do the same to Velasquez.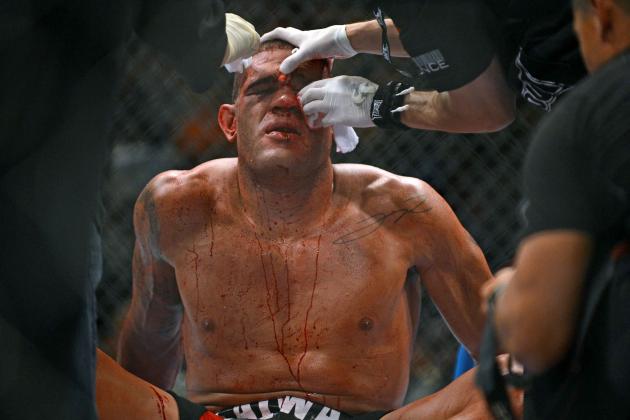 Ron Chenoy-USA TODAY Sports

It's obvious how Velasquez and Cormier employ similar styles in their fights, as they both train together day in and day out at AKA. Both use world-class wrestling, crisp movement and combinations to outwork opponents.
This fact is evident when considering the way they both picked apart Antonio Silva in their respective matches.
Cormier dispatched Silva in Round 1 of their Strikeforce Heavyweight Grand Prix Semifinal match with just 22 landed strikes. Velasquez landed a combined 71 total strikes in his two first-round finishes of Silva.
While Silva isn't on the level of a dos Santos at this point in his career, the similar success of Cormier and Velasquez against the man they call "Bigfoot" reveals a benefit in fighting Cormier.
Gary A. Vasquez-USA TODAY Sports

Maybe an odd category given the fact that everyone has seen the toughness of JDS after withstanding an assault from Velasquez in their last meeting. Just look at his face after the fight.
Although Cormier is his teammate, it's worth noting Velasquez's statement given to the Orange County Register in March of this year regarding him as a fighter.
"It's a war. It's a battle. It's a good thing. I won't fight anyone tougher. I fight him three days a week. We definitely push each other the whole time. He's still new to the sport. I see him constantly getting better. It shows in his fights. He's going to be a champion wherever he goes."
Dos Santos can definitely roll with the attack of Velasquez because we've seen it. But if Velasquez feels Cormier is a tougher opponent than Junior, especially after the "KO heard round the world" in their first meeting, JDS should prove this otherwise.
If dos Santos can prove that Cormier's 5 (T)KOs are a result of weaker opposition and not a tougher attack, he'll prove he's ready for Velasquez.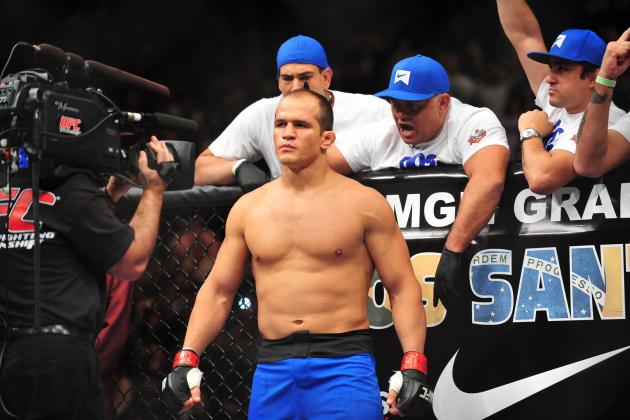 Gary A. Vasquez-USA TODAY Sports

Is Junior dos Santos the clear No. 1 contender of the heavyweight division? His performance says yes. But if the numbers are any indication, Cormier poses just as big, if not a bigger threat than Velasquez.
A fight with Cormier would prove a few things to dos Santos: He can wrestle with Velasquez, he can effectively strike with Velasquez and he's a tougher opponent to Velasquez that Cormier.
A trilogy fight makes sense if JDS is healthy. But I wonder if a fight with "DC" wouldn't be the best thing for him at this point.