Novak Djokovic's French Open got off to a less than ideal start, but in the end, it will only be a footnote in a deep run at the French.
I'm on the verge of going as far as saying that Nole will capture the lone major that has eluded him, but there is the little matter of Rafael Nadal looming out there. And as amazing as Nadal has been on clay, there is no way to look at things rationally and predict someone to beat him.
I'll have more on that potential matchup in a moment, but first, let's get back to the present.
Djokovic won in straight sets against 58th-ranked David Goffin on Tuesday in the French Open, but it was far closer than we'd expect from Nole in the first round.
The ATP tweeted the result:
.@DjokerNole defeats #Goffin 76(5) 64 75 to begin campaign for first @rolandgarros crown. http://t.co/HQhn3eZH4R #atp #tennis #RG13

— ATP World Tour (@ATPWorldTour) May 28, 2013
In the first-set tiebreaker, Djokovic did not gain the upper hand until Goffin double faulted while tied at five. The following point, Goffin hit a backhand into the net to hand the set to Djokovic.
Goffin hung tough for the remainder of the match, but it was clear Djokovic was in control.
How far will Nole advance at the French?
While Nole would typically advance with far greater ease out of the first round, this was not his typical first-round match.
There was a lengthy weather stoppage which delayed the start of the match, and then the players had to take a one-hour weather break during the match.
This is enough to throw a player off his rhythm—especially considering this is Nole's first tournament action since falling to Tomas Berdych in the quarterfinals in Rome on May 18.
Also, Goffin is proving to be a tough out at the French.
It was just last year when he became the first-ever lucky loser to make a run to the final 16. Goffin even won a set versus Roger Federer before bowing out to the legend.
As you can see in this picture, posted by Roland Garros on Instagram, Nole doesn't look too concerned following his victory.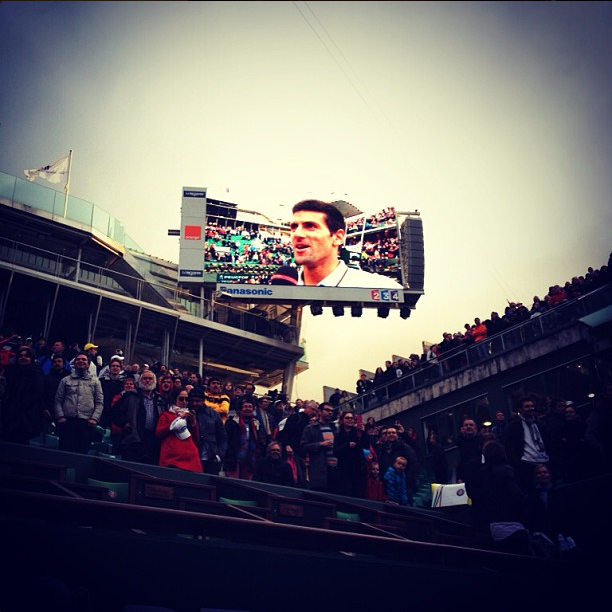 And he shouldn't be concerned. After a little sloppiness in the first set, Nole looked fantastic. He was moving great and his control was dialed in.
Also, Djokovic's consistent dominance dictates we expect nothing less than greatness. He is 29-4 this year, and that includes going 9-2 on clay. That encompasses a win the final at Monte Carlo over Nadal.
If the two should meet at the French, it would occur in the semis, and it might as well be the finals. One or the other is going to win this tournament.
Nadal and Djokovic have met 15 times on clay with Rafa taking 12 of those meetings. However, he won the first nine, which all came before 2010. Since then, Nole has won three of five, which includes the previously mentioned final in Rome, which was the last time the two met.
Djokovic fell in the quarterfinals of the French in 2010, then the semis in 2011 and he was runner-up last year, and that match was tighter than the 6-4, 6-3, 2-6, 7-5 score indicates.
In a match that faced weather delays, Djokovic had seized momentum in that match prior to the second stoppage.
Nadal is the only person in this tournament with a reasonable shot to take down Nole, and when it comes to those two, it is essentially a toss up at this point. Nole looks to be on the verge of continuing his French progression.