UFC in June: 5 Fights to Look Forward to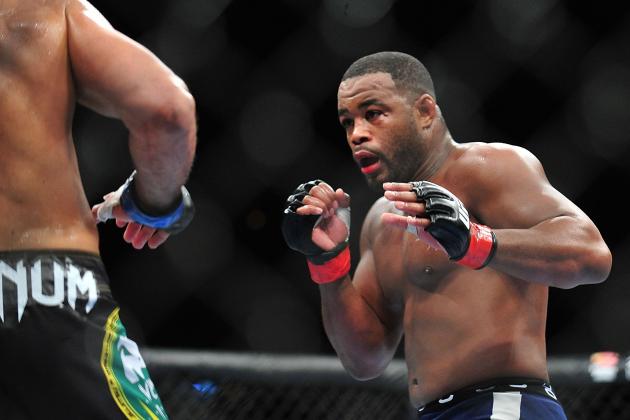 Gary A. Vasquez-USA TODAY Sports

By just about any measure, May was a good month for the Ultimate Fighting Championship.
From Vitor Belfort's spectacular wheel kick knockout of Luke Rockhold to Junior dos Santos pulling the heavyweight version of the same move on Mark Hunt and all the way to Cain Velasquez retaining his heavyweight title by mauling Antonio Silva a second time, the month of May was chock-full of memorable moments.
But now we're entering the true summer months, and June promises to deliver some intriguing matchups that could significantly impact several UFC weight classes.
Today, I'm going to take a look at five UFC fights that I'm looking forward to in the month of June. And, as always, I'd like for you to leave your own thoughts in the comments below. Which June fights are you most looking forward to? Do you agree with my selections?
Let's take a look.
Begin Slideshow

»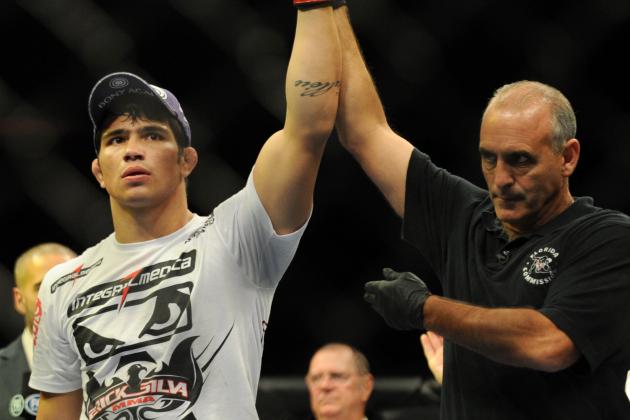 Steve Mitchell-USA TODAY Sports

Despite his loss to Jon Fitch at UFC 153 last October, Erick Silva remains one of the more interesting prospects in the UFC's welterweight division.
He's young, he's talented and he's good-looking, which means he has all of the qualities that the UFC is looking for in a potential star. Oh, and he's Brazilian; that never hurts, especially when the UFC is making a full-fledged push into that country with multiple visits each year.
At the next installment of UFC on Fuel TV, Silva faces Strikeforce import Jason High.
High is riding a seven-fight winning streak, with his most recent appearance coming last July at Strikeforce: Rockhold vs. Kennedy. High brings dynamic wrestling into the cage, and that's the exact style that stymied Silva in his loss to Fitch.
High has every chance of walking into the Octagon and beating Silva, but there's no question that it's the toughest fight of his career thus far.
This is a battle between two great young prospects, and the winner will be in good position to advance up the ranks.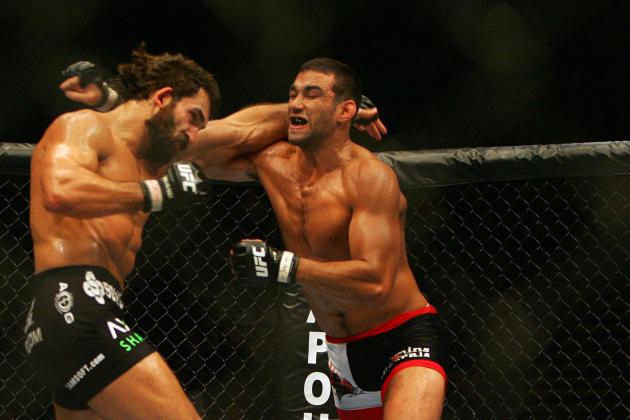 Gary M. Prior/Getty Images

Heading into his main-event fight with Antonio Rodrigo Nogueira, Fabricio Werdum finds himself on the verge of the heavyweight elite.
Some might say he's already there. Werdum is ranked No. 3 in the UFC's official rankings but finds himself on the outside looking in as Cain Velasquez and Junior dos Santos prepare to meet for a third time later this year.
A win for Werdum over the legendary Nogueira may not secure a title shot—not unless he feels like waiting on the sidelines until some point next year—but it will put him within shouting distance of competing for the belt.
It's a stunning turnaround for the man who was sent packing from the UFC after losing to Dos Santos years ago, and it all started when Werdum became the first man to defeat Fedor Emelianenko.
For Nogueira, the Werdum fight could represent two things: A win would give him his first two-fight winning streak since 2008. He'd remain among the divisional elite, mostly due to his name and status as one of the all-time greats. A loss would give him a 3-4 record since losing to Frank Mir at UFC 92 and would probably signal the nearing end of a truly great career.
There's plenty at stake in this fight, even if a direct title shot isn't on the line for either man.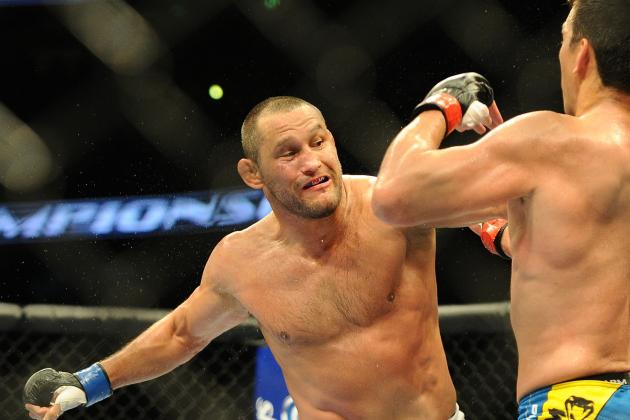 Jayne Kamin-Oncea-USA TODAY Sports

Speaking of a fight with plenty at stake...
Dan Henderson and Rashad Evans meet in the main event of UFC 161 later in June. They're in the main event after interim bantamweight champion Renan Barao was sidelined with an injury and his headlining title defense against Eddie Wineland was scrapped.
For Evans, this is a chance to get back on the winning track. He's lost two consecutive fights to Jon Jones and Antonio Rogerio Nogueira; they are the first consecutive losses of Evans' career. He's still one of the best light heavyweights in the world but must defeat Henderson in order to remain relevant and stave off talks of retirement.
Henderson was in line to face Jon Jones last year, but an injury forced him out of UFC 151. You know the rest of that story. He then lost to Lyoto Machida to shuffle further back in the title picture, but he remains third in the UFC's official rankings. A win won't earn him a title shot, but it'll at least put Henderson back in the conversation.
This is an intriguing style fight, with Henderson's power punching and Greco-Roman wrestling against the speed and ground control of Evans.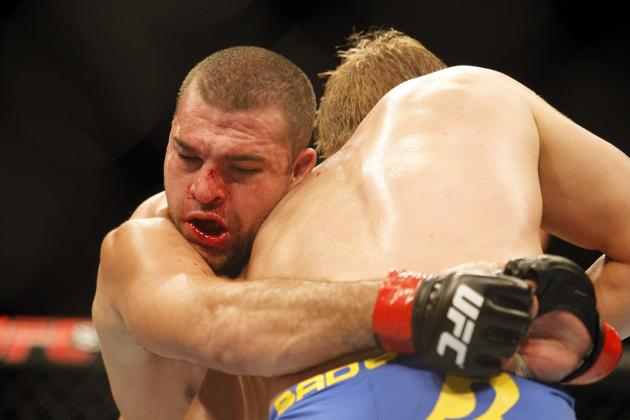 Joe Nicholson-USA TODAY Sports

We all assumed that Antonio Rogerio Nogueira was on the downside of his career after consecutive losses to Ryan Bader and Phil Davis. But Nogueira rebounded with a win over Tito Ortiz and then scored what might be the biggest victory of his career when he beat Rashad Evans in February.
Nogueira now faces another man many consider to be past his prime in Mauricio "Shogun" Rua.
The PRIDE legend has been on shaky ground since winning the light heavyweight title from Lyoto Machida in 2010; he's alternated wins and losses ever since and lost his last bout to Alexander Gustafsson. He's still ranked in the top 10, but a loss to Nogueira could spell the end of his days as a potential contender.
There is bad blood between Nogueira and Rua dating back to their first fight, and both men asked for the rematch. They got it, and now we're in store for what should ultimately be an exciting striking battle.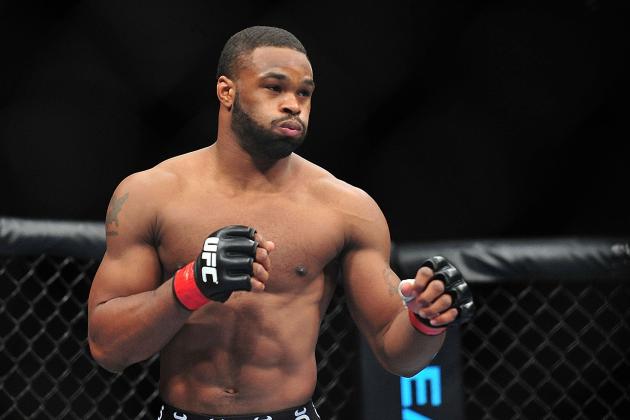 Gary A. Vasquez-USA TODAY Sports

Former Strikeforce contender Tyron Woodley made an emphatic statement in his UFC debut, crushing Jay Hieron in just 36 seconds back at UFC 156.
Woodley told me after that fight that he wanted to face nothing but big names from that point forward because he wants to climb to the top of the division and face Georges St-Pierre for the welterweight title.
He'll get just such an opportunity when he faces Jake Shields, the former Strikeforce middleweight champion.
Shields hasn't had much luck since moving over to the UFC, where he's 2-2-1 since debuting against Martin Kampmann in 2010. He's bounced between middleweight and welterweight but has apparently decided that he feels much more comfortable at 170 pounds where he's not undersized against bigger middleweights.
Woodley says that he considers himself the uncrowned Strikeforce welterweight champion; by defeating the former Strikeforce middleweight champ, he has a chance to elevate himself and face the best the division has to offer. As long as he can avoid Shields and his stifling top game on the ground, Woodley has every chance of walking away with a win.