Which Newly Promoted Premier League Team Has the Best Chance of Staying Up?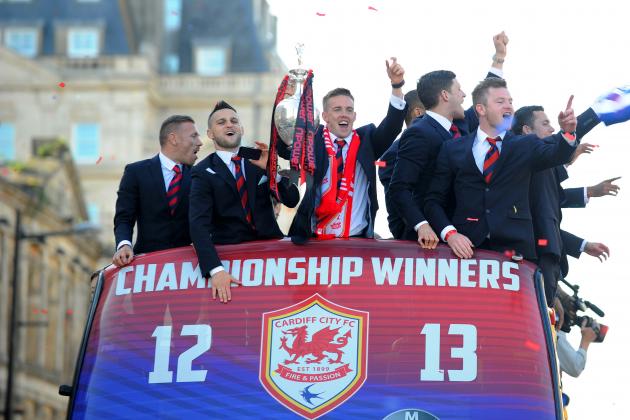 Matthew Horwood/Getty Images

The Premier League lineup has now been decided for 2013/14, with Crystal Palace joining Cardiff City and Hull City after their extra-time win over Watford.
Any fan who has seen their team promoted to the Premier League will know that Palace, Cardiff and Hull supporters will be facing the longest summer of their lives.
They will be waiting for the release of the 2013/14 fixtures more eagerly than any others, gushing over signings whom could strengthen their teams and building up to the first game of the season in August—expecting great things and hoping to get their Premier League lives off to a cracking start.
However the joy of being in the Premier League may be short-lived, as some—if not all—will slump faster than the shoulders of Stoke fans who realize that Mark Hughes may well be their next manager, according to this BBC report.
But which of the newly promoted clubs has the best chance of staying up?
Well, if the bookmakers are to be believed, then none of them. But I'm not one to bottle out of an article simply based on some bloke in a betting shop coming up with various fractions.
So let's take a look at the three new Premier League teams, and let me know who you think will stay up below.
All statistics and season history taken from Soccerbase.
Begin Slideshow

»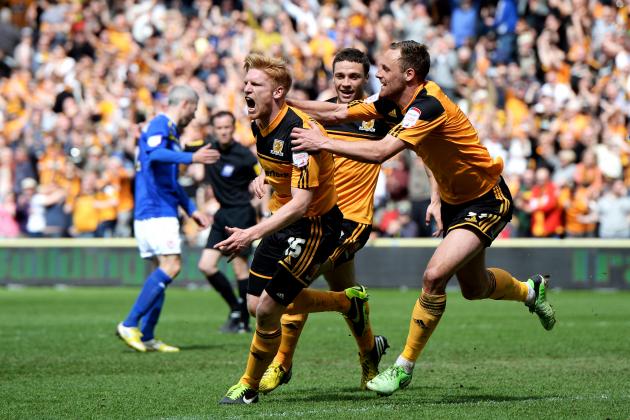 Gareth Copley/Getty Images

Cardiff arrive in the EPL as champions, and common sense tells you that because they sat atop the Championship, they would have the best chance of survival.
However, history tells us otherwise. Since the Championship became known as the "Championship" in 2004/05, only three winners of that division managed to avoid relegation from the Premier League the following season.
The playoff winners have the least luck when it comes to survival, with four of the last seven all heading straight back down.
And when you think that teams can finish sixth and still make the Premier League, it would make logical sense that these would be the clubs to struggle most. For example Crystal Palace achieved 15 less points than Cardiff this season, so surely they are 15 points worse than the Bluebirds?
If history is to tell us which club has the best chance of survival, however, it would be Hull City. Those who placed second in the Championship the year before have only been relegated straight back down twice in the last seven seasons.
So perhaps it really is "first the worst and second the best." I shall, however, avoid mentioning Ian Holloway's hairy chest.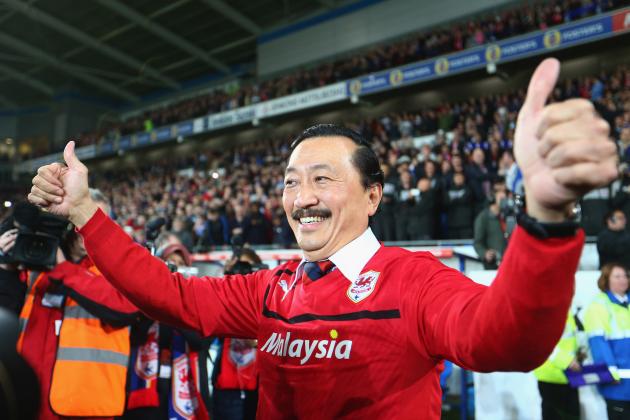 Michael Steele/Getty Images

But trends can't determine how a team will play or who a team will buy. Big-spending owners, however, can.
Cardiff have climbed up from the fourth tier of football in just 15 years, but their most recent successes occurred since they were taken over by a Malaysian business group, including Vincent Tan Chee Yioun in 2010.
Of all the clubs who reached the EPL this year, Cardiff have the deepest pockets, and fans will be looking to their owner to strengthen their squad. Just not in a Queens Park Rangers kind of way, and Vincent Tan has told the Daily Telegraph:
We need to strategize well and we'd like to spend some money, maybe £20 to £25 million...Others have spent a big amount of money and don't do well, so we will try to spend smartly.
Crystal Palace, however, have come into a windfall themselves with the £15 million sale of Wilfred Zaha to Manchester United. The Eagles' co-chairman, Stephen Browett, told the Croydon Advertiser about the distribution of the transfer fee:
Some will be spent on working towards a new ground–we need to put something aside for work on that...Some of the money from the sale will be used on transfers and player wages.
Hull City have already started the wheeling and dealing by signing George Boyd permanently on a free from Peterborough, according to the BBC). And the Daily Mail reports that Steve Bruce will have a budget of up to £15 million to spend in the transfer window.
Which means that all three clubs do have a sizable budget to work with this summer, but Cardiff's budget is just that bit more sizable than the rest.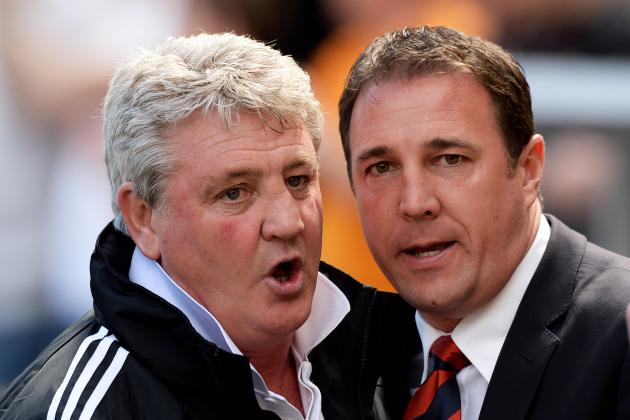 Gareth Copley/Getty Images

But although money talks, it can't necessarily buy you success (or love, if you listen to The Beatles), and a strong manager is essential.
All three men from the three clubs have something to prove to the watching Premier League viewers.
The most exciting manager of the three is Crystal Palace's Ian Holloway, if only for his press conferences. With such a character, it must be easy to keep the morale of the squad high. As he said himself: "People say I've lost the dressing room... it's down the corridor to the left!"
But in all seriousness, Ian Holloway has had a similar experience a few years ago with Blackpool. Promoted and then subsequently relegated, Ollie will be looking to avoid that this time around. However having suffered relegation with the aforementioned Blackpool, as well as QPR and Leicester in the last 10 years, Holloway has become synonymous with the drop.
Malky Mackay at Cardiff is the least experienced, having only started his managerial career officially at Watford in 2009 (not including the little caretaker spell in 2008). The Scot will be looking to cut his teeth in the EPL and prove that his season with Cardiff was not down to "lucky red."
His ability to manage a team that has not had a 20-goal-a-season striker (Heidar Helguson was top scorer with eight) and still finish top of the pile is one to be admired.
Playing to his team's strengths, he chose a style of play that pushed the ball out to the side to allow wingers Peter Whittingham and Aron Gunnarsson to attack the box more, and in turn, score a large majority of Cardiff's goals.
But Hull's Steve Bruce has experience on his side. Despite spending his first couple of years switching clubs like 12-year-old girls switch their favorite member of One Direction, Steve Bruce then spent six years at Birmingham City. Although he suffered relegation with the Blues, he brought the team back up to the Premier League the following season.
Bruce has also had spells at Wigan Athletic and Sunderland in the Premier League, and although he was sacked from the latter, it was perhaps a touch unfair, as he told the Daily Mail:
I took over a team that had avoided relegation on the last day...We finished 13th in the first year, 10th in the second, balanced the books and then I got the sack after 11 games. Of course it hurt me. I thought I'd get a chance and it didn't happen.
Well, Steve, This may well be your chance.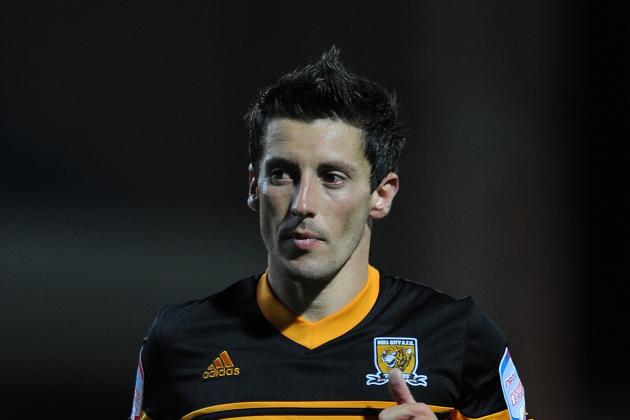 Chris Brunskill/Getty Images

As mentioned, Cardiff didn't have a "goalscorer" to fire them to the top of the table. The midfield scored 30 goals between them this season, and with the likes of Whittingham, Gunnarsson and Craig Noone, Cardiff's midfield seems to be their strongest asset.
However, Cardiff need to find a consistent striker, and one with Premier League quality. With Heidar Helguson retiring and Craig Bellamy starting to slow down (he only scored four all season), focus needs to be on a front man. Not even Cardiff-born Robert Earnshaw has a particularly good PL record. Although free-scoring for Toronto while out on loan this season, the Welshman has only scored 13 goals in 65 Premier League games with West Bromwich Albion and Derby.
One team who did not have a problem with getting goals is Crystal Palace. Second-highest scorers in the Championship last season, the South London team were centered around striker Glenn Murray who notched 30 in the league.
But after injuring his knee against Brighton in the playoff semi-final, he looks set to be out for at least six months, according to Sky Sports, and so Holloway will need to look for a replacement, even if only for the short term.
Palace have a balanced squad however; with veterans such as Julian Speroni, Paddy McCarthy and Danny Gabbidon playing alongside up-and-coming stars such as Jonathan Williams and Joel Ward.
The issue is that with the exception of Gabbidon, the rest of the squad have either not played in the highest tier of English football, or have played in the highest tier of English football and ended up slapping someone. Mentioning no names, Kagisho Dikgacoi.
But it is Hull City who are the team that seem to have the best starting squad going into the EPL. Ex-Manchester United youth players Corry Evans and Robbie Brady mix with former Premier League players such as Robert Koren, Abdoulaye Faye and Stephen Quinn to bring both youth and experience to the field in abundance.
Playing with three at the back this season, loanee Ahmed Elmohamady has been a key player at wing back, and it will be important for Steve Bruce to try and sign the Egyptian permanently, or indeed find a similar player to keep their formation and style of play that saw them promoted.
If Hull can keep hold of both their future stars and their old heads, they look to be starting the season with the strongest squad on paper.
But then again, when is football ever played on paper.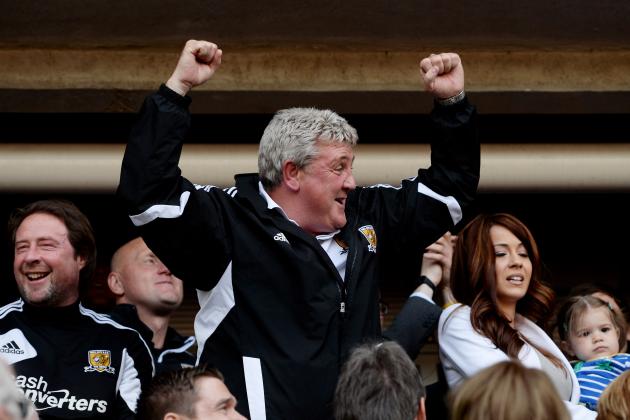 Gareth Copley/Getty Images

Based on their current youth in their squad, the fact that they have players who know how to win Premier League games, and Steve Bruce's Premier League experience, Hull City have the best chance of staying up.
It is a tough call to pick between the Tigers and the Bluebirds, because if Cardiff spend wisely (and if they buy a decent striker) then they too could well have the tools to succeed in the EPL.
But the emphasis is on "if."
Money does not automatically mean survival, just ask QPR. And teams such as Cardiff rivals Swansea have impressed on a much smaller budget the past few seasons.
And it is the most newly promoted Crystal Palace whom look least likely to survive, as despite having a great youth academy, it may be just that too big of an ask to stay up next season.
As manager Holloway admitted to the BBC "next season we're on a hiding to nothing" and that he now has to "scratch my head and wonder just how are we going to stay in the Premier League?"
And his head scratching must start now.