For the first time in the 2013 season, Mark Teixeira will play for the New York Yankees, according to MLBLineups:
5/31 @Yankees lineup vs @RedSox Gardner CF Youkilis DH Cano 2B Teixeira 1B Wells LF Nix SS Adams 3B Ichiro RF Stewart C Sabathia P

— MLBLineups (@mlblineups) May 31, 2013
UPDATE: Friday, May 31, at 5:22 p.m. ET by Ian Hanford
The Yankees officially announced Teixeira's reinstatement and the subsequent roster moves on Friday:
#Yankees reinstate 1B Mark Teixeira and INF Kevin Youkilis from DL; option RHP Ivan Nova and LHP Vidal Nuno to Triple-A @swbrailriders.

— New York Yankees (@Yankees) May 31, 2013
---End of update---
Teixeira has been recovering from a torn wrist tendon that has sidelined him for the entirety of the season. Despite his injury, however—along with early-season injuries to Alex Rodriguez and Curtis Granderson—the team has remained near the top of the AL East standings.
In all, Teixeira, Rodriguez, Granderson, Derek Jeter, Michael Pineda, Phil Hughes, Kevin Youkilis, Eduardo Nunez, Francisco Cervelli, Andy Pettitte, Ivan Nova and Joba Chamberlain have lost time to injuries this season.
The Yankees have always proved "the rich get richer" adage to be true. Now, the team is proving that the old get older—and injured—as well.
Having Teixeira's bat in the middle of the lineup will be a plus for the team, of course. Despite missing 39 games last season, he still managed 24 home runs and 84 RBI (though his .807 OPS was the lowest of his career).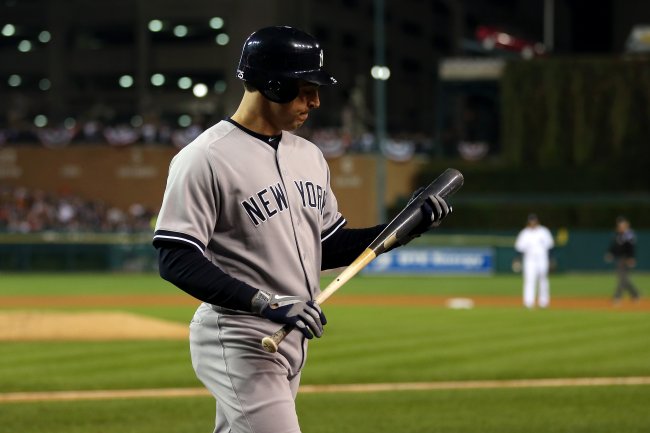 Jonathan Daniel/Getty Images
While Robinson Cano and Vernon Wells have provided some pop in the middle of the lineup, the Yankees are 16th in runs scored (212), a far cry from the offensive production this core group of players was capable of in its prime.
Yankees fans should probably keep their hopes realistic when it comes to Teixeira this season. At 33, his best seasons are probably behind him, and he's really battled injuries the past two seasons.
In other words, the days of Teixeira hitting at least 30 home runs with 100 RBI—a feat he accomplished for an impressive eight seasons in a row—have passed. Still, if he can hit 17 to 20 home runs and add 75 RBI the rest of the way, the Yankees will most certainly take it.