New York Yankees vs. New York Mets: Live Score, Analysis and Reaction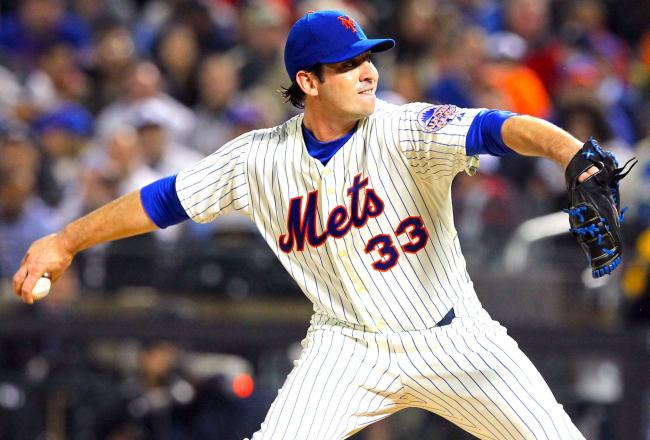 Al Bello/Getty Images
FINAL
New York Yankees 1 - 2 New York Mets
WP: Scott Rice (3-3, 3.38 ERA)
LP: Mariano Rivera (0-1, 1.86 ERA)
Top 6th: Lyle Overbay RBI single
Bottom 9th: David Wright RBI single, Lucas Duda RBI walkoff single
Matt Harvey: 8 IP, 6 H, 1 R, 1 ER, 0 BB, 10 K
Hiroki Kuroda: 7 IP, 4 H, 0 R, 0 ER, 0 BB, 7 K
That will do it!
This game lived up to every bit of the hype as a pitcher's duel. Both pitchers deserved a win, but neither deserved a loss, so a no-decision for both of them is very fitting.
Lucas Duda is the hero, and not many people can say they got a walkoff hit off of Mariano Rivera.
Final Score: New York Yankees 1 - 2 New York Mets
Fantastic game all around, and thanks for reading!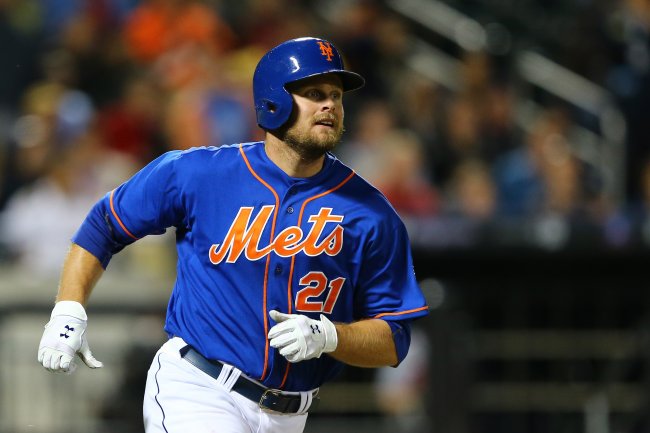 Al Bello/Getty Images
Mets win it!! Lucas Duda walk off single to right field and Wright makes it home easily!
First blown save for Mariano this season. Another no-decision on a great outing for Harvey. Rivera didn't even record an out yet!
David Wright RBI single to center, advances to second on error by catcher. Yankees 1 - 1 Mets
Wright does it again! Almost hit Murphy on the single, but Murphy made it home in plenty of time, and advanced on the misplay by the catcher. This entire offense is Wright and Murphy, but tonight it has worked so far.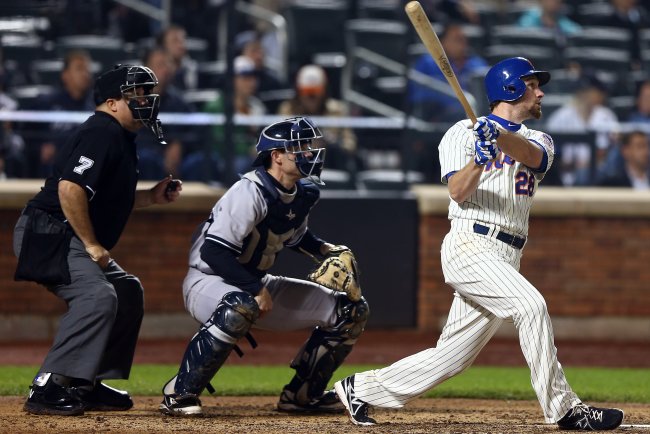 Elsa/Getty Images
Daniel Murphy hits a ground-rule double to left.
Matt Harvey may wish it came 8 innings earlier, but the Mets finally start an inning off the right way. Very cheap hit off of Mariano but that's all you can do against a guy like him.
Reid Brignac strikes out swinging. 3 outs.
Another quality outing by Scott Rice. We'll see if he can keep that up once he hits over 60 appearances by July.
Ichiro picked off by Scott Rice. 2 outs.
Great pickoff move and great defensive play by Ike Davis. Davis had those defensive blunders a week ago, but to his credit he has played superb defense since then.
Ichiro hits an infield single.
Great pitch by Rice but very lucky hit by Ichiro. He'll beat that out until he's 45.
Another interesting fact: The Mets have 19 wins this season, and if Mariano gets the save that will be his 19th of the season.
David Adams grounds out to third. 1 out.
Good at-bat by Rice. Pounds strikes.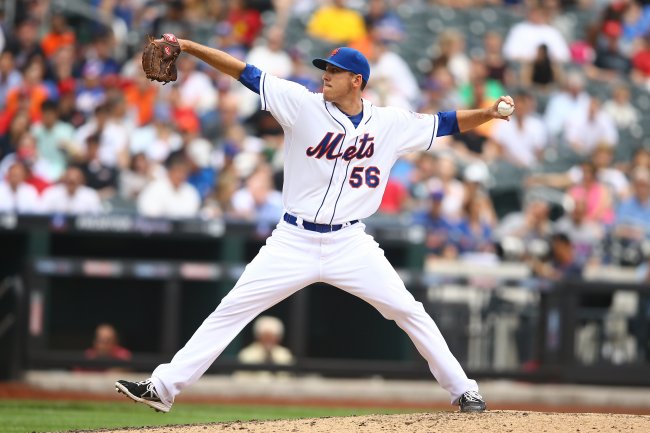 Al Bello/Getty Images
Scott Rice coming on again. The only surprisingly successful reliever the Mets have and in classic Mets fashion they will throw him until his arm falls off. Well on his way to over 100 appearances.
There has never been a 1-0 game in Subway Series history. #mets #yankees

— Adam Rubin (@AdamRubinESPN) May 29, 2013
Pretty interesting factoid. There's also never been a Matt Harvey-Hiroki Kuroda showdown, either.
Ruben Tejada grounds out to third base. 3 outs.
Anemic night for the Mets offense. Tejada has had some good at-bats but a frustrating day overall.
Jordany Valdespin strikes out looking. 2 outs.
Probably should've let that second ball glance off his jersey for a free and painless base. Instead, he takes two perfect outside strikes for an embarrassing pinch-hit strikeout.
Ike Davis grounds out to first. 1 out.
Better than another strikeout at least. Baby steps for him. Mix of boos and ironic cheers from the fans.
Matt Harvey's line will be: 8 IP, 6 H, 1 R, 1 ER, 0 BB, 10 K, 114 pitches.

— Adam Rubin (@AdamRubinESPN) May 29, 2013
Harvey lived up to the hype yet again tonight. Does not deserve his first loss of the season. But with the Mets offense, it's a miracle he made it this far without one.
Lyle Overbay lines out to right field. 3 outs.
Nice jumping play by Byrd. Good 2-strike hitting by Overbay. A lot of these Yankee hitters have fouled off the inside fastballs and hit the poor breaking pitches. Against a guy like Harvey, that might be the only successful M.O. you can take.
Vernon Wells singles to center field.
Hit it incredibly weakly, and Cano was able to go to third on that pitch. Tejada should've gotten that one. Once again the fielding costs Harvey free bases for the Yankees. If the Mets didn't have Harvey pitching tonight, this game could be 4-0 by now.
Robinson Cano singles to right field.
Harvey could finally come to Cano as he wanted to, with two outs and no one on. He has pounded fastballs inside to him all day, and this at-bat was no different.
However, his final pitch was his worst. Buck clearly wanted it down and Harvey threw it chest-high. Good at-bat by Cano.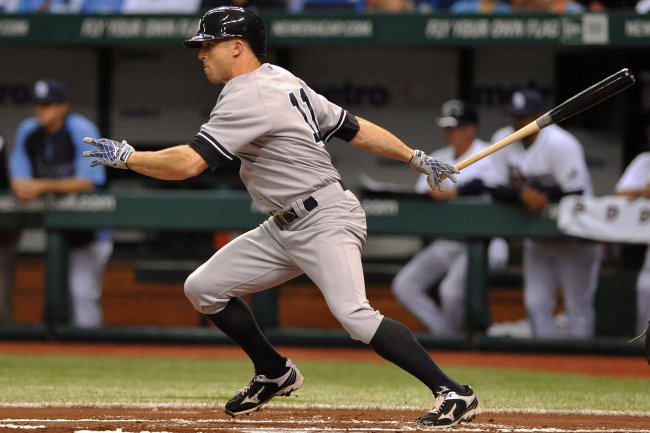 Al Messerschmidt/Getty Images
Brett Gardner flies out deep to left field. 2 outs.
Harvey's second strike may have been his best changeup of the night. But a scrappy hitter like Gardner fought one out to the warning track. Gardner should be even better once he has more protection with all the injured Yankees on the DL right now.
Travis Hafner strikes out swinging. 2 outs.
Spoke too soon again! Hafner struck out quickly against Harvey. He now has 10 strikeouts and counting.
Travis Hafner pinch-hitting for Kuroda.
Kuroda done after 7 excellent innings. Two pitches away from a career-high, though. Smart choice to pinch-hit with big-play hitter like Hafner.
John Buck flies out to center field. 3 outs.
Buck just got under that one. Harvey will have one more inning to show off his elite stuff before he likely has to accept his inevitable and undeserved loss. But Kuroda doesn't deserve a loss tonight, either.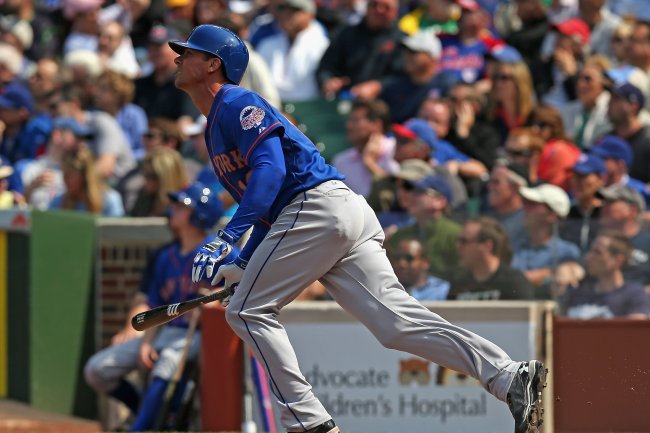 Jonathan Daniel/Getty Images
Rick Ankiel singles to right field.
I spoke too soon! Good slider by Kuroda, but good hitting too by Ankiel. With two outs, it probably won't matter.
Marlon Byrd strikes out swinging. 2 outs.
Three straight strikeouts for Kuroda. He is making these Mets hitters look foolish, even at 100 pitches. Sometimes when pitchers get tired their breaking pitches get more break, and that is the case with Kuroda tonight.
Lucas Duda strikes out swinging. 1 out.
Incredible splitter by Kuroda. No way anyone was going to hit that one, not just Duda.
This article is
What is the duplicate article?
Why is this article offensive?
Where is this article plagiarized from?
Why is this article poorly edited?

New York Mets: Like this team?