Power Ranking the 10 Best Running Backs in SEC History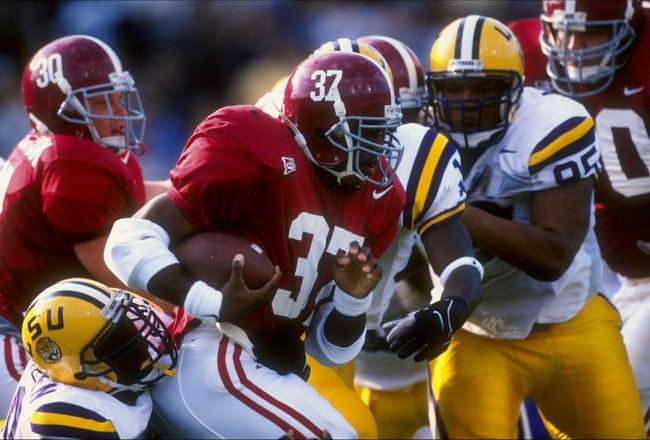 Vincent Laforet/Getty Images
Since 1932, the SEC has set the college football standard at running back.
The past has produced four Heisman winners and a ton of NFL talent at the position. This is a look at the 10 best to shred defenses in conference history.
Guys like Bo Jackson and Herschel Walker are obvious choices, but who takes No. 1?
Note: Stats confirmed with Sports-Reference.com
No. 10: Mark Ingram, Alabama Crimson Tide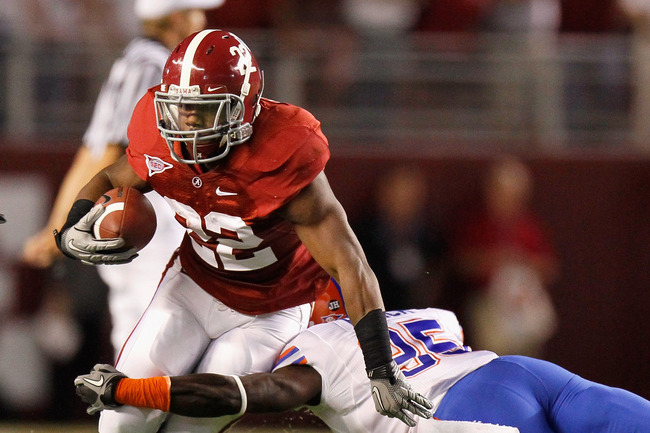 Kevin C. Cox/Getty Images
Mark Ingram made Alabama history when he became the first Tide player to win the Heisman Trophy in 2009. He finished the year with 1,658 yards and 17 touchdowns with an impressive 6.1 yards per carry.
He finished his career with 3,261 yards and 42 touchdowns. He also had an impressive career as a receiver out of the backfield, catching 60 passes for 670 yards and four touchdowns.
Ingram was a part of the new beginning under Nick Saban at the Capstone, and he helped guide the Tide to their first national title since 1992.
After departing following his junior season, he was drafted in the first round of the NFL draft by the Saints.
No. 9: Kevin Faulk, LSU Tigers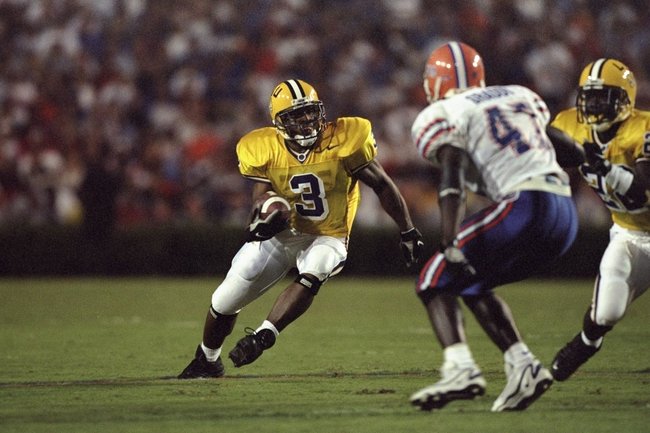 Andy Lyons/Getty Images
LSU had the best years under Gerry DiNardo with Kevin Faulk running the football. He spent four years with the Tigers, and finished his career with three 1,000 yard rushing seasons.
Faulk finished his career with 4,557 rushing yards and 46 rushing touchdowns. He was also an effective receiver, gathering in 600 receiving yards and four touchdowns in four years.
He finished as the conference leader in yards from scrimmage in 1996 and 1998.
Over the years, Faulk became a marquee back for the SEC on the national stage. He started as a true freshman and owned the position for his entire career.
The former Tiger was a second round selection to the Patriots in the 1999 NFL draft.
No. 8: Carnell Williams, Auburn Tigers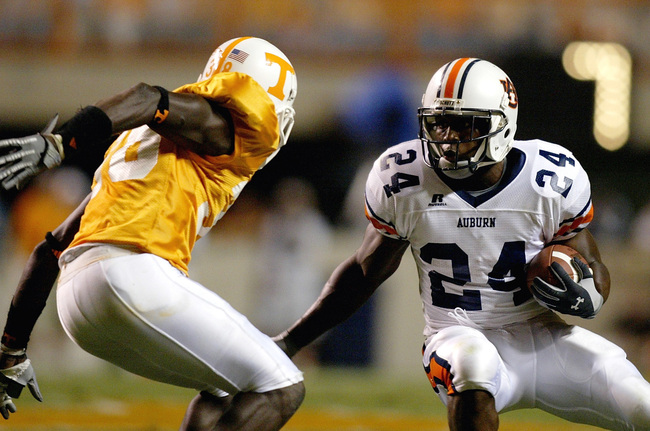 Streeter Lecka/Getty Images
Carnell "Cadillac" Williams stepped into the Tigers program with high expectations.
He met them all.
Williams finished his career with 3,831 rushing yards and 45 rushing touchdowns. He also caught 45 passes for 342 yards and one touchdown. He battled a number of injuries throughout his career, but he was always a steady back when on the field.
He produced two 1,000-yard rushing seasons, and led the league in touchdowns two years in a row. Williams was also a member of the undefeated 2004 squad.
The Tampa Bay Buccaneers selected him fifth overall in the 2005 draft.
No. 7: Shaun Alexander, Alabama Crimson Tide
Tom Hauck/Getty Images
The Crimson Tide struggled at times during Shaun Alexander's career, but he was a steady performer in his junior and senior years.
He battled through a nagging ankle injury for most of his senior season, but still managed to rush for 1,383 yards. It was his best at Alabama.
He finished his career with 3,565 rushing yards and 41 rushing touchdowns.
The Tide passing attack also relied heavily on Alexander. He finished with 798 receiving yards and eight touchdowns.
He was the 19th overall pick for the Seattle Seahawks in the 2000 NFL draft.
No. 6: Errict Rhett, Florida Gators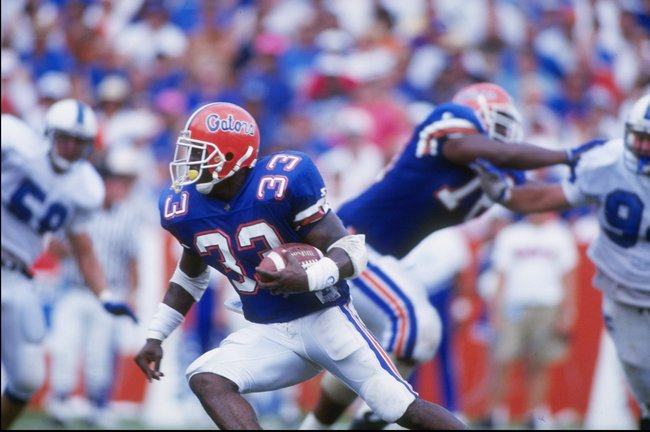 Scott Halleran/Getty Images
When Emmitt Smith departed for the NFL after his junior year, Errict Rhett stepped in and took over the starting job.
He finished his career with the Florida all-time rushing record with 4,163 yards and rushed for 34 touchdowns along the way. He led the SEC in yards from scrimmage in 1991 and 1993, finishing first in rushing yards those same years.
Rhett was a dynamic back who was equally dangerous as a receiver. He finished his career with 1,230 receiving yards and two touchdowns.
The Tampa Bay Buccaneers selected him in the second round of the 1994 NFL draft.
No. 5: Darren McFadden, Arkansas Razorbacks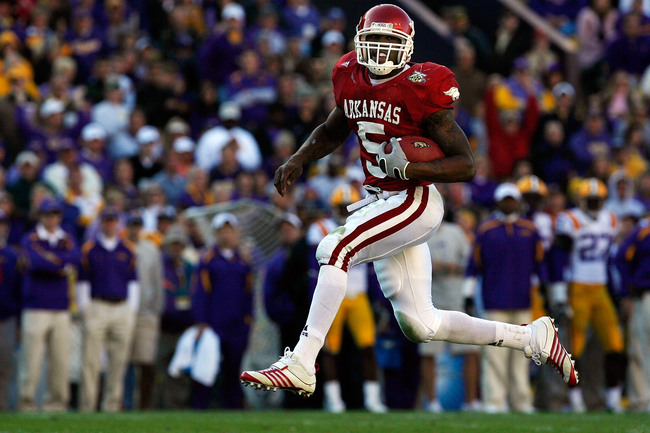 Chris Graythen/Getty Images
Darren McFadden is not only one of the best running backs to play in the SEC, he is one of the best athletes to ever take the field.
In his three seasons in Fayetteville, he accumulated 4,590 rushing yards and 41 touchdowns. He also was a dynamic threat in the return game, adding 926 return yards and one touchdown in his career.
He was an All-American as a sophomore and junior, leading the SEC in rushing yards in both 2006 and 2007.
After departing for the draft as a junior in 2008, McFadden was selected in the first round of by the Raiders.
No. 4: Emmitt Smith, Florida Gators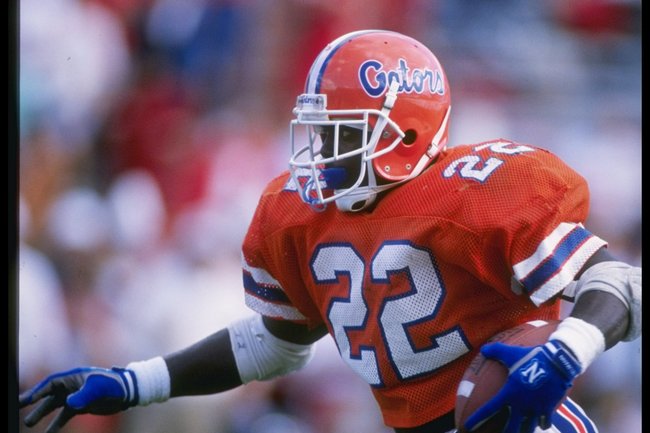 Allen Steele/Getty Images
The NFL's all-time leading rusher is a no-brainer when talking top running backs.
Smith put together one of the best careers in Florida history in three years, rushing for 3,928 yards and 36 touchdowns. He also added 56 receptions for 463 yards and one touchdown.
He was a star for three seasons, but decided to jump to the NFL draft when Florida hired Steve Spurrier to be head coach.
At the end of his junior year, Smith was an All-American headed for NFL stardom. He was selected in the first round by the Dallas Cowboys.
No. 3: Billy Cannon, LSU Tigers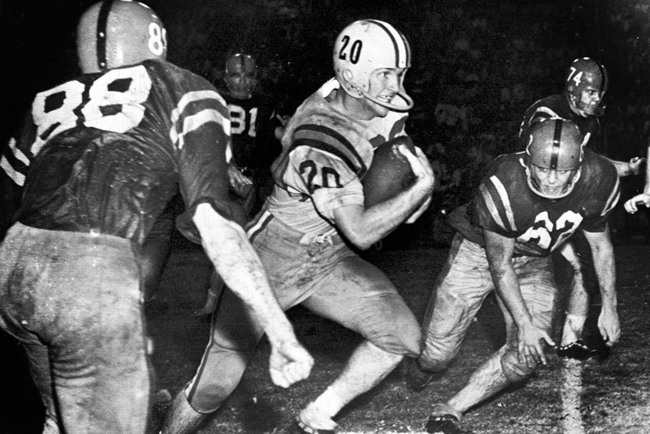 AP Photo

The LSU Tigers have produced a lot of talent, but Cannon is the best player to wear the gold and purple.
He won the 1959 Heisman Trophy and was a consensus All-American the same season. He led the SEC in rushing yards (686) and touchdowns (10) in 1958.
Cannon finished his career with 1,867 rushing yards, 522 receiving yards and 21 touchdowns.
He is one of three SEC running backs to take home the Heisman bronze, and helped lead LSU to the AP national title in 1958.
Both the AFL and NFL selected Cannon No. 1 overall in the 1960 draft. He chose to play for the Houston Oilers in the AFL to start his career.
No. 2: Bo Jackson, Auburn Tigers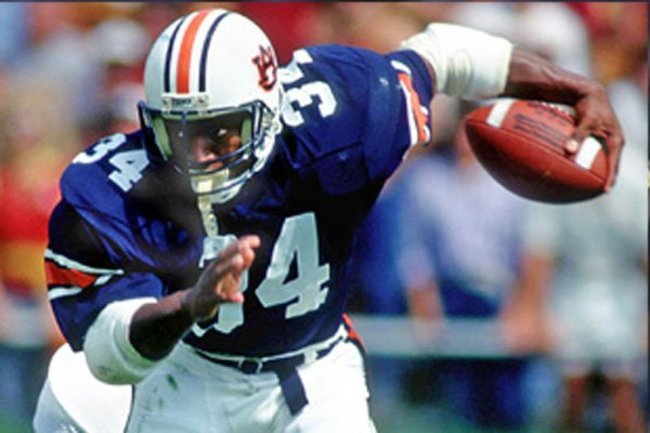 AP Photo | Mark J. Terrill

Bo Jackson is one of the best running backs to have ever played the game. He was a powerful runner that could outrun every player on the opposing defense.
At 6'1", 230 pounds, Jackson was freak athlete. He finished his Auburn career as the rushing leader with 4,303 yards and 43 touchdowns.
His best year was in 1985 when he won the Heisman as he rushed for 1,786 yards rushing and 17 touchdowns.
He led the SEC in rushing yards in 1983 and 1985, and had an amazing 7.7 yards per carry in 1983.
Jackson was selected in the first round of the 1986 NFL draft, and in the seventh round of the 1987 draft after choosing baseball over football during the 1986 season. He spent four years with the Oakland Raiders.
No. 1: Herschel Walker, Georgia Bulldogs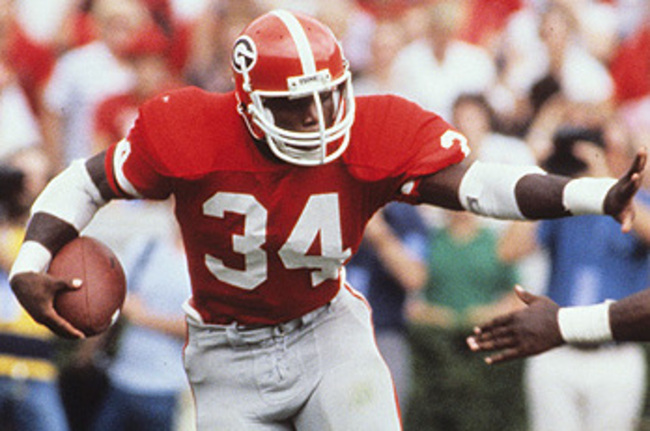 Photo via ESPN.com

It is impossible to deny Walker's impact on the SEC during the early 1980s.
Walker was a powerful runner who would blast through defenders or simply run past them. He spent just three seasons with the Bulldogs as a starter, rushing for 5,259 yards and 49 touchdowns.
He averaged 5.3 yards per carry throughout his career.
The 1982 Heisman Trophy went to Walker after he put together three consecutive All-American seasons.
Walker was selected in the fifth round of the 1985 draft by the Dallas Cowboys.
Honorable Mentions
Elsa/Getty Images
Trent Richardson, Alabama Crimson Tide
Bobby Humphrey, Alabama Crimson Tide
James Brooks, Auburn Tigers
Tucker Frederickson, Auburn Tigers
Frank Sinkwich, Georgia Bulldogs
Jamal Lewis, Tennessee Volunteers
Deuce McAllister, Ole Miss Rebels
Anthony Dixon, Mississippi State Bulldogs
Zac Stacy, Vanderbilt Commodores
Sonny Collins, Kentucky Wildcats
Keep Reading