Detroit Red Wings vs. Chicago Blackhawks: Preview and Prediction for Game 7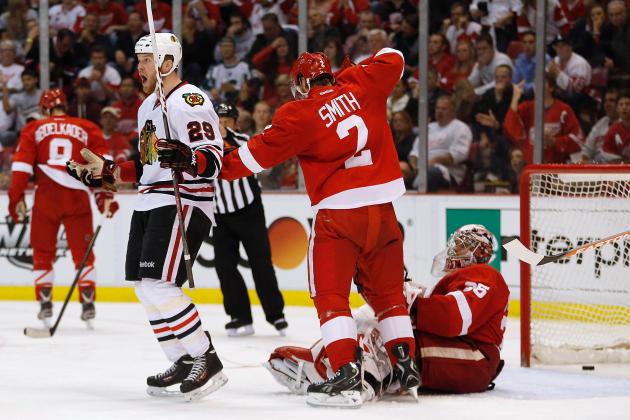 Gregory Shamus/Getty Images

After seizing a 4-3 Game 6 victory, the Chicago Blackhawks have pushed the Detroit Red Wings to a decisive Game 7. After finding themselves down 3-1 in a series some thought they would dominate, the Presidents' Trophy-winning 'Hawks fought back with two gutsy wins over their longtime Central Division foes.
And then there was one.
One game to decide this farewell series between two teams that have pushed each other for Western Conference supremacy over the last decade. One game for the little-brother Blackhawks to show that they've finally grown out of their big brother's long shadow.
One game to decide them all—well, at least to decide who is going to the Western Conference Finals.
If you know someone that isn't a hockey fan and have been looking for a way to introduce them, invite them over for pizza on May 29 and casually put this game on in the background. They'll be hooked in no time.
Puck drop is set for 8 p.m. ET and can be viewed on NBCSN in the United States.
Begin Slideshow

»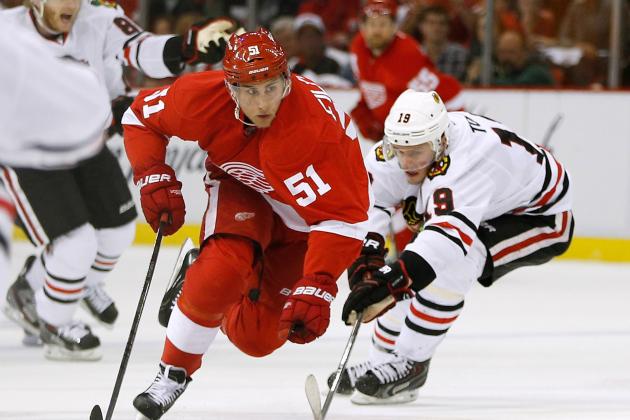 Gregory Shamus/Getty Images

The Chicago Blackhawks came out flying in Game 1 and flattened a listless, tired-looking Detroit Red Wings squad that was still in the process of recovering from a seven-game battle with the Anaheim Ducks.
Chicago Tribune writer Dan McNeil called the Red Wings the nail and the Hawks the hammer, all but decrying Detroit before the series even got rolling.
Things changed quickly as the Wings reeled off three straight wins, handing Chicago three consecutive losses for the first time in 2013. It was Detroit's turn to cast out the opposition, leaving a great hockey team for dead on the mat and assuming it wouldn't stand back up.
It was a long count, sure, but Jonathan Toews and his 'Hawks beat Detroit in back-to-back elimination games, forcing this Game 7.
A fitting back-and-forth tussle between two teams that want to win badly—two teams that are aching to say that they were victorious in this final clash between longtime Western Conference rivals. Now, 60 minutes (barring overtime, which wouldn't surprise anyone) stand between victory for one team and defeat for another.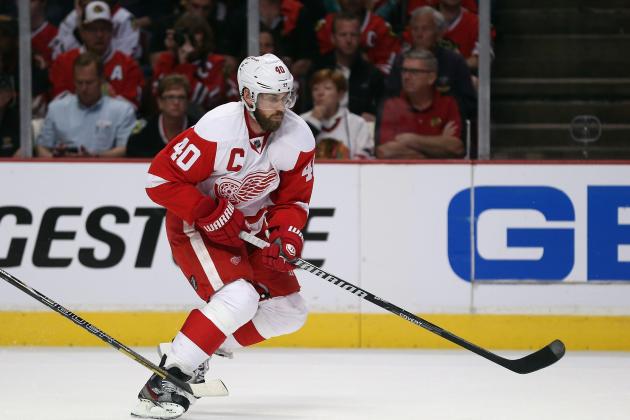 Jonathan Daniel/Getty Images

Shutting down the top players for Chicago has been Henrik Zetterberg's main function so far in this series, and he's done a masterful job with Jonathan Toews (the poor kid). Toews only has one goal in the second round and hasn't been a factor as often as he was during the regular season.
Yet in occupying himself with Toews, Zetterberg has gone goalless through the first six games against Chicago.
For Detroit to advance, he'll need to come up with a performance similar to the one he put on against the Anaheim Ducks in that series' Game 7. He was a force in that contest, posting a goal and an assist while firing six shots on goal.
He looked like a man possessed in that game and will need to show up with that same kind of fire against the 'Hawks to once again push his team through to the next round.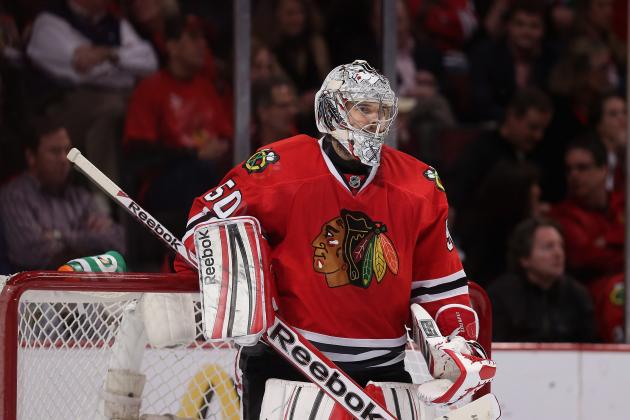 Jonathan Daniel/Getty Images

It's cheating a bit to claim the most important player in a Game 7 is a netminder, but for the Chicago Blackhawks, it's true.
The team is getting scoring throughout the lineup from players like Andrew Shaw and Michal Handzus all the way up to Patrick Kane. The goals are there and will continue to come from this super-powered offense.
However, all the goals in the world won't stand up if Corey Crawford can't make a few key stops against Detroit's top guys. He was good enough in Games 5 and 6, not stopping everything that came his way but standing tall at precisely the right moment.
He'll need to continue that trend for the 'Hawks to push through the Red Wings and into the Western Conference Finals.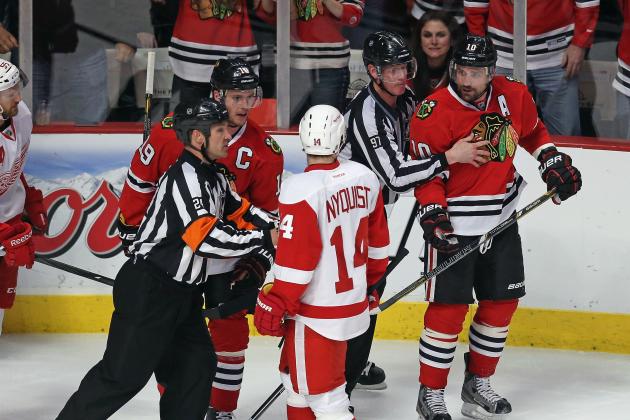 Jonathan Daniel/Getty Images

Ask a Wings fan this question and there will likely be curse words involved in the answer, so the PG version would go something like: Stay out of the box!!!!
The Blackhawks have torn through Detroit's penalty kill in the last two games—they've posted three power-play goals in eight tries and torched the Wings on a game-winning penalty shot in Game 6 to boot. We're not math specialists here, but that means half of Chicago's output over Games 5 and 6 have been special teams output of some kind.
That isn't going to fly in Game 7. Detroit needs to either reign it in a bit or fix the PK unit pronto.
(Extra credit answer: Detroit can't give up four goals in Game 7 like they did in Games 5 and 6. It's tough to win games when you spot the other squad four goals.)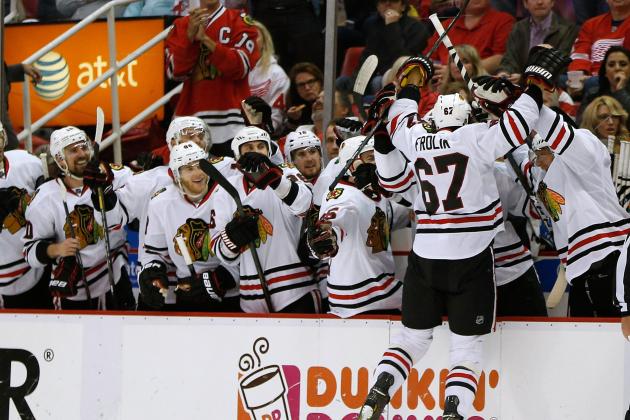 Gregory Shamus/Getty Images

The Chicago Blackhawks can win Game 7 if they don't stop believing. Detroit threw them off of their style in Games 2 through 4, and the outcome was brutal for Chicago. The 'Hawks let the aggression of the Wings bother them, took bad penalties and were more concerned about giving Justin Abdelkader face washes than scoring goals.
All that changed in Games 5 and 6 as the 'Hawks turned the games into track meets. Detroit just hasn't been able to capitalize on their chances like Chicago has, and that's been the difference through the last two games.
For Chicago to win this Game 7, it needs to continue on the same path that it forged over the last week or so. Stay cool and play your game. With some timely stops from Corey Crawford and with the power of the last change, the ingredients are there for the 'Hawks to become the first team to recover from a 3-1 deficit since 2010.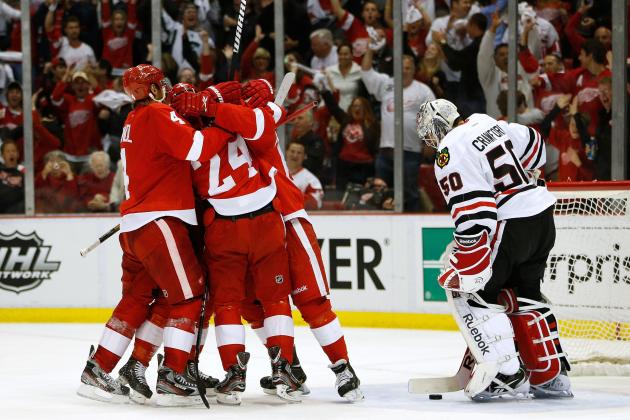 Gregory Shamus/Getty Images

Teams that go down 3-1 in a series only manage to come back 8.7 percent of the time, per NHL.com.
If any team can pull that off, it's these Chicago Blackhawks. This isn't some feisty underdog nipping at the heels of a juggernaut. This is the best team in the NHL trying to make an unlikely comeback.
That said, the Detroit Red Wings are on the other side of the ice.
Henrik Zetterberg and Pavel Datsyuk get paid like they do to go out and win games like this. Jimmy Howard has been here before—a few short weeks ago, actually.
This is Detroit's second Game 7 of these playoffs, and as it showed against Anaheim in Round 1, it don't tend to just roll over. There's a lot of fight in these underdogs, and it'll swing this series back around just in time to secure a trip to the Western Conference Final.
Math and history are on Detroit's side, while momentum is not. It will be interesting to see which one prevails in Game 7. No one here would be shocked if the Blackhawks won this game, but Detroit was close in Game 6 and will bring its definitive A-game to close out Chicago on the road.
Predicted Final: Detroit 3, Chicago 2