The Best Rookie Storylines at Washington Redskins OTAs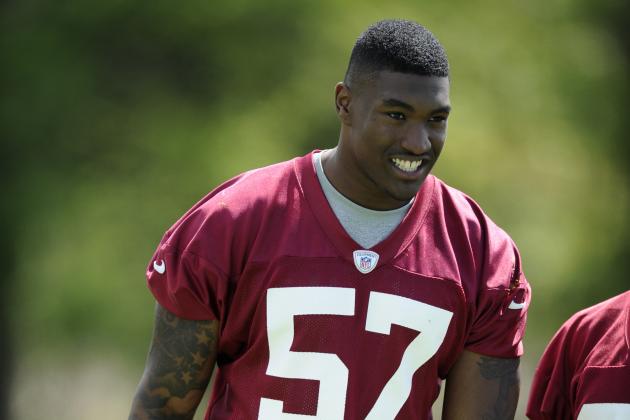 Nick Wass/Getty Images

Even without a first-round pick in last April's NFL draft, the Washington Redskins have brought aboard an intriguing rookie class to keep tabs on as the summer develops and we head into training camp.
Although the first sign of "real" football marked by the OTAs is usually premature excitement for the actual football that's yet to come, there are plenty storylines of note.
Begin Slideshow

»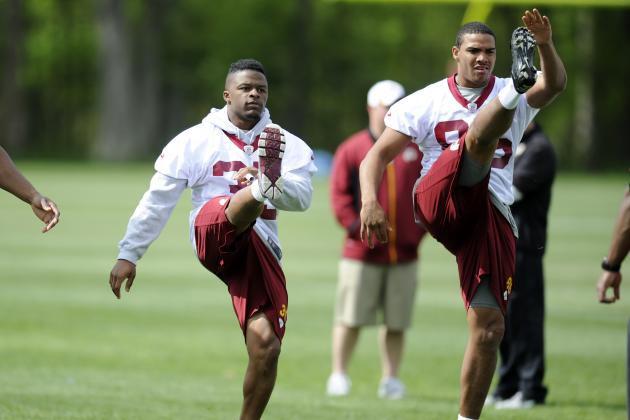 Nick Wass/Getty Images

Five years ago, the Redskins had initial concern over a young man that was making the leap between college and pro.
Selected in the second round of the 2008 draft, tight end Fred Davis missed the final day of his rookie minicamp, leading to team security personnel tracking him down and coming to the conclusion that he simply overslept.
Not that anyone has to worry about the team's newest members forgetting to set their alarm clocks, but the transition from campus life to professional athlete doesn't always come easy.
During a short interview with CSN Washington—available on Rich Tandler's Real Redskins—both Jordan Reed and Chris Thompson mentioned team meetings as one of the most drastic changes going from college to pro.
When asked what the biggest adjustment has been for him so far, tight end Jordan Reed responded, "Probably all the time we spend in meetings.
"We met a lot at Florida," the former Gators star said. "But never as much as we do here. I got to get used to that."
"Our meetings probably lasted two hours, at the most, when I was at Florida State. But here it's a whole lot longer," running back Chris Thompson said with a laugh.
"I'm not used to it," Thompson added. "Especially those early morning meetings."
Remember, though, that this isn't even training camp yet.
As I'm sure the rookies are aware, most things are going to be much tougher than team meetings during your first year in the league.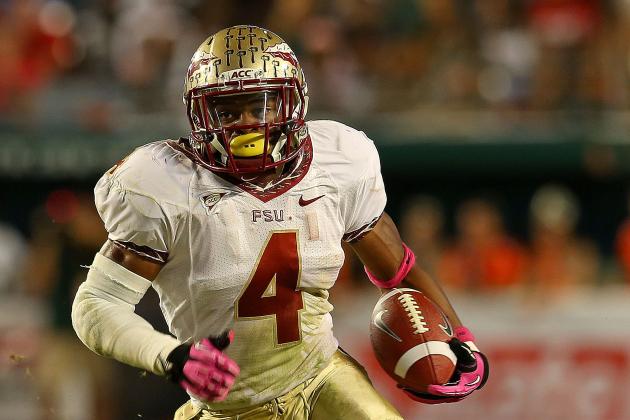 Mike Ehrmann/Getty Images

Despite all the attention on Robert Griffin III as he participated in a very publicized throwing session during OTAs last week, I thought Chris Thompson looked pretty good too as a receiver after undergoing surgery to repair his own ACL six months prior.
Arguably more than any other Redskins rookie, Thompson has the best chance of making his presence felt right away on the football field. His speed alone is enough to catch attention, and his skill set fits perfectly in Washington's offense.
So long as he's healthy, Thompson will get a good opportunity to see the field often.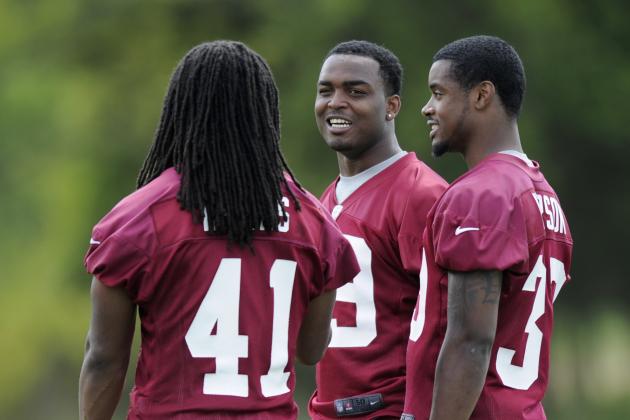 Nick Wass/Getty Images

What could end up being one of the biggest steals of 2013, at least for the Redskins, is landing safety Bacarri Rambo in the sixth round of April's draft.
Despite some giving Rambo grades as high as the third round, the Redskins stuck to their guns and played the market beautifully, taking note of the Georgia safety's inconsistent tackling on the field and his suspensions that kept him off it.
Although Rambo may feel a bit snubbed, he appreciates his opportunity and seems to enjoy the fit in Washington, as reported by Mike Jones in The Washington Post:
"Everything's working out in the best way it can," Rambo said. "I already know the scheme because we ran it at Georgia, and it's basically the same thing. I just feel like I have a good relationship with [secondary] Coach [Raheem] Morris and [assistant Richard] Hightower and that I can relate well to them and I can learn from them."
As Jones notes in his column, Rambo served under former Redskins defensive assistant Kirk Olivadotti while at Georgia, helping his familiarity with certain looks and methods.
In terms of fit, Rambo seems to possess everything the Redskins are looking for at a position with limited talent and no depth.
If he hits the film room hard enough and soaks up the coaching, Rambo could wind up starting by midseason.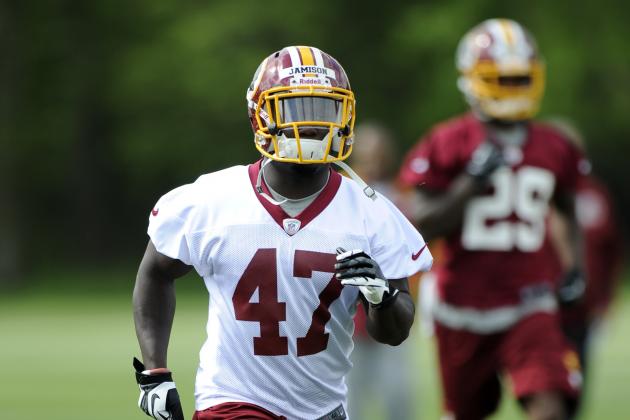 Nick Wass/Getty Images

As the latest version of Mike Shanahan's deep-rooted running back system, Jawan Jamison brings a versatile skill set to the Redskins backfield, and he has all the signs of another late-round gem.
Where does he fit?
I know many are quick to write off Jamison as a practice squad guy in his first season in Washington, but I like his chances the more we don't hear about Roy Helu Jr. making huge strides in his recovery from foot surgery.
That would be where the shot of Jamison fits.
If Helu isn't healthy, the Redskins need a back that can spell Alfred Morris effectively.
Jamison may have left school a bit early, but he has shown all the traits of a talented, well-rounded back. He can run inside, shift outside, catch and block. He doesn't have the elite speed that most look for at the combine, but neither did Morris.
As I've preached for a while now, keep an eye on Jamison as the summer progresses.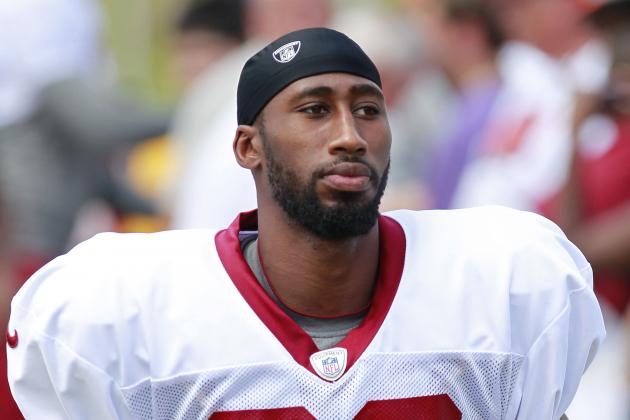 Geoff Burke-USA TODAY Sports

While on my soapbox lecturing about those not-so-popular names to look out for this summer, Lance Lewis is near the top of my list.
After being signed as an undrafted free agent last year, Lewis was forced to put his football aspirations on hold following an injury. He'll be looking to make his rookie debut in 2013.
While he may not have elite speed or incredible athleticism, Lewis does bring great hands, good size and a feel for the game. He has the potential to become a solid possession receiver in an offense that wouldn't hurt from adding one.
There may not be any question surrounding Pierre Garcon and Joshua Morgan as the team's top receivers, but what about the guys after them?
I love Santana Moss as much as the next guy, but his age doesn't make him a reasonable option for the long-term of a budding offense.
We all hold out hope for Leonard Hankerson as he enters his third NFL season, but he hasn't proven anything yet.
With nothing but potential after the top three pass-catchers, why not Lewis?