NFL Rookie Rankings: Where Do Top Rookies Stand Midway Through OTAs?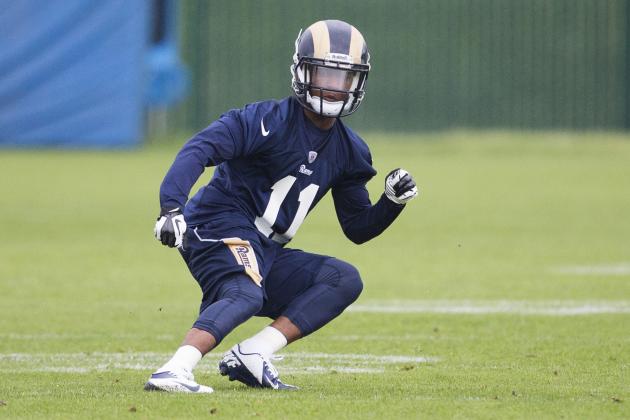 David Welker/Getty Images
No. 8 overall draft selection Tavon Austin is being used in numerous ways in St. Louis Rams' rookie camp.
Most NFL teams are either one or two weeks into organized team activities (OTAs), which is the more formal terminology for each team's allotment of 10 optional full-team spring practices.
OTAs are particularly important for rookie players, as they are the rookies' first opportunity to practice alongside their team's veterans.
Some rookies are unfortunately not allowed to participate in OTAs until their university's graduation has occurred, according to NFL rules. But for the rookies who able to attend, it can be their first opportunity to prove themselves worthy of playing time and/or a roster spot.
The following 10 rookies are all players who are making positive progress and are on the fast track to a starting spot—whether their OTAs are well underway, just beginning or about to begin this week.
This is not a ranking of the NFL's 10 best overall rookies, but rather of which players have put themselves in the best positions through this point in the offseason calendar.
Begin Slideshow

»
USA TODAY Sports
Ezekiel Ansah is still learning the fundamentals of the defensive end position.
Many of the top selections in the 2013 NFL draft did not crack this top-10 list for one reason or another.
Miami Dolphins outside linebacker Dion Jordan (No. 3 overall pick) is unable to participate in OTAs with Oregon's school year still ongoing (Jordan is also coming off shoulder surgery).
New York Jets cornerback Dee Milliner (No. 9 overall) is out of OTAs with his own recovery from shoulder surgery. Pittsburgh Steelers outside linebacker Jarvis Jones (No. 17 overall) has been limited by a hamstring injury.
Philadelphia Eagles offensive tackle Lane Johnson (No. 4 overall), Cleveland Browns outside linebacker Barkevious Mingo (No. 6 overall) and Arizona Cardinals guard Jonathan Cooper (No. 7 overall) are all expected to be big-impact NFL players. All three, however, are currently working out with second-team units in OTAs.
Detroit Lions defensive end Ezekiel Ansah was the No. 5 overall selection, but with limited football experience, he still has a long way to go in his development. Lions coach Jim Schwartz told the Detroit Free Press that "it's all new" to Ansah as he learns pass-rushing technique and the Lions' defensive system.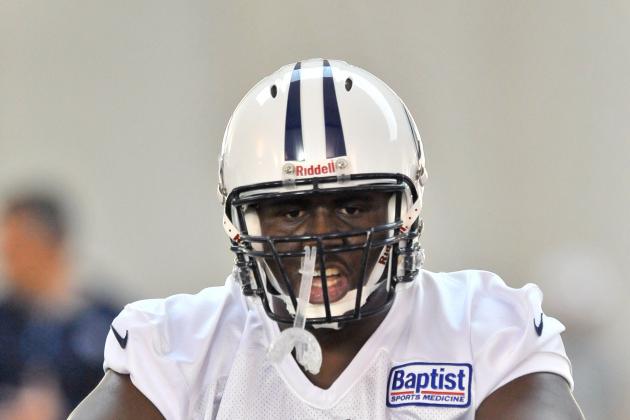 Jim Brown-USA TODAY Sports

No. 10 overall selection Chance Warmack is the only player on this list who has yet to participate in an OTA, as the Titans do not start OTAs until Wednesday. That said, it would be remiss to exclude him, as he is one of the draft class' surest bets to be a Week 1 starter.
The Titans made a big investment at left guard by signing free-agent Andy Levitre to a six-year, $46.8 million contract, but Warmack is widely expected to take over immediately at right guard. Warmack is a powerful, technical and very well-rounded guard who is as ready to play immediately as any player in the NFL's rookie class.
Warmack could receive competition from additional free-agent signings Robert Turner and Chris Spencer, but Warmack makes up for his lack of NFL experience with talent and a polished game.
If Warmack starts out OTAs as the first-team right guard opposite Levitre, his starting spot can likely be safely penciled in (barring an injury setback).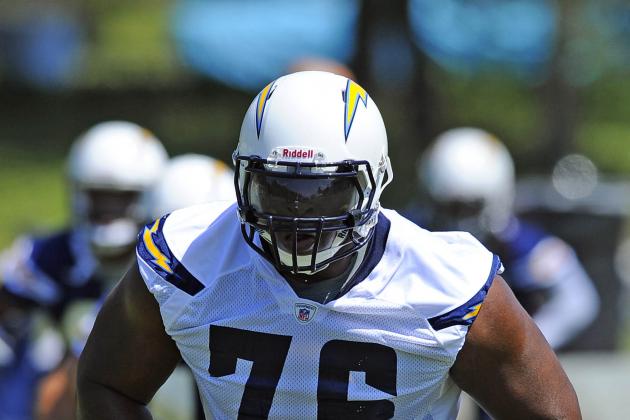 Christopher Hanewinckel-USA TODAY Sports

Chance Warmack's offensive linemate at Alabama, right tackle D.J. Fluker, went one pick below Warmack in the 2013 NFL draft. On this list, the No. 11 overall selection comes in one spot ahead of Warmack, as he has already put himself in position to be a starter in ongoing OTAs.
Fluker is working with the first-team offense at right tackle, according to Pro Player Insiders, and he is expected to be an immediate starter. The Chargers desperately needed an upgrade over Jeromey Clary on the right side of the line, and they should get that immediately from Fluker.
Fluker's game has its limitations, but he should be able to overcome them and be a successful NFL starter at right tackle. He has great length (36 3/4" arms, 87" wingspan), is powerful and is a good athlete for his size.
Chargers second-round pick (No. 38 overall) Manti Te'o also makes a strong case for this list, as he has immediately earned work on the first-team defense at inside linebacker next to Donald Butler.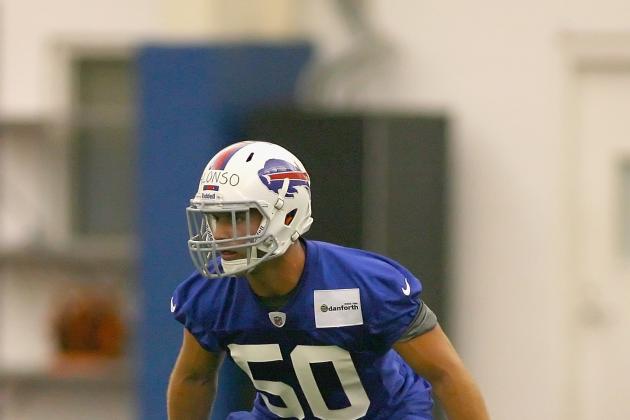 Rick Stewart/Getty Images

The door to an immediate starting job was opened up for No. 46 overall pick Kiko Alonso (the only non-first-round pick on this list) when the Buffalo Bills traded inside linebacker Kelvin Sheppard to the Indianapolis Colts.
Alonso appears to already be walking through that door, as he worked his way into first-team reps at inside linebacker during the Bills' second week of OTAs. Alonso has not only been starting on defense, but has taken on the responsibility of lead play-caller, an impressive display for a rookie.
Alonso is already answering pre-draft questions about his NFL readiness and intelligence with his work in OTAs. He is the favorite to start at both middle linebacker in the 4-3 defensive alignment and SILB in the 3-4.
The Bills' other second-round pick, No. 41 overall pick Robert Woods, is also off to a good start in OTAs. He missed the first week of OTAs while awaiting USC's graduation, but the draft class' most complete wide receiver is expected to start.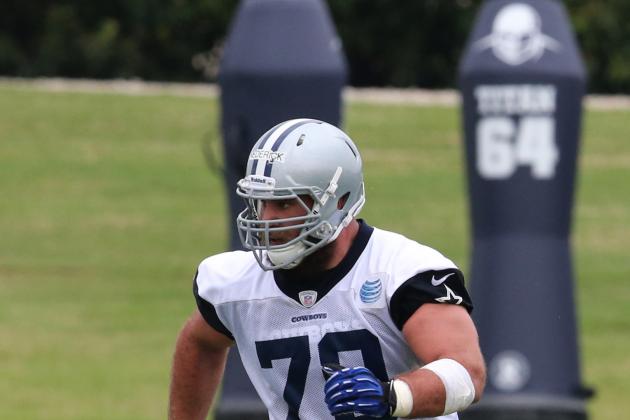 USA TODAY Sports

No. 31 overall pick Travis Frederick was one of the 2013 NFL draft's most heavily scrutinized first-round selections, and if he struggles as a rookie, that scrutiny will only increase. He is off to a strong start, however, at least in terms of securing a starting spot.
The Cowboys needed to rebuild their offensive line desperately this offseason, which likely explains the team's decision to "reach" on Frederick, who few projected to be a first-round pick.
It appears as though the Cowboys have already determined Frederick to be the team's best center. Following the team's draft selection of Frederick, Cowboys owner Jerry Jones said he "will start," according to ESPN Dallas. That has been backed up in OTAs, where Frederick has been the team's first-team center.
Frederick is a slow-footed player whose movement skills will be challenged at the next level, but it is not asking much for Frederick to at least be an upgrade over last season's interior linemen. The Cowboys are banking on him to be that immediately.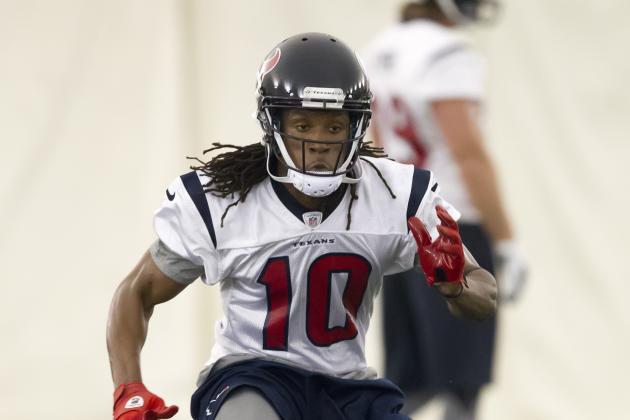 Bob Levey/Getty Images

The Houston Texans desperately needed to upgrade and find a legitimate No. 2 receiving option to start opposite Andre Johnson in their passing offense. Fortunately for the Texans, they found one of the draft class' most pro-ready receivers in Clemson's DeAndre Hopkins.
The Texans have not wasted any time in OTAs getting him ready to play an integral role as a rookie. Hopkins is working with the first-team offense, according to the team's official website.
Texans wide receivers coach Larry Kirksey told the Houston Chronicle that returning receivers Lestar Jean and Keshawn Martin are "not just going to let (Hopkins) have the job," but Hopkins already working with the first team puts the odds squarely in his favor.
A crisp route-runner with great hands who does a solid job of making plays on the ball in the air, No. 27 overall pick Hopkins could easily end up being the draft class' top wideout. Jean and Martin, on the other hand, combined for just 16 receptions and 236 receiving yards last season.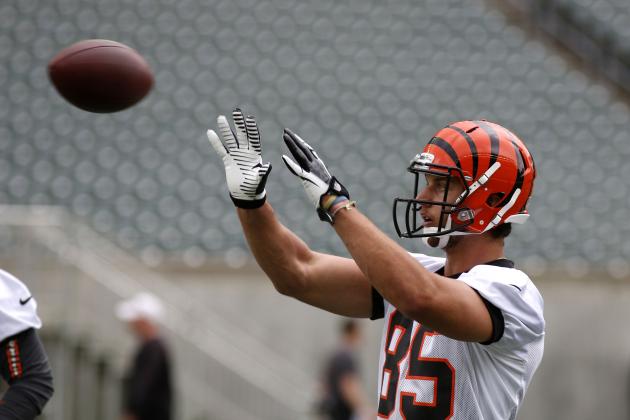 David Kohl-USA TODAY Sports

The Cincinnati Bengals already have a talented veteran tight end in Jermaine Gresham, but that shouldn't keep Tyler Eifert off the field in his rookie season. The Bengals appear set to utilize their newest receiving weapon and No. 21 overall selection in a number of creative ways.
Two-tight-end sets have become increasingly common in the NFL, and the Bengals will likely utilize them often with Gresham and Eifert on opposite sides of the offensive line. The Bengals can also create mismatches, however, by lining up the big, athletic Eifert at wide receiver, which they have experimented with by putting him in the slot during rookie minicamp.
One way or another, the Bengals should find immediate playing time for the Notre Dame product. Eifert is a very skilled receiver who can stretch the field over the middle, and he will make an already strong offense even more dangerous.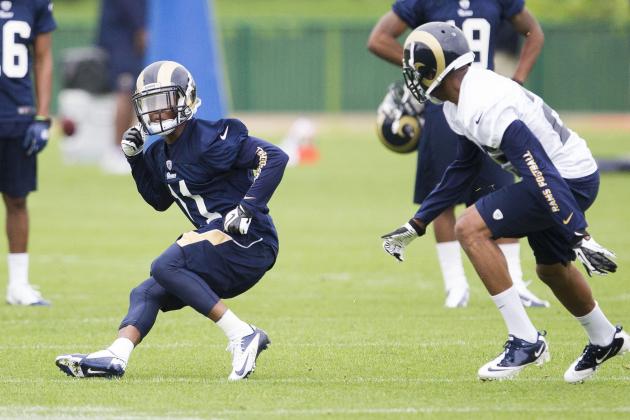 David Welker/Getty Images

No. 8 overall selection Tavon Austin should have immediate opportunities to contribute in more ways than one. The most dynamic offensive playmaker in the 2013 draft class, Austin is a skilled slot receiver with an incredible combination of speed and open-field quickness.
Austin is an immediate replacement at slot receiver with more big-play ability than predecessor Danny Amendola. He has also proven to be very dangerous as a runner out of the backfield and as a kickoff/punt returner.
Austin is likely to start at wide receiver and kick inside to the slot in three-receiver sets, but it appears the Rams are also considering using him as a situational runner out of the backfield. Austin has been taking handoffs in OTAs, according to Joe Lyons of the St. Louis Post-Dispatch.
With a player as dynamic as Austin, the Rams are smart to explore every possibility for how to use him next season. With his ability to make big plays happen, the Rams will want to have Austin on the field and with the ball in his hands on as many plays as possible.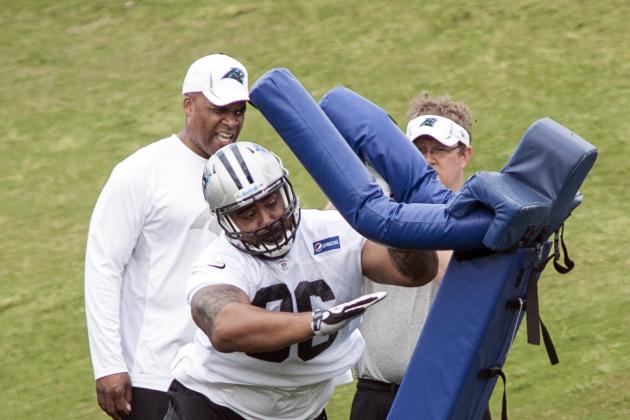 Jeremy Brevard-USA TODAY Sports

The Carolina Panthers had a massive need at defensive tackle going into the 2013 NFL draft. They filled that need by drafting defensive tackles with their two selections in the first two rounds, highlighted by the No. 14 overall selection of Utah's Star Lotulelei.
Lotulelei has the talent to be the best player out of the 2013 draft class, and he should be an immediate impact player on the Panthers defensive line.
He is expected to be an immediate starter at nose tackle with his power, size and ability to occupy multiple blockers, but he also has the quickness and interior pass-rushing ability to line up under tackle situationally.
There has not been much reported from Lotulelei's first week of OTAs, but it will come as a massive surprise if he does not start as a rookie. The Panthers need his presence immediately, and he can be a three-down impact player.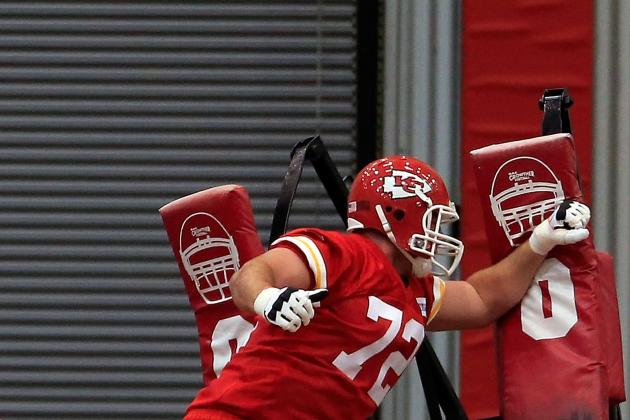 Jamie Squire/Getty Images

It is rare for a No. 1 overall selection to be a right tackle, but at least for the time being, that's what Eric Fisher is for the Kansas City Chiefs. Branden Albert is back with the Chiefs if only for the 2013 season, which has had the team playing Fisher at right tackle during OTAs.
There haven't been many reports out of the OTAs regarding Fisher, but he was the No. 1 overall pick for a reason.
Fisher is an athletic offensive tackle with great feet, great length and solid run-blocking power. He should be an immediate standout on the right side of the line as a rookie, while being groomed as Albert's likely successor at left tackle in 2014.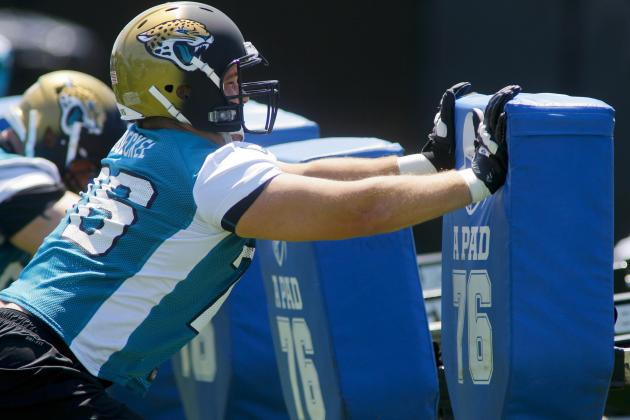 Phil Sears-USA TODAY Sports

Luke Joeckel went one spot after Eric Fisher, but the No. 2 overall selection is the more technically sound and consistently dominant offensive tackle of the two players. But like Fisher, Joeckel will be making the move to right tackle as a rookie with the Jacksonville Jaguars.
There have not been many reports on Joeckel's progress playing opposite left tackle Eugene Monroe in OTAs, but in his case, no news is probably good news.
Joeckel was "downright dominant" playing right tackle in rookie minicamp, according to the Associated Press, although he was still adjusting to a new position from what he had played the past three years at Texas A&M.
Joeckel has the talent to contend for All-Pro recognition early in his career, and it seems as though he is well on his way to being one of the NFL's top right tackles in his rookie season.
Dan Hope is an NFL draft featured columnist for Bleacher Report.