TNA Impact Wrestling: Aces & Eights Have More to Give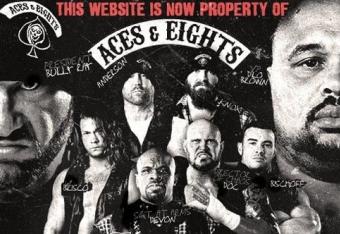 Bully's Gang Needs to Spread their Influence (Photo credit: impactwrestling.com)

We are nearly two weeks away from a year since Aces & Eights debuted in TNA, and the rather divisive angle dominates Impact Wrestling as we head into June and towards Slammiversary.
The stable has reinvented and reintroduced figures from in and out of the company to become the true heels of TNA in 2013, but is the story doing enough for its members?
Whilst the group has taken Bully Ray from probably the best heel in the company to the one true heel of the show, the likes of Devon, Ken Anderson and the other soldiers of Bully's empire appear sometimes forgotten.
Tazz has definitely improved on commentary now that he has a direction to pull in, but there are young guns like Briscoe and Bischoff plus new guys like Doc and Knux who barely get a look on the show.
Lately, D'Lo Brown has been one of the main beneficiaries of the angle as he has gotten more TV and match time, a confusing idea considering his future is most definitely not in a key role in the ring.
Last week, a story emerged for Wes Briscoe to get his teeth into as he caused trouble for the Gutcheck Tournament, but I still think there are enough avenues of competition for all members to make their presence felt.
The two big men—the two blunt, physical instruments in Knux and Doc—should be aiming for the tag team gold.
They have been given little chance to shine since debuting on TNA, and that needs to be corrected. What chance do these guys have when the stable splits if they have done nothing of note since the beginning?
With a four-way tag team match on the card for Slammiversary, it was the perfect time to force Aces & Eights into the picture, and they should have been keen on capturing Hernandez and Chavo Guerrero's titles.
The current match has no true heels, with both the teams of Austin Aries and Bobby Roode and Bad Influence too popular and too talented to be hated.
With a new Aces & Eights pairing muscling in on the match, they would have spread the influence of the group whilst giving an interesting new dynamic to a feud that has been running with the same three teams for months.
The option appears closed for now, but should not be abandoned whilst their evil still runs through the company. If Bully Ray is toppled, then the chance is dead and two new guys have no momentum going forward.
The TV title is rarely defended by Devon either. He should be given the chance to win more matches, even if none are clean victories, just to assert dominance outside of the World title scene.
Even Garett Bischoff could be a nuisance in the X-Division. The fact his style shows no sign of being suited to the division makes him an even more annoying heel as he is not even there by right.
Aces & Eights should be about more than Bully Ray. His stature in the company is important for the team standing, but without spreading their influence to other areas, they are really not taking over TNA as completely as they should be.
They are presented as a force to be reckoned with, and if they move across the card and pick up more titles and get involved in more stories, then they will be the figures of power TNA wants them to be.
Follow me on Twitter for Wrestling and more sports: @The_Wilkerson
And find me on the V2 Wrestling Podcast talking TNA, WWE and more on v2journal.com also with exclusive interviews from the likes of Tara, Rockstar Spud, The Honky Tonk Man and more.
This article is
What is the duplicate article?
Why is this article offensive?
Where is this article plagiarized from?
Why is this article poorly edited?