An X's and O's Guide to Putting NFL QBs Flat on Their Backs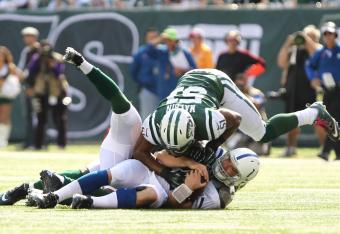 Debby Wong-USA TODAY Sports
As much as schemes and philosophies have changed throughout the decades of NFL football, there is one aspect of defensive football that has stood the test of time: getting to the quarterback early and often.
Whether the opponent is Peyton Manning or Tom Brady, even the mightiest of signal-callers can be thrown off his game if hit enough.
In this golden age of NFL quarterbacking, passing schemes are more complex than ever, making this task a much more difficult proposition than ever before. Few teams have the luxury of lining up in the same alignment every snap and relying on talent to get the job done.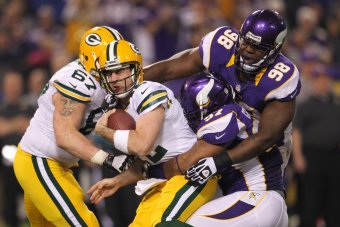 Brace Hemmelgarn-USA TODAY Sports
Even with a stud pass-rusher, coordinators must find a way to optimize their success to put them in the ideal situations to rack up sack totals.
As the game speeds up and offenses become more difficult to defend through the air, there is more pressure than ever to find ways to get to opposing quarterbacks to disrupt the timing and rhythm of an offense.
Creating Mismatches on the Edge
With few exceptions, every top defense in the NFL has an elite pass-rusher that can beat a tackle on a (relatively) regular basis and get to the quarterback on his own.
However, that does not mean defensive coordinators can draw up one formation and let the players do all the work. In today's scheme-driven NFL, if a defense becomes too static in the variety of fronts and coverages it uses, opposing offenses will eventually find ways to slow down these physical freaks.
Von Miller of the Denver Broncos is one of the best young pass-rushers in the game, but he is often put in optimal situations to produce sacks and hurries in obvious passing situations.
Here, the Raiders are in an obvious passing situation on third down. Predictably, the Broncos elect to keep five men in coverage and only six in the box for run support.
Miller, who typically lines up as a "Sam" linebacker on running downs, moves into an "under" position, in which he can either rush or jam (or cover) the tight end.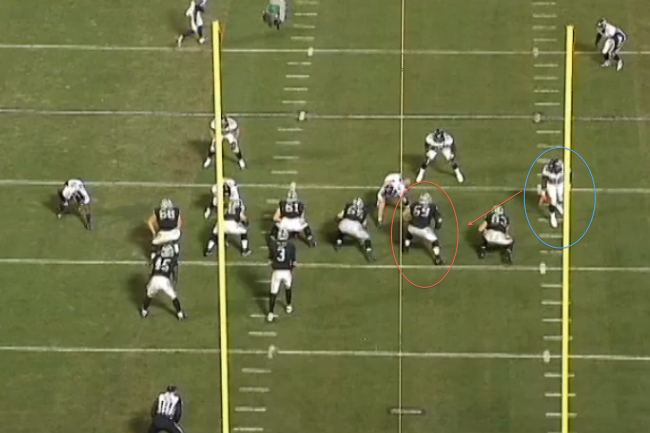 In this situation, Miller will rush from the offense's right side—an important detail of this play.
The Raiders have one stud pass-blocker in Jared Veldheer, who is lined up at left tackle. Elvis Dumervil will do what he can against Veldheer, but here, the Broncos are counting on Miller to beat up on Khalif Barnes, who, according to ProFootballFocus.com, was the 64th -best starting tackle in the NFL last season.
To make matters worse for the Raiders, they did not shift any of their interior lineman or use a tight end to give Barnes help, electing to leave their tackles on "islands."
The coordinator's work is done. Miller is in prime position to make a big play, and like all great players do, he delivers.
Miller is able to use his incredible athleticism and burst to beat Barnes off the edge. Notice how low his body gets to the ground when rounding the corner for the sack—a rare and coveted trait in pass-rushers.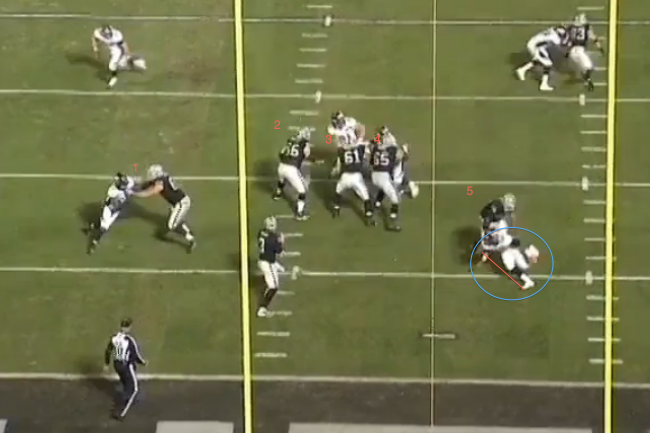 Meanwhile, Veldheer stones Dumervil cold, but it has no impact on the result of the play.
Miller gets the sack, causes a fumble and the Broncos recover inside the 10.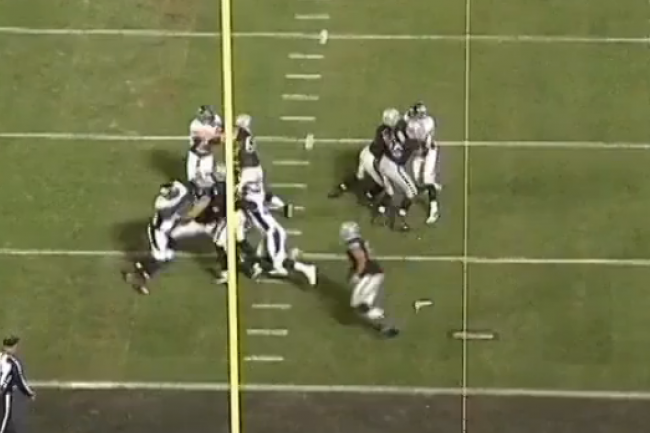 In simpler times in the NFL, it was uncommon for a team's top pass-rusher to go against a right tackle—nowadays, as shown by a study by Steve Palazzolo of ProFootballFocus.com, the right tackle is just as important as the left tackle because of how teams are moving their pass-rushers around.
Not convinced? This year's top two draft picks—Eric Fisher and Luke Joeckel—are slated to start at right tackle in their rookie seasons.
The Interior Rush
Getting pressure from edge rushers is the conventional form of generating sacks and hurries, but the best way to beat the top quarterbacks is to apply interior pressure up the middle.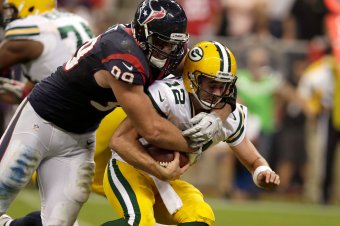 Scott Halleran/Getty Images
Interior pressure is more valuable than edge pressure simply because a quarterback cannot "climb" the pocket to get out of trouble.
The elite quarterbacks, such as Tom Brady and Aaron Rodgers, are exceptional at buying time by stepping away from edge pressure. Why a defender comes flying past the guard, however, they lose their line of sight and have nowhere to go.
Interior pressure does not discriminate in terms of its effectiveness against quality quarterbacks. In fact, according to ProFootballFocus.com, Tom Brady is the worst quarterback when facing interior pressure:
No QB has a worse @PFF grade when facing pressure from Center than Tom Brady: http://t.co/02bFA6WsA5

— Pete Damilatis (@PFF_Pete) May 29, 2013
J.J. Watt is listed as a 3-4 defensive end for the Texans, but he generates a lot of his sacks when he is kicked inside to a 3-technique position. In this spot, Watt has a one-gap responsibility, which allows him to penetrate the pocket much more efficiently.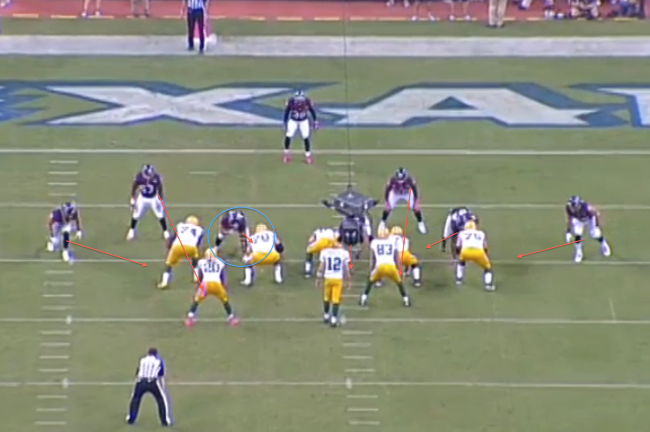 Here, Watt beats T.J. Lang easily with his quickness and hands, and Aaron Rodgers has nowhere to go but down.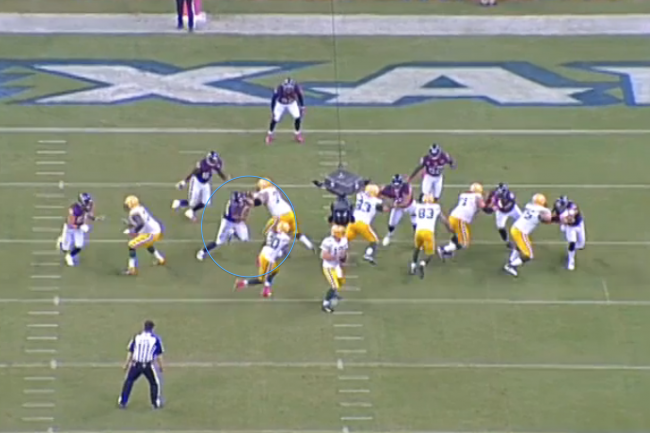 Generating interior pressure can be more difficult simply because there is less room for defenders to maneuver, but it truly is the best way to bring high-flying offenses to a halt.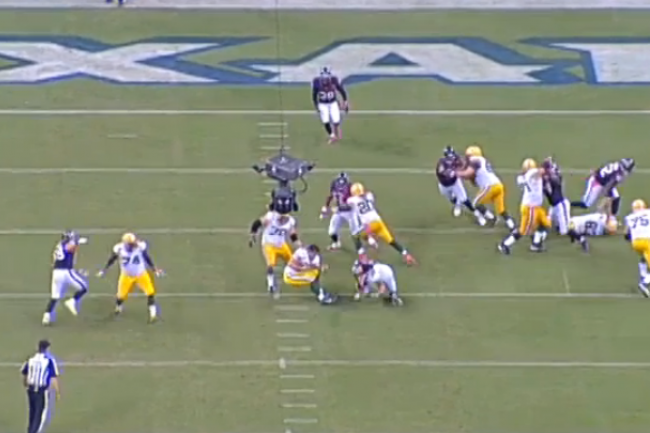 The Illusion of Pressure
Getting to the quarterback sure is a lot easier when you have Von Miller and Elvis Dumervil on your roster, but there are only so many stud pass-rushers to go around, forcing other teams to be a bit more creative in developing ways to get to the quarterback.
Rex Ryan may not be everyone's cup of tea, but since he took over the Jets, he has developed creative ways to apply scheme-based pressure that is based on confusing the offense and making it see things that are not really there.
Here, the Jets line up in what looks like a basic 3-4 alignment—but there is hardly anything "basic" about this coverage scheme.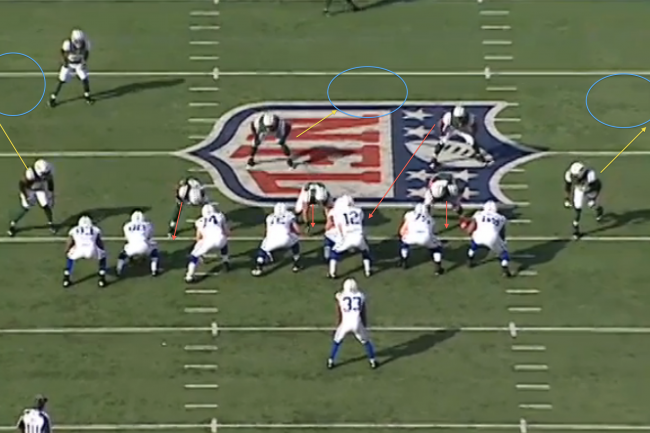 When the ball is snapped, both outside linebackers will drop into coverage. For Bryan Thomas on the weak side of an inverse formation, this was predetermined.
On the opposite side, Calvin Pace was likely playing what is known as "green dog" coverage. In other words, Pace was going to rush if his assigned tight end (Dwayne Allen) stayed in to block. Conversely, he would drop into coverage if Allen ran a route (which he did).
Now, everything starts to break down for the Colts. Not only do they have a right tackle with no one to block, but a delayed blitz fools the running back, who leaves his blocking duties too early to enter a passing pattern.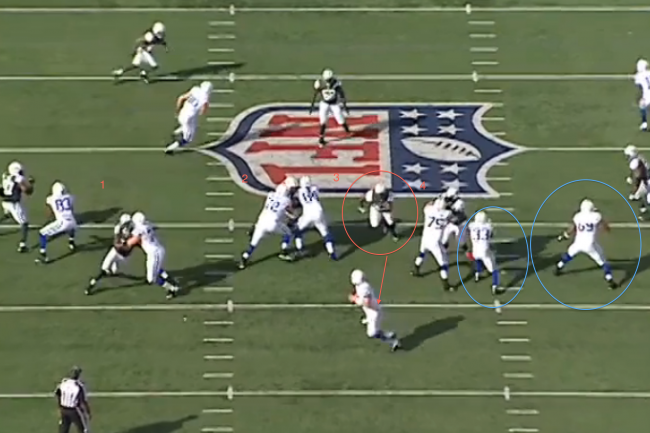 Within seconds, Andrew Luck is on his back thanks to a blitzing Bart Scott.
The important player to watch is the center, as he elects to give his left guard help with Mike DeVito, preventing him being able to stop the delayed blitz.
The Colts had left six men in to block. The Jets rushed four. Yet, the Jets are able to generate the same amount of pressure as if they had Von Miller on their roster.
How were they able to do this?
For one, the coach must have a masterful understanding of a team's protection schemes. For instance, if Ryan knew the Colts were going to slide their protection to the left to catch the blitzing Scott, he would have called a different blitz.
Secondly, if a team lacks talent on its front seven, it must make up for it with a talented secondary. The problem with using scheme-based pressure is that there is little room for error—an ill-timed blitz or an adjustment by the offense can derail any scheme.
As a result, a team must have terrific cover men—which the Jets have enjoyed with Darrelle Revis and Antonio Cromartie—to give its pass-rushers more time to get to the quarterback.
Using Defensive Backs
If you want to get to the quarterback as quickly as possible, why not send out the fastest players on your roster to go run after him?
Blitzing defensive backs out of nickel and dime packages will give a dormant pass rush an element of speed, but because of their lack of size and strength, they will need to be schemed into open gaps to fly through.
In this play from the 2009 AFC playoffs, the Jets have eight players lined up along the line of scrimmage. As a result, the offense has no idea which players are rushing and which, if any, will drop back into coverage.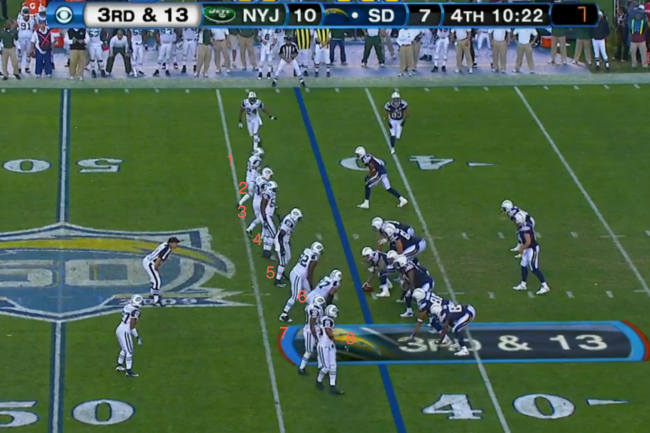 When the ball is snapped, the Jets rush just five players—enough to be considered a blitz, but not the "jailbreak" blitz the Chargers were expecting.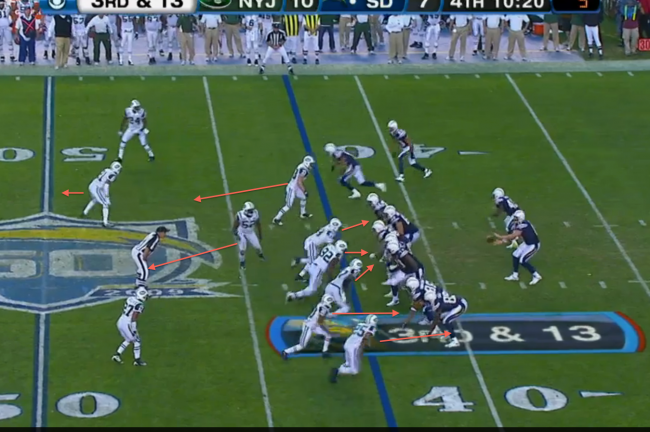 As a result, the left tackle has no one to block, which puts the tight end in an impossible situation. He now has to deal with two blitzing defensive backs, Drew Coleman and Kerry Rhodes, on his own. These defensive backs are too fast to allow time for the left tackle to provide help.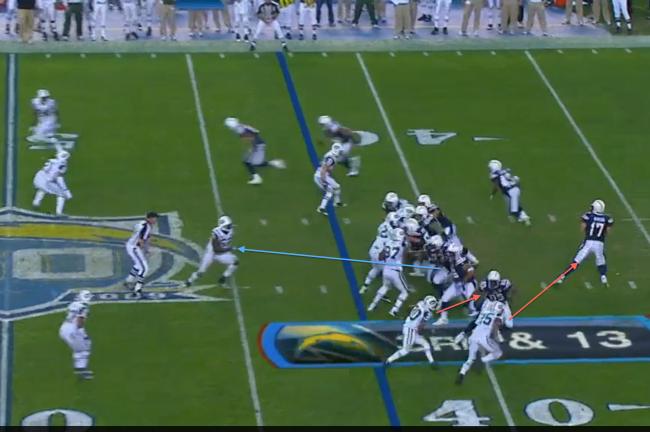 The tight end elects to block Coleman, allowing Rhodes to run around him and use his speed to get to Philip Rivers for the strip sack.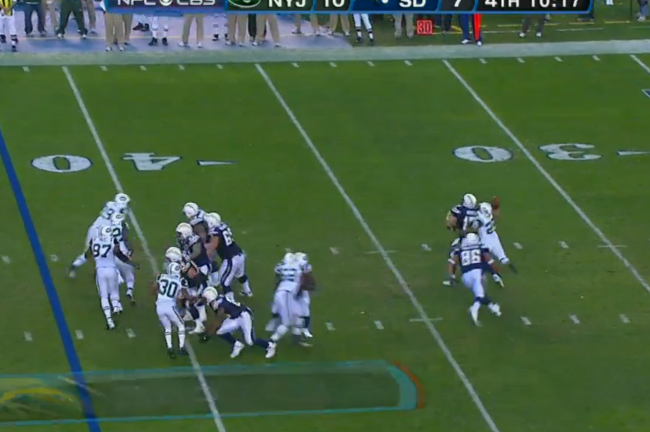 Because of the added speed on the field, the Chargers had less time to react to all of the moving parts, which led to a breakdown in protection.
Be Wary of the Blitz
Blitzing can be a great way to get to the quarterback in a hurry—but it can also get you beat for an 80-yard touchdown in the blink of an eye.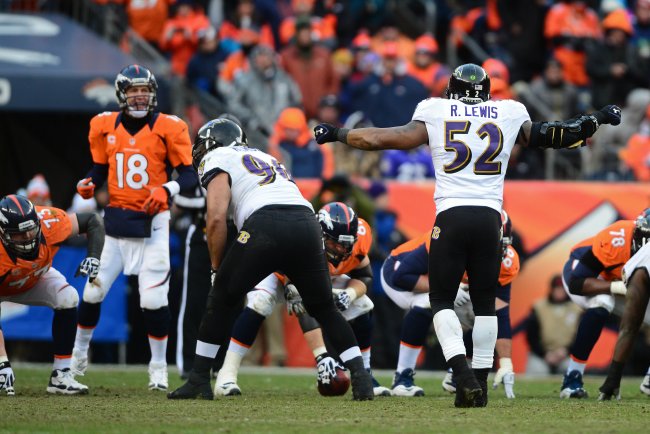 Mark J. Rebilas-USA TODAY Sports
While the concept can be successful against inexperienced quarterbacks who tend to falter under pressure, sending the house against the likes of Tom Brady and Peyton Manning is a surefire way to get beat.
According to ESPN, in 2011, Tom Brady posted the highest completion percentages (67.1), yards (1,582) and passer rating (135.6) of any NFL quarterback when against five or more rushers.
How is Brady so good against the blitz? Simply put, New England's offense in 2011 was a well-oiled machine that featured a stud slot receiver in Wes Welker (who was paired with two sensational rookie tight ends in Aaron Hernandez and Rob Gronkowski) and was nearly impossible to stop.
Chris Brown of Grantland breaks down how Brady is easily able to identify and beat a blitz:
That said, every team should use some kind of blitz package in its defense. Otherwise, a team becomes far too predictable and easy to game-plan against.
However, when it comes to stopping the best quarterbacks on the planet, "throwing the kitchen sink" at them over and over just for the sake of getting hits on the quarterback is just asking for trouble.
Against the blitz last year Tom Brady threw 18 TDs...ZERO interceptions. Is that good? pic.twitter.com/7wqOjUecsJ

— Pro Football Focus (@PFF) March 20, 2013
Essentially, getting to the quarterback requires the right balance of coverage and pressure that forces a quarterback to hold on to the ball long enough for defenders to get there.
No matter how you get the job done, for any defense, the best way to kill the snake is to cut off the head.
Not only do sacks result in a loss of yardage and downs, but even the most elite quarterbacks are human and have an inner fear of getting hit. It may not show for the first few series of a game, but eventually, any quarterback will break down if under enough pressure.
Advanced stats provided by ProFootballFocus.com (subscription required).
Screen captures obtained with NFL Game Rewind.
This article is
What is the duplicate article?
Why is this article offensive?
Where is this article plagiarized from?
Why is this article poorly edited?