The Chicago Blackhawks roared back to shock the Detroit Red Wings Monday night, setting up a Game 7 in Chicago with their 4-3 victory at Joe Louis Arena.
The Blackhawks took momentum early. After Jakub Kindl was given two minutes for interference at the 3:44 mark, Chicago scored less than 10 seconds later, as Marian Hossa swung home a backhand eight-footer off assists from Jonathan Toews and Duncan Keith.
Matt Spiegel of The McNeil and Spiegel Show in Chicago tweeted:
Guys who look pretty good tonight, who often haven't in this series:Hossa, Seabrook.

— Matt Spiegel (@MattSpiegel670) May 28, 2013
At the 8:52 mark, Toews was whistled for interference, handing the Red Wings their first power play of the game. But Detroit was unable to convert, getting off just one shot on goal in the next two minutes.
It was only inevitable that Detroit would bounce back on its home ice, though. At the 18:51 mark, Patrick Eaves scored on a 10-foot wrist shot off assists from Drew Miller and Brendan Smith.
Mike Halford of Pro Hockey Talk linked the first two goals of the game:
Video: Hossa PP goal stands after review, Eaves ties it up wp.me/p14QU5-98FX

— Mike Halford (@HalfordPHT) May 28, 2013
During the period, both teams registered 10 shots on goal, while Detroit held a slight edge in faceoffs, 10-7, as the first period ended in a 1-1 tie.

A little more than a minute into the second period, the Red Wings' Johan Franzen was given two minutes for roughing Niklas Hjalmarsson. However, Chicago was unable to capitalize.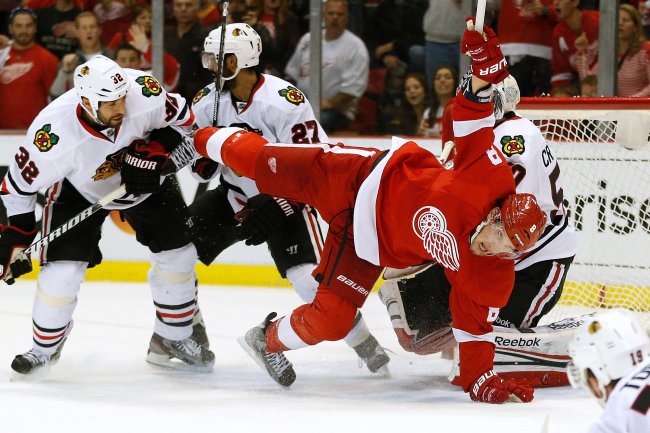 Gregory Shamus/Getty Images
Detroit was hit with another penalty at the 3:32 mark for too many men on the ice. But, again, Chicago was unable to convert, despite three shots on goal.
At the 10:11 mark, the Red Wings made the Blackhawks pay for their inability to capitalize on power plays in the second period. Joakim Andersson was the man for the job, as he swung home a 46-foot "knuckle puck" off an assist from Kindl, fooling Chicago goaltender Corey Crawford in the process.
Kevin Allen of USA Today tweeted:
Although Crawford would like to have Andersson's goal back, I've seen him score on that same shot before. It seems to fool goalies.

— Kevin Allen (@ByKevinAllen) May 28, 2013
Hockey player Dakota Joshua hit us with a Mighty Ducks reference, and we thank him for it:
Andersson just did his best Russ Tyler impression!! #KnucklePuckTime twitter.com/DakotaJoshua/s…

— Dakota Joshua (@DakotaJoshua) May 28, 2013
At the 17:37 mark, Michal Rozsival was handed an additional two minutes after an unsportsmanlike penalty a few minutes earlier, this time for high-sticking Miller. But despite some scary moments for the Blackhawks—complete with four shots on goal by the Red Wings—Chicago survived the power play.
Through two periods, the Red Wings had the 2-1 lead. But it was Chicago that roared back in the third period, with Michal Handzus taking advantage of a defensive lapse to score on a 12-foot wrist shot, assisted by Hjalmarsson.
Jesse Spector of TSN.com tweeted:
Handzus is the third player tonight to get his first goal of the playoffs.

— Jesse Spector (@jessespector) May 28, 2013
The Blackhawks continued to threaten in the next few minutes before Bryan Bickell knocked home an 11-foot wrist shot at the 5:48 mark, stunning the crowd at Joe Louis Arena and giving Chicago a 3-2 lead.
The Blackhawks tweeted:
Toews digs the puck out, fires it on net and Bickell is there for the rebound stuff! 3-2 Blackhawks, Hossa with a helper as well.

— Chicago Blackhawks (@NHLBlackhawks) May 28, 2013
It got worse for the Red Wings. After a controversial call on Carlo Colaiacovo for slashing at net, Michael Frolik received a penalty shot.
Frolik promptly converted on an 11-foot backhand, giving the Blackhawks the 4-2 lead.
At the 18:37 mark, Detroit's Henrik Zetterberg was whistled for tripping Johnny Oduya. Then, at the 18:59 mark, Hossa was whistled for tripping Jonathan Ericsson, setting up a four-on-four.
On the four-on-four, Detroit's Damien Brunner scored from 47 feet out with 52 seconds remaining, assisted by Datsyuk and Daniel Cleary. But Detroit wasn't able to tie it up in the last minute, falling, 4-3.
The deciding Game 7 will be played on Wednesday at United Center in Chicago.