Offseason Power Rankings for Every Player on Carolina Panthers Roster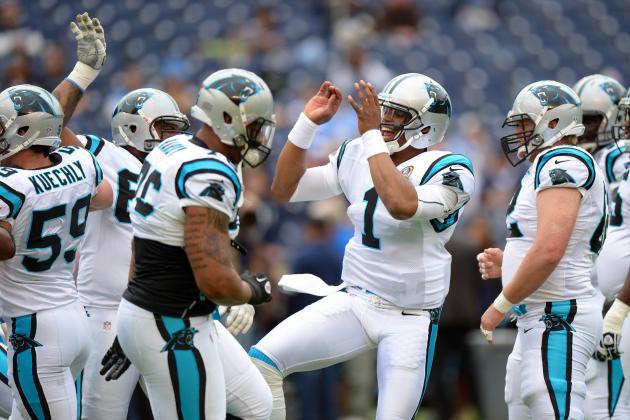 Jake Roth-USA TODAY Sports

The Carolina Panthers are getting ready for the 2013 season, and with rookie camp and the first session of OTAs out of the way, the start of the season is getting closer with each passing day. While this part of the offseason is regarded as a tuning up period, it is also one that sees each team trim down their respective rosters.
Carolina has made some cuts already as they move toward the mandated 53-man roster requirement. Despite not having the final roster ready, it's still not too early to begin power ranking the team's players. While some of the lower-ranked players may not make it past camp, the ones who do remain will have an opportunity to see their stock rise or fall throughout the duration of the season.
Not everyone will agree with rankings here, but that is the beauty about debating. Personal rankings and feedback are encouraged in the comments section.
Here are the power rankings for the 2013 Carolina Panthers.
Begin Slideshow

»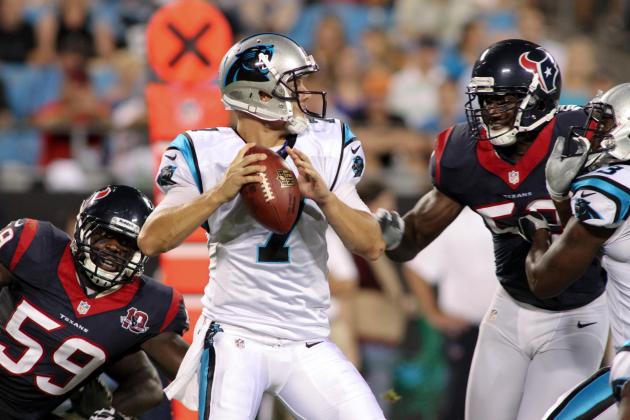 Jeremy Brevard-USA TODAY Sports
Despite being a second-round pick in 2010, Jimmy Clausen has spent the bulk of his time on the inactive roster.
Just like the college game, there are those who are not ranked. Since this list is all about the top-53 players on the team, it feels only right to list those who missed the cut, though that could change if any of the players below make the team at the end of camp.
Here are the players who are currently unranked.
Offense
Lamont Bryant, WR
Taulib Ikharo, WR
James Shaw, WR
R.J. Webb, WR
Brenton Bersin, WR
Justin Wells, OT
Brian Folkerts, C
Hayworth Hicks, OG
Tori Mobley, OG
Robert Jones, OG
Nelson Rosario, TE
Brandon Williams, TE
Michael Zordich, FB
Richie Brockel, FB
Tauren Poole, RB
Colby Cameron, QB
Jimmy Clausen, QB
Defense
Wes Horton, DE
Louis Nzegwu, DE
Craig Roh, DE
Mario Addison, DE
Linden Gaydosh, DT
Casey Walker, DT
Nate Chandler, DT
Frank Kearse, DT
Ben Jacobs, MLB
Jason Williams, LB
Ryan Rau, LB
Doug Hogue, OLB
Melvin White, CB
Robert Lester, CB
James Dockery, CB
Nick Hixson, FS
Anderson Russell, SS
Specialists
Jordan Gay, P
Morgan Lineberry, K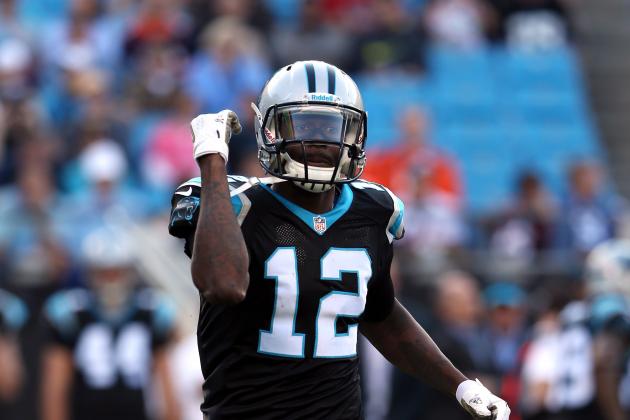 Streeter Lecka/Getty Images

53.) Armond Smith, RB - Smith spent most of last season on the practice squad until he came in toward the end of the season to return kicks. He had a good camp last year and should carry that success over into this upcoming season.
52.) David Gettis, WR - Had he stayed healthy, Gettis would be higher on this list. If anything, he is one of the few players on this list who can dramatically raise his power ranking this season. In 2010—the only season he has been able to play in so far—he logged over 500 yards receiving with multiple quarterbacks who were mediocre at best. By having Cam Newton throwing to him now, Gettis should be able to transform into a reliable receiver—assuming he stays healthy, of course.
51.) D.J. Campbell, S - Campbell made a few appearances last year towards the end of the season. Unfortunately, he didn't become a long-term solution, and the safety position looks to be an open contest in training camp. In five games last year, he wasn't terrible, but he was not able to establish himself as a legitimate starter, either.
50.) Armanti Edwards, WR - The only reason that he is ranked higher than Gettis is because he was able to stay healthy. Aside from that, the list of positive things to say about Edwards is very short. This will be a make-or-break season for the former Appalachian State quarterback. As of right now, though, it seems like he will join other Marty Hurney draft picks as one of the biggest mistakes in franchise history.
49.) Drayton Florence, CB - Florence is a journeyman defensive back who will be with his fifth team in his 11-year career. While he will be competing against Captain Munnerlyn and Josh Norman for one of the two cornerback spots, he may be relegated to a backup role if he makes it on the final roster.
48.) Gary Williams, OT - Williams appeared in all 16 games last year, starting in nine of them. It was a good season for him, as he was able to remain healthy after spending the 2011 season on the injured reserve. If the Carolina offensive line cannot stay healthy this season, Williams could see as much playing time as he did in 2012.
47.) Brad Nortman, P - As far as power rankings go, it seems unusual to have a punter ranked this low. However, the second-year specialist from Wisconsin had a couple of questionable punts last season that were well below the strength of his ability. This will have to be a year of redemption for Nortman as he will be counted on to put opponents deep inside their own territory.
46.) Bruce Campbell, OT - On the surface, it seemed that acquiring Campbell from Oakland as part of the Mike Goodson deal last offseason would land the Panthers a darkhorse starting offensive tackle. However, he only appeared in five games in 2012 and has yet to start a game in his career.
45.) Kealoha Pilares, WR - There was a time when fans were suggesting that Pilares be given more opportunities to return kicks because he did average nearly 26 yards per return in 2011, which included a 101-yard return for a touchdown. Last year, though, he only fielded nine returns, and his only scoring opportunity came in the form of a receiving touchdown.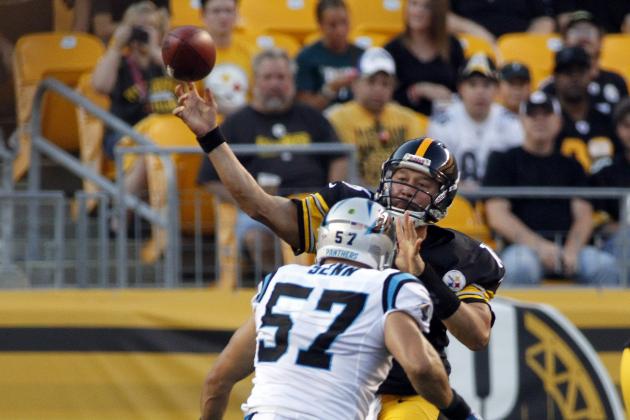 Justin K. Aller/Getty Images

44.) Colin Cole, DT - The seven-year veteran will be debuting with the third team of his career, and he will be trying to earn a spot as a backup to Star Lotulelei. Standing in his way will be Sione Fua, who will not make the challenge easy. Fortunately for Cole, he seemed to thrive over the past two seasons—although he last played in 2010—by appearing in 27 games and starting in all but one of them. He gives the Carolina defensive line some depth in an offseason that saw a tremendous amount of tinkering with the interior of the unit.
43.) Colin Jones, S - Jones played second-fiddle to Haruki Nakamura in 2012, and while he played in 15 games, he didn't start in any of them. That fact alone should be very telling about how weak the Carolina secondary was last year. The good news is that he will be returning for his second year with the Panthers and is familiar with the scheme that defensive coordinator Sean McDermott likes to run. That will give him a slight edge over the new guys in camp.
42.) Jordan Senn, OLB - Senn has mostly made a name for himself on special teams, where he has provided a big enough impact to be named as a team captain by his fellow teammates. Barring a gross amount of injuries, he should remain a staple on the special teams unit. If anything, he will be a reliable leader for a group that hasn't had much to boast about in recent years.
41.) Ben Hartsock, TE - He is not much of a receiving threat, as his duties are often limited to blocking assignments. However, he is regarded as the backup to Greg Olsen. Still, in 30 career appearances with the Panthers, Hartsock has only caught two passes. His last and only touchdown reception was in 2009 as a member of the New York Jets. He is a 10-year veteran in the league, though, so don't expect much to change regarding his role on the team in 2013.
40.) Kenjon Barner, RB - The lesson learned with Joe Adams should keep expectations from being too lofty. The rookie Barner has a lot of potential, and while he could be a valuable asset for Carolina, he is still sitting behind two established running backs and a bruising fullback on the depth chart. If he is to get his start, it will be on special teams. The Panthers need someone who can be a burner in the return game, and having someone capable of giving the offense great field position would make Barner's sixth-round selection a bona fide steal.
39.) D.J. Moore, CB - After spending the first four years of his career in Chicago, Moore will look to challenge for a spot in the secondary. Considering that particular unit was vulnerable in 2012, the position battle should be up for grabs. Moore put up some decent stats during his time as a Bear, despite starting in only three out of 45 games.
38.) Thomas Austin, C - Austin may not see too much of the center position, but considering the durability issues along the line, it's not a foregone conclusion that things will remain the same this season. He played in just four games last season and started in one of them.
37.) Ted Ginn, Jr., WR - Ginn was a highly regarded draft prospect who never seemed to harness his full potential. While he is a wide receiver, the majority of his playing time will probably be on special teams, where he will return punts or kicks. The best-case scenario for his signing will be for him to not only excel in the return game but also to be an under-the-radar threat on offense.
36.) Mike Mitchell, S - Another former Oakland Raider will trade silver and black for black, blue and silver in 2013. Mitchell has played in many games, but he has yet to be an everyday starter after four years as a pro. He will enter camp looking to challenge for a starting spot at safety, and he could push veteran Charles Godfrey to up his game a bit.
35.) Joe Adams, WR - It's pretty bad when the majority of a team's receiving corps is in the lower half of the rankings. Adams is here not so much for his lack of contributions on offense but more for his lack of focus on punt returns. He was drafted last year with the hopes that he could turn around a stagnant special teams unit, but after displaying a penchant for fumbling the ball, he lost his job for awhile. If Adams can get a few more reps in the offense this season, he could climb a bit higher in the rankings.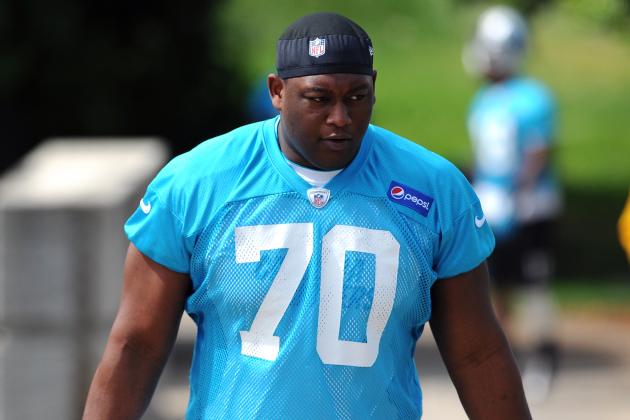 Lance King/Getty Images

34.) Jeff Byers, C - Byers is still young and has room to grow into a solid lineman. He started in seven games last season but appeared in all but two. A lot of his action came in the wake of Ryan Kalil going down, but he played well despite the lack of running room generated by the unit as a whole. He should be the No. 2 option behind Kalil once again this year, but expect to see him lining up somewhere in each game.
33.) Byron Bell, OT - Bell was disappointing last year, as he seemed to be overmatched at times. There are many questions about Carolina's offensive line, and shoring up the tackle spot is one of them. Bell can still develop into a decent lineman, but he won't be held in the same regard as Jordan Gross. Bell needs to prove himself this year if he is to have any chance of being the team's full-time starter.
32.) Geoff Hangartner, OT - Hangartner probably should be higher on this list, and if he were a bit younger, maybe he would be. He was part of an offense that produced 5,771 total net yards and 328 first downs last season, both which are the second-highest totals in team history. The issue with him is similar to that of Jeff Byers—struggles with run-blocking. Hangartner will be relied upon to not only protect the quarterback but to open lanes for DeAngelo Williams and Jonathan Stewart this season. For the most part, he is durable, but he did miss four games last year to injury.
31.) Sione Fua, DT - Fua will be seeing his role on defense change up a bit, as he will now be a backup to rookie first-rounder Star Lotulelei.He should see some action during the season, even though the depth on the line is fairly deep. However, after being taken in the third round of the 2011 draft, he has not been as effective as many had hoped he would be.
30.) Edmund Kugbila, OG - While he is a rookie, Kugbila will round out the top-30 based on his potential. He is a big presence on the offensive line at 6'4" and 317 pounds. He is also versatile enough to play either guard position, and he has even played tackle, too. It should be interesting to see if he covers multiple positions on the line this year, though, as he has the potential to be a starter at some point during the season.
29.) Josh Thomas, CB - Thomas could be in the hunt for a starting spot at cornerback during this year's training camp. He has played well in his limited time on the field but did start in four games last season. He recorded 35 tackles for the year, which is pretty impressive in a limited role. He has the knack for the tackle, a trait that seems to be missing with many others in the Carolina secondary.
28.) Haruki Nakamura, FS - After high expectations in 2012, Nakamura disappointed tremendously. While there is blame to go around for the lack of defensive stops, many point to the first meeting against the Atlanta Falcons last season, as the game that Nakamura lost because he could not cover Roddy White. However, missed tackles and the inability to prevent long completions led to a sub-par season. There will be competition aplenty heading into camp this year, and if Nakamura plans on starting, he will need to up his game.
27.) J.J. Jansen, LS - It seems ridiculous to rank a player whose primary job is to snap the ball on field goals and punts so high on this list, but having a reliable long snapper is key to any special teams unit if they are to function smoothly. Jansen has been solid during his tenure as a Carolina Panther, and he will be a valuable asset on special teams in 2013.
26.) Derek Anderson, QB - Anderson doesn't see too much action on the field unless it's during mop up duty or if Cam Newton goes down with an injury. Regardless, he has the talent to keep the offense moving and can still make plays. He is a former Pro Bowler and many were happy to see him re-sign with the team amidst the speculation that he would follow former offensive coordinator Rob Chudzinski to Cleveland this offseason. What is gratifying about Anderson is that the Panthers can still compete when he is on the field, and he is still a great mentor for Newton as the latter gains valuable experience entering his third season.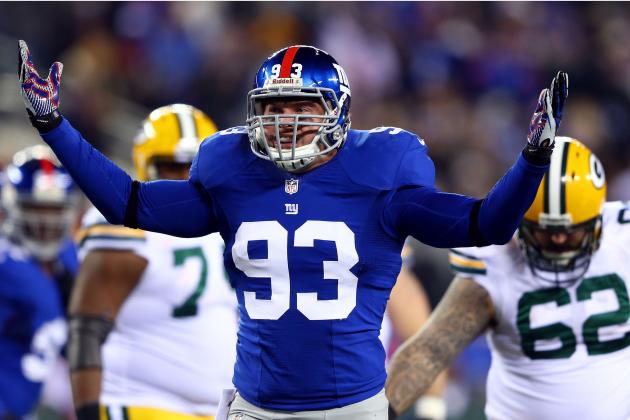 Al Bello/Getty Images

Yes, there is a tie between these two for the No. 25 spot, and both are players who will be entering their first year with the Panthers. Klein is a rookie out of Iowa State, and Blackburn is a veteran who has spent his entire career with the New York Giants.
On one hand, you have a rookie who is drawing comparisons to Luke Kuechly, and on the other, you have a veteran who can come in and play the linebacker position without making the unit weaker. In a perfect world, these two will be teammates for years to come.
Klein is intelligent and has a fierce competitive spirit on game day. While he was a fifth-round draft pick, there is no doubting his potential as a linebacker who earned his share of college accolades while at Iowa State. He has the kind of motor that all coaches want in their players and he could very well be the type who will be inserted into different schemes without hesitation.
Blackburn was probably one of the better free agent acquisitions that general manager Dave Gettleman made during his first offseason in the Carolina front office. Blackburn was one of two former Giants to join the Panthers this year, and he will add depth and experience to an already talented unit. He will be entering his ninth season in the league, but he started 15 games for New York last year. Expect him to rotate with Thomas Davis or Jon Beason throughout the year. Considering the fact that he will be wearing No. 93, it shouldn't surprise anyone if he were to line up as a pass-rusher at defensive end as well.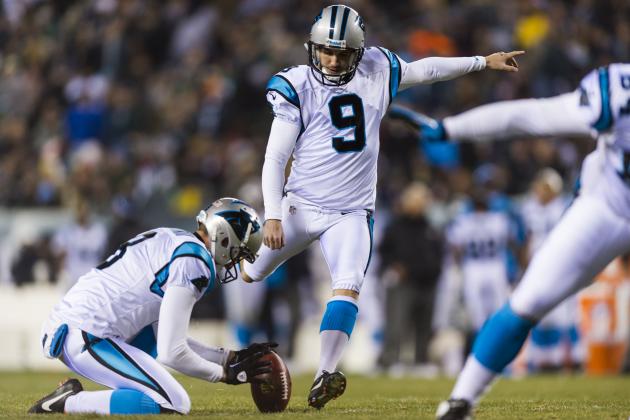 Howard Smith-USA TODAY Sports

If anyone needs to step up on special teams, it needs to be Gano. He will be entering his first full-season with Carolina, but he must do so with the knowledge that if he doesn't knock down the majority of his field goal attempts, he will be replaced in a hurry. His predecessors know all too well about that.
The Panthers offense is good enough to consistently get within field goal range, but it won't mean a thing if the man tasked with tacking on three points can't execute. If Carolina has lacked anything on the team in recent years, it has been a clutch kicker.
Perhaps he shouldn't be ranked within the top-25 on this list, but if the Panthers are to win games this year, they need a kicker who can help them and be reliable on each attempt. If he is able to do so, Gano may just have a long and fruitful career in Carolina.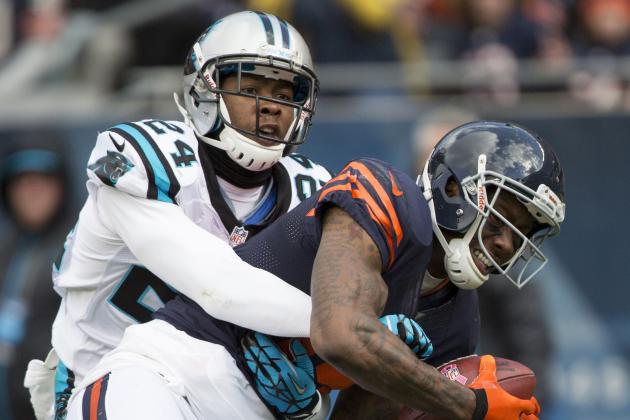 John Gress/Getty Images

Norman was good in his rookie year, and he played well throughout the season. While the secondary is still a glaring question mark for the team, Norman provides the kind of potential to harness his talent, and he is still young enough to be coached up. Entering his second year as a Panther, he will need to play well enough to keep the new guys at bay.
Through 16 games last season, Norman started in 12 of them and recorded 73 tackles. His contributions don't end there, though, as he also picked off a pass and batted down seven more. Despite playing on a weak unit, he was one of the few bright spots to appear on a weekly basis.
His second season will be very telling, and hopefully, he will not fall into that dreaded sophomore slump. Fortunately, he will be surrounded by veterans who will be there to both motivate and mentor him into becoming a quality corner in the league.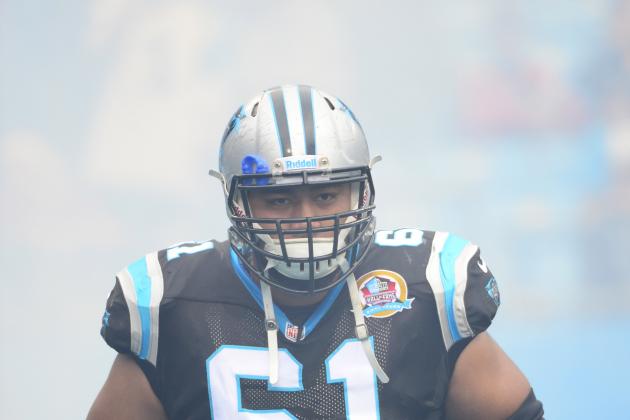 USA TODAY Sports

Silatolu didn't have the best rookie season, but he didn't have the worst one either. Entering his second year as a pro, he will be counted on to improve and help add some bite to the offense, especially in the running game. His job will be more pressing than before, as the culture of the offense will revert back to to a power-run attack.
He should be challenged by rookie Edmund Kugbila, who, like Silatolu, hails from a small collegiate school in the FCS. Silatolu has the tools to be effective, and if he works on his mechanics and is able to improve upon his blocking assignments, he should be a long-term mainstay on the Carolina offensive line.
While it will only be his second season in the NFL, Silatolu will have a lot to prove, and the first step toward doing that will take place in camp. If he is able to hold down his assignments, open running lanes and protect Cam Newton, Silatolu will be a major reason for the offense's success in 2013.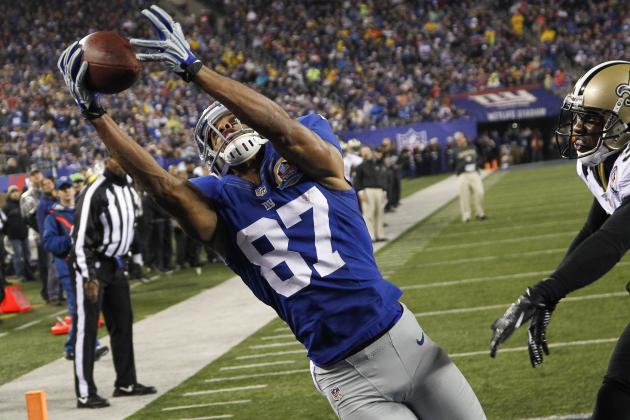 Jeff Zelevansky/Getty Images

The Panthers are in dire of need of a solid boost at wide receiver. Too many times, the attention of opposing defenses has gone to Steve Smith. It is the hope of the Panthers that Hixon will change that particular strategy and come into his own in Carolina this season.
In 13 games as a member of the New York Giants last season, he caught 39 passes for 567 yards and two touchdowns. However, he only started in three of them. Not only does he have the potential to have a career-year in his first season with the Panthers, but he could help get the passing game to the level that many fans have been wanting to see since the offense was overhauled in 2011.
Hixon offers so much, and he will be a primary reason for the passing game's success in 2013. There is a fair possibility that he could reach the 1,000-yard receiving mark, but helping his new team win games would be just as sweet.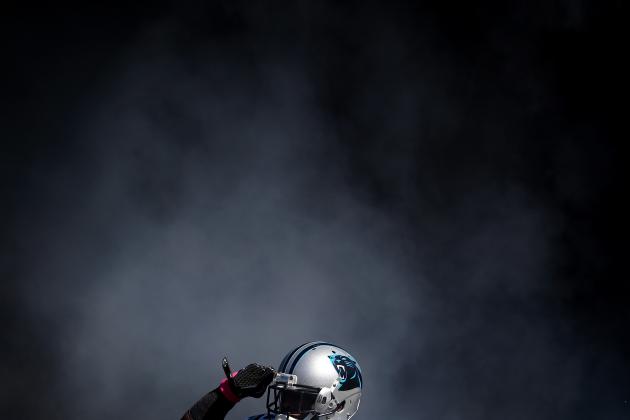 Streeter Lecka/Getty Images

This could very well be Munnerlyn's last year in Carolina. He returned after not receiving much attention on the market as a free agent this offseason, and that may prove to be beneficial to the defense.
Munnerlyn was moved from the nickelback position to corner after Chris Gamble went down with a season-ending injury last year. While he has not been as effective as a starting cornerback, his efforts combined with Josh Norman's help the Panthers finish the season as the 10th-ranked total defense in the league in 2012.
Last year, Munnerlyn started in 11 games and recorded 61 tackles. He was able to pick-off two passes, too, both of which he turned into touchdowns. What is very telling about Munnerlyn is if given the opportunity to play in a lot of games, he can put up some decent numbers.
While showing a knack for defending passes and making plays on them, he is also capable of blitzing the quarterback. However, he has only recorded two sacks in his career, but that could change given the upgrade along the defensive line.
If this is to be Munnerlyn's last year as a Panther, he will be doing himself and the team a service by playing hard and helping them win enough games to make a playoff appearance.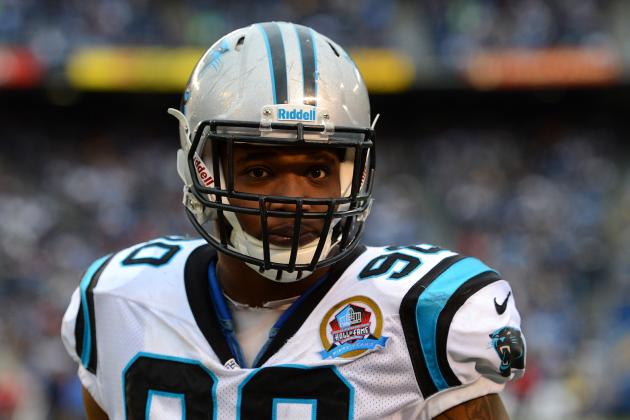 Jake Roth-USA TODAY Sports

It may seem odd that a backup defensive end gets such a high ranking, but when you look at how good this defense can be and the talent level of Frank Alexander, it becomes clear.
Alexander did a great job as a sub during the 2012 season, appearing in all 16 games and showing flashes of what made him so good while at Oklahoma.
This year, the defensive line is improved and that should mean more chances to rush the passer. Last year, Alexander only logged 18 tackles and 2.5 sacks, but that was primarily due to playing in relief and having a vulnerable interior defensive line.
With an upgrade at defensive tackle and with more talent at linebacker, Alexander could thrive in a supporting role. Even if he logs just five sacks, it will be a noticeable improvement upon last year's numbers, and it will serve as a testament to what the Carolina defense is capable of doing this season.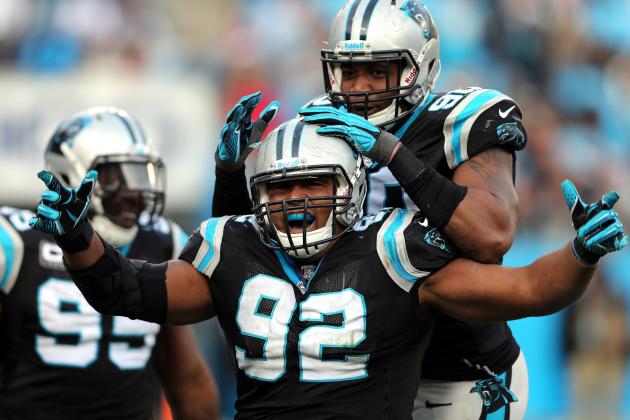 Streeter Lecka/Getty Images

After the season ended, there was a strong possibility that Dwan Edwards would go somewhere else. However, he was re-signed to a two-year deal and should be part of a rotation that will feature himself along with the Panthers first two picks of this year's draft.
Edwards will be entering his 10th season in the league and one that will see him coming off a season in which he logged six sacks, which was a career-high for him. If he is able to duplicate those numbers in 2013, his efforts combined with the rest of the talent on the defensive line will make the Carolina front seven one of the league's most formidable units.
In addition to returning to Carolina, Edwards will be able to serve as a mentor to both of the aforementioned rookies, Star Lotulelei and Kawann Short. There will be a lot of attention on Edwards this season, but having two rookies who are capable of holding their own in front of him could allow the seasoned veteran to have another great year.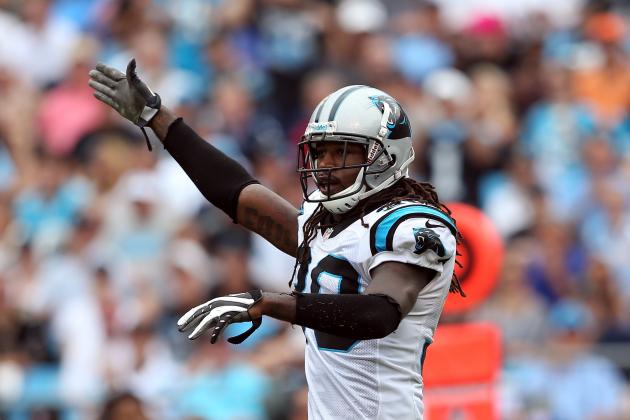 Streeter Lecka/Getty Images

Last season, Godfrey had a bit of a down year compared to the previous two seasons. He didn't have as many tackles but still played better than Haruki Nakamura. While he is almost three years removed from the 2010 season which saw him pick off five passes, the fact remains that he is very capable of making interceptions. Though he only had two picks last year, he was able to return one for a score.
Godfrey's starting spot will be challenged in camp this year, but unlike Nakamura, he should not be in too much danger of losing his job. He has been the primary starter at safety for the Panthers since he debuted in 2008, and he will look to continue that trend.
Carolina needs a leader in the secondary, and Godfrey is the man for the job. The secondary is a unit full of uncertainty, but Godfrey could be the guy to bring stability and leadership to the struggling unit. It would help him a lot if the supporting cast around him does their part to shut down the opposing air attack as well.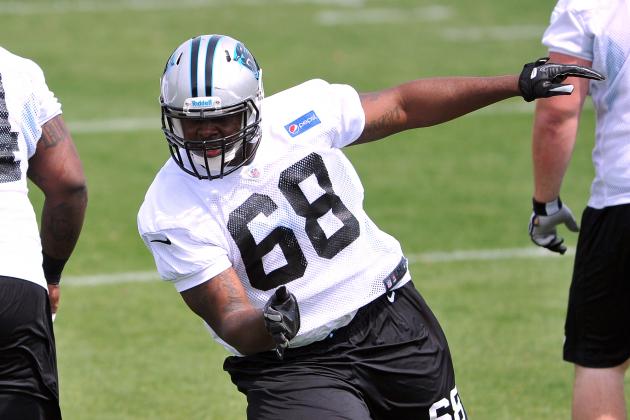 Lance King/Getty Images

Carolina will be looking at rookie defensive tackle Kawann Short to bring the same kind of intensity and drive that made him successful at Purdue. Short had first-round potential, and with him rotating with Dwan Edwards and fellow rookie Star Lotulelei, he could have a great first year.
Short will be counted on to shut down the rushing attack, which has been a glaring weakness of the Panthers over the past couple of years. His presence will be needed against teams like Atlanta, Seattle and San Francisco who all boast power running games.
Fortunately, Short will be able to practice against a variety of rushers with the depth of running backs that the Panthers have in their stable. If he is to be the player that many feel he can be, then Carolina should see its rush defense move into the top-10 among NFL defenses.
The Panthers have been missing a solid one-two punch on the defensive line for years, and Short will be one of those players who will give them just that.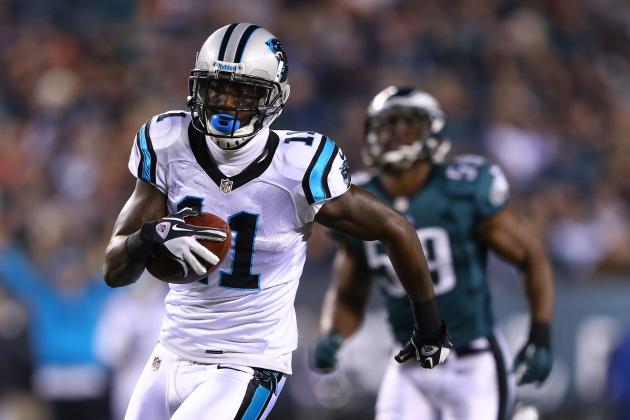 Al Bello/Getty Images

Brandon LaFell is a capable receiver as any, but he still hasn't broken out to be the receiver that many feel he can be with the Panthers. He had his best year of his career last season, and he could be in a position to really break out in 2013. The addition of Domenik Hixon could help him achieve big numbers.
LaFell isn't a home run threat, but as he showed in 2011, he can make the big play with the help of some great blocking down field. He only scored four times last year and caught 44 passes for 677 yards, though. But if he continues on his current trend, he should be able to break at least 700 yards in 2013, as his progression is constantly going up.
Despite the acquisition of Hixon, LaFell should be the team's No. 2 wide out, and he will be a solid veteran presence in an offense that can be very explosive if everyone is firing on all cylinders.
It may have taken awhile, but LaFell looks to be hitting his stride in Year 4 of his career. Hopefully, his production will increase over the course of the upcoming season and the next few years after as well.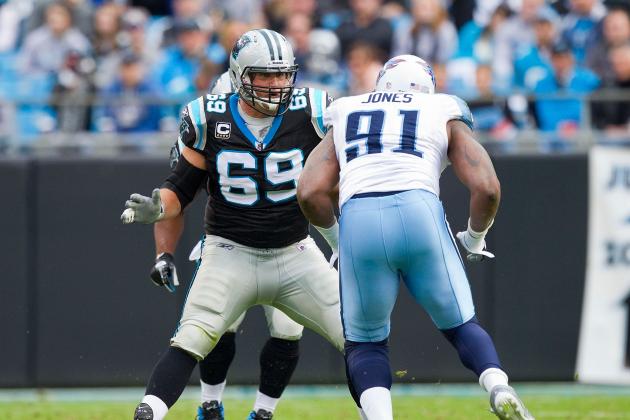 Brian A. Westerholt/Getty Images

The Carolina veteran may not be as good as he once was, but he can still be a solid option in the pass-protecting game. That will be needed if Cam Newton is to keep his jersey clean on Sundays. To his credit, Gross has been a solid fixture in nine of the 10 seasons he has played—he missed a lot of time in 2009, when he appeared in only nine games.
Not only is he a veteran of the offensive line, but he is a team captain and a respected leader in the locker room. He will make an impact not only on the field but also in regards to how he molds and brings along the rookies during camp, as he teaches them the finer points of NFL pass-blocking.
Gross may be entering the twilight of his career, but as long as he maintains his health and does his part to teach Carolina's young lineman, he will be a bigger asset in more ways than one.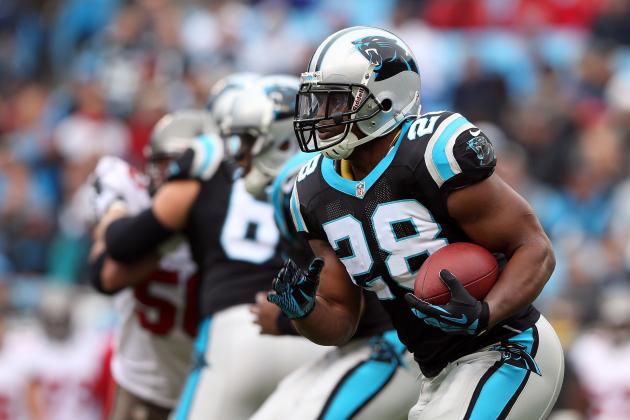 Streeter Lecka/Getty Images

The master of the stiff arm, Stewart has not been nearly as productive as he was when he rushed for over 1,000 yards in 2008. However, he cannot be dismissed as a dangerous running back because he can break out at any given moment. Last year was a fluke, as he missed considerable time due to an ankle injury and produced the worst numbers of his professional career.
That should all change in 2013.
Stewart will most likely split carries with DeAngelo Williams, per usual, and while he could be utilized more inside the red zone, he will most likely give way to Mike Tolbert in this area. However, if the Panthers are serious about re-establishing themselves as a running team, Stewart could very well reach 700 or more yards by season's end.
He is not only a great rusher, but he is pretty good at catching balls out of the backfield. He has 98 catches for 859 yards and four touchdowns over his five-year career. Stewart gives the passing game another legitimate receiving threat and one that can be instrumental in short-yardage situations.
The Panthers need the running game to take off again if they are to be serious contenders within their division. Stewart will need to do his part, and if he can stay healthy, that shouldn't be too much of an issue. History shows that when he plays in at least 14 games, he can rush for at least 700 yards in a season. The key is for him to stay healthy and not have a repeat of last year.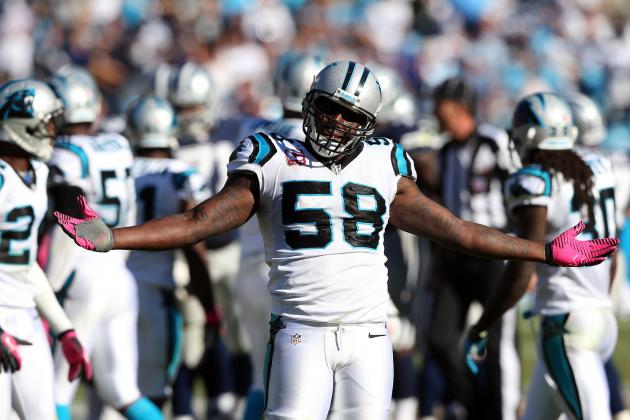 Streeter Lecka/Getty Images

Thomas Davis missed a lot of games from 2009 to 2011, but he made a remarkable comeback by racking up 105 tackles in 15 games last season, 12 of which he started. Had it not been for the likes of Peyton Manning and Adrian Peterson having great comebacks of their own, he may well have taken home Comeback Player of the Year honors last year.
Health will be a huge factor for him once again this season. If he can stay healthy, there is no reason to think that he can't repeat those efforts in 2013. Having some excellent talent in front of him doesn't hurt either.
It seems like forever since Davis has teamed up with Jon Beason on the defense, as the latter missed most of last season due to injury. And now with Luke Kuechly in the fold, the Panthers could have one of the best linebacking corps in the entire league. It wouldn't be surprising if, one day, all three of them are voted as captains, as each poses a great deal of leadership qualities.
Davis will be a key cog in a defense that should be vastly improved compared to previous seasons. It wouldn't be surprising to see him blitz a little more, and there is no doubt that he is hungry for more sacks. He hasn't been able to reach the quarterback since 2009, but that could change this season.
The biggest concern surrounding Davis (and Beason) is durability. Yes, he did play an entire season last year for the first time since 2008, but thoughts regarding his injury history will linger in the minds of everyone who has followed the team for awhile now.
If all goes well, Davis could make a strong case for a Pro Bowl bid and perhaps help the team reach a playoff berth.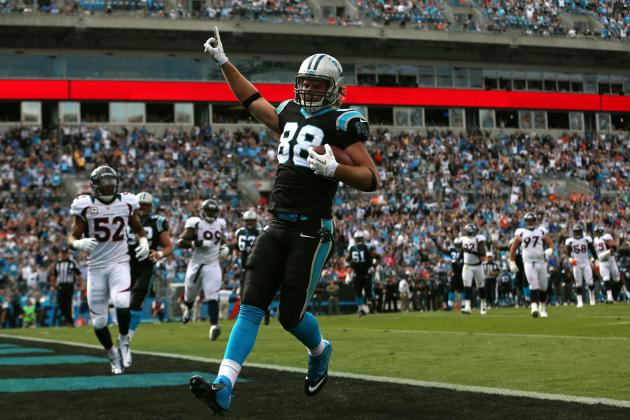 Streeter Lecka/Getty Images

The Carolina passing game has improved tremendously ever since they traded for Greg Olsen in 2011. Last year, Olsen had a great season in which he set career-highs in receptions and receiving yards. While he is a sure bet to record at least five touchdowns, the coaching staff would like to see a few more scoring opportunities converted into points.
Olsen showed the league that he can be the team's lone receiving tight end, even though fans were hopeful that former Panthers tight end Jeremy Shockey would be offered a new deal. However, Olsen took advantage of the additional targets he saw last year, and not only did he make plays with his hands, but he did considerable damage with his feet and overall strength.
He averaged 12.2 yards per reception last year, and most of those yards were due to his physicality and ability gain an extra yard or two. If anything, Olsen did not make it easy on defenses when it came to tackling him. That kind of play will be expected again in 2013.
The one attribute that Olsen brings to the offense is being a reliable short-yardage receiver and turning it into big gains. This will help Cam Newton when he is unable to find an open receiver downfield, as Olsen will be just one of a few receivers who can make plays just a few yards beyond the line of scrimmage.
If there is ever a player that needs to be involved in the majority of snaps on offense, it is Olsen. He can do a lot, regardless of the down or the spot of the ball.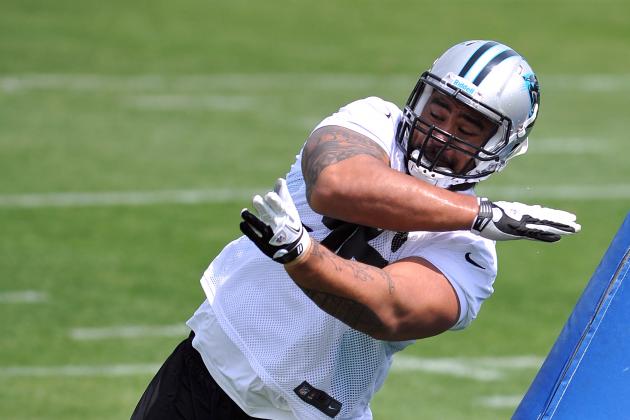 Lance King/Getty Images

Lotuleilei was Carolina's first pick of the 2013 NFL draft and the biggest reason why the defense looks set to improve upon an already solid unit from last season.
He could have been a top-five pick this year, but health concerns over his heart scared off a lot of teams. Luckily, the Panthers don't scare easily and probably landed a steal when they drafted him with the No. 14 overall pick.
Lotulelei should make an impact from Day 1. His very presence will take away double teams from the edge and should allow the tandem of Charles Johnson and Greg Hardy to destroy opposing backfields. Paired with either Dwan Edwards or Kawann Short, Lotulelei will also allow the linebackers to become more free and make a lot more plays at the line of scrimmage.
There is really hard to find anything negative about the young defensive tackle. He has a great work ethic and is a quiet family man. There is so much upside and potential from him that he could be among the discussion for this season's Defensive Rookie of the Year award, an honor taken home by teammate Luke Kuechly last year.
Assuming all goes well and he stays healthy, Lotulelei should have not only have a great season, but he should help turn an above-average defense into one the league's best and perhaps most feared.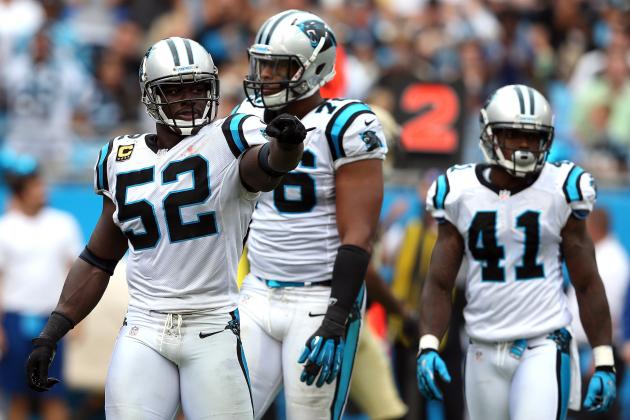 Streeter Lecka/Getty Images

Beason will be hoping for a comeback of Thomas Davis-like proportions when he steps onto the field in Week 1 this year. His goal will most likely be to accumulate over 100 tackles and make a case for the Pro Bowl. However, the first obstacle to overcome is for him to stay healthy.
He has appeared in only five games over the past two seasons, and had he stayed healthy all of last year, he probably would have ranked among the league leaders in tackles. He was on pace for 112 last season when he went down with injuries to his knee and shoulder.
Beason will most likely be brought along slowly and may not see too much time in contact drills or in preseason games, as the coaching staff will want to keep him healthy. It wouldn't be surprising to see Chase Blackburn or A.J. Klein rotate frequently with him to keep him fresh and reduce the risk of injury early on in the season.
When he is on, though, Beason is one of the best linebackers in the league. He will not only serve as a defensive captain, but he will be able to teach the new guys the finer points about playing linebacker. He will even help make Luke Kuechly a more complete player.
Beason is not only an impact player on the field, but he is the definition of leadership in the locker room and will be a viable tool when it comes to teaching the younger players about playing in Sean McDermott's defense.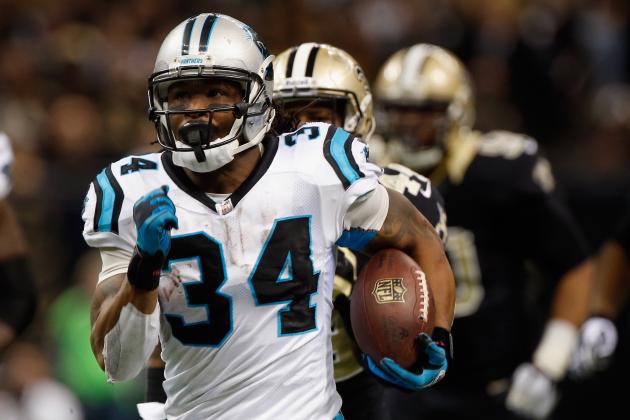 Chris Graythen/Getty Images

Many thought Williams would be gone via trade or release before the start of OTAs this year, but as fate would have it, he restructured his deal and will be with the Panthers for a bit longer. This is good because Carolina will need him to return to form in 2013 and headline the rushing game.
For the most part, Williams' 2012 campaign was awful, as he underperformed in nearly every game until the season finale against New Orleans, when he went into beast mode and rushed for 210 yards and two touchdowns. Sadly, those rushing yards against the Saints accounted for 28 percent of his total for the year. Needless to say, if the running game is to get going, Williams will need to turn in the kind of performance that got him to 1,000 yards in 2008 and 2009.
Fatigue shouldn't be an issue for him, as the plethora of running backs on the team should keep Williams fresh in every series. The situation will dictate who will be lining up in the backfield for the Panthers in 2013, whether it is Williams, Jonathan Stewart or Mike Tolbert.
The good news for Carolina fans is that in the last game against the Saints last year, he reminded everyone what he is capable of doing. If the line can open up some running room for him, he can turn it into big gains. This will benefit the passing game, too, as it will take pressure off of Cam Newton to make plays with his arm, and it should even prevent him from scrambling around as much.
Williams will be the major reason for the success or failure of the running game this season, and if he is unable to produce the kind of numbers that made him a legitimate threat in the past, his time in Carolina may end soon.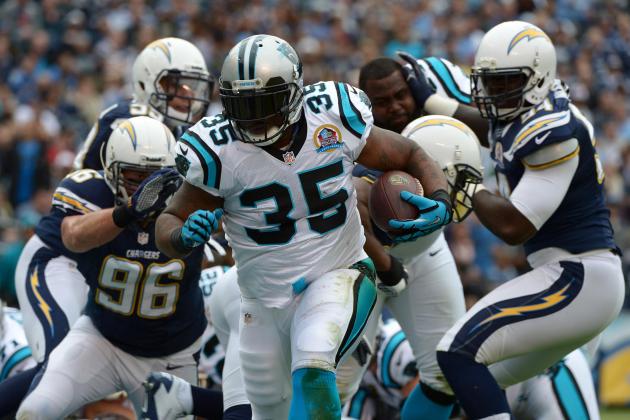 Donald Miralle/Getty Images

Mike Tolbert will be another asset in the running game, although he will see most of his action inside the red zone and down around the goal line. With his bulking frame and brute strength, he should be called upon in short-yardage situations to pick up a first down or the goal line touchdown, if the situation presents itself.
Compared to his previous two seasons in San Diego, Tolbert disappointed people as a Panther last season, as he didn't put up the kind of numbers that made him a threat in Norv Turner's offense, and he also saw a slight decline in his touchdown numbers. While seven scores is nothing to scoff at for a fullback, it should be noted that he scored five of them in the final three weeks of the season—imagine if he had kept that kind of pace earlier in the year.
Aside from rushing the ball, Tolbert has a knack for catching it as well. He provides Cam Newton with an excellent check-down option, if needed, and he can make the most of a catch when given the opportunity. Last year, he caught 27 passes for 268 yards. That is not bad considering that he averaged nearly 10 yards per reception.
If he is utilized better in 2013, he could return to the player that he once was out West. However, if that does happen, it may annoy many fantasy owners who might have either DeAngelo Williams or Jonathan Stewart on their roster.
Donald Miralle/Getty Images

The man famously known as "The Kraken," Greg Hardy has tapped into the potential scouts always saw in him and has solidified himself as one of the team's best pass-rushers. He tallied 11.0 sacks last season, and with Charles Johnson, he helped form a tandem that became an absolute nightmare for opposing quarterbacks.
With all the upgrades along the defensive line, the 2013 season should only get better for Hardy.
He shouldn't see too many double teams and is versatile enough to move over to defensive tackle. When you think about how deep the front seven rotation can be for the Panthers next season, it's almost scary. Regardless of where he lines up, Hardy can make an impact.
He will be counted on to apply pressure in the backfield, especially in passing situations. The philosophy in Carolina is that no matter how weak the secondary is, a good pass-rush will keep a lot of deep balls from being thrown.
Considering the amount of talent surrounding him, Hardy should have no problem imposing his will on opponents and continuing to make a name for himself in the league.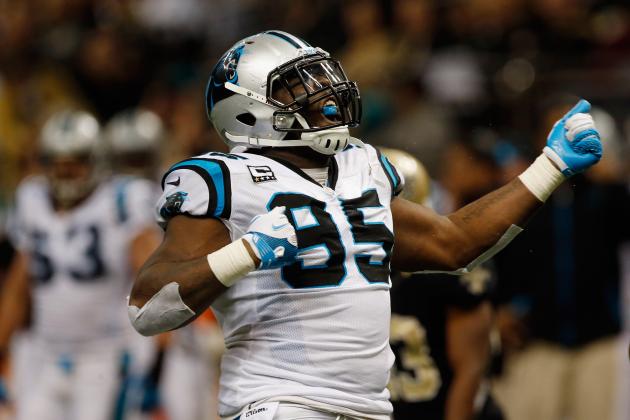 Chris Graythen/Getty Images

Now on to Greg Hardy's partner in crime: Charles Johnson. After signing a rich contract extension in July 2011, Johnson has been making good on his end of the bargain, as he has 21.5 sacks since re-signing with the Panthers. The effectiveness of Carolina's pass-rush begins with the former Georgia product who started out by backing up former Panther Julius Peppers.
The 2013 campaign looks to be another good year, if not a great one, for Johnson.
Taking the upgrades on the defensive line and the overall health of the key players surrounding him into consideration, Johnson could very well double his sack totals from last season. He shouldn't see too many double teams, as opposing offenses will need to account for the talented defensive tackles on the interior. That should allow him to be freed up on most downs.
Johnson became a full-time starter in 2010, and he has made the most of his time on the field. There is no reason why he can't establish himself as a perennial All-Pro player, and based upon his success after three years as a starter, that isn't a far-fetched conclusion.
The strength of the Carolina pass-rush will depend on the durability and success Johnson has this season. While Hardy is a solid defensive end, it is Johnson who will be counted on to make his presence known on a weekly basis.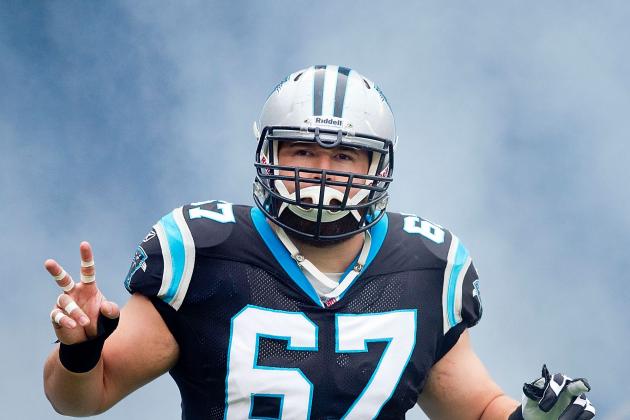 Brian A. Westerholt/Getty Images

In 2012, Ryan Kalil saw his most limited action since his rookie year in 2007. He only played in five games but was sidelined by an injured left foot last season. His absence was noticeable, as it forced the younger guys like Amini Silatolu to step up and prompted the coaching staff to move Geoff Hangartner over to center.
Not only did his absence require changes along the offensive line, but, as a result, the running game never seemed to take off the way many fans expected it to. However, the Panthers did fairly well offensively and recorded the second-most first downs in team history.
Returning this year, Kalil will need to stay healthy, as he will be counted on to anchor a line that can be a little suspect at times. If he is able to stay on the field like he has shown in the past, the offense will benefit from having his presence at the line of scrimmage.
Additionally, he will be a great mentor to the young linemen in camp, especially rookie guard Edmund Kugbila. This is important, as the Panthers will want to see an immediate impact from a guy they took in the fourth round. Kalil can be instrumental in his progression.
The offense, while consisting of a good mix of veterans and young players, will need to have Kalil on the field to provide leadership and help push the offense in the right direction.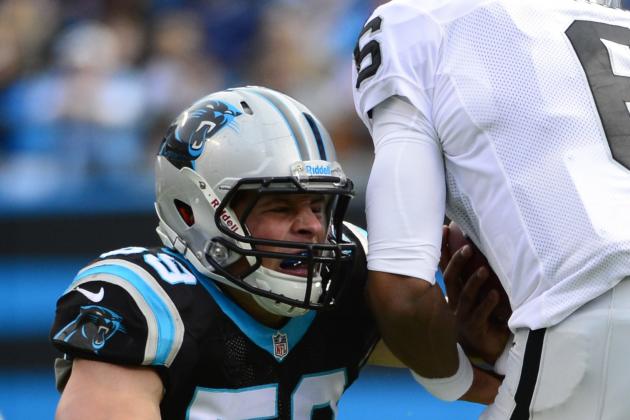 USA TODAY Sports

Last year's AP Defensive Rookie of the Year will look to make a big statement in 2013. After moving to the middle following Jon Beason's injury, Kuechly was unstoppable and led the league with 164 tackles. Unfortunately, he was snubbed by Pro Bowl voters. However, that will not stop the young man from Boston College from entering this season with a chip on his shoulder and a strong desire to help the Panthers win.
Having Jon Beason and Thomas Davis lining up next to him will make the Carolina linebacing corps one of the league's best. All three of them are capable of recording 100 tackles. Essentially, Kuechly will headline a unit that could rival the San Francisco 49ers.
Kuechly recorded only one sack last year, but with the addition of Star Lotulelei and Kawann Short, he could be utilized more in blitz packages. If anything, he will have more room to move and make plays without worrying too much about opponents concentrating their efforts on neutralizing him.
The defense should be a strength this season, and having Kuechly repeat his performance of last year will be a huge boost. If the guys around him are able to do the things many expect of them, this will be a memorable season.
Kuechly is a Pro Bowl-caliber player, and if he can play at the level that he did last year, there is no reason why he shouldn't get an invitation to Hawaii.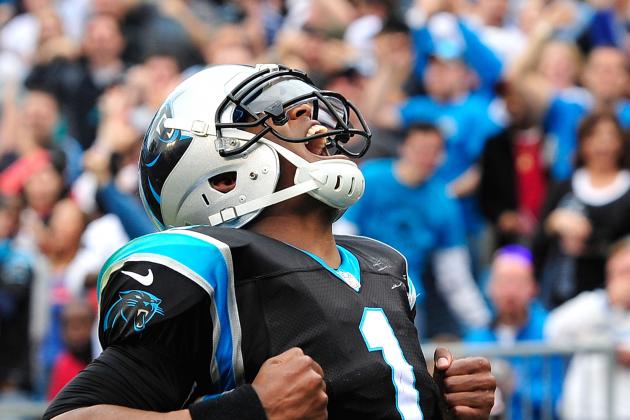 Grant Halverson/Getty Images

There could be an argument as to why Cam Newton should be No. 1 on this list, but he falls just short, which will be explained in the final slide.
Newton was viewed as having a "disappointing" year in 2012 after an outstanding rookie campaign. However, a lot of that was probably due to the great seasons experienced by last year's quarterback class.
Newton threw for just two fewer touchdowns and passed for 3,869 yards, which was only a 182-yard drop-off from the previous season. He also reduced his number of interceptions in 2012, as he threw 12 of them compared to the 17 that he had as a rookie. If that is a slump, people need to reevaluate the true meaning of the word.
Going into the new season, Newton will be counted on to engineer the offense and return it to the top unit it was in 2011. He is a dual-threat quarterback, but the organization is hoping that he will make more plays with his arm than his feet in 2013.
The biggest concern for Newton is his maturity. His actions on the field at times and his post game interviews following losses were the focal points for scrutiny. If he can keep his emotions in check when things are going poorly, he will deflect a lot of negative attention from him and the team.
Newton is aware of the talent around him and he wants to make the most of it:
As an offense, we've just got to maximize each and every play. We've got explosive players on this team, but we have to be smart about managing the football.
If Newton can make smart decisions and protect the football, there is no reason why Carolina can't win a few more games in 2013.
Fortunately, he has a lot of weapons at his disposal, but he will still benefit greatly from the running game if it can return to form. A lot of fans hold their breath when Newton takes off running, and having DeAngelo Williams or Jonathan Stewart stepping up will keep the need for Newton to make plays with his feet at bay.
Anyone who has followed the Panthers and Newton's career knows what he is capable of doing on the field. If he can limit his mistakes, make clutch plays and show a higher level of maturity, he should keep the team very competitive.
Streeter Lecka/Getty Images

Steve Smith being ranked as the No. 1 player on this list shouldn't be surprising, and the reality is simple: the Panthers don't have another receiver who has Smith's ability that makes him so unique on Sundays.
To lose him for any length of time would be detrimental to the team, as Smith has seen his career revitalized since Carolina drafted Cam Newton.
Over the past two years, Smith has caught 152 passes for 2,568 yards and 11 touchdowns. He made the Pro Bowl in 2011, and had his touchdown totals been higher last season, he may have made another appearance in 2012.
He has been a solid and durable player for the majority of his career, although he missed nearly the entire 2004 season because of a broken left fibula. He has missed time due to misconduct—most notably the preseason incident in 2008 where he punched teammate Ken Lucas—however, he has mellowed out a lot and doesn't let his emotions get the best of him anymore.
That's not to say he isn't a fiery competitor.
Smith will take on any challenge when he is on the field. He may have lost a step, but he still has enough speed to burn opposing secondaries if they fail to cover him properly. A good example of this is the touchdown reception that he had against the New Orleans in Week 5 of the 2011 season.
There is no doubting his intensity and passion that he brings to the game. He has the respect of his teammates, is loved by the fans and is usually named a team captain each season. It is these attributes that makes Smith the top ranked player on the Carolina roster.