Ranking Ryback's Best Matches so Far in His WWE Career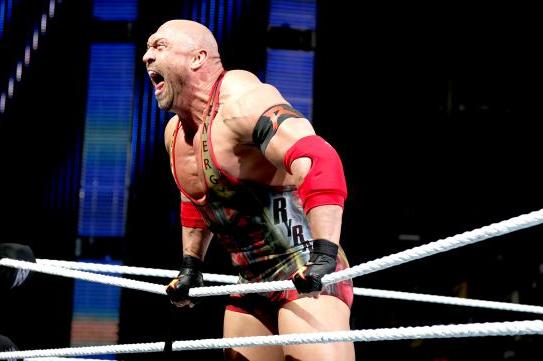 Photo from WWE.com
In a short span, Ryback has been a part of some incredible WWE matches, even if he hasn't necessarily been the center of them.
Much of Ryback's best work has been against The Shield. In those clashes, his power and intensity has been smothered by The Shield's swarming attacks. Even if he holds a less-than-favorable record against that trio, he can certainly be proud of how engaging each fight with them has been.
The rest of Ryback's greatest hits is populated with WWE title matches against John Cena or CM Punk. WWE may have rushed him to the top of the heap, but the excellence of these bouts shows why the company wanted him in that spot.
The matches are ranked here on how memorable they were, how exciting the action was and how well the wrestlers told a story.
Ryback will have a chance to add to and change this list as he heads to Payback on June 16 to face Cena for the WWE title once more.
Begin Slideshow

»
In the midst of Ryback's undefeated streak, when he was still tearing through the WWE with little resistance, he challenged CM Punk for the WWE title in a Hell in a Cell.
There was an intriguing uncertainty that pervaded the match. It seemed equally unlikely that Ryback could get his first loss here and that he would win the WWE title so early in his career.
Punk spent much of the match in retreat mode, fearful, wary, backpedaling as Ryback stalked him around the ring.
Other than the ending and its aftermath, the match's most memorable spots included Punk hiding under the ring and dousing Ryback with a fire extinguisher and later Ryback kicking a chair into Punk's face. These kinds of moments didn't come often enough, the action not taking advantage of the brutality of the Hell in a Cell structure.
The pace of the match slowed too often. It seemed as if both Ryback and Punk were stretching things out to avoid exhausting the challenger.
They told the story of Ryback's near-invulnerability and Punk's wiliness reasonably well. Aside from Brad Maddox's surprise low blow and Ryback's subsequent rampage, though, there wasn't nearly enough drama or reasons to slide forward in our chairs.
Ryback's first big pay-per-view bout showed off his potential, but wasn't as polished or compelling a product as the rest of his best work.
A match that opened a WWE SmackDown episode used realism and surprise to compose an unexpected thriller.
Daniel Bryan is earning a reputation for putting on great matches with just about anybody he faces and this is another excellent example of that trend.
The upstart, frenzied Bryan attempted to distance himself from Ryback, while chopping down that tree of a man with a flurry of kicks to his thighs. It was a strategy that Bryan continually returned to that made the match feel very believable.
Ryback was unable to sustain offense for much of the night. His frustration simmered as he fended off Bryan's kicks and delivered aggressive knee shots or thunderous powerslams.
Ryback and Bryan gave fans a show to remember.
In one of the best matches on WWE TV this year, caginess battled brute force until the latter finally toppled the former. Had this been a little longer, as part of a bigger feud and with higher stakes it would challenge for Ryback's top match yet.
Tables, power moves and neck cranks helped make for a hard-hitting match certain to have WWE confident about a John Cena and Ryback feud going forward.
Cena couldn't keep Ryback down and so pulled out moves we had never seen before. After nailing a powerbomb, Cena climbed on Ryback and cranked his neck in an MMA-style hold.
The intensity, the physical toll the action took on both men and the memorable spots throughout made the match compelling. Cena hit an Attitude Adjustment through a table and later speared Ryback through a barricade.
What holds this back from being higher on the list and going from very good match to instant classic was the lack of strategy.
With as much talk as there was about Cena's ankle/heel injury before the match, Ryback surprisingly almost never attacked that part of the body. It was as if Ryback had forgotten about all threats and why he had chosen a Last Man Standing stipulation in the first place.
In fact, Cena never seemed hampered by the injury, an angle that would have elevated the story's drama. The potential for true greatness in this battle was never fully tapped into. Perhaps Ryback and Cena's match at Payback shows off the heights these two men can reach together.
This match will forever be remembered as The Shield's debut. That surprising moment was huge, but Ryback, John Cena and CM Punk delivered some excellent action before Roman Reigns, Seth Rollins and Dean Ambrose stormed onto the WWE scene.
A frantic pace and a number of moments of near-victory helped make this a highly entertaining affair.
The overlap of separate rivalries also helped to draw the audience into a match that felt very much like an important fight. Cena and Ryback had a few intriguing showdowns. Punk and Cena carried on their great feud. Ryback spilled his anger onto Punk.
Steel steps, the announce table and guys kicking out of finishers were all part of the excitement. A match where everyone came out looking strong and that rarely gave fans a chance to breathe is topped on this list not because of its deficiencies so much as the greatness of the matches above it.
During The Shield's run of thrilling matches, Ryback has so often been right there in their crosshairs, the victim, the alpha male outnumbered by jackals.
This bout was powered by a frenetic energy and great chemistry.
Chris Jericho and Sheamus joined Ryback as the latest trio to try and stop the dominant newcomers. It was Ryback, though, who took much of the punishment as Ambrose, Rollins and Reigns isolated him.
The Shield choked him on the ropes, torturing him until Jericho eventually tagged in and elevated the fun of the match with his springboard-heavy offense.
A contest constructed on chaos ended when Rollins cracked Jericho in the head with his knee. Being on pay-per-view with far more buildup is partially why the matches above this one earn their lofty ranking, but the chemistry in those was even more enthralling than it was in this WWE Raw battle.
Ryback looked like he might play the hero here, charging in as the audience chanted "Feed me more!" but he like everyone else fell victim to The Shield's overwhelming cohesion.
Brawling blended with wrestling as Roman Reigns, Dean Ambrose and Seth Rollins took on the super team of Ryback, Sheamus and John Cena.
The Shield's fluidity and strategy made the match hypnotizing. Ryback, like his partners, wasn't necessarily the star of the action, but in being one of the powerful forces The Shield managed to dominate, he played an important role in an exciting story.
Great chemistry and the surprise of The Shield following their win at TLC 2012 with this performance helped make this a memorable and stirring match. Ryback may be angry in storyline about how often The Shield have left him hurting, but in reality he's got to be happy to have been front and center for so many of their instant classics, this one included.
Much of the focus and praise of this incredible match shines on The Shield, but Team Hell No and Ryback played their parts in thrilling the audience and composing a masterpiece as well.
The Shield's debut match had an infectious wildness about it.
Everything about this clash made us take notice from the energy of the crowd in the Barclays Center, to the intensity of the brawling and the pulsating adrenaline that powered the action.
Ryback, Kane and Daniel Bryan all had their bursts of heroism, but eventually it was The Shield who best used the brutality of the surroundings. The Hounds of Justice powerbombed Ryback through a table and buried Kane in debris.
As a victim and an outnumbered powerhouse, Ryback played his part beautifully. This battle was engrossing and unforgettable. It is the greatest match he's been in so far and perhaps the greatest one he'll ever be a part of in his entire career.