On Sunday night, Robbie Rogers became the first openly gay male athlete to compete in a major United States sporting event. He came on as a substitute late in the L.A. Galaxy's 4-0 win over the Seattle Sounders.
It was a huge moment for the MLS, for soccer in general and for gay rights in the United States. While NBA player Jason Collins announced he was gay last month, he is a free agent and has yet to play a game since making the announcement. Other male athletes in the United States who have come out did so once they retired, such as former NBA player John Amaechi.
It was also a huge moment for Rogers, who announced he was gay in February and promptly retired from the sport, fearing the scrutiny he would face as a gay athlete.
And from a pure sporting perspective, it was a huge moment for the L.A. Galaxy and the U.S. men's national team, who will each likely be getting an impact player to add to their roster.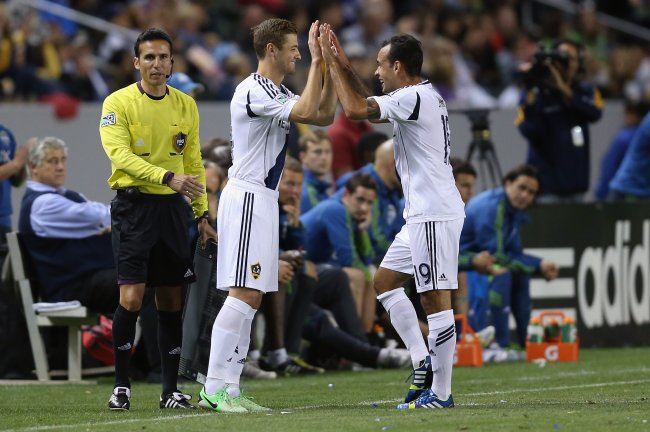 Jeff Gross/Getty Images
Rogers only played 13 minutes and didn't do anything of note, but his initial appearance was more symbolic than anything else. At least for now. And Twitter took notice, reacting throughout the evening after he made his appearance.
We start with Yahoo! Sports, who tweeted a picture of Rogers on the pitch:
Robbie Rogers became the first openly gay player to take an #MLS field for the @lagalaxy. See his night in photos: yhoo.it/19g8h7B

— Yahoo! Sports (@YahooSports) May 27, 2013
A pair of ESPN analysts and former United States internationals, Alexi Lalas and Taylor Twellman, tweeted out their support of Rogers and impressions of the historic moment:
That was wonderful. Simple and wonderful. #RobbieRogers

— Alexi Lalas (@AlexiLalas) May 27, 2013
Congrats to @robbierogers making history. #respect

— Taylor Twellman (@TaylorTwellman) May 27, 2013
Rachel Nichols of Turner Sports paid her respects as well:
Cap tip to Robbie Rogers.

— Rachel Nichols (@Rachel__Nichols) May 27, 2013
Along with putting the moment in perspective, Ives Galarcep of Soccer By Ives took particular notice of Rogers' countenance when he finally entered the match:
To clarify, Rogers is the first openly gay male athlete to compete in a major U.S. pro sports league. The smile when he entered is priceless

— Ives Galarcep (@SoccerByIves) May 27, 2013
Meanwhile, Richard Deitsch of Sports Illustrated apparently caught some flack by followers for tweeting about Rogers' historic moment. That wasn't about to deter him from continuing to do so, however:
Why, yes, your complaints about me tweeting about Robbie Rogers will make me tweet his name again and again. #robbierogersFTW

— Richard Deitsch (@richarddeitsch) May 27, 2013
Yes, there are always going to be certain people who "don't understand why this is a big deal" or who comment that "straight athletes don't reveal their sexual preference, why should homosexual athletes do so?"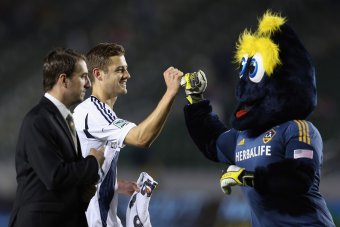 Jeff Gross/Getty Images
But given the history of intolerance toward homosexuals and equal-rights issues, it is a big deal. With Rogers being the first openly gay male athlete in the United States to play in a professional sporting event, it's a huge deal.
The military's "don't ask, don't tell" policy was repealed—why should we demand athletes be held to that antiquated policy?
Ultimately, Rogers will now be judged by what he does on the pitch, not by who he loves off of it. As Andy Glockner of Sports Illustrated (and Rogers' teammate, Landon Donovan) noted, hopefully Rogers can now just focus on the game:
Very cool that Robbie Rogers got on the field tonight. As Landon said, hopefully now he can get back to just being a soccer player.

— Andy Glockner (@AndyGlockner) May 27, 2013
Hear, hear.