2013 NBA Playoffs: Frank Vogel Brings Checkers to a Game of Chess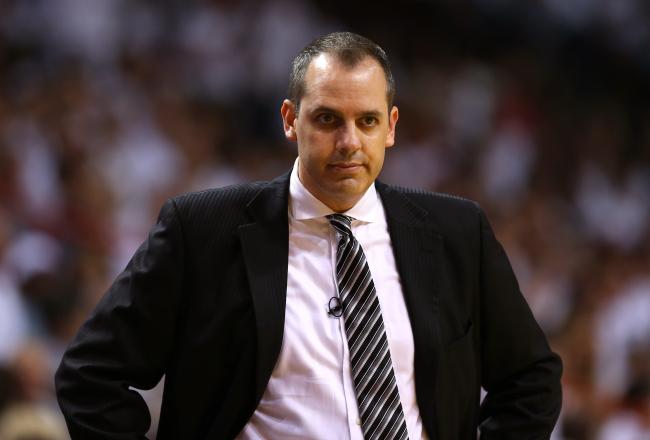 Frank Vogel has been throughly outcoached thus far.
Mike Ehrmann/Getty Images
Memo to Frank Vogel: Sometimes too much of a good thing isn't a bad thing—especially when it's the best shot to dethroning the king and the rest of the Miami Heat.
To quote that cute little girl from the AT&T commercial, "we want more, we want more, like, you really like it, we want more."
In Sunday night's 114-96 win over the Indiana Pacers, the Heat capitalized on yet another mistake by the Pacer's young coach.
Typically, when you have two behemoths in the paint imposing their will, you don't go away from that. That's probably not in the basketball rulebook, but it's generally an understood concept.
Instead, Vogel made the same mistake he made in the first game: He panicked, making a split-second decision based on what the other team was doing, not what his team was capable of.
Vogel should take a play out of Gregg Popovich's book. You don't adjust based on what the other team is doing. You do what you do best and make them adjust to you.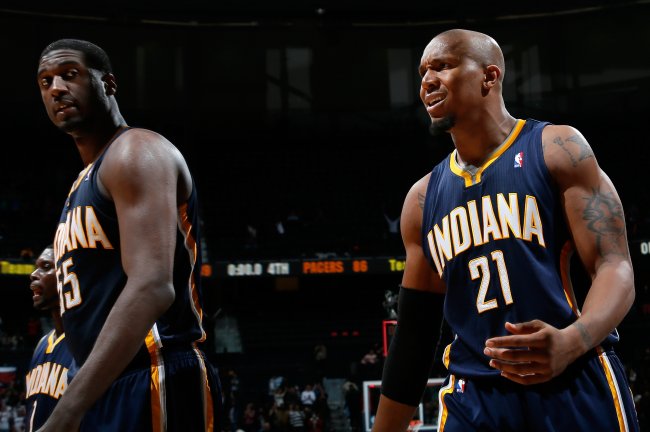 Kevin C. Cox/Getty Images
Sure, Roy Hibbert wasn't having his best shooting night—he shot 4-of-12 from the field. He did, however, do major damage from the free-throw line, converting on 12-of-15 attempts and finishing with a line of 20 points, 17 rebounds and two blocked shots.
Yet, there wasn't enough of him in the second half.
David West again had a solid game, shooting 50 percent from the field and finishing with 21 points and 10 rebounds.
He, too, was left floundering in the post late in the game, however.
Instead of utilizing his two beasts, Vogel, instead, opted to allow his perimeter players to take over. And, while they admittedly did not do a bad job, converting on 8-of-14 shots from three, the value of what his bangers presented was negated by not allowing them to do their jobs.
Chris Bosh had four fouls in the game. So did Udonis Haslem. Oh, hey, so did the "Birdman" Chris Andersen. Of those 12, only two came in the fourth quarter, both by Andersen.
The Pacer's were in position to put the Heat in an extremely undesirable situation. Foul trouble has oftentimes played a vital role to the culmination of a game.
Yet, Vogel took the ball away from the two guys who were best equipped to put the Heat there.
First, he took Hibbert out at the most crucial of junctures in Game 1. In Game 3, he just simply chose to not utilize him—West as well.
This isn't meant to take anything away from the Heat. They were once again brilliant, showing why they, and not the Pacers, are the reigning champs.
They were sizzling from the floor, shooting over 50 percent from the field and over 40 percent from three.
Is Frank Vogel hurting the Pacers' chance to win thus far?
The Pacers might not have had a shot to win this game anyway, not when the Heat were clicking so perfectly.
It becomes a herculean task, however, when the coach concedes his best chance to win.
Instead of battling the Heat with the strength of his team, he opted to combat them by going to war against theirs.
The Pacers can't win if Vogel makes this a perimeter battle. It must be the Pacers' post game vs. the Heat's stars if he hopes to stand a chance.
Otherwise, the Heat's run to the finals might not take as long as we thought.
All stats courtesy of ESPN.com
This article is
What is the duplicate article?
Why is this article offensive?
Where is this article plagiarized from?
Why is this article poorly edited?

Indiana Pacers: Like this team?