Current LA Lakers Who Must Take a Bigger Role in 2013-2014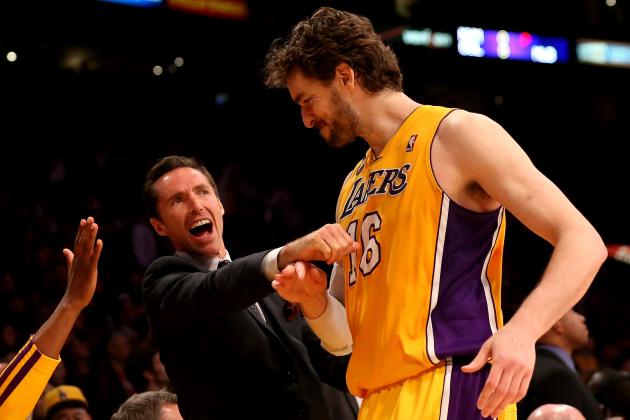 Stephen Dunn/Getty Images

The 2012-13 season was full of underachievement for the Los Angeles Lakers. For L.A. to even hope to return as a competitor in the Western Conference, several members of their current roster must step up and take on a bigger role than they played in their previous campaign.
With a team that may lose its post presence in Dwight Howard and has already lost its leader, Kobe Bryant, for a large chuck of next season, it is of the utmost importance that a leader emerges from the locker room to help the Lakers tread water.
Whether it be their perimeter defense, interior defense or their offense in general, the Lakers are in desperate need of help. Due to the fact that they are well over the cap even without Dwight Howard, L.A. is going to need to shore up these issues by expecting more from the players they have on their roster.
Given the fact that there is no guarantee that Howard or any other player not currently under contract are re-signed, the committed players must be prepared to pick up the slack for a fallen Kobe Bryant and a roster that is in major turmoil.
Begin Slideshow

»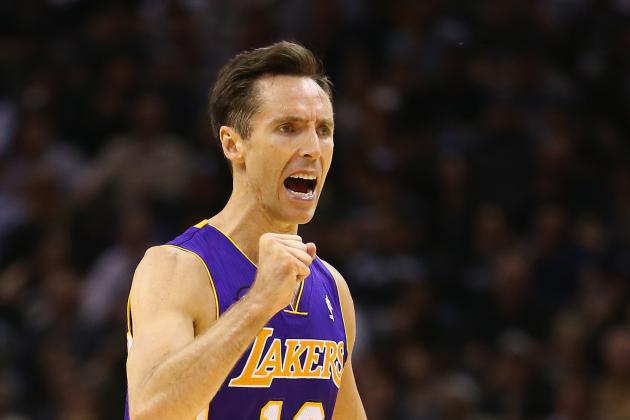 Ronald Martinez/Getty Images

The only way the Los Angeles Lakers are even going to be competitive is if Steve Nash returns to form and becomes the creator he was at the tail-end of his tenure with the Phoenix Suns.
Obviously the Lakers can't expect Nash to return to his former MVP form. However, Nash has to provide leadership and stability as the primary facilitator of a roster that is going to be without Kobe Bryant for part of the season.
While his scoring average of 12.7 points per game last season is exactly what they should expect from him, 6.7 assists per game is just not going to get it done for a team that is in desperate need of a floor general.
If Mike D'Antoni retains his job for next season, expect Nash to be utilized via driving and kicking, running the pick-and-roll and orchestrating the offense like point guards are expected to do.
This means he has to play more than the 50 games he participated in last season.
Nash has always been in phenomenal shape during his career. However, he has to take special care to avoid injuries and be productive on the floor to keep the Lakers' offense afloat.
At this point in his career, expect Nash to continue being a defensive liability and in constant need of help defense. The only way for the Lakers to mitigate this glaring weakness is if he is at least as productive as the opposing point guard on the offensive end.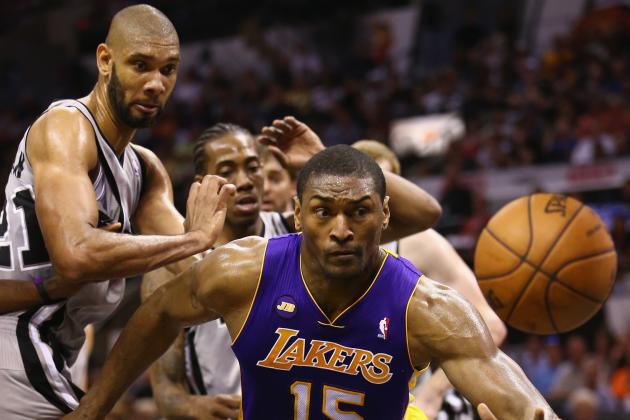 Ronald Martinez/Getty Images

Metta World Peace had a slight resurgence this season.
After averaging only 7.7 points, 3.4 rebounds and 2.2 assists per game during the 2011-12 season, World Peace rebounded with 12.4 points, five rebounds and 1.5 assists per game during his 2012-13 campaign.
While his perimeter defense wasn't what it was during his days with the Pacers, he was still arguably the Lakers' best perimeter defender, and his streaky offensive play made him a true X-Factor on the floor.
However, with Kobe Bryant out and no salary-cap space left to make any major moves, the Lakers are going to need Metta World Peace to provide consistent offense.
Whether this means utilizing him more in the post or via the pick-and-roll as the screen-setter, the Lakers are going to need World Peace to use his versatility to impact the game on the offensive end while still being a lockdown defender.
With Steve Nash needed to be the primary facilitator and creator, World Peace will have to be the second or third option on offense behind Pau Gasol and Dwight Howard if he re-signs.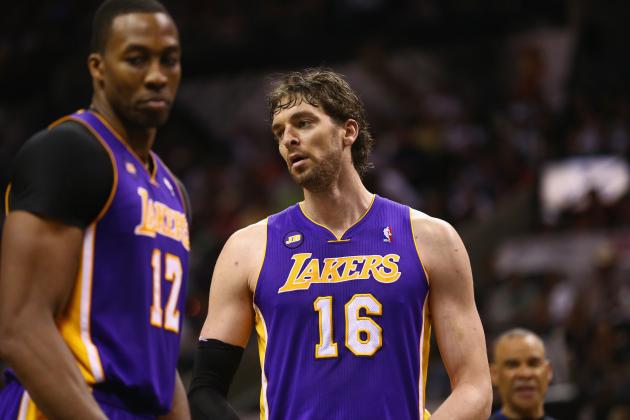 Ronald Martinez/Getty Images

With Kobe Bryant out for an extended stretch, Pau Gasol is going to have to be the man.
Even if the Lakers re-sign Dwight Howard, it is clear that D12 is still too raw in the half court to be a consistent offensive threat.
Howard's primary strengths come from the use of his athleticism and strength to force himself into position for offensive rebounds, putbacks and easy layups.
However, he cannot be relied on to generate steady offense consistently without working off of another player.
This means that the onus of the responsibility for the Lakers' half-court offense falls on Gasol.
With his ability to hit the jump shot, his bevvy of moves in the post and his soft touch around the rim, Gasol needs to score roughly 20 points per game while rebounding in double-digits in order for the Lakers to have any chance of being competitive.
Without Bryant to bail the Lakers out of a stagnant or failed half-court set, the responsibility falls on Gasol to bail the Lakers out at the end of the shot clock as well.