L.A. Angels vs. L.A. Dodgers: Live Analysis of Zack Greinke Against Angels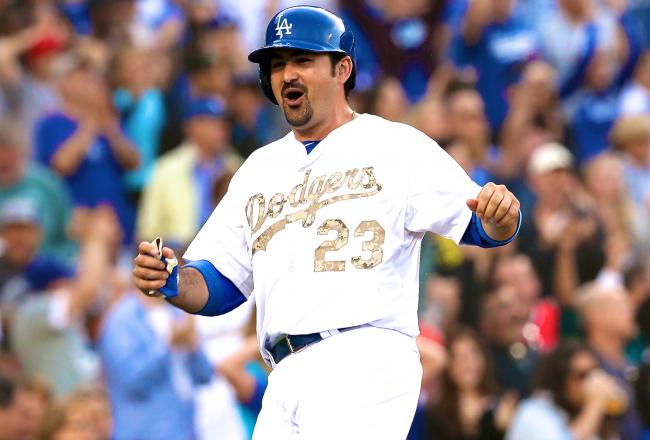 Final Score: Dodgers 8
Angels 7
WP: Ronald Belisario (3-4)
LP: Robert Coello (1-1)
S: Brandon League (11)
The series continues tomorrow at 10:00 p.m. ET at Dodger Stadium, before shifting to Angel Stadium for the final two games. The Angels will be sending Joe Blanton, who pitched for the Dodgers last season, to the mound, while the Dodgers will be starting Hyun-Jin Ryu and his 3.30 ERA.

The Dodgers saw poor defense and a rough outing from Zack Greinke put them down early. Greinke lasted just four innings and gave up 10 hits and four earned runs while striking out just two batters. Fortunately, the next five relievers used by the Dodgers combined to give up just one earned run, giving the offense enough time to climb back into the game.
Adrian Gonzalez turned in an outstanding performance, picking up four hits and scoring four runs. Gonzalez and Scott Van Slyke both hit two doubles for the Dodgers and combined to drive in three runs. Mark Ellis, A.J. Ellis, Ramon Hernandez and Jerry Hairston Jr. also drove in runs, with Hairston's RBI eventually winning the game.
The Angels got off to a great start, taking advantage of a few Dodger errors to jump out to a 6-1 lead. Starter C.J. Wilson kept the Dodgers to two runs through four innings, but a rough fifth inning caused him to exit the game after allowing six earned runs in 4.2 innings. Wilson managed to strikeout four batters while walking none, but also gave up nine hits.
Howie Kendrick led the Angels' offense by picking up three hits and driving in two runs, while Albert Pujols, Erick Aybar, Josh Hamilton and Mike Trout also added extra-base hits. Pujols hit two doubles as part of a three-hit game.
And a ground out by Hamilton ends the game and gives the Dodgers a come-from-behind 8-7 victory.
And he gets just that, with Mark Trumbo grounding into a double play. Josh Hamilton is now up with two outs.
Albert Pujols picks up his third hit off the game, but will leave for a pinch runner.
Brandon League could use a double play ball.
The Dodgers head to the ninth inning with Brandon League trying to earn a save and seal the victory.
Matt Kemp has a chance to breakout of his slump this game with a low pressure situation his next at-bat. With Uribe on third, Kemp could pick up an RBI and help try to seal a win for the Dodgers.
Juan Uribe leads off the inning with a single to try and help give the Dodgers an insurance run going into the ninth inning.
Andre Eithier catches Trout's fly ball to right field, and doubles off Erick Aybar at first base who had been trying to steal on the pitch.
Aybar, Scioscia and the first base coach all appeared to be arguing the call, and instant replay makes it look like Adrian Gonzalez just missed Aybar with the tag.
Home plate umpire Gary Darling calls a close outside pitch a ball to Mike Trout. It seems like he is being selective as far as when he gives that call.
Chris Iannetta's deep fly ball takes Andre Eithier to the warning track, but the ball stays in the yard.
Erick Aybar follows with a single into left field as the top of the Angels lineup tries to tie the score.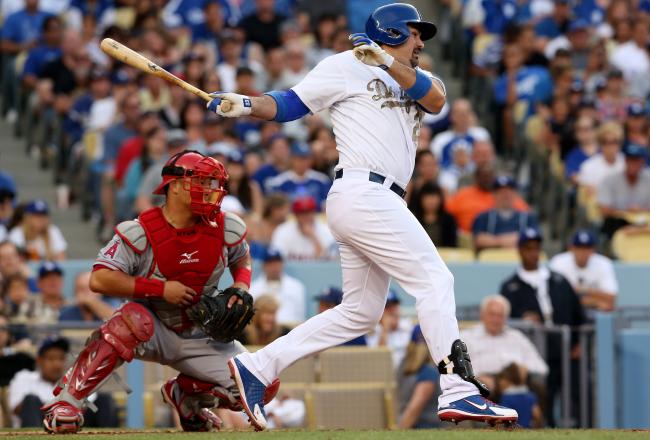 Adrian Gonzalez is now 4-4 with two doubles and three RBI while helping the Dodgers climb back from a 6-1 deficit to take the lead.
After a long inning the Dodgers have re-taken the lead but will face the top of the Angels order next inning.
And just like that Hairston has his first RBI this month and has given the Dodgers an 8-7 lead. Hairston's single into right field scores Adrian Gonzalez and moves Andre Either to second base.
If Hairston can drive in Gonzalez and/or Eithier, it will be his first RBI since April 30.
Coello misses badly with ball four to walk Eithier and bring up Jerry Hairston, Jr. with two on and two out.
Andre Eithier is now pinch hitting with Adrian Gonzalez on first base and two outs in the inning.
Robert Coello struck out Matt Kemp with an off-speed pitch and got ahead of Adrian Gonzalez 0-2, before Gonzalez singled for his fourth hit of the game.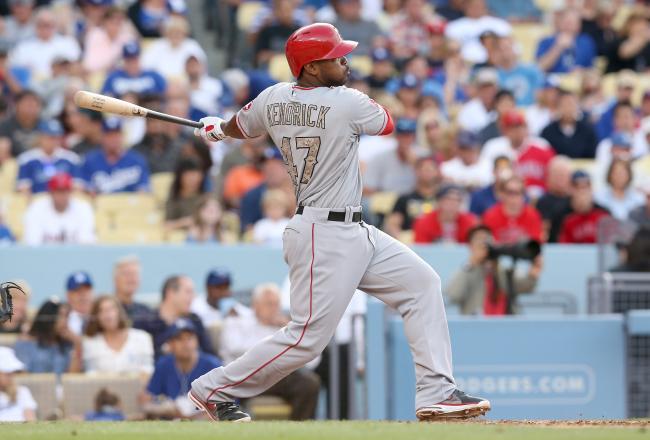 With names such as Mike Trout, Albert Pujols and Josh Hamilton in the lineup, Howie Kendrick has managed to pick up three hits and two RBI so far.
A double play gets the Dodgers out of the inning, as each team's bullpen has now allowed one earned run.
Ronald Belisario relieves Guerra with one out and a runner on first base.
Howie Kendrick hits a single into right field that scores Hamilton and ties the game again at 7-7. Kendrick is thrown out trying to advance to second base.
After making an outstanding catch in right field, Josh Hamilton picks up his first hit of the season with a double into left field.
After trailing 6-1, A.J. Ellis' sacrifice fly scores Luis Cruz, giving the Dodgers their first lead in the game, 7-6.
Juan Uribe lines a double into left-center field, moving Cruz to third base. The Dodgers now have two runners in scoring position with one out in the inning.
Angels manager Mike Scioscia has taken Michael Kohn out of the game in favor of Dane De La Rosa.
This article is
What is the duplicate article?
Why is this article offensive?
Where is this article plagiarized from?
Why is this article poorly edited?