Miami Heat vs. Indiana Pacers: Game 3 Postgame Grades and Anaylsis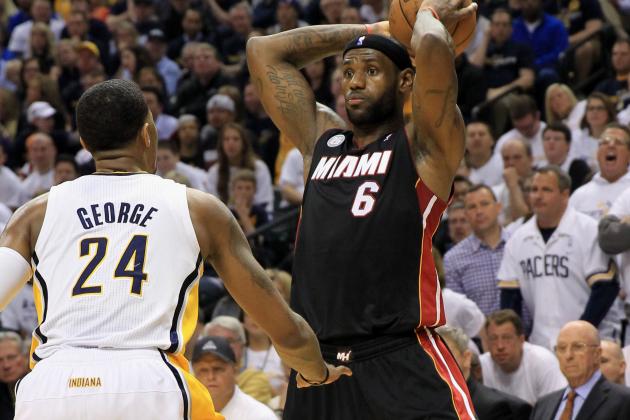 Pat Lovell-USA TODAY Sports

Well, I guess that answers the question of how the Miami Heat would respond after a tough Game 2 loss to the Indiana Pacers.
The Heat dominated the Pacers from the tip, winning 114-96, which was the Heat's fifth road win and the Pacers' first home loss all playoffs.
Miami has yet to lose a road game this postseason, and it's mainly because of its potent offensive attack. In Game 3, the Heat dropped 70 first-half points, and they also kept the Pacers from hitting any kind of rhythm throughout the night.
LeBron James led the way with 22 points, four rebounds and three assists, but Udonis Haslem stole the spotlight with a ridiculously impressive 17 points and seven rebounds. If that wasn't enough, it should be noted that Chris Andersen went 4-of-4 from the field and has yet to miss a single shot from the field during this series.
Roy Hibbert did all he could with 20 points and 17 rebounds, but he couldn't get it done for Indiana, even with David West's 21 points and 10 rebounds.
The Pacers just couldn't match the Heat's intensity and their efficiency—as Miami committed just five turnovers all game—and that led to a rough Game 3 loss for the Pacers.
Begin Slideshow

»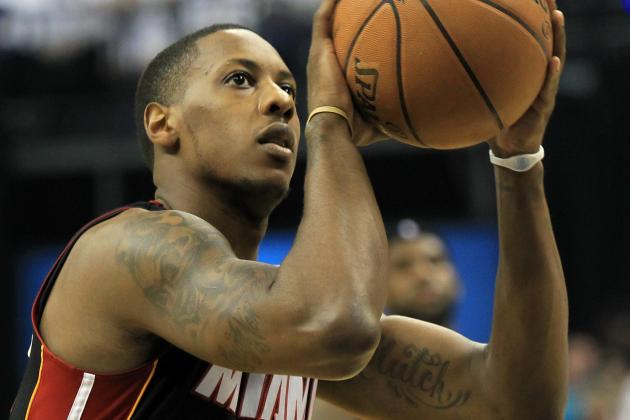 Pat Lovell-USA TODAY Sports

Mario Chalmers, Heat
This version of Chalmers is exactly who everyone thought he would be for the entire 2012-13 season.
He shot the ball efficiently, scoring 14 points on 4-of-6 shooting from the field and 6-of-7 shooting from the charity stripe. But more importantly, he committed a whopping zero turnovers.
When Chalmers plays like this, he's a very talented piece of a star-studded Heat roster, and if he can continue to play like this in this series, the Pacers have little to no chance of making it out alive.
Overall Grade: B+
George Hill, Pacers
Scoring-wise, George Hill had a solid night, ending with 19 points on 5-of-10 shooting from the field.
Other than that he didn't do much, dishing out only two assists. While he only committed one turnover, his inability to stop Mario Chalmers made that stat rather insignificant.
Of all the Pacers' perimeter players, Hill showed up the most, playing efficiently and intelligently.
Unfortunately he couldn't get it done alone, and that's mainly because no one knocked down shots when he gave them open looks at the bucket.
Overall Grade: B
Pat Lovell-USA TODAY Sports

Dwyane Wade, Heat
Even though Dwyane Wade is still nursing a knee injury, he had quite an impressive and efficient game.
Wade almost had a double-double with 18 points and eight assists, and he shot over 50 percent from the floor.
He also grabbed four rebounds and blocked two shots, and he did that all in just 35 minutes of action.
Wade is starting to come alive for the Heat at just the right time, and that includes a strong defensive focus he showed on Paul George throughout the night when he was forced to cover him.
Overall Grade: A-
Lance Stephenson, Pacers
Inefficiency was the name of the game for Lance Stephenson.
He shot an abysmal 2-of-10 from the field, and both of those shots happened to be from beyond the arc.
Defensively speaking, he couldn't hang with Wade, as he allowed him to control the game from the perimeter.
This is what you get with a young player like Stephenson. He'll show up for a game, then be nonexistent for the next one.
Overall Grade: D+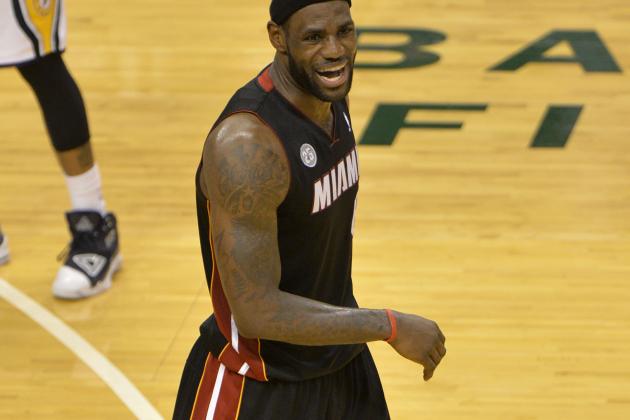 Jamie Rhodes-USA TODAY Sports

LeBron James, Heat
When you look at LeBron James' stat line of 22 points, four rebounds and three assists, it seems rather unimpressive.
But when you consider that LeBron helped the Heat control the tempo from the tip, you understand the kind of game he had.
LeBron dropped three left-handed bank shots throughout the game, proving that he is certainly the most versatile player in the NBA.
If there was any question of whether LeBron would respond after committing those two turnovers to end Game 2, he answered them by leading the Heat to an impressive and easy win in Game 3.
Overall Grade: B+
Paul George, Pacers
There were no late-game heroics for Paul George in Game 3.
He did account for 13 points and eight assists, but he committed five turnovers and shot a horrific 3-of-10 from the floor and 5-of-8 from the charity stripe.
It also looked like George had never seen a player use his left hand in the paint, as he allowed LeBron to abuse him each and every play in the interior.
George absolutely has to protect the ball more as this series rages on. His inefficiency killed them in Game 3, and it will continue to kill them as the Heat continue to assert their dominance.
Overall Grade: C-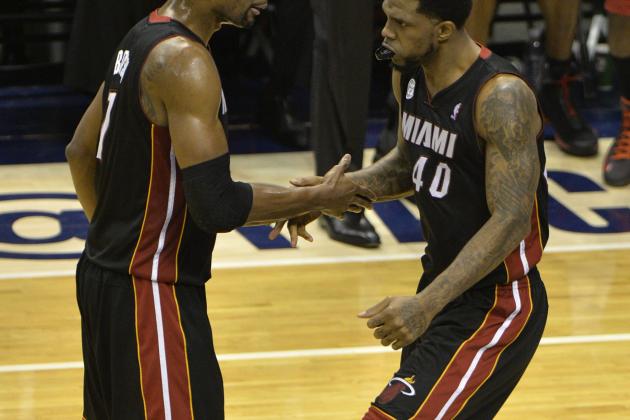 Jamie Rhodes-USA TODAY Sports

Udonis Haslem, Heat
Where in the world did this Udonis Haslem come from?
Haslem was sensational with 17 points and seven rebounds while shooting a ridiculous 8-of-9 from the floor.
No one could stop Haslem, not even himself. He only committed one turnover and every time he shot the ball, his beautiful arching shot fell right through the net.
If Haslem played like this every game for the Heat, they would be unstoppable. That's why they were so hard to hang with in Game 3.
Overall Grade: A
David West, Pacers
David West was really the only Pacer to actually show up.
He had a solid double-double with 21 points and 10 rebounds (four offensive), and he shot 8-of-16 from the floor.
West's defense was solid throughout the game, even though Haslem went off for a crazy 17 points.
The Pacers needed everyone to show up like West did, but they didn't. No one showed West's intensity, and that cost them.
Overall Grade: B+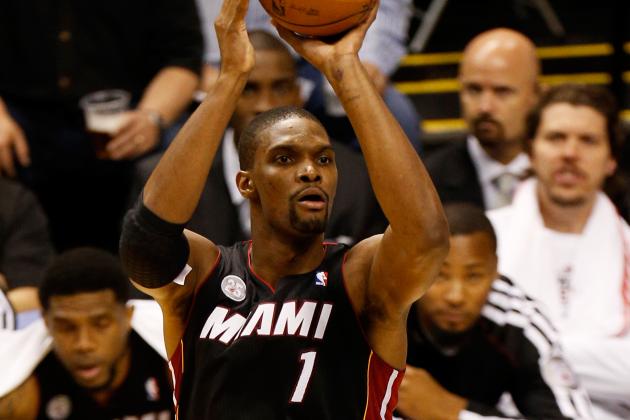 Gregory Shamus/Getty Images

Chris Bosh, Heat
The Heat didn't need much from Chris Bosh because everyone else wearing a Heat jersey was playing like the season was on the line. But he still had a productive evening.
Bosh ended Game 2 with 15 points and three rebounds, and he shot 6-of-10.
He contested Roy Hibbert more than he had all series long. That made a difference, as Hibbert shot just 4-of-12 from the floor.
The Pacers really let Bosh shoot from the perimeter, and while their thought is that he won't hit those shots every night, he just might. He looks like he's starting to find his groove again.
With that being said, Bosh really does need to get more boards or at least keep Hibbert off of them.
Overall Grade: B
Roy Hibbert, Pacers
Holy double-double, Roy HIbbert!
With 20 points and 17 rebounds, Hibbert dominated the Pacers' stat sheet. Unfortunately it wasn't close to being enough, and that's mainly because he shot just 4-of-12 form the field.
He did most of his damage from the charity stripe, shooting 12-of-15 from the free-throw line.
All in all, Hibbert had a solid game, albeit inefficient. But he simply can't beat the Heat by himself, and the Pacers saw that firsthand in Game 3.
Overall Grade: B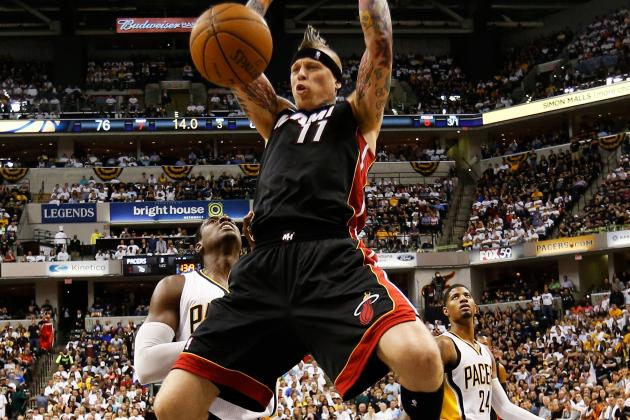 Gregory Shamus/Getty Images

Chris Andersen, Heat
Chris Andersen has yet to miss a single field goal this entire series.
He ended Game 3 with nine points, nine rebounds and two blocks in just 22 minutes. That's absolutely insane, especially when you consider the talent that he was going up against in David West and Roy Hibbert.
Andersen is really the spark the Heat need in this series, and if he continues to play like he has, the Heat are going to be very, very difficult to beat.
The entire team fed off Andersen's emotion, and that's what the Heat will continue to do because he is their hottest player right now.
Overall Grade: A
D.J Augustin, Pacers
Once again the Pacers' bench was rather pedestrian, and that applies to D.J. Augustin, too.
He played the most minutes of any bench player—13 minutes—and he scored just three points on 1-of-1 shooting.
Augustin wasn't aggressive enough, and his defensive play on the perimeter was atrocious. The Pacers need bench production to spark their offense, and Augustin hasn't done that this series.
If that doesn't change, the Pacers' season will be over after two more games.
Overall Grade: D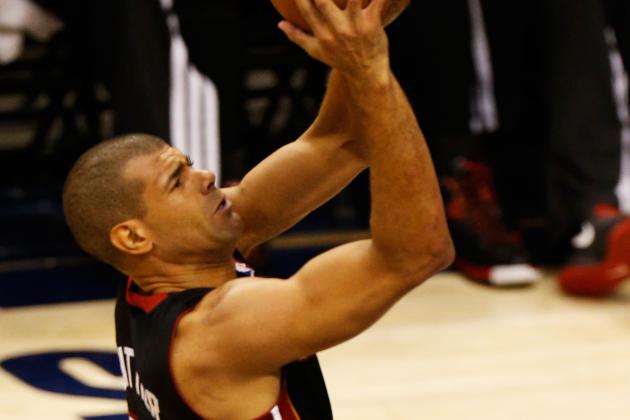 Gregory Shamus/Getty Images

Miami Heat Bench
Ray Allen is still continuing to struggle, as he scored just six points on 2-of-6 shooting from the field. But luckily the rest of the Heat's bench is making up for his lack of production.
Chris Andersen added nine points and nine rebounds, and Shane Battier and Norris Cole added 12 points along the way. Battier and Cole shot just 2-of-9 from the field, but they made up for it with aggressive defense.
With that being said, the Heat would love to see some consistent efficiency from their bench unit, and they aren't getting that from anyone except Andersen.
A major point of focus moving forward will be getting efficient production from their bench, because that will be key to beating whomever they face in the NBA Finals.
Overall Grade: C+
Indiana Pacers Bench
There's just no way around it: The Pacers' bench was absolutely awful in Game 3.
Their entire bench scored just 16 points all game, with at least four of those points coming when the game was over and players were earning minutes in scrub time.
No one coming off the bench dished out a single assist, which is an apt description of what kind of night the Pacers had.
It's rather simple. The Pacers can't beat the Heat in this series without bench production, because when their starters go to the bench, the Pacers' offensive simply stops.
Game 4 is going to be about bench scoring, and if Indiana doesn't get production from their second unit, this series will be all but over.
Overall Grade: D