2013 MLB Draft Prospects: 8 Best Outfielders in the 2013 Draft Class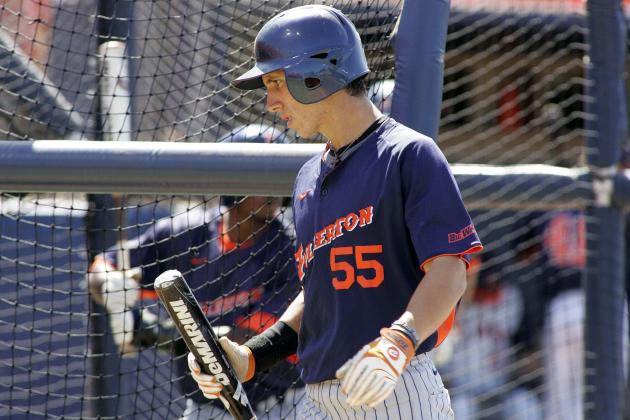 Jake Roth-USA TODAY Sports
Michael Lorenzen may be a risky choice, but his reward could be enormous.
This year's MLB amateur draft class is stacked with star outfielders, many of whom will have their names called within the first 30 picks on June 6.
Last June, nine outfielders were drafted in the first round of the amateur draft, most notably Byron Buxton, the Georgia native taken No. 2 overall by the Minnesota Twins. Buxton is already playing well in the Twins' minor league system and will be called up before you know it.
Using B/R MLB Prospect Lead Writer Mike Rosenbaum's complete pre-draft rankings as a primer, I examined some of the top outfield prospects for the upcoming draft. While there are some similarities between Mike and my own rankings, there are a couple of players who we don't see eye to eye on.
Keep in mind, though, that just because an outfielder is ranked higher than another does not mean that he will necessarily get drafted higher. Also, just because a player is on this list doesn't mean that he'll necessarily play the outfield for a big league team. Several of the upcoming players play other positions.
Let's get straight into the rankings, examining the top eight outfield prospects in the 2013 MLB draft class.
Begin Slideshow

»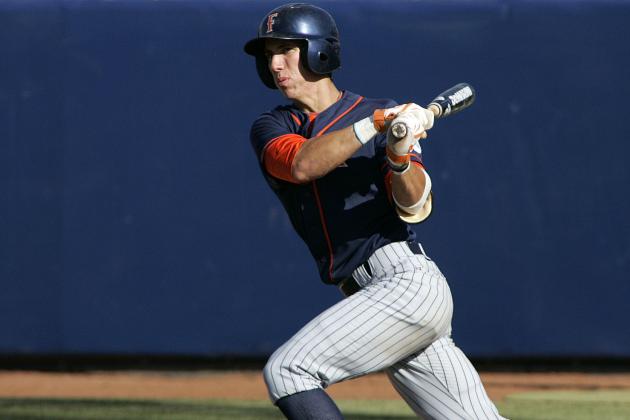 Jake Roth-USA TODAY Sports

Mike Rosenbaum OF Ranking: No. 11
Michael Lorenzen has two huge jobs for Cal State Fullerton—star outfielder and closer. At the plate, Lorenzen has been a machine this season. He's hitting .335/.419/.534 with seven home runs and 50 RBI in 56 games.
On the mound, Lorenzen is 3-0 with 18 saves and a 2.05 ERA through 22 innings of work. He has struck out 18 batters while walking four in 21 appearances.
The junior is a great defensive outfielder. Rosenbaum tagged him as having the best arm and for playing the best defense of any other outfielder in this year's draft class.
Keep in mind that he also believes that drafting Lorenzen comes with a bit of risk because he could decide to go back to school with one more year, among potential future growing pains as well.
A major league team will probably keep him in the outfield. While he's been good in relief for Cal State Fullerton, he doesn't have much upside going forward. From an offensive standpoint, many of the skills are there, which an organization can continue to develop.
Mike Rosenbaum OF Ranking: No. 6
Mississippi State has Hunter Renfroe listed as an outfielder, catcher and right-handed pitcher, but he's really just an outfielder. He hasn't thrown a pitch all season and he projects as an outfielder once in a big league organization.
Renfroe has been one of his program's top hitters this season, leading the Bulldogs in a variety of offensive categories. Through 55 games, he's hitting .352/.445/.652 with 15 home runs and 54 RBI.
What I like best about Renfroe is that he has great plate discipline and has a really keen eye for seeing the ball out of the pitcher's hand. Throughout the season, he walked nearly as many times as he struck out, while going down by way of strikeouts less than 13 percent of the time.
"You just don't see a talent like this come around very often," Mississippi State coach, John Cohen, told The Associated Press, via The Mississippi Press. "I've had a lot of (MLB)scouring directors come up to me and say 'It's been a long time since we've seen this type of athlete.' "
Renfroe is still a junior, but I have a good feeling that he's going to forego his senior season and sign with whichever team takes a chance on him.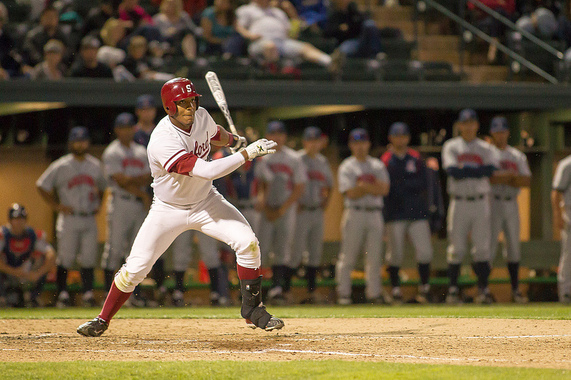 Image courtesy of Stanford University
Mike Rosenbaum OF Ranking: No. 3
Austin Wilson's stock has definitely dropped this season, but it's not really his fault. He's missed a considerable amount of time recovering from what a Stanford spokesman told Aaron Fitt of Baseball America "a minor injury" to his elbow.
Wilson has played in just 31 games this season and is hitting .288/.387/.475 with five home runs and 26 RBI. He rarely strikes out, but doesn't draw many walks either. He has fair speed, going 13-for-15 in stolen base attempts for his career, but nothing too crazy.
This year will not be the first time that Wilson has dealt with being drafted, though. The junior was drafted in the 12th round of the 2010 MLB draft by the St. Louis Cardinals. He elected to go to Stanford instead and now he's likely to be a first-round draft choice.
Wilson stands 6'5" and weights nearly 250 pounds, but I have a few concerns about his hitting. Rosenbaum tagged him as having the highest ceiling of any outfield prospect and I think that's because he's really not a guy who hits with much consistency.
Through three years at Stanford, Wilson has hit over .300 just once, and that came in his freshman season. I think that he could eventually become a solid corner outfielder, but he'll fail if his bat doesn't improve.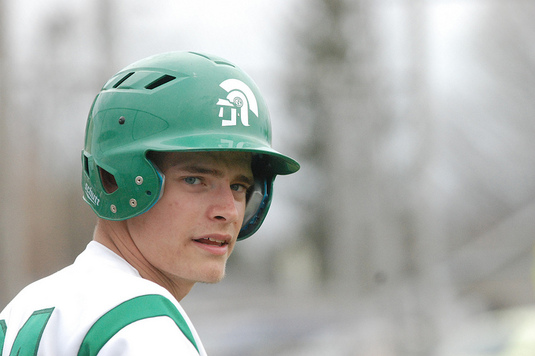 Image courtesy of New Castle HS (Ind.)
Mike Rosenbaum OF Ranking: No. 4
Trey Ball is an interesting prospect who may be better suited on the mound than in the outfield. The left-handed pitcher is arguably one of the top high school prospects in the country and is likely to be selected within the first 15 or so picks.
According to Sam Wilson of The Star Press, Ball entered last weekend batting .329 with nine home runs and 25 RBI. He also notes that Ball had a 0.90 ERA—as a starter, not a reliever.
Wilson writes that Ball is a humble high school senior and rarely likes to talk about the hype surrounding his name and where he might go in the draft. However, when Baseball America tweeted a link that rated him ninth overall, Ball decided to retweet it.
"I saw that, and it's exciting," Ball told Wilson. "I know some of the people around here, my family and friends, they want to see that kind of stuff. I kind of just hit the retweet button."
The team that decides to select him will be taking a risk, though—as there's some sort of risk with every non-college senior. Ball has committed to the University of Texas, according to Wilson, and will decide which path he's going to take once he's drafted.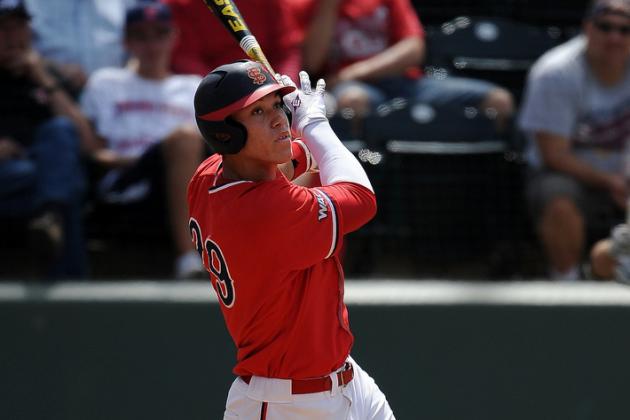 Image courtesy of Fresno St. University
Mike Rosenbaum OF Ranking: No. 5
Aaron Judge has gotten better and better since his freshman year at Fresno State.
He was a good high school prospect who was selected by the Oakland A's in the 30th round of the 2010 MLB draft. Needless to say, he'll be taken again this year.
Judge played in 55 games during his freshman season and hit a whopping .358. His sophomore season, though, was somewhat disappointing considering what he was able to do in 2011. In 2012, he hit just .308/.453/.458 in 58 games.
This season has improved Judge's stock in the draft. In 52 games, Judge is hitting .373/.461/.663 with 11 home runs and 35 RBI, both of which are career highs. It seems as if there's still room for improvement, though. He strikes out almost once a game, but has shown in prior seasons that he knows how to draw a walk.
The 6'7", 255-pound junior has made First-Team All-WAC twice in his career and should again be named to that team for a third time.
Rosenbaum believes that he's a bust candidate, but I don't agree completely. While Judge's strikeout totals are high and he has only been a "slugger" one season, I think there's a lot of upside going forward.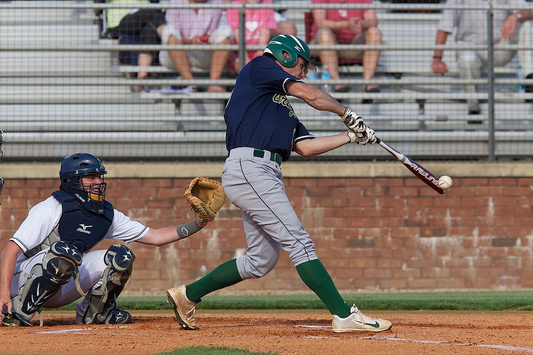 Image courtesy of Grayson HS (Ga.)
Mike Rosenbaum OF Ranking: No. 2
The state of Georgia has two fantastic high school outfield prospects, but the guy on the next slide is a little better than Austin Meadow, in my opinion, although that's clearly up for debate.
The two are actually good friends, according to MLB.com's Jonathan Mayo.
Meadows is a complete player who can hit with a bit of power—probably his biggest weakness, but he should be fine—has great speed, is a good defender and has a strong arm.
Can't beat that, right? Well, technically you can.
Meadows is hitting .535/.633/.903 this season, according to MaxPreps, with 19 extra-base hits, 29 runs and 28 RBI. Keep in mind that he is crushing everything he sees because his high school competition isn't close to the level at which he plays.
Meadows is certainly a great athlete. It's going to be fun to see how he improves going forward and what he'll decide to do after getting drafted. He'll likely be taken within the first five picks, but could opt to go to college before playing professional baseball.
Clemson has a commitment from Meadows for next year and I'm sure the Tigers would benefit from having them on their roster. Maybe Meadows will take the money or maybe he'll wait.
Mike Rosenbaum OF Ranking: No. 1
Clint Frazier is the best high school outfielder in the country, including better than the likes of Austin Meadows.
Rosenbaum has Frazier as the best outfield prospect and the player who is most ready for the big leagues. I couldn't agree more.
Frazier is a stud for his Georgia high school squad and deserves all of the recognition that he has been getting. MaxPreps has Frazier hitting .485 this year with 45 RBI and 56 runs in 32 games. That's absolutely remarkable, even if it just high school.
Frazier is already a five-tool player. He hits with consistency and for power, has great speed, a solid arm in the outfield and knows how to catch a fly ball like a professional. For those reasons, he'll like be picked within the first five picks in the draft, if not in the top three.
I think it will be interesting to see how MLB teams approach this draft and Frazier is a prime example. He has already committed to Georgia and is certainly not guaranteed to sign a professional contract, no matter which team drafts him.
There's an enormous risk to drafting a high school player, or a junior in college for that matter, because he may not sign. Wasting a top-five draft pick is an enormous loss too. There's no doubt Frazier is a great outfield prospect, but a team had better be sure he'll sign on the dotted line.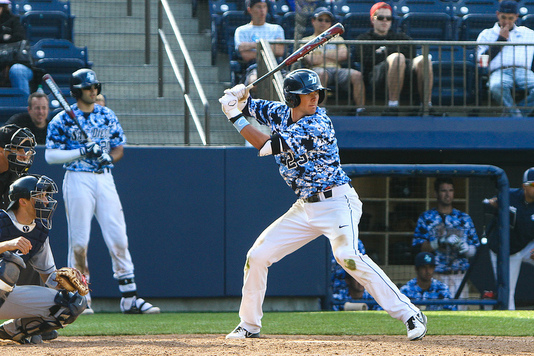 Image courtesy of University of San Diego
Mike Rosenbaum OF Ranking: N/A
Now I know what you're thinking.
I've already gone through Rosenbaum's top outfield prospects so how in the world could I still have one more left? Well, it's because this collegiate star plays third base more often than he plays the outfield.
Kris Bryant is an incredible talent who has had a fantastic year. In 58 games for the University of San Diego, Bryant is hitting .340/.500/.860. Yes, his slugging percentage is .860. The reason for that is because he has a ton—and I repeat, a ton—of power.
There's been a lot of chatter surrounding Bryant and that's because he is hitting balls out of the park left and right. He has 31 home runs, which is 20 more than anyone else on his team. It doesn't matter what college team you play for or what conference your team is in, 31 home runs screams, "Wow!"
For the record, among corner infielders, Rosenbaum has Bryant as the top prospect, being the player with the highest ceiling and the best arm.
I think that Bryant can translate well to playing the outfield regularly, most likely in left or right field. He doesn't have the speed for center, in my opinion.
The 6'5", 215-pound junior is a great prospect and is sure to hear his name called within the opening five picks of the draft. I've talked about how the risk might not be worth the reward for some college and high school players, but in this case, it is. Bryant is going to be a star in the big leagues some day.