Biggest Threats to Potential Miami Heat Dynasty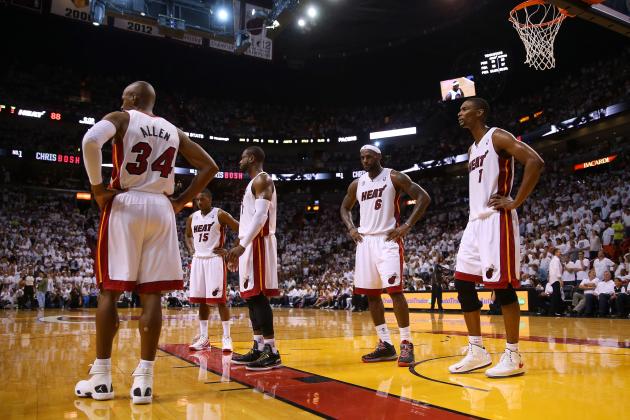 Mike Ehrmann/Getty Images
There are many forces that can ultimately derail the Miami Heat.
The current run of success for the Miami Heat won't last forever, and the possible causes for its impending demise are as varied as one can imagine.
Whether it be salary-cap restraints, the threat of another team or Miami's own inability to keep everyone healthy and happy, there are plenty of forces—both internal and external—that can ultimately derail the Heat.
So, despite LeBron James' infamous boast of "not one, not two, not three..." championships, the prospect that Miami will dominate the league for the rest of the decade seems to be remote at best. In fact, the end of the Heat reign may come far sooner than anyone had initially imagined.
Begin Slideshow

»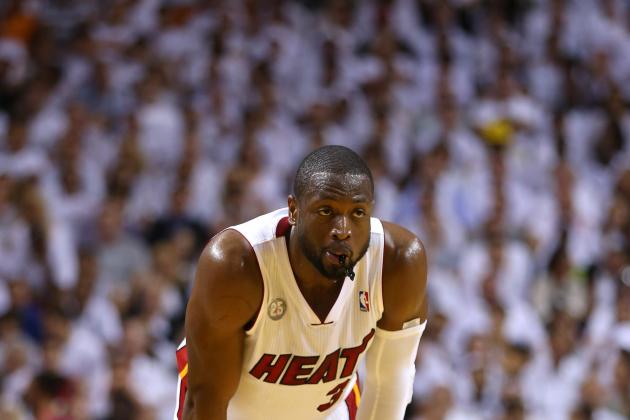 Mike Ehrmann/Getty Images

Miami Heat shooting guard Dwyane Wade has looked a bit more spry in recent action, but it's clear that his right knee is causing him a significant amount of discomfort. Wade and the Heat training staff may be able to mitigate the symptoms in the short term, but it doesn't appear to be an injury that will heal anytime soon.
"I feel the same," Wade told Barry Jackson of the Miami Herald after a week-long break before the Eastern Conference Finals. "Time doesn't help me right now."
In less than 12 months, Wade has had significant issues with both of his knees: Last July, he underwent arthroscopic surgery on his left knee that caused him to miss the Olympics. At 31 years old and with nearly 800 NBA games on his odometer, it's fair to wonder how much gas Wade has left in the tank.
If Wade decides to hang it up early, Miami will have a tough time defending its seat on the throne, even with LeBron James and Chris Bosh in the fold.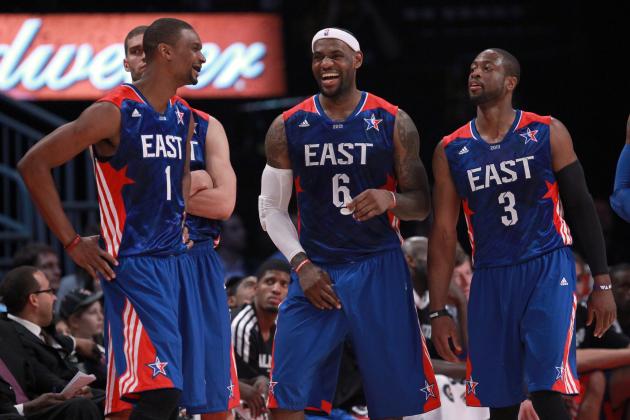 Ronald Martinez/Getty Images

Rare is the star player who is willing to sacrifice personal accolades over an extended period of time in exchange for team success.
Shaquille O'Neal and Kobe Bryant could have won a few more titles had they chosen to stay together, but Los Angeles proved to be too small for the two of them, and O'Neal eventually made his way to Miami.
And while we haven't heard many rumblings of discord coming out of South Beach, that doesn't necessarily mean that none of the team's Big Three aren't itching to go their separate ways. Case in point: Chris Bosh is an All-NBA-caliber player, but he often gets lost in the shadows of James and Wade. Does he have the urge to move on?
James has been frequently criticized by the media for his decision to "chase a title" with the Heat—perhaps he feels the need to prove himself without the help of two All-Stars around him. We may never know if this is the case, but ego could be the thing that ultimately tears the Heat dynasty apart.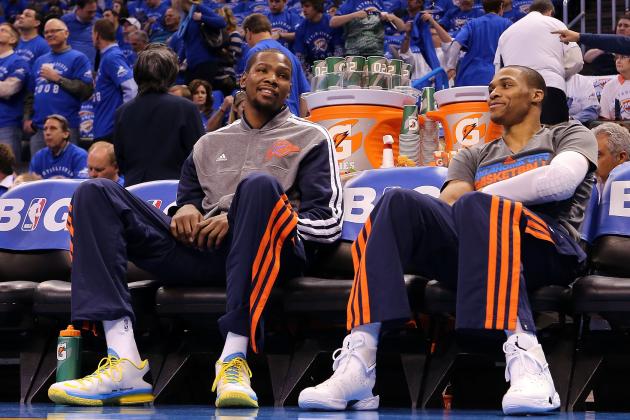 Christian Petersen/Getty Images

If Russell Westbrook didn't tear his meniscus against the Houston Rockets earlier this postseason, there's a good chance that the Oklahoma City Thunder would be making their second straight trip to the NBA Finals.
It's fair to second-guess the team's decision to hitch its wagon to Serge Ibaka instead of James Harden, but it's clear that the Thunder are still among the class of the Western Conference. Westbrook and Kevin Durant are two top-10-caliber players, and the two of them alone are capable of leading Oklahoma City deep into the playoffs for several years to come.
Inexperience ultimately doomed the Thunder when they squared off against the Heat in last year's finals, but don't be surprised to see Oklahoma City make an extended run at the Larry O'Brien Trophy next June...and for several summers to come.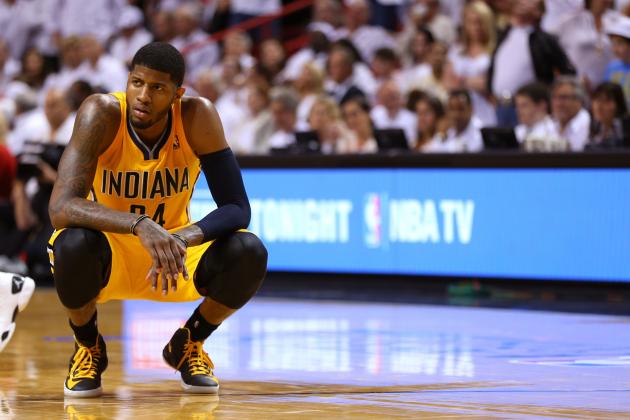 Mike Ehrmann/Getty Images

Through the first three games of the Eastern Conference Finals, the Indiana Pacers have shown the world that they're more than capable of knocking off the Heat.
While Father Time is slowly creeping up on Miami—Wade, especially—many in the Pacers' core group are just entering into their prime. Twenty-three-year-old swingman Paul George is fast approaching superstar status, and three other members of Indiana's starting lineup (George Hill, Lance Stephenson, Roy Hibbert) are under 28 years old.
If and when the Pacers part ways with small forward Danny Granger (whose deal runs out next summer), the team will have more than enough cap space to surround George with an improved supporting cast.
Indiana is well-positioned to be the next torchbearer in the Eastern Conference, and the Pacers may just snatch it out of Miami's hands this year if the Heat aren't careful.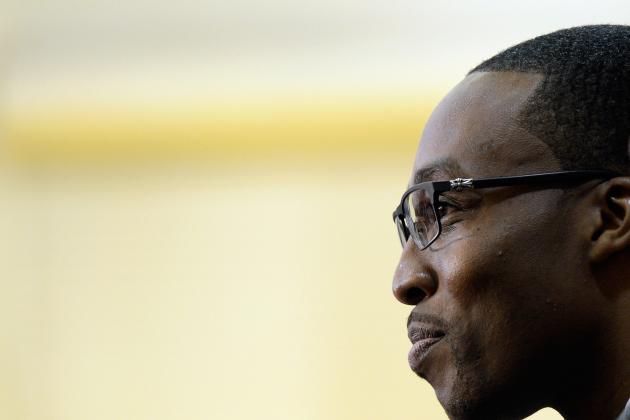 Kevork Djansezian/Getty Images

The Dwight Howard experiment didn't quite work out in Los Angeles, but the seven-time All-Star would be an ideal fit with the Houston Rockets.
According to Ken Berger of CBS Sports, Howard is intrigued by the thought of playing alongside James Harden, and the Rockets have plenty of cap space to make a deal happen.
The potential addition of Howard would make Houston a perennial contender in the Western Conference (if not the odds-on favorite) and a serious threat to the Miami Heat. In fact, the possibility of a Howard/Harden duo should strike fear in the hearts of coaches and general managers across the NBA.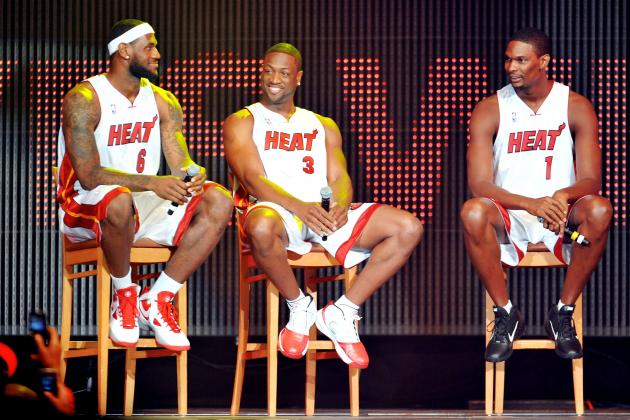 Doug Benc/Getty Images

At midnight on July 1, 2014, James, Wade and Bosh could all potentially be free agents. Each is scheduled to make a shade over $20 million in 2014-15, but each also has an opt-out clause that would allow them to test the open market.
It was a wise negotiating ploy by the trio to both maximize their future value as well as giving themselves an escape route if the whole "superteam" thing didn't work out. With two finals appearances and one NBA title in hand, the experiment was a clear success, but the end game is unclear at best.
Unfortunately for the Heat, re-signing all three players at market value (or even just retaining them) would put the team well into luxury tax territory.
Miami's ability to fill out the roster would be extremely hampered given the fact that James, Wade and Bosh's combined salaries would be in excess of $61 million per season beginning in 2014-15.