Winners and Losers of the NHL Playoff Weekend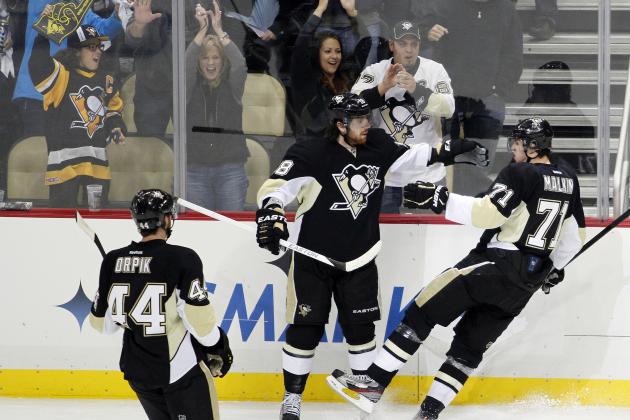 Justin K. Aller/Getty Images
Pittsburgh cruised into the Eastern Conference Final on Friday night.
The NHL playoffs provided a healthy dose of suspense and entertainment over this Memorial Day weekend.
We saw the Eastern Conference Finals get set, as the Pittsburgh Penguins and Boston Bruins each dispatched their semifinal opponents in five games.
Meanwhile, the drama continued in the west as the Chicago Blackhawks and San Jose Sharks each staved off elimination to fight another day.
Here's a look at a few of the winners and losers of our playoff weekend. Do you think any other big moments stood out? Feel free to share them in the comments section below.
Begin Slideshow

»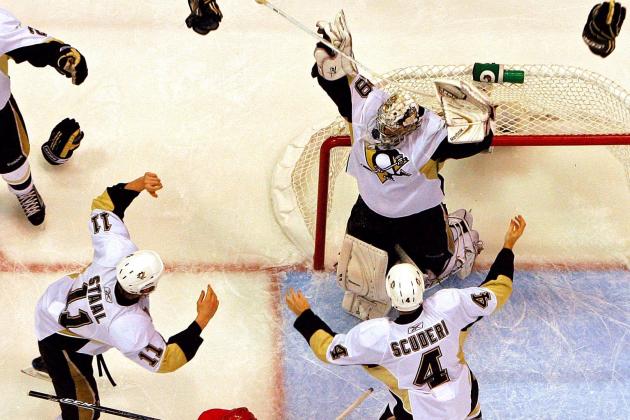 Jim McIsaac/Getty Images
Past rivals the Red Wings and Penguins could meet again in the 2013 Stanley Cup Final.
Maybe the NHL lockout and shortened season prevented NHL teams from overhauling as much as they usually would, but of the six teams left in the 2013 playoffs, five of them have won Stanley Cups in the last five years:
Los Angeles Kings, 2012
Boston Bruins, 2011
Chicago Blackhawks, 2010
Pittsburgh Penguins, 2009
Detroit Red Wings, 2008
The San Jose Sharks are the only team without a Cup that's still alive.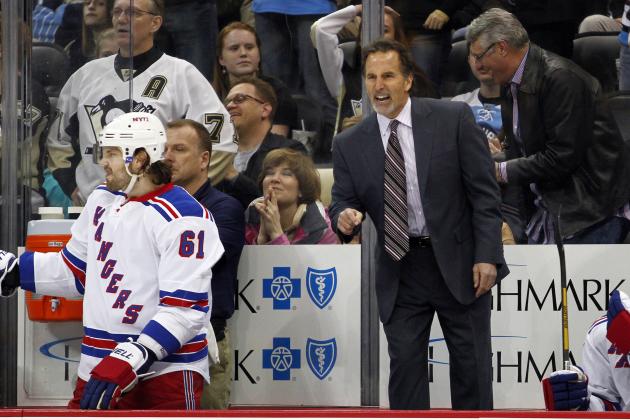 Justin K. Aller/Getty Images

Despite all the big-money players starring on the New York Rangers, no one grabs more headlines than their dramatic head coach, John Tortorella.
Torts' testy relationship with the media became infamous during the Rangers' playoff run last year. Click here to read the transcript of an absurd optional skate presser from last May courtesy of Pat Leonard of the New York Daily News.
Following his team's defeat by the Boston Bruins on Saturday, Tortorella was more humble than we've heard him in quite some time, admitting that "some" of the responsibility for the loss falls on him.
Will Rangers management stand by Tortorella in hopes that he has learned from the experience? Or will they choose to hand the reins to a new bench boss in hopes that he'll be able to draw better performances from New York's big gunners in 2013-14?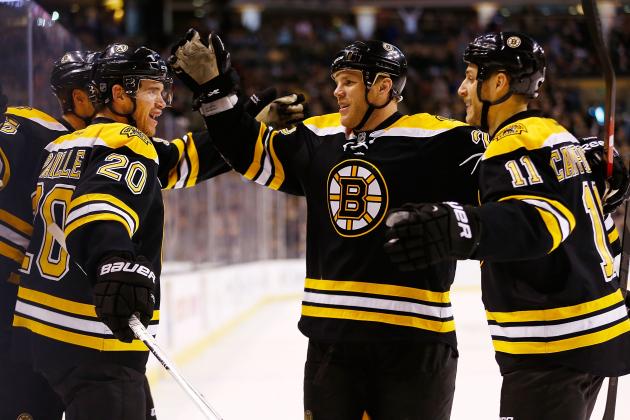 Jared Wickerham/Getty Images

Role players are often critical assets in the Stanley Cup playoffs, contributing valuable minutes to relieve the top players and even chipping in the odd goal here and there.
The Boston Bruins' "Merlot Line" has gone one step further. In Round 2 against the New York Rangers, Daniel Paille, Shawn Thornton and Gregory Campbell combined for four goals and six assists. They also stayed true to their role as agitators, as Shawn Thornton's Game 5 fight against Derek Dorsett clearly demonstrated.
Boston's fourth line was a key part of its 2011 Stanley Cup win. These three players have done more than their share so far to get the Bruins back into the final four.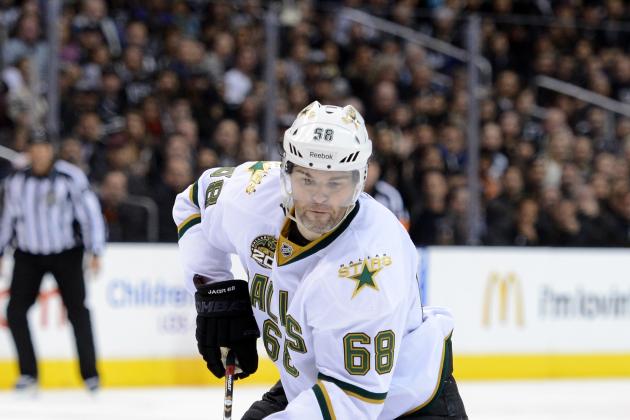 Harry How/Getty Images
Dallas turned free-agent signing Jagr into a bundle of valuable assets.
When Boston officially advanced to the Eastern Conference Finals Saturday, the conditional draft pick traded to the Dallas Stars for Jaromir Jagr upgraded from a second-round choice to a first-rounder.
Jagr had two goals and seven assists in his 11 regular-season games with Boston. In the playoffs, he had four assists against Toronto and was held pointless against the Rangers. Still, Jagr is the active league leader in playoff goals, assists and points and is sure to be motivated against his old team of the Penguins.
The Stars also acquired two prospects for Jagr. Not a bad return on investment for a short-term free agent signed less than a year ago.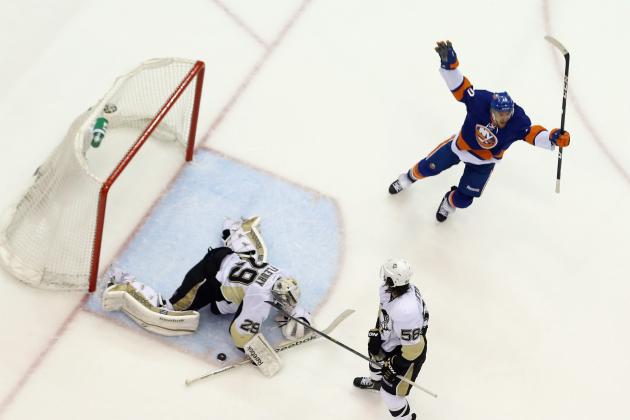 Bruce Bennett/Getty Images
Marc-Andre Fleury hasn't seen the net since Game 4 of Round 1.
Goaltender, Marc-Andre Fleury, allowed 14 goals in four games against the New York Islanders in the Penguins' first-round series. He was benched in Game 5.
Backup Tomas Vokoun has given up 14 goals in seven games, where Pittsburgh's record has been 6-1.
Vokoun, who is not taking anything for granted, currently sits third in playoff goals-against at 1.85 and second in save percentage at .941. He's showing he might be the most important acquisition that Pittsburgh made as it geared up for this year's playoff run.
The 36-year-old Vokoun might not be a long-term goaltending solution, but with every playoff win, he casts a bigger shadow over Fleury's future in Pittsburgh.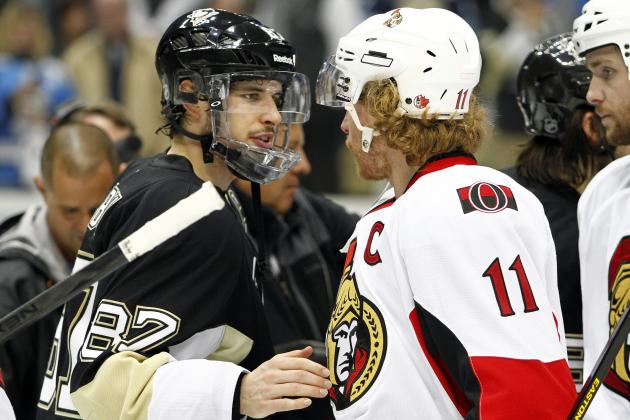 Justin K. Aller/Getty Images
Sidney Crosby has been cleared to play without the protective jaw-piece on his helmet.
Entering the playoffs, Sidney Crosby remained sidelined with a broken jaw suffered late in the regular season.
Crosby returned to action in Game 2 of the first-round series against the Islanders. He's been wearing a football-style helmet to protect his jaw but hasn't shown many ill effects, as he's put up 15 points in 10 games so far.
Still, it's good news for the Penguins that Crosby has been cleared to play with a standard helmet going forward. Crosby is such a talent that he can dominate even when he's less than 100 percent, but Pittsburgh will need him at his best as the playoffs advance to the later rounds.
http://triblive.com/sports/penguins/4086194-74/crosby-game-points
Justin K. Aller/Getty Images

Ottawa's sound dismissal by Pittsburgh on Friday signaled the end of hockey in Canada for another season.
Canada had four of its seven teams in the hunt when the playoffs got underway. Three teams were gone after Round 1. The Senators' departure means it has now been 20 years since a Canadian team hoisted the Stanley Cup, an unprecedented national drought.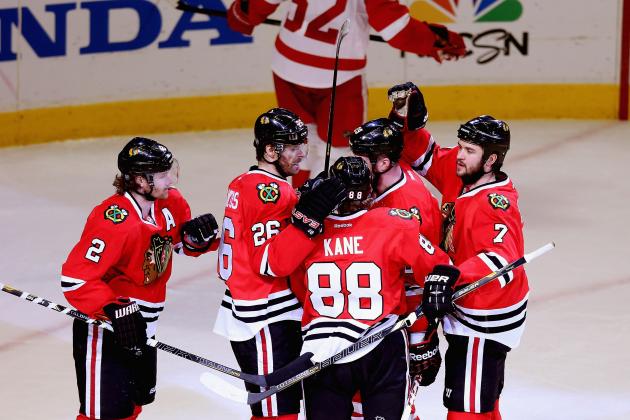 Jonathan Daniel/Getty Images
Seabrook and Keith helped spark the Blackhawks to a Game 5 win.
With the season on the line, Chicago Blackhawks coach Joel Quenneville reunited his top defensive pairing of Duncan Keith and Brent Seabrook on Saturday night, with impressive results.
Seabrook had struggled in Games 3 and 4 against the Red Wings, but he found his form again in Game 5. In 23:20 of ice time with Keith, Seabrook fired seven shots on Jimmy Howard and picked up his first point of the series, a power-play assist on Andrew Shaw's game-winning goal.
From top to bottom, the Hawks had a much better effort this weekend to climb back into their series. Seabrook and Keith will need to keep the magic flowing on Monday in Detroit if they hope to force a Game 7.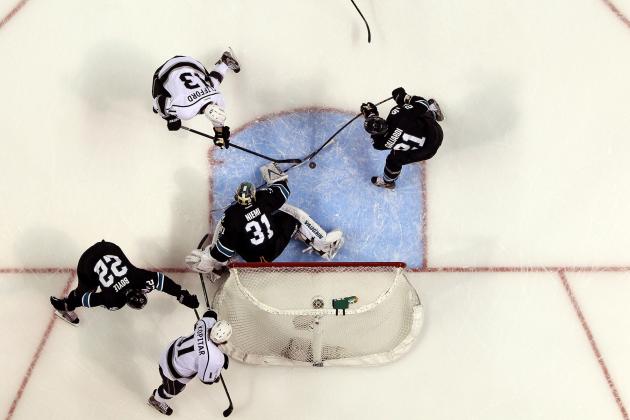 Ezra Shaw/Getty Images
Home ice advantage means Game 7 goes Tuesday in Los Angeles.
The Los Angeles Kings and San Jose Sharks are both undefeated at home so far in the 2013 playoffs.
The trend continued on Sunday night, as San Jose grabbed a 2-1 win at the Shark Tank to force Game 7 in their Western Conference semifinal against the Kings.
Both teams have an uncanny ability to get up for games in their rink. They finished the regular season just two points apart in the standings, which could prove to be the difference-maker on Tuesday.
Will the friendly confines of the Staples Center be enough to propel the Kings on to the conference finals?
Thanks for reading. For lots more NHL news and views, feel free to follow me on Twitter: