Musings on UFC 160: Cain Velasquez vs. Bigfoot Silva 2 Fight Card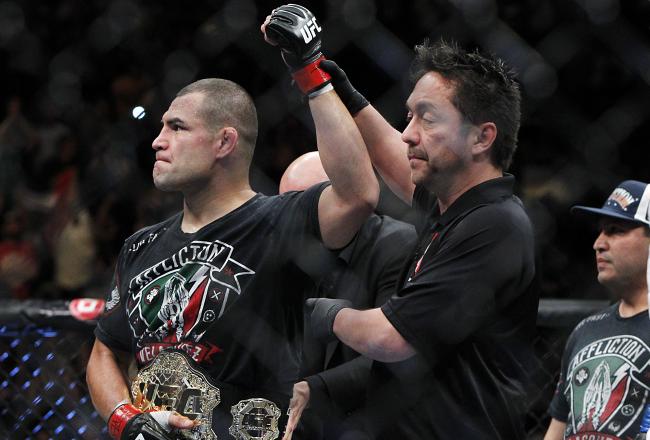 Gary A. Vasquez-USA TODAY Sports
Another Referee Waning That Leads to Nothing
Another example of "hey why not cheat" occurred during the Estevan Payan versus Jeremy Stephens bout. Payan grabbed the fence in the first round and was warned by referee Chris Tognoni that he would take a point away if he did it again. When Payan grabbed the fence in the third round, what do you think happened? That's right, another warning, no deduction.
The odds of a point getting taken away for a fence grab seem to be in the range of one in a 100. The message this sends to fighters is that they may as well cheat, especially if they're losing.
C'mon refs, you're in the cage for two reasons, to protect the fighters and enforce the rules. Allowing fighters to cheat is not enforcing the rules. Take the point!
-----
End of the Road for Brian Bowles?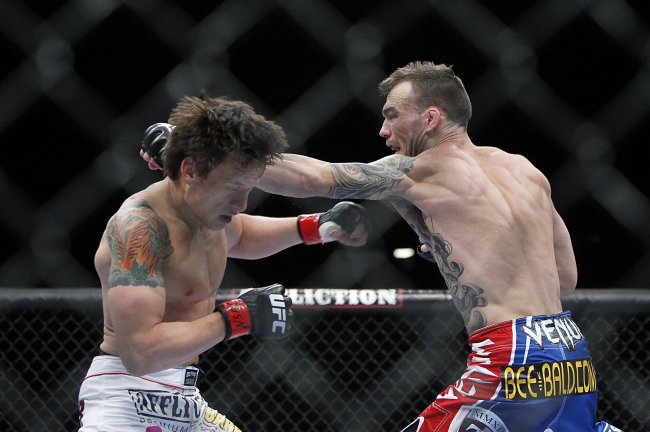 Gary A. Vasquez-USA TODAY Sports
Brian Bowles was back in the Octagon for the first time since November 2011, and like that fight, Bowles left with a second-round stoppage loss on his record, as he was TKO'd by George Roop.
One has to wonder if the 32-year old former WEC bantamweight champion remains emotionally invested in the fight game at this point in his career. If he's not, it may be time for him to walk away, but then again, with two stoppage losses in a row, the UFC may make that decision a bit easier for him if they release Bowles.
-----
Time For a Top-10 Opponent for Khabib Nurmagomedov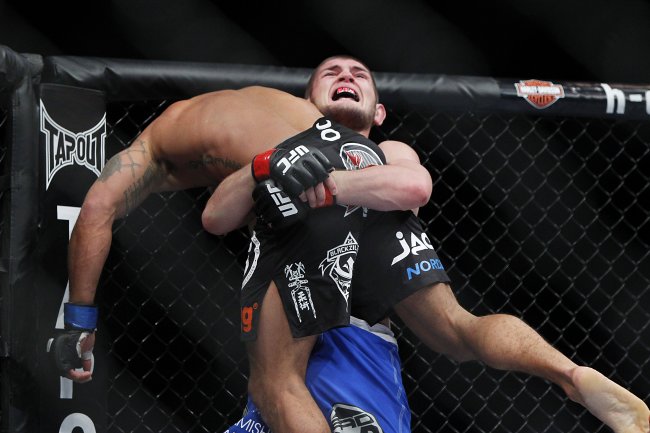 Gary A. Vasquez-USA TODAY Sports
During the post UFC 160 media scrum, UFC president Dana White described Khabib Nurmagomedov's win over Abel Trujillo as an "ugly wrestling clinic." White then went on to say that Nurmagomedov needed to step up to face stiffer competition.
It's hard to disagree with either statement. Nurmagomedov totally dominated the fight with his wrestling, landing a UFC-record 21 takedowns on 27 attempts. The number of takedowns Nurmagomedov landed were only two short of the number of significant strikes that he landed throughout the fight.
The win moved Nurmagomedov's overall record to 20-0 and his UFC record to 4-0.
It will be interesting to see if the win launches Nurmagomedov into the top 10 in the UFC's deep lightweight division. It will also be interesting to see who the UFC matches Nurmagomedov against in his next fight. It's high time to put Nurmagomedov against a fighter who can wrestle with him or force him to strike, maybe Gray Maynard?
-----
How will Abel Trujillo Respond to Loss at UFC 160?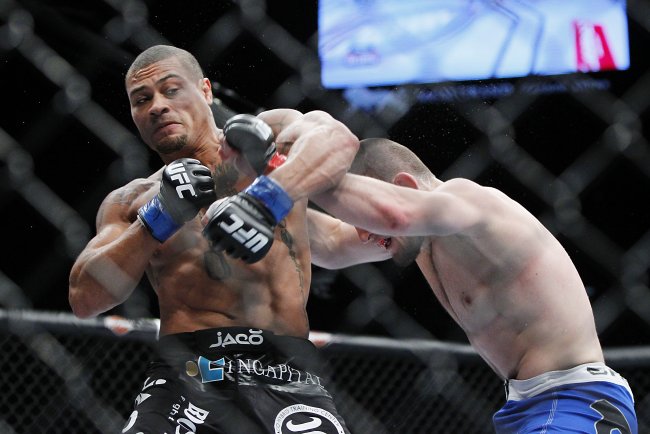 Gary A. Vasquez-USA TODAY Sports
Between the second and third round, Abel Trujillo's corner implored him to not quit as he was being rag-dolled by Nurmagomedov. Trujillo was clearly frustrated as Nurmagomedov repeatedly took him to the mat. During the third round, the only defense that Trujillo mounted was to throw his hands in the air in frustration and look to the referee for assistance, assistance that did not come.
Did Trujillo just give up? Only he can answer that question. I'm more interested to see what comes from the lesson he learned. The loss was a moment of truth for Trujillo, showing him that he has a weakness he has to shore up. What he does when he returns to the Blackzilian camp following this weekend will tell the real tale about what kind of fighter Trujillo is.
-----
Good Stoppage in Whittaker versus Smith Fight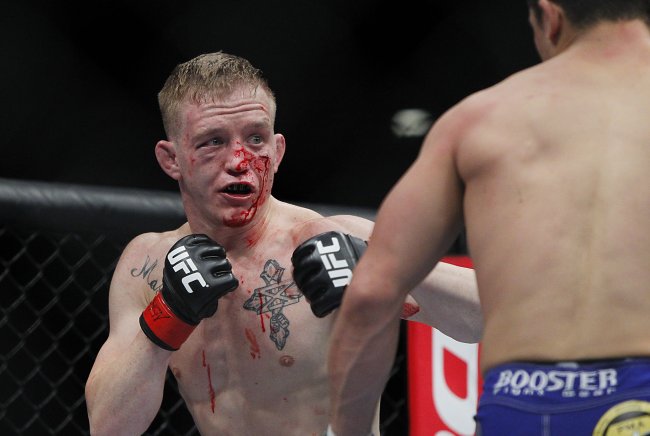 Gary A. Vasquez-USA TODAY Sports
Robert Whittaker used an effective striking game to earn the third-round stoppage over Colton Smith on Saturday night, but some, including UFC commentator Joe Rogan, thought the stoppage may have been a bit hasty. It wasn't.
Smith was clearly on wobbly legs as he tried to convince the referee that the stoppage was early. The referee did his job in this bout, saving Smith from taking any more abuse than he needed to take.
-----
A "Puzzling Decision" in Bermudez versus Holloway Fight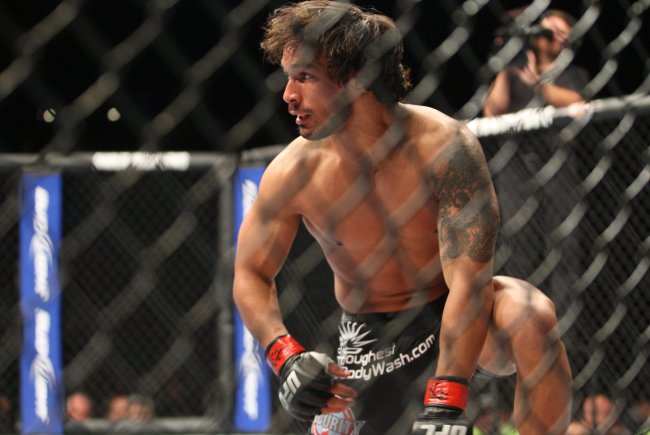 Bruce Fedyck-USA TODAY Sports
Dennis Bermudez earned a split-decision victory over Max Holloway at UFC 160, and there was some debate concerning that decision.
At first glance, the FightMetric numbers seem to justify the win. Bermudez outstruck Holloway, 75 to 73, and earned four takedowns on nine attempts. However, those numbers are a bit misleading. Bermudez earned only one of those takedowns prior to Round 3 and that takedown came near the end of the second stanza.
The striking numbers through the first two rounds were in favor of Holloway, as the younger fighter outstruck Bermudez, 51 to 37. The diversity of attack was also on Holloway's side as he mixed up his striking throughout the bout.
Looking at the fight on a round-by-round basis, it's hard to not give the win to Holloway, but the judges didn't see it that way, leaving UFC commentator Joe Rogan somewhat dumbfounded. "I gotta say, that's a puzzling decision," Rogan said as Bermudez mean mugged for the camera in the Octagon.
I have to agree with Rogan on this one.
-----
Score One For Donald Cerrone's Sports Psychologist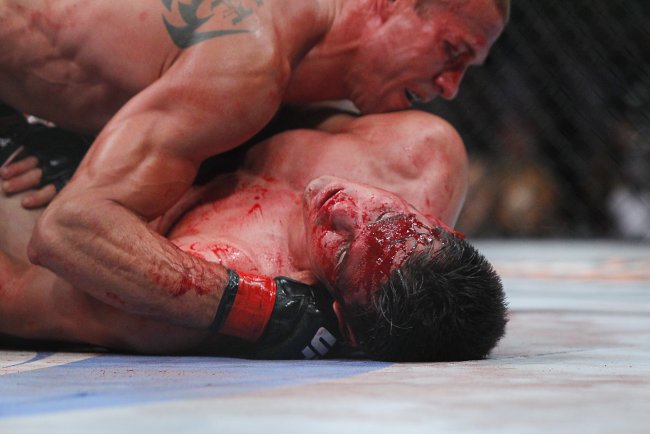 Gary A. Vasquez-USA TODAY Sports
Prior to UFC 160, Donald Cerrone told MMAFighting.com that he had been working with a sports psychologist:
It's like, I don't know if it's the camera or the pressure, but I've got to figure that out. Whatever makes me fight hard to get there, and then I seem to, like, fold under pressure. I don't know. I'm tryin' to [figure it out]. I got a new sports psychologist tryin' to work those kinks out.
After his win over K.J. Noons on Saturday night, Cerrone acknowledged the help of his sports psychologist, telling Joe Rogan, in the cage, "I've been working with a sports psychologist, Brian Cain, trying to start fast and finish strong, and follow the game plan. I get caught up in that 'oh, I'm a better striker than you game and today I was really trying to work my takedowns, I feel good."
The win was a big one for Cerrone, letting the lightweight division know that he may have been down after his loss to Anthony Pettis at UFC on Fox 6, but that was just a temporary setback.
-----
Should the Cerrone versus Noons Bout Have Been Stopped?
Bruce Fedyck-USA TODAY Sports
One of the more important roles of the referee and doctors that work MMA fights is to protect the fighters. There may have been some failure in that regard during the Cerrone versus Noons bout.
Noons went to his corner between Rounds 2 and 3 and clearly said, "I can't see out of my eye." The blood, from a cut above Noons' eye was then wiped away, and he was asked if he could continue. Noons replied, "Yeah, get the blood out." When he said that, there was no blood in the eye, none at all. A fact that was acknowledged by someone working the corner, who stated, "The blood is out."
At that point, Noons was asked if he wanted to continue, to which he replied, "of course." The response was not a surprise. After all, Noons is a professional fighter. It could be debated that the doctor should have stepped in at that point, clearly aware that Noons had asked the blood to be wiped from an unobstructed eye and protected Noons from himself.
-----
T.J. Grant Answers Questions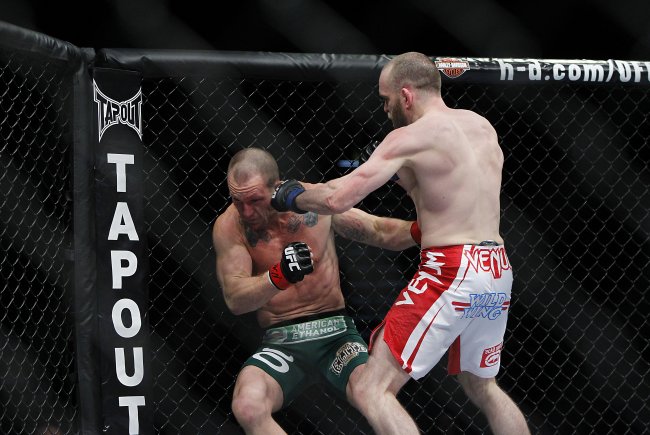 Gary A. Vasquez-USA TODAY Sports
Heading into UFC 160, many fans had doubts about T.J. Grant. Those doubts, for the most part, should have been erased following Grant's first-round TKO win over Gray Maynard.
Maynard came out swinging for the fences. Grant took the best Maynard had to give and waved him in for more. When Grant found his opening, he dropped Maynard with a right and never let Maynard recover, just teeing off with punches and knees and earning a shot at UFC lightweight champion Benson Henderson.
And yes, Grant does deserve that title shot.
-----
Time for a Top-10 Opponent for Glover Teixeira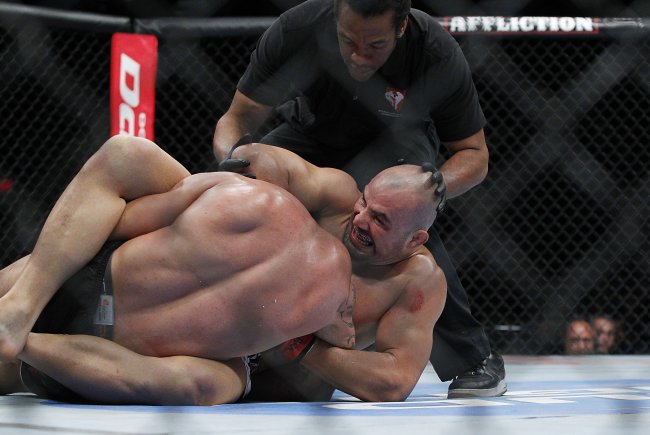 Gary A. Vasquez-USA TODAY Sports
Despite what Joe Rogan said during the pay-per-view broadcast, James Te Huna was not the biggest test of Glover Teixeira's career. In fact, Teixeira was the heavy betting favorite to take the win. With that fact out of the way, Teixeira's win was pretty impressive, and it should set him with a fight against a legitimate top-10 light heavyweight.
If it's up to Teixeira, according to MMAFighting.com, that fight will be against the winner of the upcoming Rashad Evans versus Dan Henderson bout. Evans and Henderson will meet in the main event of UFC 161.
Sounds good to me.
-----
Junior dos Santos is in Love With His Boxing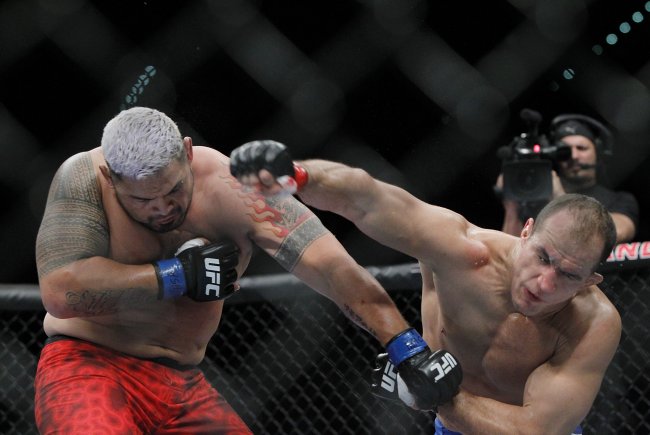 Gary A. Vasquez-USA TODAY Sports
The question heading into UFC 160's co-main event was would Junior dos Santos stand with Mark Hunt, or would he decide to finally show us that he does indeed have a ground game?
The answer? Dos Santos, with the exception of a single takedown, was going to stand with Hunt, and he was going to outstrike him.
A risky proposition? Maybe it was, but it worked for dos Santos. What really worked for dos Santos was the wheel kick that he delivered from out of nowhere, knocking Hunt flat on his back and ending the fight in the third round.
It was an impressive performance from dos Santos, but it was also a clear indicator that dos Santos is in love with his boxing. Dos Santos may want to end that love affair before he meets Cain Velasquez again. At the very least, he should step out on his striking and pay a little visit to his jiu-jitsu mistress.
-----
No Case for Antonio Silva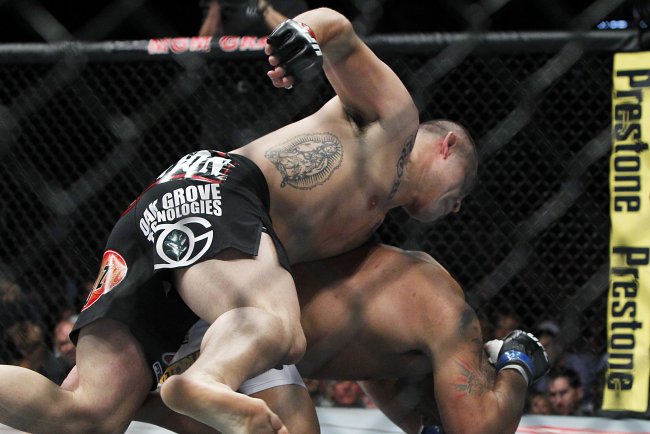 Gary A. Vasquez-USA TODAY Sports
Give Antonio Silva some credit, the ice pack to the back of the skull during the UFC 160 post-fight press conference was a nice touch, but it wasn't going to do much in the way of selling his theory that he was beaten about the back of the head during his loss to UFC heavyweight champion Cain Velasquez.
By the time the single Velasquez punch strayed to the back of Silva's head, the fight was effectively over. At best, the single strike would have earned a warning from the referee.
Velasquez is in a class by himself, a single illegal blow wasn't going to change that fact.
-----
USA TODAY Sports
Mike Tyson Should be a UFC Fixture
Mike Tyson should be cageside for every UFC fight card. The fighters loved it, the fans loved, Tyson loved it. Make it happen, Dana White.
-----
Commercials During a Pay-Per-View?
Uh yeah, what was with the commercials? I understand that the Fertitta brothers are behind Ultimate Poker, but that site, at least for real cash, can only be played in Nevada at this time.
We were also shown commercials for Las Vegas as well as a promo/commercial for Harley Davidson. Am I the only one that found this odd during a pay-per-view?
-----
The Blood!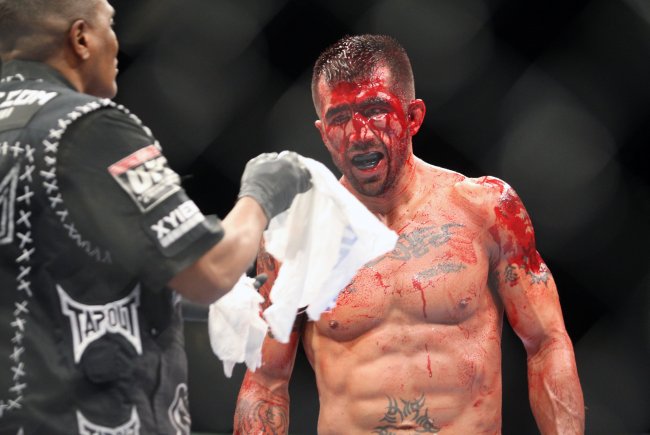 Bruce Fedyck-USA TODAY Sports
Was UFC 160 the bloodiest fight card from start to finish in UFC history? If it wasn't, it had to be in the top three. By the end of the fight, the canvas looked like a crime scene.
The amount of blood that was spilled during the event was just a little reminder to everyone that the individuals who choose to become professional MMA fighters are a very special breed.
This article is
What is the duplicate article?
Why is this article offensive?
Where is this article plagiarized from?
Why is this article poorly edited?