Miami Dolphins OTAs: Latest Player Reports and Analysis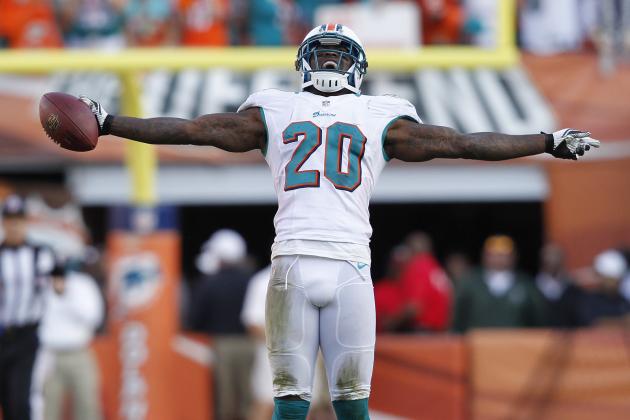 Joel Auerbach/Getty Images

As the season begins to get closer, teams are getting an idea of which players will be worth keeping when August and September roll around.
The Dolphins will have a somewhat different offseason than many other teams in the league. They have a lot of new veteran players and rookies who will be looking to mesh and begin building chemistry. It will be interesting to see how they integrate and begin to understand how each of them fits on this team.
Miami also has their top three rookies sidelined with injuries, which doesn't allow the coaching staff to get an early look at them.
Let's take a look at some of the top story lines in training camp thus far.
Begin Slideshow

»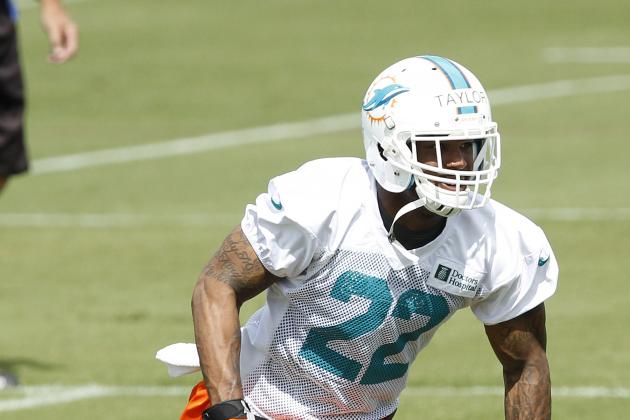 Joel Auerbach/Getty Images

The Dolphins have three rookies that are currently sitting out during OTA's. They are hoping first-round pick Dion Jordan becomes the next great pass-rusher, second-round pick Jamar Taylor steps in and becomes their shutdown cornerback in the future and that Dallas Thomas will help fill out the offensive line.
Unfortunately for the Dolphins, all three players are being hampered by injuries.
Taylor recently underwent surgery to repair a sports hernia that has kept him off the field during the start of OTA's. Jordan and Thomas are both still recovering from shoulder surgery.
Even though Taylor has been kept out of OTA's, he may be able to participate during Miami's mandatory mini camp, which begins on June 11. There is no timetable with Jordan or Thomas, but they have been able to participate in some activities.
All three players will be competing for starting spots and the sooner they are able to get on the field, the better it is for them to impress coaches.
Ezra Shaw/Getty Images

The Dolphins already have one of their best defensive players holding out. Randy Starks is not happy he was slapped with the franchise tag and has decided to hold out in order to get a long-term contract. It turns out Starks wasn't Miami's only defensive player that had a new contract in mind.
Safety Reshad Jones will be entering the last year of his rookie contract. He will be making a base salary of $1.3 million, making him the 47th highest-paid safety this season.
Jones had a breakout season and became one of the leaders in Miami's defense as well as one of the better safeties in the NFL. With the season he had, it's no surprise that he believes he deserves a new contract.
If Jones is able to maintain his high level of play, there's no reason why Miami shouldn't pay him.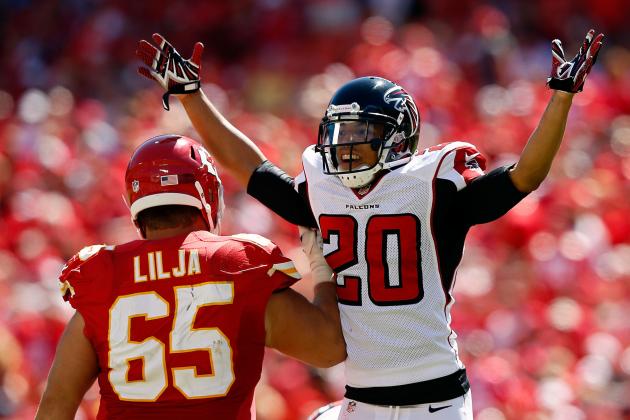 Jamie Squire/Getty Images

After Sean Smith left for Kansas City in free agency, the Dolphins signed Brent Grimes to replace him. Grimes made the Pro Bowl a couple of years ago and has quickly proven why he may be the best free-agent signing for the Dolphins.
The Sun Sentinel's Omar Kelly gives us a description of what he saw from Grimes during the first day of OTA's:
Brent Grimes was one of the three players who really stood out to me on Tuesday. I've consistently admitted how shocked I am about his limited size, but Grimes is an athletic freak based on what I witnessed on day one.

Grimes recovers well and knocked down at least three passes during Tuesday's session. Richard Marshall and Grimes were the first team cornerbacks on Tuesday.
Grimes will be expected to take over the starting cornerback spot and give Miami a competitive secondary, which they've lacked for some years.
There was no question that Grimes was a great player, but there were questions about how his Achilles would respond after he tore it last year.
So far so good.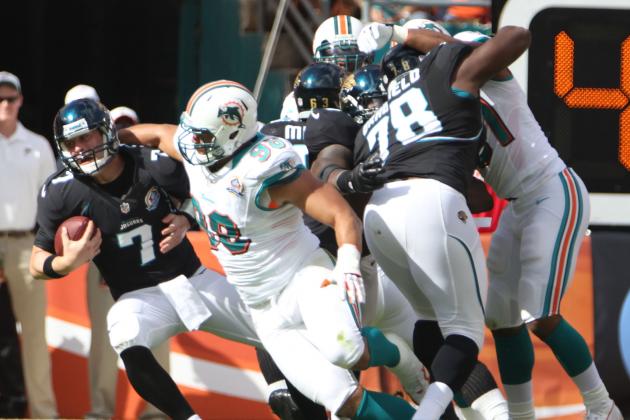 Marc Serota/Getty Images

Like I said earlier, Randy Starks has decided to skip OTA's because he hasn't received a new long-term contract. In his absence, Jared Odrick has been playing defensive tackle.
Odrick was drafted to play 3-4 defensive end, but after the Dolphins switched to a 4-3 defense, he was playing out of position at defensive end. His body projects more as a 4-3 defensive tackle and he has shown that he is capable of playing the position.
Once again, Omar Kelly lets us in on what he saw from Odrick:
Odrick is being used as the starting defensive tackle paired with Paul Soliai, and he looked GOOD in that role that has been opened up by Starks' absence. At one point Odrick drove Nate Garner, who was working at center, right into the tailback, producing a tackle for loss.
This is Paul Soliai's final year in his contract and Miami will most likely be looking for Odrick to take over for him if he decides not to re-sign. It's a good sign so far and maybe with the addition of Dion Jordan, we will be seeing more of Odrick at defensive tackle.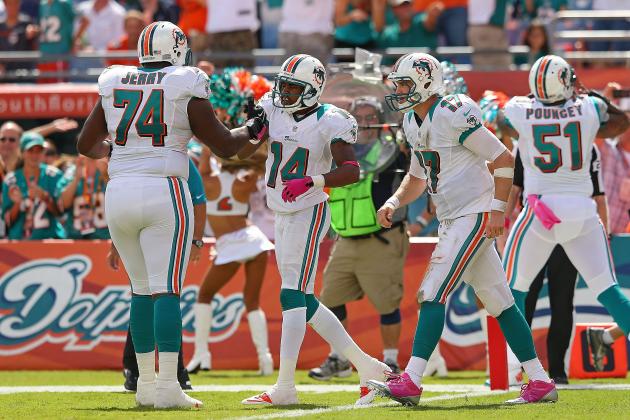 Mike Ehrmann/Getty Images

Joe Philbin put offensive lineman John Jerry on notice this offseason that if he didn't show up to camp with a respectable weight, he may not have a spot on the team.
It turns out that Jerry took it to heart and worked on shedding some weight. He showed up to camp under 340 pounds, which will allow him to move better in space and allow him to be more of a pulling guard.
Jerry will be competing with Lance Louis for the starting right guard spot. Louis is still recovering from ACL surgery, but he is more athletic than Jerry and fits the zone-blocking scheme better than Jerry.
If Jerry can keep his weight under control, he will have a higher chance of maintaining the starting spot. If his weight begins to be a problem, Louis will be ready to take over.