UFC 160 was one of the rare fight cards that lightweight Donald Cerrone walked away from without a bonus check in his pocket. Since joining the UFC in February 2011, Cerrone has fought for the promotion nine times, pulling in six "Fight Night" bonuses over the course of those battles.
Cerrone may not have left with a bonus, but he did leave Las Vegas with a reminder of just how hard he battles inside the Octagon—a pretty nasty elbow injury and a pretty gnarly eyebrow gash.
Sometimes you get cool scars to show people! instagram.com/p/ZwsJQcufZU/

— Cowboy Cerrone (@Cowboycerrone) May 26, 2013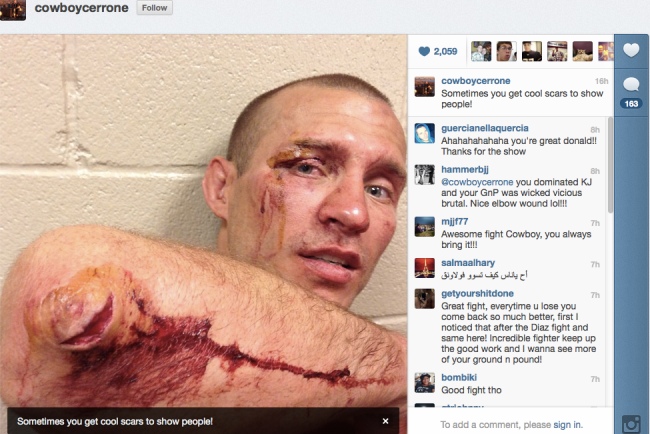 Cerrone most likely opened up his own elbow during the third round when he was busy assaulting the head and body of K.J. Noons with multiple elbow shots, leaving Noons a bloody mess.
By the end of the fight, a unanimous decision win for Cerrone, the victor had racked up an impressive array of striking numbers:
Significant Strikes Landed: 102
Total Strikes Landed: 140
Head Strikes Landed: 95
Body Strikes Landed: 31
Leg Strikes Landed: 14
In addition to his striking numbers, Cerrone landed four takedowns, a personal best for the fighter.
After the fight, a victorious Cerrone thanked his sports psychologist for helping him to not get caught up in a striking war with Noons, before regaling the crowd with a story about the conversation he had with his grandmother prior to the fight, "My grandma called me today and said, 'Cowboy there's a bunch of guys out there tonight wishing they could be you, do you want to be you today?' I said, 'yeah grandma I do.'"
After seeing Cerrone's injuries after the fight, one has to wonder if those same guys still wanted to be Cerrone.