Best-Case Scenario for Every Tampa Bay Lightning Star During 2013-14 Season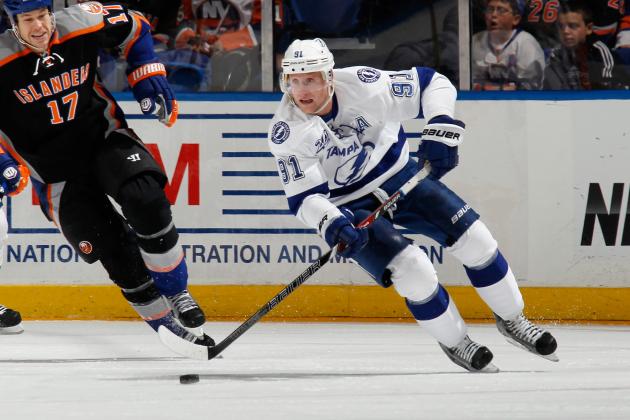 Bruce Bennett/Getty Images
Steven Stamkos and the Lightning stars look forward to a full 2013-14 season and the best-case scenarios.
The 2012-13 NHL season showcased the number of superstars on the Tampa Bay Lightning. When the Lightning take the ice for the 2013-14 season, its stars will be looking to perform better and reach new heights after a disappointing 2012-13 season.
The Bolts had the top-two scorers in the NHL last season in Martin St. Louis and Steven Stamkos, and St. Louis became the oldest player to bring home the Art Ross Trophy. Overall, the shortened season shouldn't be blamed for a lack of success as a team.
Tampa Bay has enough stars in the lineup to win games and if each one performs their best-case scenarios next season, the Bolts should be in better position to fight for a playoff spot.
Begin Slideshow

»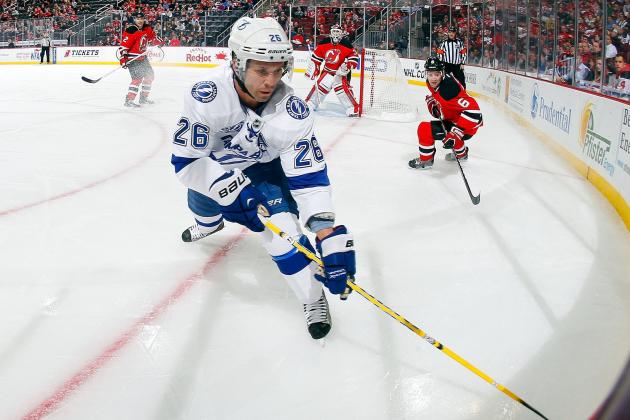 Jim McIsaac/Getty Images
Martin St. Louis won the Art Ross Trophy last season and looks to maintain his stellar career next year.
It's going to be difficult for Martin St. Louis to top the performance he put on display last season. After winning the Art Ross Trophy at 37, St. Louis has set the bar high.
Lightning fans should not only be content but excited for St. Louis's best-case scenario in 2013-14. His best-case scenario is just to make it through another full NHL campaign with average production. With 912 points in 14 seasons, another 65-point, 82-game season would be a best-case scenario for St. Louis.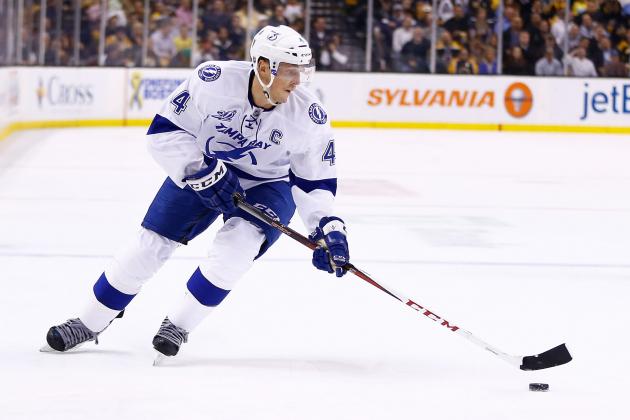 Jared Wickerham/Getty Images
Vincent Lecavalier will look to get back into form after a few down seasons in Tampa Bay
If any of the Lightning superstars needs a bounce-back year, it's Vincent Lecavalier. The team's captain has struggled over the last few seasons missing 44 games in the last three years. His production has fallen to the lowest totals since 2001-02.
In the shortened season, Lecavalier put up 32 points in 39 games. His production should be less important than his participation. The best-case scenario for Lecavalier in 2013-14 is to play in at least 75 games and put up another 60-point season.
His leadership is necessary on the ice and with so much young talent waiting to make its mark, learning from Lecavalier on a daily basis is crucial to the future success of the organization.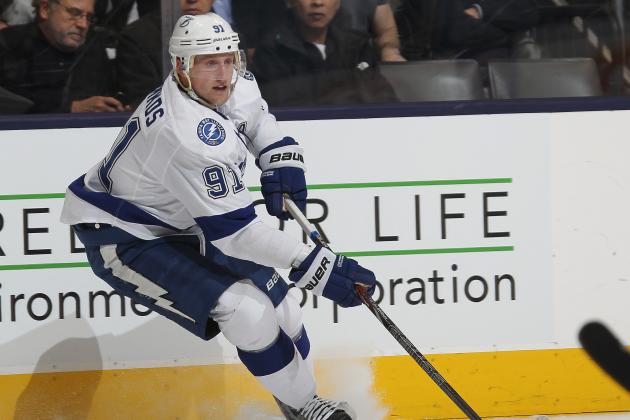 Claus Andersen/Getty Images
What's next for Steven Stamkos? Possibly a Hart Trophy
Steven Stamkos is the most exciting player to watch on the Lightning. After winning the Rocket Richard Trophy in 2012, Stamkos put together another 29-goal season in 48 games last year.
Stamkos finished second to St. Louis for the Art Ross Trophy this season and will look to improve in 2013-14. The best-case scenario for the Lightning sniper is to win the Hart Trophy (most valuable player).
His scenario is important because Pittsburgh's Sidney Crosby is back into form. The Lightning need to make it back to the postseason and Stamkos's production will be crucial in making that happen.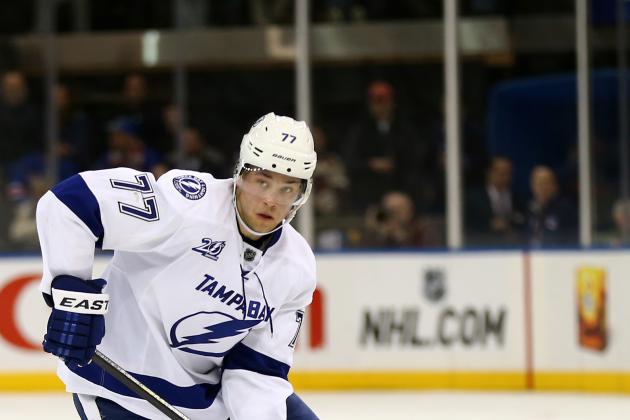 Elsa/Getty Images
Victor Hedman is one of the brightest stars for the Lightning and looks to see more improvement next season.
Victor Hedman has a bright future as a defenseman for the Bolts. He took advantage of the extended offseason with a stint in Russia and has developed a more complete offensive game.
Hedman was on a career pace with 20 points in 44 games this season. If that same pace is applied to a full 82-game season, that's a 37-point year. If he can maintain a plus-rating and produce around 40 points, that's a best-case scenario for Hedman in just his fifth NHL season.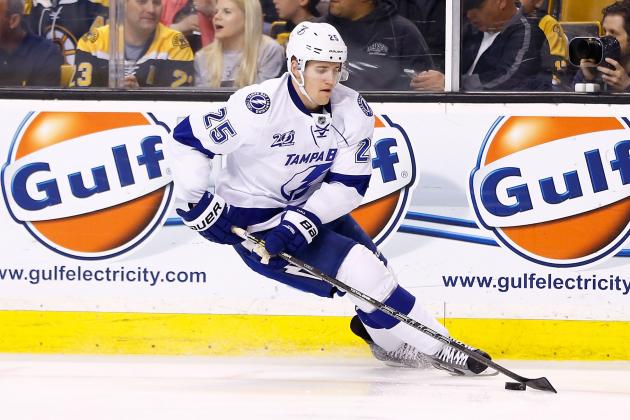 Jared Wickerham/Getty Images
Matt Carle ate up a lot of ice time last season. If he is more productive in 2014, the Bolts will be better off.
Matt Carle was the most consistent defenseman on the Lightning last season. He averaged over 23 minutes of ice time per game, more than a minute more than fellow defenseman Victor Hedman.
His 87 blocked shots were second on the team. Carle has established a solid foundation in his first season with the Lightning. Next year, look for Carle to aim for a 40-point season with more production on the power play. He had just seven points in nearly three minutes of power-play time per game.
If he can maintain his plus-rating, the Bolts will be in better shape next season.