Indy 500 Results 2013: Live Analysis, Standings and Highlights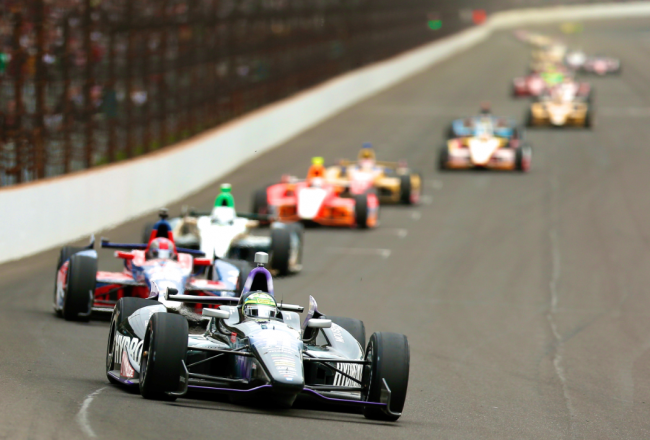 On his 12th attempt, Tony Kanaan won his first Indianapolis 500 in a frantic finish.
The 38-year-old was in front of the race as Dario Franchitti hit the wall on lap 197 and as the race finished under caution, the crowd in Indianapolis cheered on the fan favorite to the finish.
Kanaan won a race that saw a record-breaking 68 lead changes that shattered the previous record of 34 that was set last year.
Rookie Carlos Munoz finished second while his Andretti Autosport teammate Ryan Hunter-Reay took home third place as the former teammates of Kanaan watched him celebrate in victory lane.
Tony Kanaan breaks through for first Indianapolis 500 victory

— NBC Sports (@NBCSports) May 26, 2013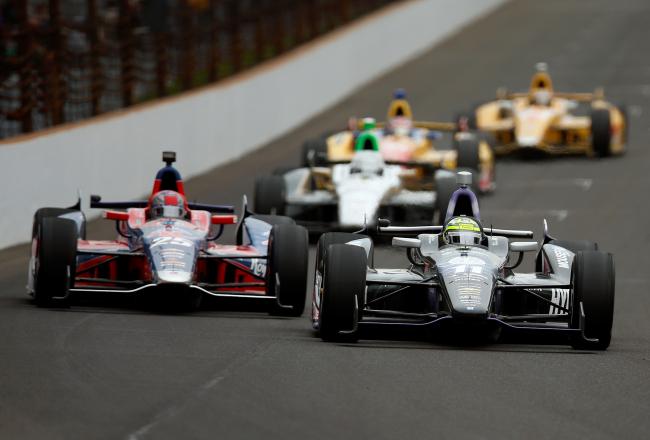 TONY KANAAN WINS HIS FIRST INDY 500!!!!
T.K. might be most popular sentimental favorite to win #indy500. Finally. Yellow flag for Franchitti hitting wall. Congrats, Tony Kanaan.

— Phillip B Wilson (@pwilson24) May 26, 2013
Lap 197
CAUTION!!!
Dario Franchitti hits the wall and Tony Kanaan is in the lead.
Place your bets on #indy500 shootout. RHR, T.K., Munzo, Andretti, Wilson, Castroneves, Allmendinger, Pagenaud, Franchitti ...

— Phillip B Wilson (@pwilson24) May 26, 2013
Lap 196
There have been two last lap finishes in 96 Indy 500 races.
We could see the third today.
Lap 195
The crowd is on their feet as the drivers reach five laps to go.
Ryan Hunter-Reay leads as Graham Rahal spins out, wrecks. We'll have a late dash to finish to decide #indy500 RHR, T.K., Munoz, Andretti.

— Phillip B Wilson (@pwilson24) May 26, 2013
67 lead changes ... and counting ... 7 laps to go ... some kind of #indy500

— Phillip B Wilson (@pwilson24) May 26, 2013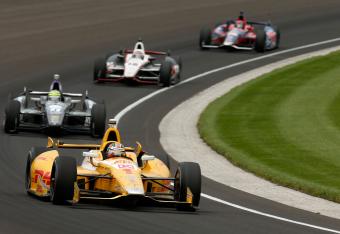 Lap 193
CAUTION!!!!
Graham Rahal hits the wall and the mad dash to the finish is halted for now.
Hunter-Reay is currently leading the race.
Lap 192
We are now at 66 lead changes.
Easily more will come in final eight laps.
Lap 190
As fan-favorite Kanaan takes the lead, the crowd in Indy begins to go wild.
Lap 189
Hunter-Reay has cycled back through to take the lead.
Kanaan and Andretti are in the hunt as well.
This race WILL come down to the final lap.
Lap 188
Hinchcliffe and Franchitti become the last two drivers to pit.
Lap 185
Munoz has become the final leader to make his pit stop.
15 to go and plenty of drama is ready to unfold at Indy.
Hunter-Reay with final pit with 19 laps to go. "This is it. This is it,'' he said. #500pitdriver

— Terry Hutchens (@indystar_hutch) May 26, 2013
Lap 182
Just after Andretti finishes his pit stop, Hunter-Reay is in and out of pit road.
We have a record-setting 57 lead changes so far. 1/3 of the field has led today. #Indy500orBust

— Indy Motor Speedway (@IMS) May 26, 2013
Average speed keeps climbing, up to 191.518 mph. #indy500 new record

— Phillip B Wilson (@pwilson24) May 26, 2013
Lap 178
Kanaan becomes the first of the leaders to pit.
Lap 176
Allmendinger has made his final pit stop.
The other leaders will pit around lap 180 and the blitz to the finish will begin.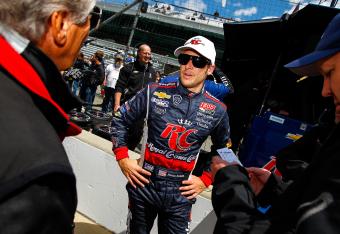 Lap 170
Now that we are 30 laps away from the checkered flag, the mentions of the Andretti curse will begin to grow.
For a family that has been very unlucky to say the least at Indy, Marco is having himself one heck of a day so far up front.
Lap 168
Remember Allmendinger will have to pit about seven to eight laps before everyone else.
Castroneves is hanging around in sixth but he has been unable to match Andretti, Hunter-Reay and Allmendinger all day.
This article is
What is the duplicate article?
Why is this article offensive?
Where is this article plagiarized from?
Why is this article poorly edited?