The Minnesota Vikings find themselves in a precarious situation. Their top three sack producers—Jared Allen, Brian Robison and Everson Griffen—are all scheduled to be free agents following the 2013 season. Based on how general manager Rick Spielman operates, of the three, Allen will be the least likely to return.
Allen has been the Vikings' leading sack producer since joining the team in 2008. Last year, at the age of 30, he had 12 sacks, only one less than his career average of 13 sacks per season.
In five seasons with the Vikings, Jared Allen has four interceptions, nine fumble recoveries, two touchdowns and four safeties.
The Vikings signed him to a six-year, $73.2 million contract when they acquired him in a trade with the Kansas City Chiefs in 2008. Due to make $17.06 million in 2013, Allen will be the highest paid non-quarterback in the NFL.
Over the past three offseasons, the Vikings have purged plenty of players in their 30s whose careers were winding down. Following the 2010 season, the Vikings parted ways with quarterback Brett Favre (41), defensive tackle Pat Williams (38), linebacker Ben Leber (32) and left tackle Bryant McKinnie (31).
After the 2011 season, the Vikings said goodbye to kicker Ryan Longwell (37), quarterback Donovan McNabb (35), guards Steve Hutchinson (34) and Anthony Herrera (31), linebacker E.J. Henderson (31) and tight end Visanthe Shiancoe (31).
Bruce Kluckhohn-USA TODAY Sports
This offseason, the purging continued. The Vikings released cornerback Antoine Winfield (35), Chris Kluwe (31) and wide receiver Michael Jenkins (30). With the release of Winfield, 32-year-old Kevin Williams becomes the team's oldest player. In April, he agreed to restructure his contract, reducing his salary from $7.5 million to $4.9 million. The deal makes Williams a free agent following the season—most likely making 2013 his last season with the Vikings.
At 31 years old, Allen the third-oldest player on the roster behind Williams and long snapper Cullen Loeffler and very much within the age of those players recently cut by the Vikings.
Jared Allen: Future with Vikings unclear on.nfl.com/10pTaFl

— NFL (@nfl) May 24, 2013
Even beyond this recent history, there are a couple of key examples where the Vikings have parted ways with their top players.
With 74 sacks in his five seasons with the Vikings, Allen ranks third in franchise history, behind Chris Doleman (96.5) and John Randle (114). After 10 and 11 seasons respectively, despite spending the prime of their Hall-of-Fame careers with the Vikings, both defensive linemen found themselves finishing their careers elsewhere.
In 1993, the 32-year-old Doleman finished tied with Randle with 12.5 sacks for the team lead. A nine-year veteran, Doleman averaged 9.8 sacks for the Vikings.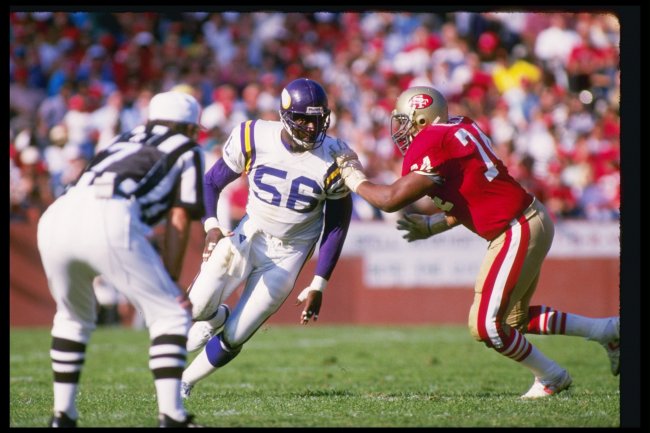 Otto Greule Jr/Getty Images
The following year he was traded to Atlanta. He played two seasons with the Falcons before signing as a free agent with San Francisco in 1996. After three years with the 49ers, Doleman returned to Minnesota for the final season of his 15-year career.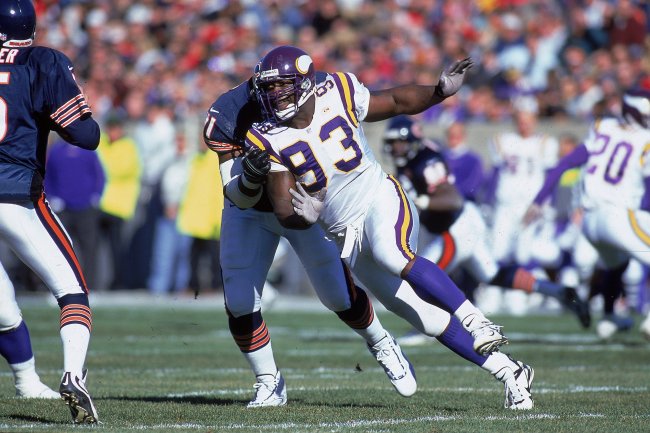 Jonathan Daniel/Getty Images
Randle, an undrafted rookie in 1990, spent 11 seasons with the Vikings, where he averaged 10.4 sacks. Following the 2000 season, the 33-year-old signed with Seattle as a free agent, where he played three more seasons.
Allen, like Randle and Doleman, has been extremely durable, only missing only two games in his first nine seasons. And like both former Vikings, he will most likely find himself playing in another city following the 2013 season.